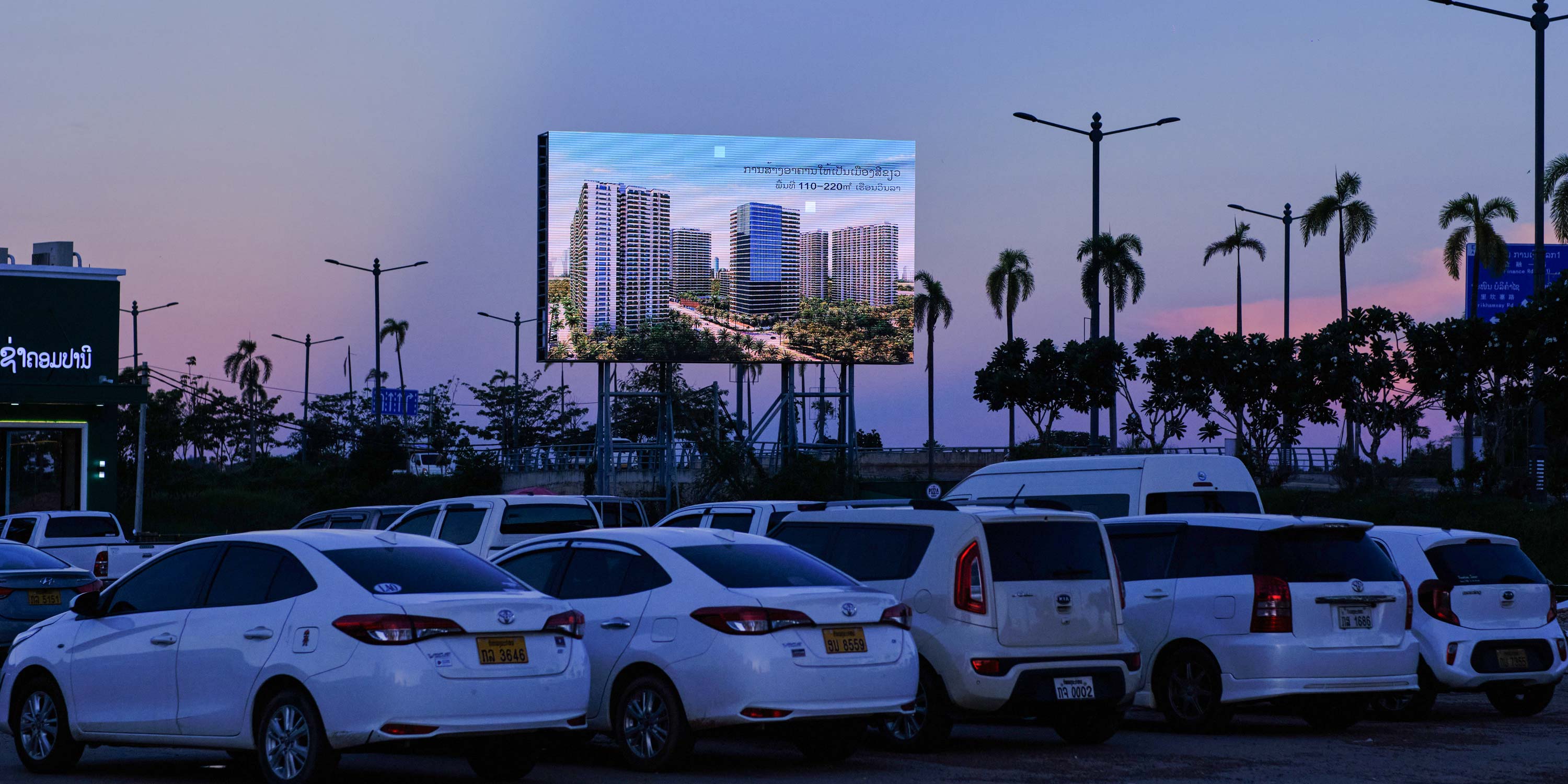 FEATURES
In a Post-COVID Laos, China's Influence Grows Ever Larger
A new $5.5 billion railway is bringing a flood of Chinese investment to the Lao capital of Vientiane. After COVID-19, it's desperately needed.
This is the first article in a three-part series exploring the impact of the Laos-China Railway, a major project under China's Belt and Road Initiative that connects cities across Laos and southwest China.
VIENTIANE, Laos — The station couldn't look more out of place: a vast, gleaming, aircraft hangar-like building, seemingly dropped out of nowhere into the lush green fields lying to the east of central Vientiane.
The site — with its modern glass exterior topped with a traditional red sloping roof — is the kind of megaproject that is seen all over China. But this is something new for Laos, a sign of China's growing influence in this corner of Southeast Asia.
The building is the main terminus of the recently opened Laos-China Railway — a 40 billion yuan ($5.5 billion) project that aims to transform this remote, landlocked country by plugging it into China's Belt and Road Initiative.
The 1,000-kilometer line — which runs from Vientiane through the mountains of northern Laos to the southwestern Chinese city of Kunming — will allow goods and passengers to travel between China and the Lao capital in just a few hours. 
There are also plans to extend the LCR south to Bangkok and possibly even as far as Singapore, as well as east to the north Vietnamese coast, making Laos an integral part of an emerging pan-Asian trade and transport network.
For Laos, the hope is that the project will be a game-changer for its economy, making it easier to boost trade, tourism, and foreign investment. If things go to plan, the World Bank estimates that the railway could boost income levels in the country by over 20%.
Chinese investment has flooded in since the railway was announced, turning the eastern side of Vientiane into a giant construction site. Cranes dot the countryside, looming over half-finished warehouses, business parks, and high-rise apartment complexes.
But when Sixth Tone visits the city in July, it's clear that challenges remain. Though the LCR is now fully operational — with international passenger journeys beginning earlier this year — many other projects linked to it are not. And the economic climate continues to darken.
The LCR was always a gamble for Laos. Though China provided an estimated 70% of the funding, Laos' investment of around $1.5 billion is still huge for a country with a gross national product of just $15.7 billion.
And the pandemic has made things even tougher. Laos, which relies heavily on international tourism, suffered a devastating economic blow from COVID-19. Though the borders have now reopened, sky-high inflation is still causing severe hardship to local people and businesses.
In this post-pandemic landscape, Chinese investment has become more vital to Laos than ever. Yet, with China's economy also struggling to recover from COVID-19, investors are far less bullish than previously.
A new city
Sixth Tone arrives at Vientiane Station by taxi, after a 30-minute drive from the city center along a dusty road. For most locals, getting here remains a hassle, as public transport links have yet to be installed.
With only a handful of passenger trains running each day, the site is quiet when Sixth Tone visits. The only people visible are a group of ticket agents, who gather in a small hut in front of the main entrance.
The agents are a product of the disconnect between the hypermodern railway and the realities of life in Vientiane. Train tickets can be bought either at the station or via a newly launched mobile app. But neither option is convenient for many locals.
While young people are getting used to using digital payment apps, many middle-aged and elderly have yet to adopt them. And the taxi fare to the station, usually around $11, costs almost as much as a train ticket to faraway Luang Prabang.
As a result, many pay agents to book tickets for them. A man in his 30s dressed in a gray T-shirt and tracksuit pants, who gives his name as Ped, sits in the shed checking his phone for new orders. He used to sell clothes online, but gave up the job after the railway opened because the train ticket gig is so profitable, he tells Sixth Tone.
"At peak times, this shed is packed with agents," says Ped.
The station has been built so far from downtown for a reason. The entire area surrounding the railway terminal — which just a few years ago was a patchwork of farms and wetlands — is being transformed into a business and logistics hub to process an expected surge in trade.
To the south, a line of trucks shuttle between the railway and the Thanaleng Dry Port and Vientiane Logistics Park. The two sites are already processing freight that arrives in Vientiane from China, as well as other neighboring countries by road. But their true value will only be realized if and when the rest of the pan-Asian railway is completed.
Construction on a line running from Vientiane to Vietnam's Vung Ang sea port is due to start in late 2023 or early 2024. Thailand is also pushing to extend the railway south to Bangkok, though it's unclear when the work will be finished.
Once these extra lines are complete, Laos will become the natural center of the new network — the connection point for trains running between China and Southeast Asia.
The Lao government is convinced that the country's future prosperity depends on the pan-Asian railway. Though China's Belt and Road Initiative has been key to driving the project forward in recent years, Laos has been a strong supporter of the idea since the Association of Southeast Asian Nations proposed it in the 1990s.
Though many have questioned whether the Laos-China Railway is affordable for an economy as small as Laos, officials in Vientiane argue that they have little choice: It's the only way the country can break out of the economic constraints imposed by geography.
"(If we don't do it) we won't have any debt," one official told Selina Ho, a researcher at the National University of Singapore, in 2017. "But then we will (continue to) be poor like this."
Lao officials like to draw comparisons with Singapore, which escaped poverty by leveraging its strategic location as a hub for shipping flows between Asia and the West. Vientiane can perform a similar role for Asian trade in the 21st century, they say.
"We look at Singapore. They are surrounded by sea: no resources, no land … (But) with a big sea port, the ships have to pass Singapore," the same official told Ho. "So, we want to take the opportunity (to leverage our location). Our biggest market is China. Through railways from Singapore, Malaysia, and Thailand, we can benefit from them."
But all of that currently feels a long way off. For now, things are only getting started in Vientiane. After the LCR first opened in late 2021, freight traffic was held back by tight pandemic border restrictions for over a year. But there are signs that trade is steadily gaining momentum now that the controls have finally relaxed.
At a privately run freight yard just north of Vientiane Logistics Park, a middle-aged manager from central China's Hunan province points out an expanse of waste ground earmarked for development.
"More warehouses will be built there," he says. "There will be a refrigerated warehouse to store fruits and other agricultural products, and over there, now we have an elevated warehouse that can store traditional Chinese medicine ingredients."
Further down the site, two big piles of mineral sands sit above a slope dug into the ground. The company places containers at the bottom of the slope, the manager explains, so that diggers can quickly load the mineral sands into the containers.
"We can easily load two trains a day without working overtime," he adds, speaking in a quick and assertive manner. 
The most popular products the company has handled so far have been mineral sands and durians from Thailand, according to the manager. Goods can easily be shipped from Thailand to the yard, which is located just a few kilometers from the Thai-Lao border.
Fresh desires
But the railway's impact on Vientiane has extended far beyond trade. The city began changing from the moment Laos and China agreed to construct the LCR in 2015, as the deal sparked a flood of Chinese investment.
Foreign direct investment into Laos has skyrocketed from $27.7 million in 2005 to over $1 billion in 2021, with Chinese investment becoming increasingly dominant. In 2018, China alone accounted for nearly 80% of total FDI.
The LCR essentially put Laos on the map for Chinese businesses, who have long associated new high-speed rail links with surges in economic development. According to a 2019 report, the biggest jump in Chinese investment came between 2014 and 2016, with a huge number of small- and medium-sized Chinese companies from sectors including energy, real estate, tourism, agriculture, and engineering piling into the market.
"The plan for the railway has changed how many Chinese understand Laos," says Chen Wanjing, a research fellow at the Max Planck Institute for Social Anthropology who has been studying the railway and Chinese brokers in Laos for years. "It turned Laos into a place with investment opportunities."
Chinese money has rapidly transformed the built environment in Vientiane. A decade ago, buildings more than four storeys high were a rarity in the city. Now, high-rise office buildings and malls are a common sight.
Near the railway station, a Shanghai developer has converted a stretch of wetland into a special economic zone, with office buildings scattered around a circular artificial lake. In the northwest corner of the complex is a Chinese-style residential complex featuring a cluster of luxury apartments surrounded by manicured lawns. Advertising boards near the entrance describe the new homes as "lake-view sky villas."
So far, these apartments have failed to attract Lao buyers. The residents here are overwhelmingly foreign, mainly a mix of Koreans and Chinese, as wealthier locals prefer to purchase land and build their own homes, several Vientiane residents tell Sixth Tone.
But the city's business districts are filling up. Long Pan, a Chinese entrepreneur who has been in Laos for over a decade, operates a range of businesses here, including freight yards, logistics and delivery companies, and even a pharmaceutical firm.
Long, a former logistics worker at the Chinese tech giant Alibaba, puts his success partly down to entering the market early. He arrived in Laos in 2012, long before construction on the railway began. He was able to introduce a number of new practices to the Lao market, establishing a logistics network that reduced the delivery time between China and Laos from 15 days to just three.
"At that time, there were plenty of opportunities in Laos, and plenty of undeveloped fields waiting for you to explore," Long recalls.
The market, however, is far more competitive these days. Though Chinese investors can still find success in Vientiane, Long says he has also seen many failures.
"This company is owned by a boss from Guangdong province — his sales could reach hundreds of millions of yuan every year," says Long, pointing to the office of a construction company across the street. "But a lot of investors simply made investments like they would have done in China, which doesn't work in Laos."
As the number of Chinese companies in Vientiane has grown, there has been a huge rise in young Laotians studying Chinese in an attempt to gain an edge in the job market. Jobs at Chinese firms are highly sought after, as they typically offer better pay than local firms.
Zou Xiaolong, the founder of a Chinese language tutoring company in Vientiane, says that demand for Chinese classes has boomed during the past few years.
"When we opened the first Chinese language school in 2012, as far as I know we were the only Chinese language training institute in Vientiane apart from the Confucius Institute," says Zou, referring to a Chinese government-funded cultural association. "Now, Chinese language schools in Vientiane are as common as hot pot restaurants are in China."
Chinese universities have also seen a spike in Lao applicants. While in Vientiane, multiple sources tell Sixth Tone that competition for Chinese college and government scholarships has become so fierce, the application process is now riddled with bribery.
Meejang Meejaser, a 23-year-old from northern Laos, recently graduated from a university in southwest China's Yunnan province. While studying remotely in Laos during the pandemic, she boosted her income by working at a Chinese-owned motor repair workshop in Luang Prabang and then a clothing company in Vientiane.
According to Meejaser, Chinese employers are far stricter than Lao ones: The repair workshop only gave her two days off a month. But she was prepared to put up with that for the monthly salary of 5 million kip ($250) — a decent wage in Laos, where a meal typically costs less than $3. With three younger brothers and a younger sister to support, she feels continual pressure to make more money.
"If I work for a local company, I'll only get a little more than 2 million kip," says Meejaser. "I do have anxiety about providing for my family, and I also hope that one day I'll own a car and a house." 
Hard times
Since COVID-19 struck, the clamor to find work at Chinese companies has intensified in Laos. For many locals, a job at a Chinese firm now offers the best way to insulate themselves from a brutal economic climate.
Before the pandemic, Laos' economy was performing strongly, with the country's GDP growth consistently above 5%. Living standards in Vientiane were visibly improving: A decade ago, only the wealthy could afford a car; now, they are so common that locals complain about a lack of parking spaces in the city center.
But times have changed since 2020. The economy never went into a full recession, but ordinary workers have been hit hard. A 2021 ban on international tourism caused massive job losses, with unemployment shooting up by more than 20%, according to government figures.
Meanwhile, the inflation rate has reached 40% and the kip has lost more than half its value, all of which has had a huge impact on workers' real incomes. Lao businesses have also been badly affected, as the country is heavily dependent on imports.
Though the employment rate has bounced back, signs of strain are everywhere. In Vientiane, Sixth Tone meets a former banker who lost their job and is now working as a hotel receptionist, as well as a former worker at a Korean company now selling popcorn to make ends meet. 
Local resident Bounthavy Pathoumthong and her Chinese husband Hu Sheng were among those who struggled during the downturn. The couple had been running a fish company, but rising competition from other Chinese fish farmers and the currency crash led to a slump in profits. They now make a living as vloggers, documenting their lives in Laos in videos posted to Chinese platforms Douyin and Xigua, as well as YouTube.
"In the second half of 2021, the currency rate dropped so hard. Every day, the kip had a different value," Hu recalls. "The prices of many things have doubled," adds Pathoumthong, sitting with her mother and nieces in her family's auto repair workshop.
Young Laotians tend to avoid discussing political issues, but their concern about their own futures is clear. Many, including Meejaser, say they struggled to find work during the pandemic. Several mention a surge in emigration among their peers, as people seek higher-paying work in Thailand and other neighboring countries.
For those who have stayed behind, knowing some Chinese makes it easier to find a decent job. "Demand for talent that can speak Chinese is huge this year," says Seub Soulinkham, a Lao literature teacher at the National University of Laos who also runs a language school in Vientiane. "Many bosses have asked me for Lao youngsters who can speak Chinese, but it's hard to find someone good."
Locals hoped that the new railway — coupled with China's relaxation of pandemic border controls in early 2023 — would spark another surge in Chinese investment. But so far, the dramatic rebound that some expected hasn't materialized.
Many Chinese entrepreneurs left Laos during the pandemic to be with their families, and a number of them have yet to return. Some suffered major financial setbacks during the pandemic; others are waiting to see whether the Lao economy recovers before making a decision.
However, blanket coverage of the new railway in Chinese media has attracted a wave of newcomers to Vientiane. After Zou reopened his language institute this year, he noticed something unusual: He's now seeing an uptick in Chinese clients wishing to take Lao language lessons.
"Many asked whether we offer one-month courses, as they weren't even sure whether they'd stay longer than that," Zou says. "Since the railway opened, it's become much easier to come to Laos. And as opportunities decline in China, many newcomers come here to look for investment opportunities or just for a job."
Long Pan has no plan to return to China any time soon. He has long-term business interests and a settled life in Laos, and says he is used to the country's more relaxed lifestyle. He plans to send his son to an international school here, so he's not subjected to the intense pressure of the Chinese education system.
"There's no need to pressure yourself to earn lots more money," says Long. "In Laos, even if you have earned loads of money, there's nowhere to spend it."
But Pathoumthong and Hu are considering their options. Though Hu is proud of the couple's short video channel, Bounthavy worries about their unstable income. Unable to afford international schools, they've already had to send their kids back to Hu's hometown in China to study, and they worry about them having to live as "left-behind" children.
Meejaser, meanwhile, says she dreams of starting her own business one day. Perhaps she will sell clothes online, as it'll give her more freedom. But right now, she is just focusing on finding a steady job. After the pandemic, when she has to choose between freedom and stability, "I now consider stability more important," she says.

Editor: Dominic Morgan.
(Header image: An evening view of Vientiane, Laos, July 2023. Wu Huiyuan/Sixth Tone)