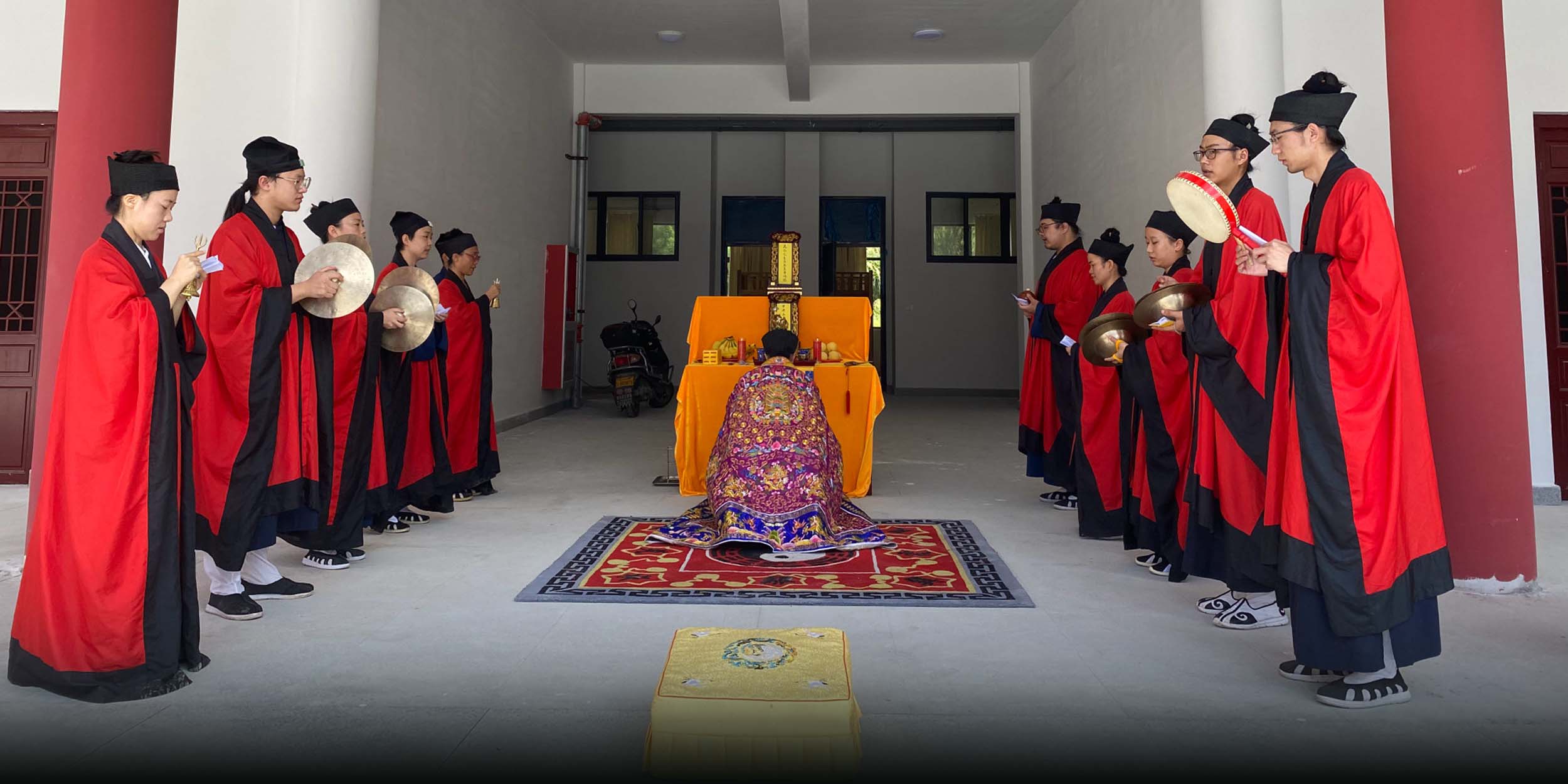 NEWS
At China's 'Hogwarts,' Traditional Taoism Trumps Magic
Amid a social media surge, a Taoism college is drawing record applications this year. But getting in and sticking it out requires more than just passion.
Nestled in the mountains of eastern China's Zhejiang province, a Taoism college dubbed "China's Hogwarts" is drawing waves of young Chinese eager to learn traditional arts, from fortunetelling to spiritual enlightenment.  
But unlike the fictional school of witchcraft and wizardry, they come not for spells and sorcery, but for its classes in the I Ching, martial arts, and rituals aimed at bridging the gap between mortality and the cosmos. 
Though the Zhejiang Taoist Academy has been around since 2013, this year marks a significant shift: The college received a record-breaking 1,300 applicants, nearly a thousand more than the previous year. 
This surge in interest can be largely attributed to social media platforms amplifying the college's unique offerings. On the lifestyle app Xiaohongshu, for instance, the tag "Zhejiang Taoist Academy" alone has amassed over 9 million views. Other popular tags include "Taoist youngsters" or simply "magic." 
Videos showcasing the specially designed curriculum and picturesque campus have gone viral, signaling a rekindled interest in traditional Taoist teachings among the younger generation.
As a full-time undergraduate institution, it is one of the most renowned Taoist academies in China. Graduates don't just walk away with a degree; they take up traditional occupations, joining Taoist temples and committing themselves to a spiritual path.
But each year, only about 60 students get through, and securing a spot isn't easy. 
The academy maintains a strict age bracket, only allowing students between the ages of 18 and 28. Prospective students must navigate an extensive selection procedure consisting of an interview, a hands-on test, and a written exam centered on the foundational principles of Taoism. 
And all applicants are required to submit their bazi — a record of the precise moment they were born. This isn't just a timestamp; in Chinese culture, it's a pivotal component in fortune-telling and is deemed essential for enrollment.
Despite its rising popularity, the Taoist Academy remains discreet about its public image. "The school has been there for years and has been popular among the young generation," said a member of staff from Zhejiang province's Taoism Association, which runs the academy. "We don't promote the school by design."
Officials at the academy declined Sixth Tone's interview request. 
A 26-year-old former student surnamed Liang now works at a Taoist temple in the southwestern Sichuan province. He joined the school in 2022 but quit after a year. 
"I quit because I prefer traveling around and not being trapped in one location," Liang told Sixth Tone. "I really enjoyed my time on campus. Everyone works towards one direction, which is cultivating immortality and achieving enlightenment."
According to a curriculum posted online, the academy offers courses in traditional Chinese language and literature, the history of religion, and specialized subjects like Taoist medicine and Taoist music. 
The academy also enforces strict on-campus regulations. Students must abstain from alcohol and tobacco, avoid physical altercations, commit to a vegetarian diet, and are prohibited from engaging in romantic relationships with their peers.
Liang recalled the rigorous daily schedule at the academy. The day starts at 5 a.m., before the crack of dawn, and stretches until 9 p.m., with a packed itinerary designed to shape students into proficient Taoist priests by graduation. 
"The first month was especially intense," said Liang. "Every day, I was either engrossed in meditation and exercises, or just doing chores all day long."
The strict ethos of the academy poses challenges even for the most dedicated students. 
According to Liang, the rigorous discipline and restrictions prove too demanding for some. "Every year, 60 students begin their spiritual journey here, but typically only two-thirds see it through to graduation," he said. 
The academy's adherence to the Quanzhen School, particularly its strict outlook on resisting temptations including romantic relationships, poses additional challenges. "Some students end up leaving the school for personal reasons or because they were in a relationship," explained Liang. 
Across China, the burgeoning interest in Taoism isn't just confined to this academy. Social media platforms reflect this cultural surge as well. 
For instance, on the video platform Bilibili, the Tianjin Taoist Orchestra boasts more than 170,000 followers, with their most popular video garnering nearly 3 million views.
And in recent months, several accounts on social media claiming to be tutoring schools have even offered courses on the qi men dun jia, a traditional fortunetelling technique. 
Editor: Apurva. 
(Header image: A ceremony underway at the Zhejiang Taoist Academy, September 2020. From its Weibo account)