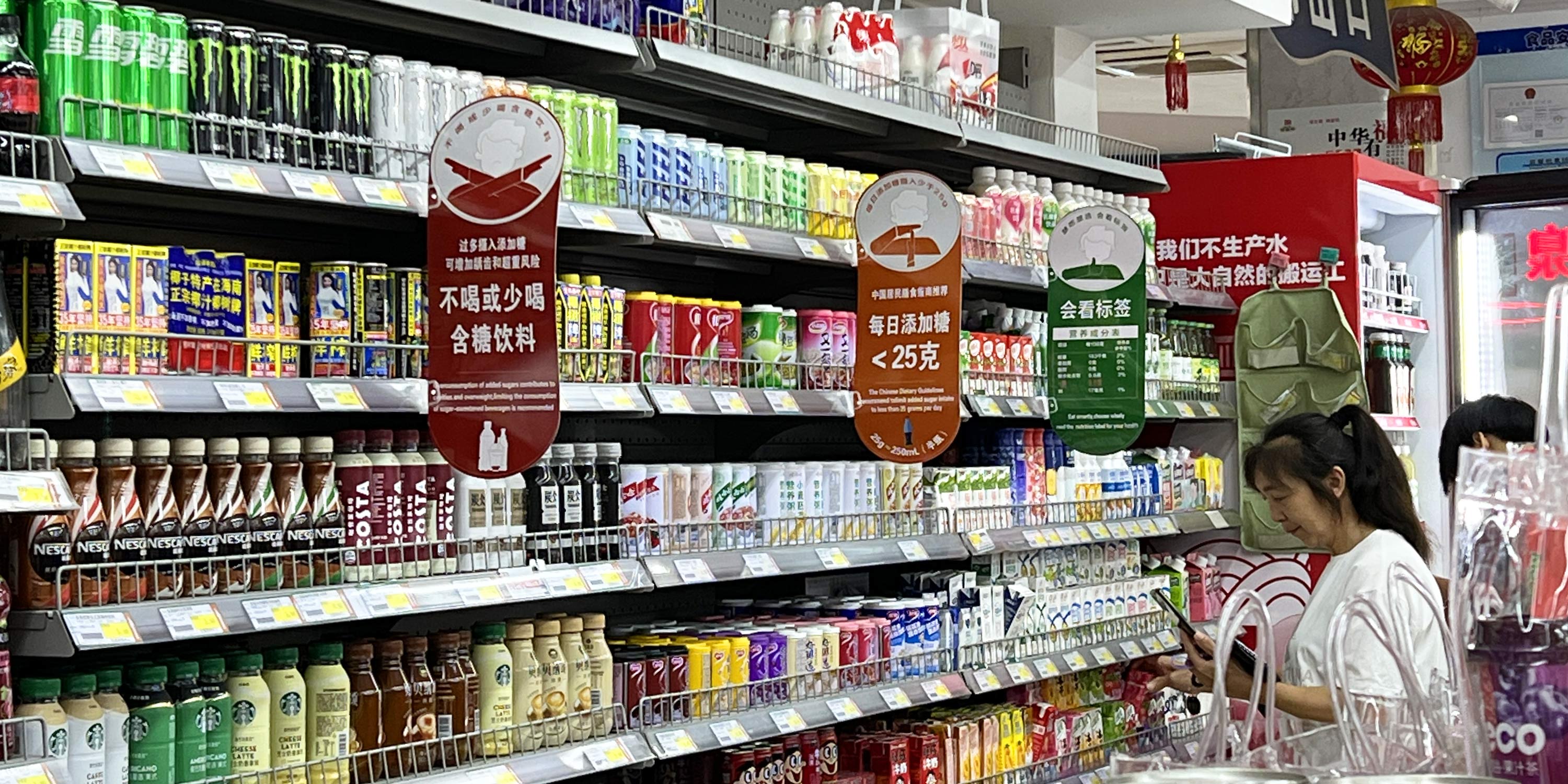 NEWS
Shanghai Trials Sugary Beverage Alert System in Stores
Sugary beverages are responsible for tens of thousands of deaths in China each year. Authorities are trying to alert customers of their health impact.
Shanghai has started piloting a beverage health alert system as part of a countrywide initiative to combat health problems related to excessive sugar intake. 
A recent study of 15.8 million Chinese adults found that 34.8% of the population are overweight, and 14.1% are obese, according to China's BMI classification. 
Over the past two weeks, 159 brick-and-mortar retailers in the city, including supermarkets and convenience stores, have begun displaying color-coded warning signs on their beverage shelves, Sixth Tone's sister publication The Paper reported. 
The labels do not indicate the individual sugar content of beverages, but rather alert customers about different categories of drinks. Customers shopping in sections with a green label are reminded to read the beverage's nutrition label before purchasing; orange labels warn customers to limit their added sugar intake; and red labels warn of the negative health impacts of sugary drinks. 
The system was introduced by the Shanghai Municipal Center for Disease Control & Prevention in mid-August. The national government has set a target to cut sugar consumption to no more than 25 grams per person by 2030, compared with 30 grams in 2019.
Ma Feifei, deputy director of the Shanghai agency's Jiading District office, told The Paper that the campaign aims to reduce residents' consumption of sugary beverages, which can lead to obesity and increase the risk of Type 2 diabetes, fatty liver, hair loss, dental caries, and cardiovascular diseases.
Ma said authorities will monitor the change in consumers' purchasing behavior during the trial period to help set future sugar reduction policies.  
An employee from a supermarket in Jiading District told local media that staff are expected to offer low-sugar product recommendations to customers after inquiring about their diabetes history. 
The move from Shanghai comes months after Singapore introduced its strict nutrition grading system in December last year, triggering calls in China for similar systems. The southern city of Shenzhen also rolled out similar alerts in late 2020. 
In 2019, the most recent year for which data is available, China saw 46,633 deaths related to sugary beverages, almost double the number in 1990, according to the Chinese Center for Disease Control and Prevention. However, the average per capita daily sugar intake in China is still low, far behind other major countries such as the United States. 
Editor: Vincent Chow. 
(Header image: Nutritional labels on a goods shelf at a supermarket in Shanghai, August 2023. Chen Sisi/The Paper)