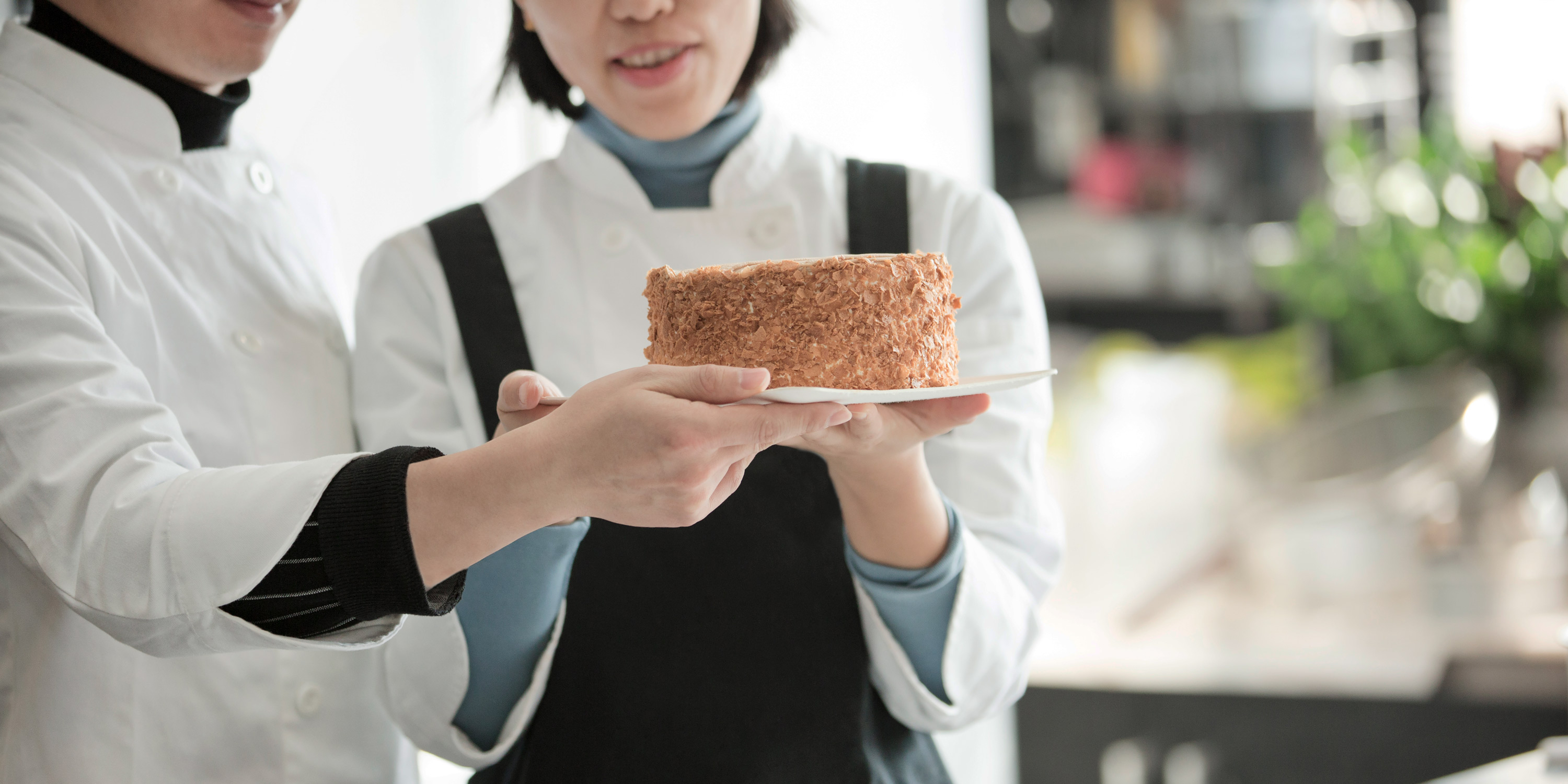 NEWS
In Shanghai, A New Major Helps Domestic Workers Battle Stigma
With an average age of 45, and women representing the majority of students, the first group of home economics majors graduated last month from the Shanghai Open University, signifying a pivotal shift in the domestic service industry.
For over a decade, 49-year-old Li Cairu diligently navigated a dual life in Shanghai — her weekdays were spent behind a cash register, and on weekends she was a housekeeper. Though demanding, it was a means to an end and the only way she knew to support her family in one of China's biggest cities. 
Housekeepers, colloquially known as "ayi," or "aunties," form a vital workforce in China, largely comprising rural migrants. But with many not even possessing high school diplomas, their contributions are often overshadowed by a prevailing social stigma that paints the profession as low-status and looked down upon.
No stranger to such perceptions, Li, who moved from Yulin in the northern Shaanxi province in 2004, tells Sixth Tone that she always felt uncomfortable about such terms as "ayi." "They just sound so unprofessional," she says. 
But in 2021, a chance beckoned when the Shanghai Open University began offering an undergraduate degree in home economics, becoming the nation's first university to introduce such a program. Eager to broaden her horizons, and reshape her identity, Li took the leap and joined the program. 
Last month, Li was part of the inaugural class graduating from the home economics major, which touches on a wide range of areas, including home education, family health management, and family financial management. 
Her class comprised 120 students, most of whom completed their final thesis defense and earned their degrees this July. The class of 2023 had an average age of 45, with over 90% being women, many of whom had already worked in the home economics industry for a number of years. 
"Our students are all employed, and there's a big age gap between them," says Yang Wanling, head of the home economics undergraduate major at the Shanghai Open University. "We have younger individuals born in 1995 and 1996, as well as older students born in the 1970s or even the 1960s."
Incidentally, the Shanghai Open University established a vocational program in domestic services in 2014. According to Yang, the vocational program focuses more on practical education, while undergraduate study is more theoretical. 
For example, a cooking class in the vocational program can be developed into an undergraduate nutrition class. "Lots of what is taught in the undergraduate program allows students to think deeply about real problems they encounter and come up with better solutions," Yang tells Sixth Tone. 
According to Yang, domestic service work is still seen as physically demanding. "In Chinese society, these labor-intensive roles often carry a perception of being somewhat 'lower,' leading to a lack of comprehensive understanding."
According to the Shanghai Home Service Industry Association, there are approximately 750,000 employees in the home service sector in Shanghai. Of this number, less than 5% possess an associate college degree or higher education qualifications. Moreover, there is a shortage of around 30,000 skilled domestic service professionals in the city.
As Shanghai grapples with the demand for skilled domestic service professionals, the home economics program offers a glimmer of hope: Not only will it help better equip graduates like Li, it will also usher in a shift in perceptions. 
Altering perceptions
Before joining the program, Li was hesitant to reveal her part-time job as a domestic worker. She says her husband, who once held negative views about her job, didn't want her to continue.
"He had a rather traditional perspective," said Li. "He thought housekeeping work meant just mopping the floor and cleaning the toilet." 
But as she learned more about home economics, Li realized the job needed various knowledge and skills. Even simple cleaning required specific techniques. For example, domestic workers had to learn how to clean different types of floors. Her husband's view on her part-time job also changed as a result.
"I think that prejudice is indeed a problem in society, but on a personal level, my perception, at least of this industry, will become broader," says Li. "Biases will reduce."  
For Li, writing her thesis was one of the toughest challenges. She recalls feeling quite anxious initially due to her limited knowledge. "My previous way of thinking was predominantly emotional," says Li. "But through learning, and especially the process of writing the thesis, I shifted from thinking emotionally to being more rational."
Her thesis focused on assessing the skills and competence of service personnel in Shanghai's Jiangzhen District, and suggesting strategies to enhance their professional capabilities. While researching, Li discovered that the overall level of service personnel in the industry was not very high.
"Most of them are chasing short-term benefits and have the mentality of, 'I do this job just to make money,'" says Li.
Bu Huiying followed the business management track within the home economics major. As the founder of Shanghai Huiyun Home Services, Bu has witnessed the industry's evolution over the past 16 years.
When she founded her business in 2007, only a few home service training programs existed. "At the time, the overall quality of the workforce in the domestic service industry was rather limited across different areas," Bu tells Sixth Tone. "Professionalism in this field was rudimentary at best."
But as the industry grew, authorities rolled out policies to improve the professional skills of domestic service staff and established home service industry associations that provide guidance and regulation.
"Now, in terms of training throughout the industry, the skills and literacy of domestic service workers in Shanghai have improved," says Bu, who is also a council member at the Shanghai Home Service Industry Association. 
The salaries of home service workers have also increased significantly. Bu says that back in 2008, the monthly salaries for domestic workers caring for the elderly were between 800 yuan and 1,000 yuan ($110-$137). However, today, workers can earn more than 6,000 yuan per month.
According to iMedia Research, China's domestic service market has grown approximately fourfold, increasing from 277.6 billion yuan in 2015 to 1,014.9 billion yuan in 2021. Projections indicate it could reach 1,164 billion yuan by 2023.
Workforce challenges
Currently, however, the industry is experiencing a challenging phase, particularly in Shanghai. "The primary issue we face is the sustainability of the workforce," says Bu. "The reservoir is slowly drying up."
Bu states that a key factor is Shanghai's dependence on migrant labor from rural regions for its home service industry. However, the city is yet to provide sufficient policy support to retain such workers.
"If we don't implement appropriate supporting policies in the future, it will be quite challenging to take the home service industry in Shanghai forward," warns Bu. 
The aging of domestic workers is another critical aspect jeopardizing the stability of the labor force. According to Bu, workers born in the 1970s constitute the primary workforce in the home service industry. And though some younger generations are involved, most opt for more specialized roles like professional organizers.
In a bid to further expand and improve the industry, national authorities have issued precise development guidelines, emphasizing the need for improvement in the teaching  of home economics. A document issued by China's State Council in 2019 articulated that "in principle, every province should have at least one undergraduate college and several vocational colleges that provide programs related to domestic services."
China's Ministry of Commerce and National Development and Reform Commission have also stressed the need to set up home economics majors in a joint document released in May. 
"On the one hand, it can change Chinese people's perception of home economics, including the perception of domestic workers," says Yang, from the Shanghai Open University. 
In recent years, the job designations for domestic workers have evolved, transitioning from "ayi" to titles like cleaning specialists, child care specialists, and other professional designations. 
"These shifts in terminology are crucial in attracting individuals with knowledge, education, and achievements to this field," says Li. 
Nevertheless, enrollment in the home economics undergraduate major has decreased since 2021. Refraining from disclosing precise figures, Yang acknowledges that they have faced challenges in recruiting more students. 
But she believes that people's perceptions are slowly changing. "Whether it's vocational education or undergraduate study in home economics, its establishment is still in its infancy," says Yang. "It is constantly exploring, and its future is definitely very bright."
Editor: Apurva. 
(Header image: JY/VCG)