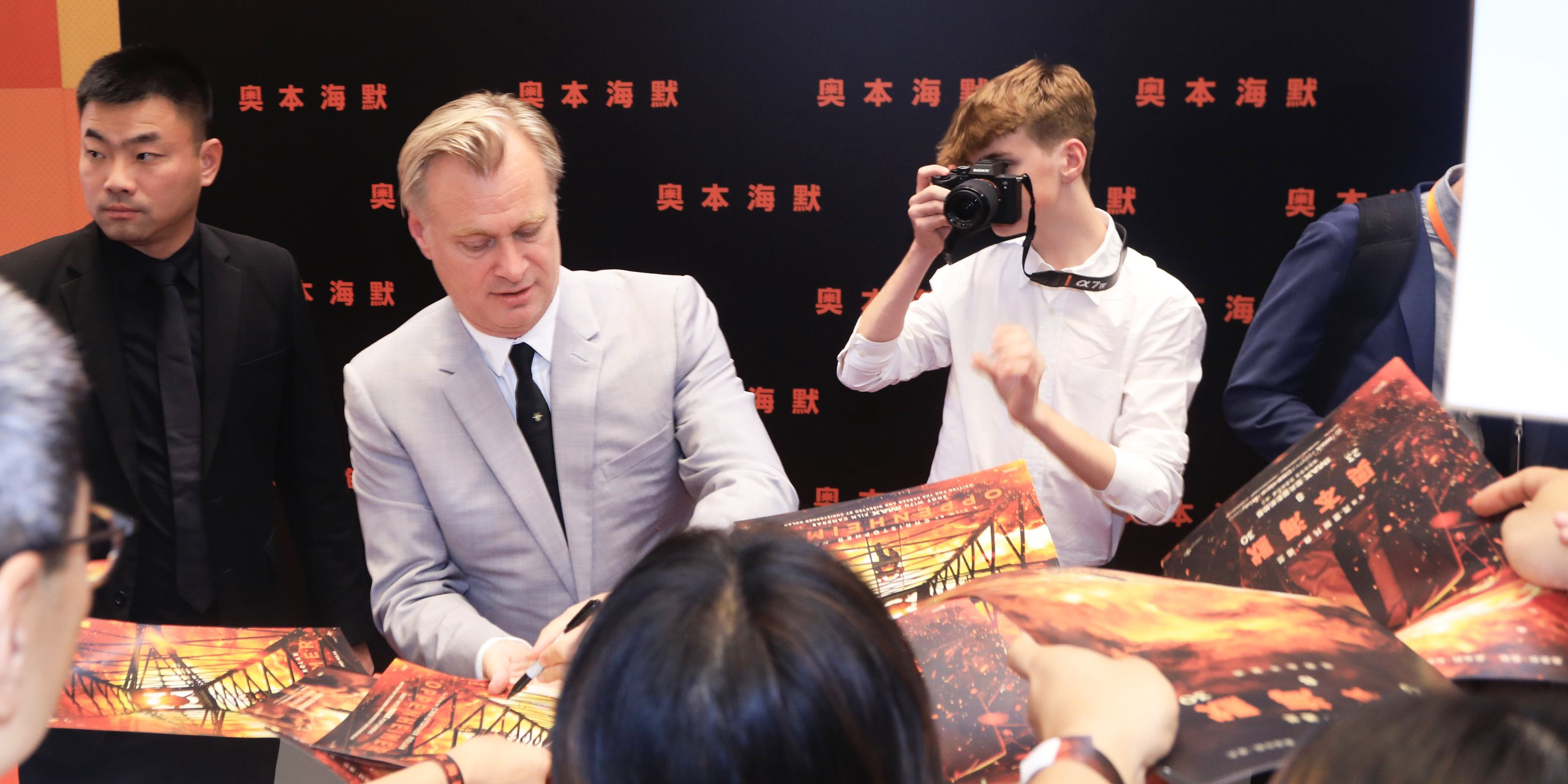 NEWS
As Nolan Arrives, Chinese Fans React to 'Oppenheimer' Release
For devoted Chinese fans of Christopher Nolan, his latest film about the invention of the atomic bomb is another masterpiece. But can the film overcome its controversial subject matter and reach a broad audience in China?
SHANGHAI — Renowned filmmaker Christopher Nolan has become the first Hollywood director to visit the Chinese mainland since the pandemic to promote his new film "Oppenheimer." However, questions remain about how the film will fare in China due to its controversial subject matter, as well as the future of Hollywood in China more generally.
Critically acclaimed since its release in North America and other regions in late July, the film's release on the Chinese mainland, Hollywood's biggest market, is being closely watched at a time when Hollywood movies are being outperformed by domestic films. 
According to Artisan Gateway, box-office sales of American films in China are down 68.8% from before the pandemic, while domestic films have almost reached pre-pandemic levels.
Nolan attended two premieres in Shanghai on Thursday and Friday. Tickets for the first screening were open to the public, while Friday's screening was restricted to students from Shanghai Theatre Academy.
After the Thursday screening, several audience members Sixth Tone spoke to gave positive reviews of the film. "I think it might be a perfect combination of film technology and film art," an audience member surnamed Xu, 20, told Sixth Tone. He was particularly impressed with the character development in the film and the cinematography shot in IMAX 70mm.
Lu Yang, a 31-year-old civil servant, took the day off to travel from nearby Suzhou in Jiangsu province to travel to Shanghai on Thursday. As he did not have a ticket for the screening, his only aim was to catch a glimpse of Nolan.
"Although I only saw (Nolan) for a few seconds, I felt like I was dreaming," Lu said, after waiting for his hero with other fans in the cinema's parking lot for several hours. 
Li Yang, an art theory professor at Peking University School of Arts, praised the film for its exploration of American physicist J. Robert Oppenheimer's inner struggles as he created the atomic bomb.
"The film emphasizes Oppenheimer's intense inner pain and struggle with the devastation that the bomb could bring, and there's no doubt that the audience will feel it even if they don't care about the history," Li told Sixth Tone.
The professor, who spoke on stage with Nolan at Tuesday's premiere in Beijing, said the film is "brave" because it discusses the controversial topic of nuclear proliferation. Though he acknowledges that this may lead to challenges in promoting the film in China, with the film receiving backlash in other countries, he remains optimistic that the film will do well here.
However, some fans also worry that the film's storyline itself will hurt its performance in China. Xu said audience members without the historical knowledge may struggle to understand the film, while 26-year-old Tan Boyang, a graduate of Shanghai Theatre Academy, predicts Chinese audiences will find the film "boring and dull."
"Many of them will not understand the movie," he said.
On Chinese social media, many videos labeled as "pre-movie essentials" explaining World War II and the life of Oppenheimer have emerged in the run-up to the film's release. One such video, lasting 46 minutes, has gained 8.7 million views on video platform Bilibili.
As of Friday, the other major Hollywood summer blockbuster, "Barbie," has fetched 249 million yuan ($34 million) at the box office in China, according to ticketing platform Maoyan. In comparison, hit domestic movie "Creation of the Gods," released one day earlier than "Barbie," has fetched 2.36 billion yuan.
Editor: Vincent Chow.
(Header image: Christopher Nolan signs his name on posters of the film "Oppenheimer," Beijing, August 22, 2023. IC)