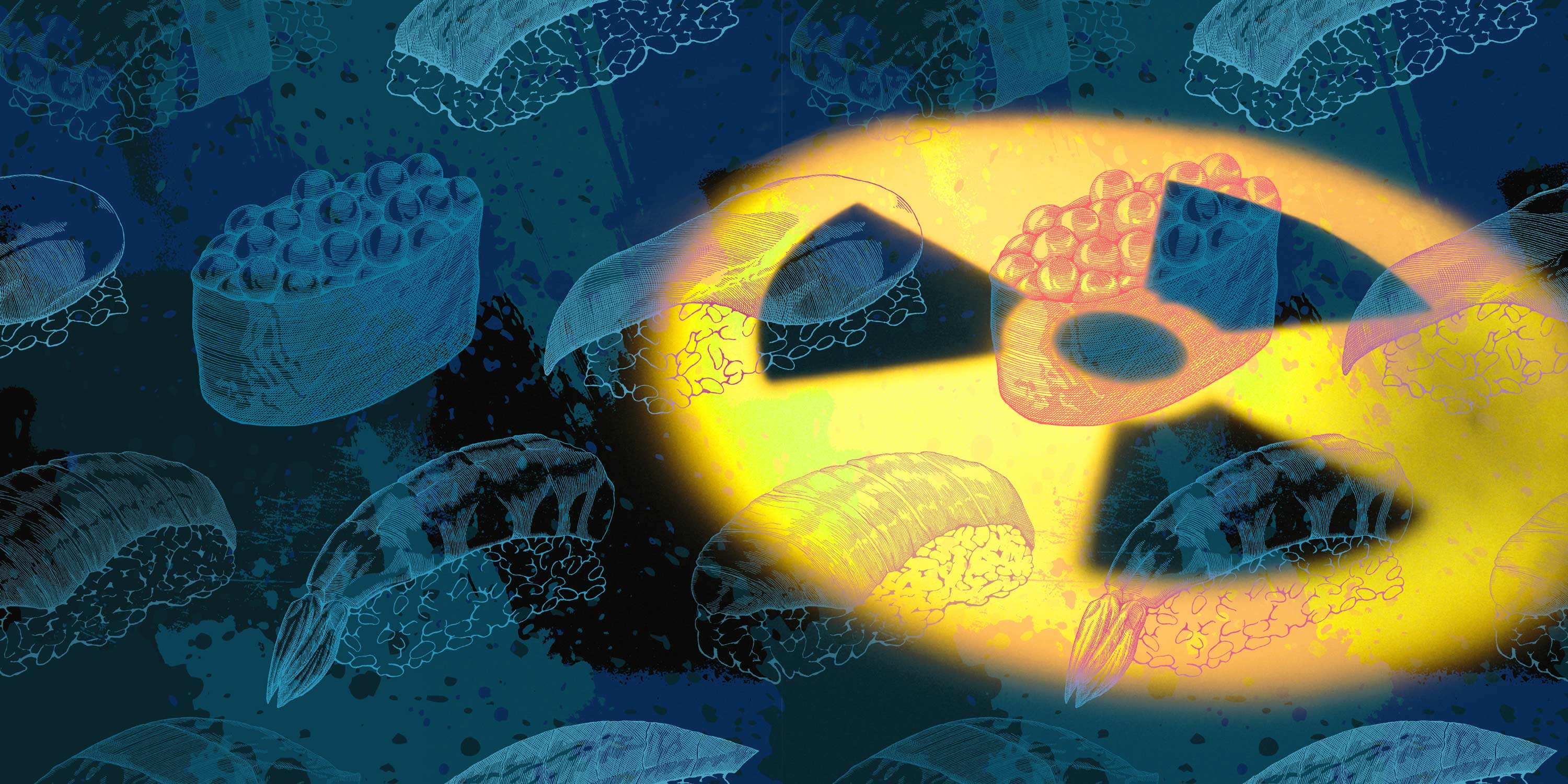 NEWS
Chinese Consumer Backlash Beckons as Japan Releases Nuclear Wastewater
The move to release nuclear wastewater into the Pacific Ocean is likely to hit Japanese-related businesses in China hard, from restaurants to cosmetics.
Chinese people are expressing their outrage as Japan begins discharging radioactive wastewater into the Pacific Ocean, with Japanese-related businesses in China set to suffer in the face of consumer boycotts and a seafood import ban. 
China's customs department announced Thursday an immediate ban on aquatic imports from Japan shortly after Japan began releasing the wastewater generated from the failed Fukushima Daiichi nuclear plant despite local and international opposition. 
Japan has defended the release of the wastewater, pointing out that the move is consistent with international safety standards. 
The controversial move is set to hurt Japanese-related businesses in China. Shanghai resident Sheng Li, who often eats at Japanese restaurants, told Sixth Tone that he will refrain from eating food from Japan over safety concerns. 
"We are on the same Earth, nobody can be immune to the impact. It's just a matter of time," he said. Japan has said the discharge of the wastewater, totaling more than 1.3 million metric tons, will last 30 years.
An employee at high-end Japanese restaurant Huiliaoting Kaiseki in Beijing said business was already down 20% over the past month, after China banned imports of food and agricultural products from 10 out of 47 Japanese prefectures in July. 
Heightened radiation tests on imports have also made it more difficult for them to source ingredients, the employee said. The restaurant has yet to decide how to respond to Thursday's comprehensive import ban.
China is the biggest importer of Japanese seafood. However, the ban is more likely to hurt high-end restaurants that source most ingredients from Japan, with several mid-range Japanese restaurants telling Sixth Tone that the import ban is unlikely to affect them as they mostly source from Chinese fisheries. 
However, these restaurants' business may still be hit by consumers' increased concerns about the safety of eating seafood in general. Research conducted by Tsinghua University indicates that the wastewater will reach China's coasts within 240 days.
The news has been trending on Chinese social media for several days, with many posts attacking Japan. On microblogging platform Weibo, a hashtag announcing the beginning of the wastewater release has gained 1.9 billion views as of Thursday afternoon. 
"The Earth can exist without Japan, but it cannot exist without the oceans," read the top comment, which was liked over 125,000 times, on state broadcaster CCTV's post about the wastewater release on Weibo. 
In a Weibo poll with more than 255,000 respondents, 97% said they will no longer eat seafood from Japan.
Some Chinese people have also begun hoarding sea salt with many stores on e-commerce platforms sold out. Panic buying of sea salt also happened in 2011 when the Fukushima nuclear plant was hit by the earthquake due to contamination concerns.
Wang Xiaoqing, executive chairman of the China Salt Association, told local media Thursday that China produces enough salt from different sources including wells and lakes to meet demand, urging consumers not to panic-buy.
Since June, when Japan announced its wastewater release plans, there have been calls to boycott other Japanese industries including cosmetics and travel. A Weibo poll on Thursday showed 95% of 128,000 respondents saying they will not travel to Japan anymore.
Editor: Vincent Chow.
(Header image: Visuals from mecaleha and Lawrence Lawry/VCG, reedited by Sixth Tone)