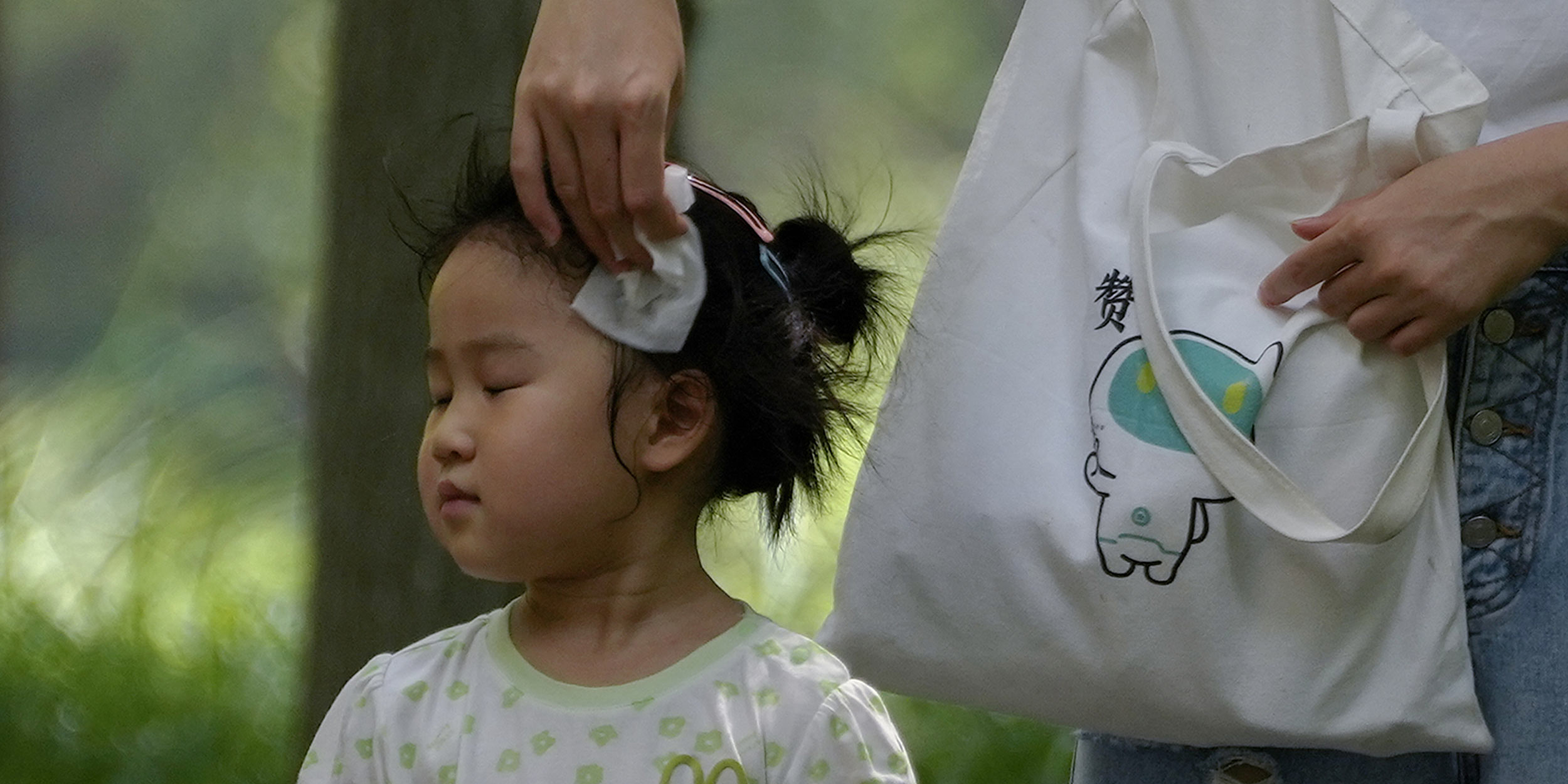 SIXTH TONE ×
China Falls Back on Coal To Meet Summer Peak Demand
Experts say grid upgrades and demand-side management are needed to meet loads made greater by AC during extremely hot summer.
Since the beginning of summer, much of China has sweltered under exceptionally high temperatures of 35 degrees Celsius or more, particularly in the north. Beijing experienced 15 high temperature days during June, and by mid-July more than 27 such days had been recorded, the most since meteorological records began.
To deal with these temperatures, demand for cooling surged, bringing forward the start of summertime peak power demand. In the second quarter, the load on Beijing's power grid was up by about 30% year-on-year, while multiple record high loads were recorded in Guangxi and Hainan provinces.
Despite heavy rain and flooding across China starting on July 29, high temperatures could return in August, possibly bringing further increases in power demand, according to Wang Yawei, head of the China Meteorological Administration's emergency disaster mitigation and public service division.
China's power system appears to have been well prepared this year, following widespread power shortages in Sichuan last summer. Ou Hong, deputy secretary-general of the National Development and Reform Commission (NDRC), recently said: "Preparations for ensuring supply through the summer peak have been earlier and more comprehensive this year."
"We have the confidence, commitment, and capability to guarantee a secure, stable supply of energy and electricity in response to peak summer demand," he added.
Most of these preparations have taken the form of increasing coal power capacity and generation.
Coal power is guaranteeing supply
Total electricity consumption in China from January to June this year was about 4,300 terawatt-hours (TWh), a rise of 5% year-on-year, according to data from the National Energy Administration (NEA). Scorching summer weather, and the greater usage of AC and other cooling equipment, has driven a rapid increase in electricity demand.
Yu Bing, deputy director of the NEA, confirmed recently that the peak period for electricity consumption came earlier this year, with soaring temperatures in a number of regions. According to data provided by the State Grid Corporation of China, the highest load on the north China power grid exceeded 276 gigawatts (GW) on June 23, the highest load of the summer up to that point and an increase of 2.9% compared to the same day last year. A day later, the peak load reached 281 GW, an increase of 5.3%.
Meanwhile, peak load at the south China power grid had already reached 222 GW, close to the highest on record, according to an official speaking in June. Record highs for electricity consumption had already been set multiple times in both Guangxi and Hainan, the official added.
The China Electricity Council has forecast this year's highest load, nationally, to be about 1.37 terawatts (TW), some 80 GW (or 6.2%) higher than in 2022. In the event of widespread weather extremes over a lengthy period, the highest load could be 100 GW higher than in 2022. The overall balance of electricity supply and demand across the whole country is going to be tight this summer.
On June 30, SASAC (the State-owned Assets Supervision and Administration Commission of the State Council) said state-owned enterprises should do everything in their means to ensure the security and supply of power through the summer peak: power generators are to supply all the power demanded of them, as far as possible; coal producers are to go all out to ensure coal supplies for electricity generation; and grid operators are to stand firm in support of meeting people's electricity needs and ensuring security of production.
Yuan Jiahai, a professor at the School of Economics and Management of North China Electric Power University, who has long studied China's energy issues, told China Dialogue: "At a time of seasonally high temperatures and intensifying regional weather extremes, most parts of China are susceptible to power shortages. This year in particular, with high temperatures right across the high-load provinces of eastern China, electricity for cooling is driving the highest loads even higher, meaning that for short periods it will be harder to ensure power supply. In major hydropower provinces such as Yunnan and Sichuan, meanwhile, drought and low rainfall in recent months have brought a significant decline in hydroelectricity output. Overall, it has become more of a challenge to ensure the nation's electricity supply."
With hydropower output contracting and power generation from renewables being insufficiently stable, thermal power (particularly coal) has been China's ultimate guarantor of power supply this summer.
Lin Boqiang, director of the China Institute for Studies in Energy Policy at Xiamen University, told China Business Network that falling hydropower will spur increased demand for coal power. And when hydropower output is insufficient, thermal power is the main gap filler.
Yuan Jiahai also predicts that in many places, load peak and peak duration will be higher this year than last, and given the expected drop off in hydropower from the south-west it is inevitable that more coal power will be generated during the summer peak.
On June 5 in Sichuan, which suffered widespread power restrictions last year, China Huadian's Sichuan subsidiary brought seven thermal power units, each generating 2.8 GW, into operation, to keep the electricity flowing. And in May, the company's total purchases of coal for power generation reached their highest level in several years.
In Hubei, the China Three Gorges Corporation has been pushing ahead on pre-approval, with construction of two 1 GW thermal power units at the Yicheng Power Plant. The first unit was connected to the grid on July 5 and is currently undergoing full-load trials.
This year, as of the end of June, China's newly installed capacity for thermal power generation was 26 GW, slightly more than the combined newly installed capacity for wind and nuclear during the same period, according to NEA data. More installed capacity has brought more thermal power generation. During the first half of the year, such generation was up by 7.5% year-on-year, shows National Bureau of Statistics' data. This reverses the first half of last year's decline of 6% year-on-year.
China is also going full steam ahead on ensuring fuel supply for thermal power plants. From January to June this year, the country produced 2.3 billion tonnes of raw coal, 4.4% more than in the same period last year, while coal imports were up by 93%, at 220 million tonnes.
The price of the thermal coal used by coal power companies has actually dropped slightly since the beginning of this year, in reaction to the sufficiency of coal supply. In Qinhuangdao port, the consolidated trading price of thermal coal of 5,500 kilocalories stood at 734 yuan (US$100.76) per tonne on July 28 this year, down from 813 yuan on January 6, a decrease of 10%, according to data from the CCTD coal market network.
Economic Information Daily reports that, with additional support and coal imports in mid- and long-term contracts, power companies boosted their coal purchases ahead of time and have healthy stockpiles, meaning "there is robust support for and assurance of power supplies during the summer peak."
At a recent State Council policy briefing, NDRC Deputy Secretary-General Ou Hong said: "Ample mid- and long-term contracts for thermal coal have been agreed, the fulfilment rate is high, and coal stocks are at a historic high at power plants managed by the grid. As things stand, there is 198 million tonnes of coal stocked at such plants across the country, more than 23 million tonnes higher than at the same time last year and enough for nearly 26 days."
In 2021, sharply rising coal prices led to a shortage of electricity, but that is not likely to be repeated this year.
Concerns over the rise of coal power
There are some troubling indications to accompany the resurgence of thermal power plants in China, with coal-rich provinces looking to capitalize on policies for ensuring power supply by cashing in on buried "black gold." According to preliminary statistics, China approved 97.37 GW of new coal power projects in 2022, nearly five times that approved in 2021.
Yuan Jiahai argues regional development of coal power can be divided into three categories.
In the first, major industrial provinces like Guangdong, Zhejiang, and Jiangsu face the risk of insufficient baseload, and have had a practical need to build more coal power since power shortages began in early 2021.
The second mainly comprises the wind and solar power strongholds of western China, where coal power plus energy storage are needed to ensure that at least 90% of generated renewable energy is actually used, as well as operating inertia in the transmission system, so that reasonable utilization rates can be guaranteed for ultra-high voltage transmission lines.
The third covers coal-producing provinces like Shaanxi, Shanxi, and Inner Mongolia, where local governments are making use of national policy for ensuring power supply in order to get projects greenlighted, to extend the industry chain for coal and capitalize on coal resources.
Lauri Myllyvirta, lead analyst at the Centre for Research on Energy and Clean Air (CREA), told China Dialogue: "An important thing to note is that the majority of this capacity is not in those provinces that are at risk of electricity shortages, even considering the issue of inefficient grid operation. So the concern about electricity shortages in Guangdong, the Yangtze River Delta, and the south-west region led to all controls on permitting being dismantled. Currently, it seems that the government is encouraging coal power investment indiscriminately across the board, as a part of efforts to offset the weakness in other parts of the economy."
Yuan Jiahai proposes that the key to alleviating the electricity shortage during peak summer demand, and to addressing regional imbalances, is to successfully manage the supply and demand sides of the power system without burdening society.
Recently, Guan Peng, head of the NDRC's Bureau of Economic Operations Adjustment, has also emphasized the importance of demand-side management. "Judging by years of power operations, there are just a few dozen hours annually when the national consumption load is higher than 95% of peak load. If we can properly stagger consumption over these hours, we can save more than 50 GW of peak power generation resources."
Myllyvirta told China Dialogue: "China has enough generating capacity to meet power demand, also during summertime demand peaks. The reason that there are shortages is the inflexible and outdated way that the grid is being operated. This has been highlighted implicitly also by many Chinese experts who have called for more efficient use of existing coal power capacity rather than construction of new capacity."
Yuan Jiahai says: "Blindly building coal power does not solve the problem of maintaining supply. The greatest worry is new coal power construction in provinces where there is no lack of electricity, or at least no lack of baseload. It's utterly uneconomic, and is a case of regions getting carried away. In many places, however, new coal power is still a fairly effective way of driving economic growth, in the short term at least."
The importance of renewable energy investments
Despite the wave of permits for coal power projects, the penetration of renewable energy into China's power system continues to accelerate.
According to NEA data, installed generating capacity grew 10.8% year-on-year during the first six months of this year. Thermal power installed capacity was up only 3.8%, compared with growth of 13.7% and 39.8% in installed capacity for wind and solar power respectively.
The tilt towards renewables is even more evident in investments into power plant construction. Between January and June, completed power-supply project investments in China totaled 331.9 billion yuan (US$45.6 billion), a year-on-year increase of 53.8%. Of those, thermal power accounted for 39.2 billion yuan, a 13% increase. Nuclear power was at 35.9 billion yuan, up by 56.1%. Wind power was 76.1 billion yuan, a 34.3% increase. And solar power was 134.9 billion yuan, up 113.6%.
In an analysis on China Dialogue in April, Myllyvirta pointed out that there will be no room for coal power to grow once the growth of clean energy outpaces total electricity demand growth. As capacity continues to increase, the utilization rate of China's vast fleet of coal-fired plants will decline. The analysis posited that China's carbon emissions could peak in 2024, given the rapid growth of clean energy and the expected slowdown in growth of demand for electricity.
Even with the recent surge in coal power installations, Myllyvirta stands by his assessment. "If clean energy investment growth continues at current rates, this assessment is correct. I think it's quite clear that in 2024–2025, we will see a reduction in coal power generation, just as the newly permitted plants start to come online, resulting in a steep drop in utilization and renewed concerns about overcapacity. What happens afterwards is up to China's policymakers, but if clean energy investment is maintained, peaking emissions over the next couple of years is entirely attainable."
Liu Mingyang, head of the NEA's electricity division, recently released data showing that increased coal-power capacity has not reversed renewable energy's accelerating expansion. "From January to June 2023, wind and solar PV accounted for 71% of newly added power capacity across China, and more than 54% of new power generation."
Myllyvirta says: "China is getting close to this point but further increase in investment is needed. My concern is that the massive investment in new coal power plants creates a vested interest in sticking to coal power generation for much longer than necessary. This could result in a slowdown in clean energy investment."

Writer: Xia Zhijian.
This article was first published in China Dialogue. It is republished here with permission.
(Header image: A woman wipes sweat off a child on a sweltering day in Beijing,  July 26, 2023. Andy Wong/AP via VCG)