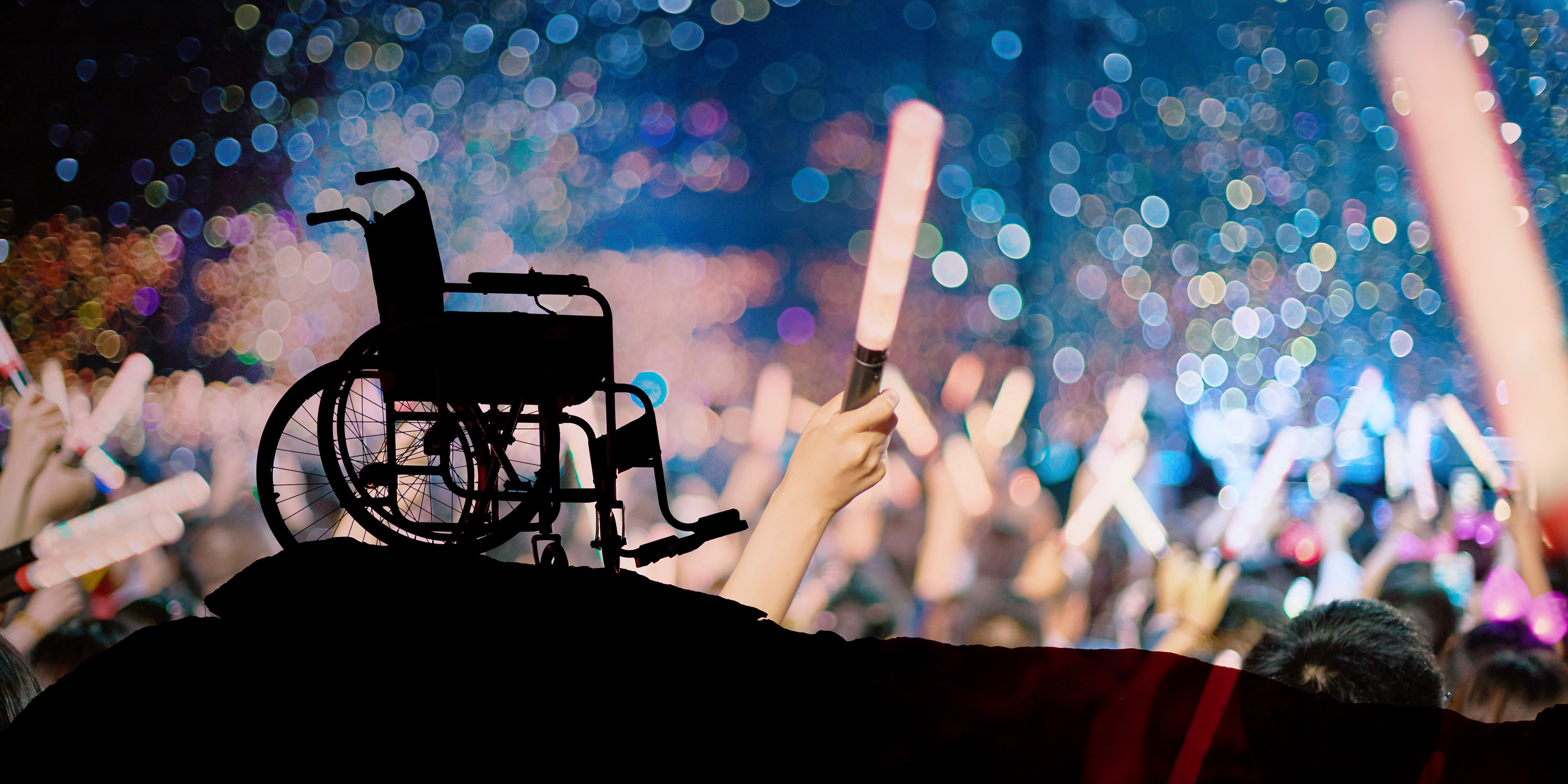 FEATURES
As Live Music Booms in China, Disabled Fans Call for More Inclusion
The return of large-scale pop concerts has sparked huge excitement in China over recent months. But fans with disabilities still face serious barriers to accessing the events — and they're calling for change.
The return of live concerts has caused wild excitement in China over recent months, with music fans fighting — sometimes literally — to get into stadiums and see their favorite artists perform for the first time since 2019.
But one group has felt left behind amid the hype: the country's 38 million people living with disabilities.
China has invested in improving disabled access to public venues in recent years, but members of the disability community say that they still face a number of barriers — especially when attending big events like pop concerts.
The issue came under the national spotlight in July, when a disabled influencer on the microblogging platform Weibo posted an account of trying to attend a recent gig in the southern city of Guangzhou — an ordeal that he said left him "mentally exhausted."
The 25-year-old — who lost his ability to walk after a vascular tumor ruptured his spinal cord seven years ago — made several calls to the organizers before the gig, but was still unable to enter the venue at first because the barriers were too narrow. 
After speaking with several security guards and venue staff, he was finally allowed to enter via an alternative gate. But he then had to find more staff to help open the stadium's wheelchair area, as the space had been left locked.
The whole experience was "too unfriendly," said the man, who posts on Weibo under the handle Luyezi. But, sadly, it was also far from unusual: Many people with disabilities are put off from attending concerts in China, as they find the process too troublesome.
"A concert means a lot to people with disabilities — most of us find little hope in our lives, but we can gain so much power, support, and joy from a two-hour show," Luyezi, who declined to reveal his real name for privacy reasons, told Sixth Tone. "But we don't want to cause trouble to others. The lack of barrier-free facilities can make us feel embarrassed."
The post sparked widespread discussion, receiving thousands of likes and shares on Weibo and inspiring a follow-up report by the Chinese media outlet Southern Metropolis Daily. It also provoked a response from local authorities in Guangzhou, with officials meeting to discuss the issues raised by Luyezi's story.
China has made real strides in making public venues more accessible in recent years — Shanghai alone has constructed over 50,000 wheelchair ramps outside public buildings, and now operates over 7,000 wheelchair-accessible buses. Local authorities in many parts of the country have introduced regulations requiring venues to create barrier-free environments.
But as Luyezi's experience shows, building the right facilities often isn't enough. In many cases, the venues install the equipment to comply with local regulations, but then fail to use it properly.
"They have the wheelchair-accessible elevators, but they were locked. They have the disabled toilets, but they were locked, too," said Luyezi, describing his visit to the stadium last month.
The hope is that new legislation will help address this issue. In June, China approved its first law mandating the construction of a barrier-free environment, with the policy due to come into force on Sept. 1.
The measure not only requires all newly built public venues to provide barrier-free facilities — and orders local authorities to ensure all existing public venues without such facilities are renovated — it also makes clear that venues must maintain those facilities and make sure they're available when needed.
Venues that fail to comply with the rules can be fined, and those in charge are also liable to punishment, according to the law. For Zhang Wenjie, a lawyer at the Guangdong Global Kingway Law Firm, the new policy should make it easier to hold venues accountable.
"This law has addressed the real issues," Zhang told Sixth Tone. "In previous cases, we cited the Civil Code to get victims civil compensation. The new law now holds (government) departments or individuals in charge of barrier-free facilities responsible — it means additional administrative penalties for them."
"How these stipulations are implemented will be key," she added.
For Luyezi, it's vital that people with disabilities receive better treatment at Chinese concerts. Many in wider society fail to appreciate the importance that music can have to people like himself, he said.
"I often joke to people that music helped me survive," he said. "I was in a dark place following my medical emergency. I put on my earphones, listened to music, and let my tears flow. I'd never realized that music could have such enormous power. I gradually recovered and accepted reality."
It wasn't until 2019 — three years after losing the ability to walk — that Luyezi summoned the courage to attend his first concert in a wheelchair. "I was hesitant, because I didn't know what was waiting for me," he recalled.
The show was Australian singer Troye Sivan's performance at the Shenzhen Bay Sports Center. The experience was just as uncomfortable as Luyezi had feared. Not only was there no disabled entrance; there wasn't even any disabled seating.
"The staff there carried me to my seat," he recalled.
Things have improved a bit since then. Most stadiums have disabled areas now — although they're often kept locked — and staff tend to be friendly and willing to help. But Luyezi longs for the day when he can see his favorite singers perform without feeling like an inconvenience.
"When the concert staff helped me solve my problem, lots of other people were kept waiting at the gate. That's not what I wanted to see," he said. "In a good barrier-free environment, you don't need help from anyone. You can do things on your own."
Bao Xiaoyu, a 19-year-old from Dongguan in south China's Guangdong province, echoes these sentiments. After she lost the ability to walk in a ballet accident aged 8, music became deeply important to her, as it "offers a lot of upbeat emotions." 
She is now studying music at university, and says she "treasures every opportunity" to attend a concert. But she rarely does so on the Chinese mainland, as the experience is too uncomfortable. She recalls a particularly painful evening in 2017, when she attended a gig in Dongguan with her mother.
"We asked where the rampway was, but the security guards said they had no idea. My mom carried me up to the folding seat in the stadium," said Bao. "No one said I could sit in my wheelchair. There was just no one taking care of disabled people."
Nowadays, Bao prefers to attend concerts in Hong Kong, where venues offer better services to people with disabilities. She traveled to the city to see Taiwanese pop star Jay Chou perform in May.
"The communication with staff there was smooth and efficient," Bao recalled. "They guided me into the stadium and used guardrails to protect me."
Song Cheng, a 28-year-old from east China's Jiangsu province, has also found consolation in music since partially losing her hearing a decade ago. She especially loves the work of Taiwanese singer Angela Zhang, whose voice has a uniquely penetrating power that Song is able to hear relatively clearly. 
"Her songs are powerful — they supported me through the years after I fell sick and during high school, where my teachers treated me as a liar and a bad student," said Song. "I told them I couldn't hear clearly in class, and they assumed I was simply not concentrating."
Song was excited to get tickets to see Zhang perform at the Tianjin Olympic Center last month. But she was disappointed by the lack of provisions for the hearing-impaired at the show.
"The stadium is huge, and the lyrics on the screen were too small for me to pick out," she recalled. 
When the pop star was interacting with the audience between songs, there were no real-time captions displayed on the big screen, Song added. "I could hear nothing then," she said.
Song hopes that in the future more artists will follow the example of U.S. pop star Taylor Swift, whose concerts provide a dedicated area for people with disabilities and a real-time sign language interpreter. 
"When I told my friends about Taylor Swift's concerts, they were thrilled," said Song. "I hope one day concerts will be made friendly enough to people with hearing disabilities, so they can enjoy the atmosphere."
And, of course, the same goes for other public venues. Luyezi stresses that there is still a long way to go in terms of making China a more inclusive place.
"In subway stations, in shopping malls, and on the streets, I've encountered different barriers," he said. "Sometimes I had to count on others to carry me over obstacles."
Editor: Dominic Morgan.
(Header image: bybostanci and 500px/VCG)