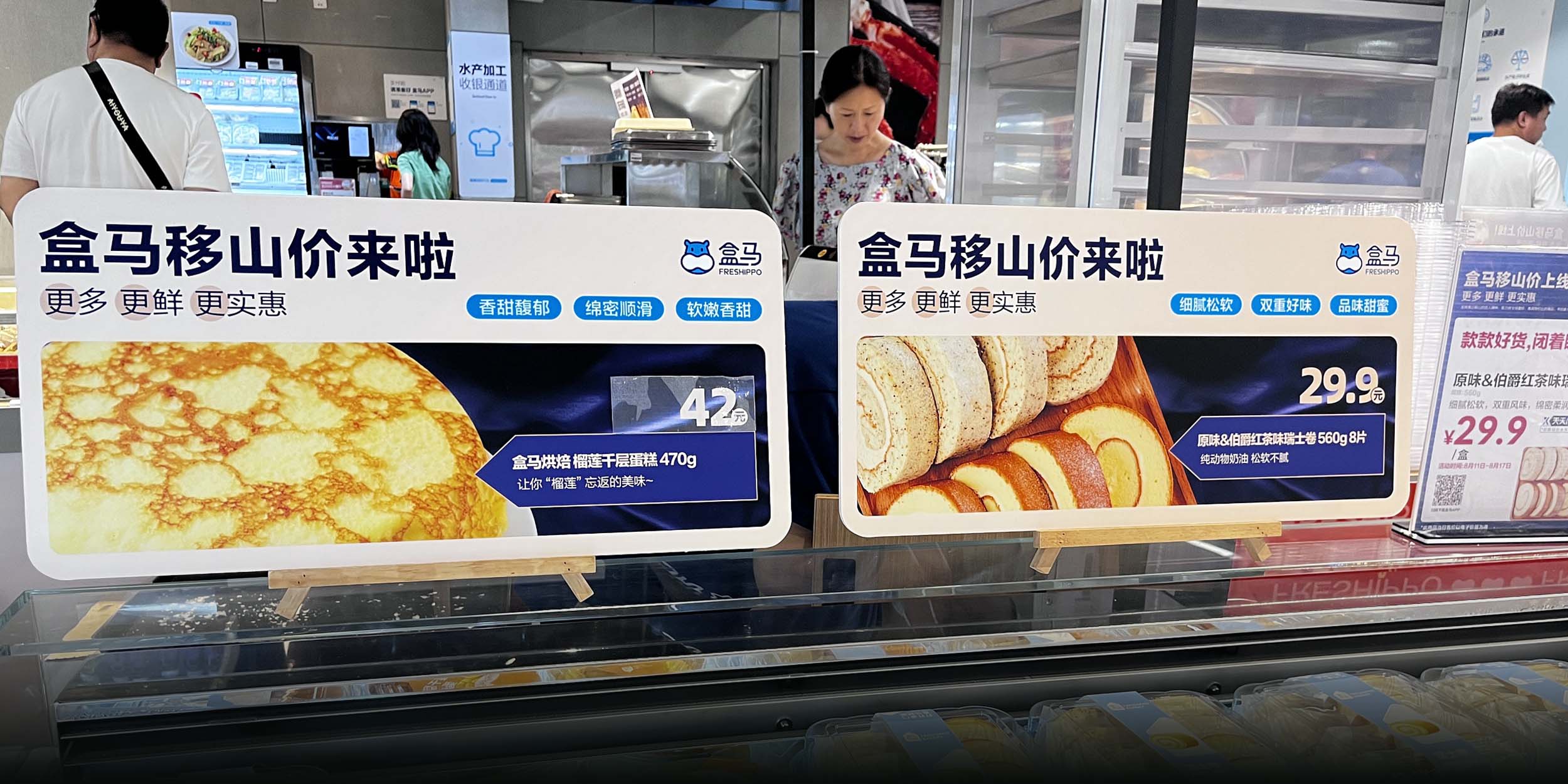 NEWS
Discount Duel: China's Top Retail Giants Go Head-to-Head on Prices
With several traditional supermarket chains shutting shop, Sam's Club and Freshippo are locked in a race to expand their market share and adapt to a new consumer landscape in Beijing and Shanghai.
Beginning August, Walmart-owned Sam's Club and Alibaba's Freshippo — China's leading supermarket giants — have been striving to outdo each other in an intensifying tit-for-tat price war aimed at enhancing their market dominance and attracting more consumers. 
According to China Economic Weekly, the price war began on Aug. 1 when Freshippo, known as Hema in Chinese, cut the price of its durian layer cake from 128 yuan ($17.60) to 98.90 yuan in Beijing and Shanghai. Soon after, Sam's Club reduced the price of the same cake to 98.80 yuan. 
The next day, Freshippo further lowered the price of the Durian cake by another 10 yuan, forcing Sam's Club to decrease their price by 10.90 yuan. As the price reductions continued, Durian cakes were ultimately being sold for 79 yuan at the Freshippo Membership Shop and 85 yuan at Sam's Club. 
The cutthroat pricing comes in the wake of major upheavals in China's retail landscape, where traditional supermarkets and hypermarkets are facing a wave of closures. 
In recent years, well-established names like Yonghui Superstores have shut down nearly 400 shops, while French giant Carrefour China, another major retail player in China, closed 33 of its stores between January and March this year — more than a fifth of its total outlets. 
Amid these significant market shifts, Sam's Club and Freshippo are competing to expand their market share and leverage the evolving consumer landscape. Topics related to the price war have garnered the attention of more than 130 million users on Weibo, China's microblogging platform, with several expressing delight at the wallet-friendly options. 
On July 30, domestic media reported that Freshippo had initiated a "Move the Mountain" campaign in Shanghai, also dubbed "Yi Shan Price." This title has been interpreted by netizens as a declaration of having lower prices than Sam's Club, given that the name of Sam's Club in Chinese includes the term "shan." Freshippo promoted the campaign with the slogan "more, fresher, and cheaper."
For the moment, the price war remains confined to Beijing and Shanghai. 
Sixth Tone found that several products offered at a discount in Shanghai retained their original prices in Guangzhou, in the southeastern Guangdong province. On the Freshippo app, 470g durian layer cakes were tagged at 69.90 yuan — but priced at 42 yuan in Shanghai. 
Similarly, at Sam's Club in Guangzhou, the Durian cake being sold for 85 yuan in Shanghai maintains its original price of 128 yuan.
The overlap in customer base has also played a significant role in driving the price war. According to MoonFox Data, China's leading data analytics platform, almost half of Sam's Club members also actively use Freshippo's official app.
While Sam's Club is well-known for its exclusive membership approach, offering premium products tailored to loyal customers, Freshippo has been proactively expanding its own membership market in recent years. 
Freshippo established its first membership store in Shanghai in 2020, marking the beginning of its efforts to establish a solid membership presence in China's financial hub. The following year, Sam's Club inaugurated its largest flagship store in China in Shanghai. 
Editor: Apurva. 
(Header image: Freshippo promoting cheaper prices at a store in Beijing, Aug. 11, 2023. VCG)