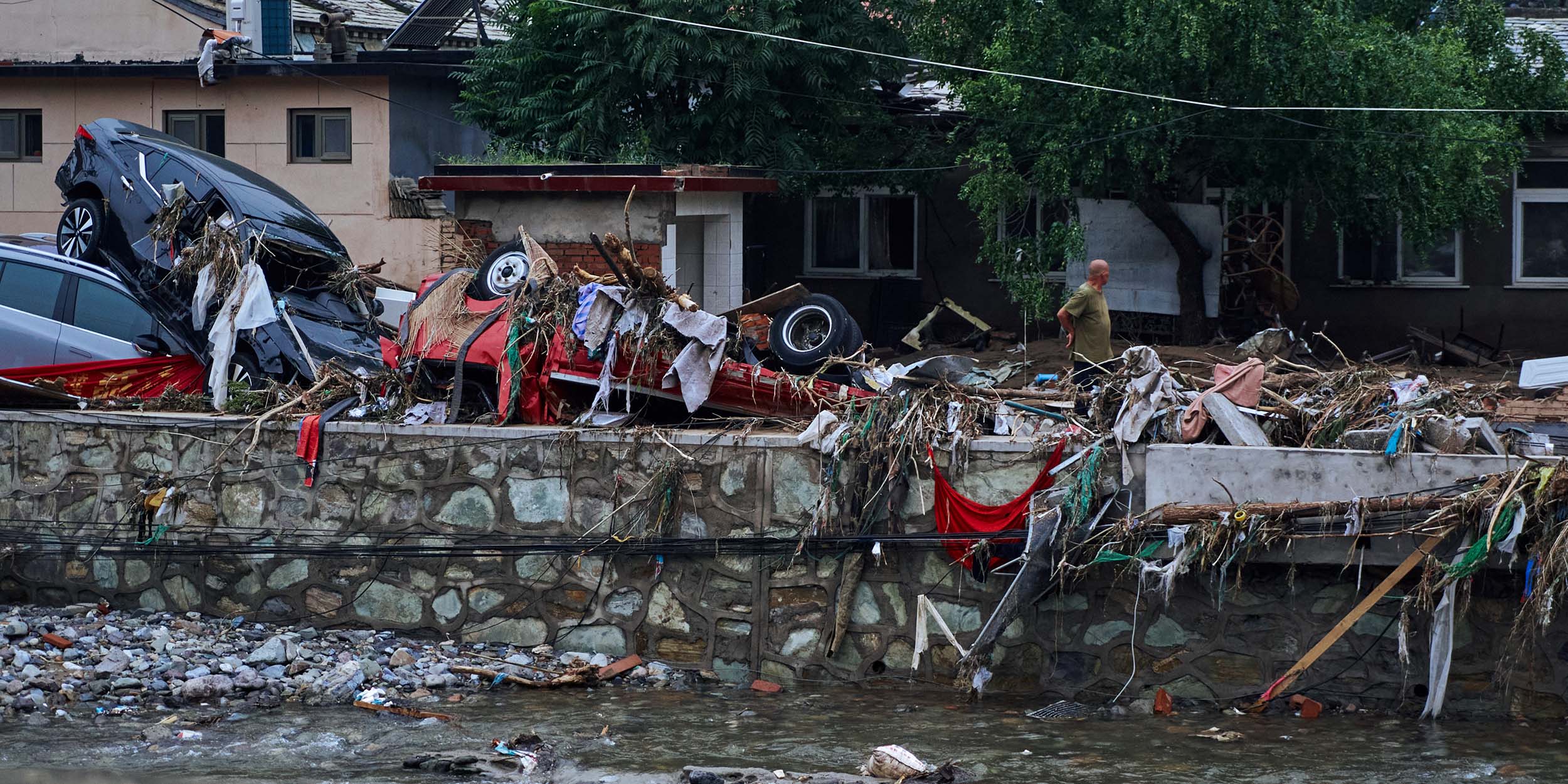 NEWS
The Human Toll of North China's Historic Floods
For residents in rural parts of northern China, the scale of the impact of the historic flooding on their lives and livelihoods cannot easily be explained. From missing loved ones to tales of survival, here are some of their stories.
BEIJING — Wang Jianhu has been a driving instructor in Beijing's Haidian District for the past 10 years. Every day at 6 a.m., he begins his 30-minute commute from his home in the rural district of Mentougou to the capital's richest district to teach his students, arriving back home around 10 p.m.
"He was a star instructor at his driving school, with many students wanting him, so his schedule was always full," his wife, surnamed Zhang, tells Sixth Tone.
In the past week, their home has attracted national and even international attention. Images showing floodwater almost completely submerging a two-story-high paifang, or village entrance gate, in Mentougou went viral, marking the scale of the disaster that has hit Beijing and surrounding provinces.
Wang only took one day off every year: the first day of Spring Festival when there would be no students. The only other time he took a longer holiday was when his father-in-law passed away. According to Wang's sister, it was the longest rest he had taken in 10 years.
Married for over 20 years, the couple have a daughter, Wang Jingyi, 22. She has been studying sports journalism at Beijing Sport University, one of the country's leading sports universities, after securing several scholarships.
Wang was supposed to graduate next year. Her plan was to join the civil service. She has been studying hard over the past few weeks of the summer vacation in preparation for the highly competitive civil service exams, usually at the university library.
Several state-run companies already showed interest in hiring her once she graduated, according to Zhang.
"She understood our family's financial difficulties at a very young age and was taking on many part-time jobs to support herself," says Zhang. "She has barely asked us for money since she entered university."
On the morning of July 31, a Monday, both father and daughter were supposed to head off to the city center. However, heavy rainstorms meant that Wang Jianhu's driving classes that day were canceled. With her father at home, Wang Jingyi then also decided to stay at home to make it an extended weekend of family time.
At that point, they did not know the rain battering down was the most the capital has seen in more than a century. As the floods came, they sprang into action, fortifying their house — a self-built unit with both a front and back yard.
The last thing Zhang remembers is seeing her husband stacking bricks in front of their entrance gate to stop the fast-flowing water from rushing in. And of her daughter, what Zhang remembers is seeing her trying to shut the door to their backyard.
"We first saw a gentle stream of water flowing down towards us on the street," Zhang recalls. "Suddenly there came a huge wave, five meters tall and roaring at us like a monster."
In a flash, the water swept both her husband and daughter away. Zhang was spared as she was inside the house.
For the past week, Zhang has been searching for them with the help of other villagers. They have tried to analyze the flow of the floods that tore through their village that day, in an attempt to find out where her husband and daughter may have gone — to no avail. 
Zhang has asked local police several times for information, but nothing. So far, officials have confirmed four deaths and 13 people missing in Mentougou, with the identities still being verified. Zhang is not sure if her husband and daughter are included in the two figures. Her relatives have forced her to stay with them because they fear she will kill herself.
"Where are my husband and my daughter? Can you tell me?" she asks.
Lives, dashed
For Beijing's urban residents, the villages of Mentougou are a popular weekend escape from the bustling capital life. The Yongding River, the largest to flow through Beijing, zigzags around villages like Xiaweidian and Dingjiatan, encircling them on three sides. 
Several campsites and resorts are dotted around the banks of the river. In recent years, the local government has also set up several designated wetland parks in the nearby area, showcasing the area's mountainous terrain and abundance of orchards — especially popular among Beijing's motorcycle enthusiasts. 
It was the area's beauty that attracted Cai Xiang, a 33-year-old Beijinger, to start a campsite near the village of Dingjiatan in late April — the village whose gate is shown in the viral images. Spurred on by the camping craze that emerged in China during the pandemic, Cai chose the location because of its wetland landscape. He spent hundreds of thousands of yuan on developing the 40 mu site, the size of four soccer fields.
Online reviews of the campsite posted two days before the floods began contain several positive comments, praising the area for providing a serene escape from the hustle and bustle of city life. The floods destroyed half of the campsite and all of his equipment. "God is cruel," Cai wrote on his WeChat on Aug. 1, a day after the floods.
In the past week, the floods have swept across northern China, devastating Hebei, Heilongjiang, and Jilin provinces, causing dozens of deaths. Some of the hardest hit areas are remote, mountainous villages like those in Mentougou.
These villages' unique topography, normally their big selling point, was also what made the flooding so severe, according to Huang Zengcai, chief engineer at China Road Construction North Corporation. His team has been responsible for salvage efforts in the area since last week.
Mentougou is actually an arid area that sees little rain most of the time — around 600 millimeters per year, or a third of annual rainfall in the southern city of Guangzhou. In fact, the Yongding River has been notably dry in recent decades. From July 29 to August 1, the district saw an average rainfall of 471.11 millimeters, local officials say.
"The village is on high ground and the drainage system is clogged," Huang tells Sixth Tone, explaining that the area is not built to withstand this much rainfall.

Along the banks of the river, roads and walkways have been hollowed out. What remains are the surface layers of asphalt, as the sand and gravel below have been swept away. These then pile up in places that block vehicles, making rescue and disaster relief more difficult. Many roads that once were a wonderland for motorcyclists are now buried in mud, with gravel and tree branches scattered everywhere.
"I'm not sure if we can rebuild all this later," says Cai. "We have no money on hand for reconstruction."
At 5:30 p.m. on July 29, two days before the flooding began, Beijing authorities issued the highest red rainstorm alert for several areas, including Mentougou. The alert warned of the risk of disasters such as flash floods and instructed residents to be vigilant. Last year, the city of Beijing called for disaster warnings to be issued at least three hours in advance.
Local village officials sent out warnings in residents' WeChat groups the same day, advising them to evacuate. Zhang, whose husband and daughter were swept away, is a member of one of these groups. Though she saw the message, she did not evacuate because she did not think the rainstorms would be that severe.
When serious levels of floodwater began inundating the villages at around 11 a.m. on July 31, the Beijing authorities had issued another red rainstorm alert for the area, urging residents to stay away from rivers. At 11 a.m., the Beijing Water Authority issued a red flooding alert for the neighboring Fangshan District, but not Mentougou District. Officials say around 5,000 residents were evacuated from Mentougou as of 2 p.m. on July 31.
According to domestic media reports, local officials in some villages in Mentougou knocked on villagers' doors to urge them to evacuate before the flooding began. Some residents have asked why they were not better prepared for the floods.
Wang Li, a 35-year-old merchant who sells sports jerseys and shoes, was working in his usual spot in downtown Beijing when the floods hit his home village in Mentougou. Despite official warnings, he chose to immediately return home anyway. The floods had knocked out communication base stations all around the district, which meant he was unable to reach his family members.
As Wang approached Dingjiatan's now infamous village entrance gate, his car was already half-submerged in floodwater. Seeing a nearby car with two passengers stuck on the side of a mountain road, Wang abandoned his car. "There was no thinking in my mind about which was the right way — I just ran," he says.
Wang managed to reach the bridge right next to his house, but the rapid water was threatening to sweep him off his feet if he attempted to cross the bridge. Instead, he crossed the bridge by walking along its elevated handrail, but an old man he had known for years was swept away by the floods. Wang has not seen him since.
Unlike Wang, 25-year-old Li Hui was desperate to get out, not in, of Mentougou when the floods hit, but it was already too late. His electricity was cut off, so he decided to eat all the meat and vegetables in his refrigerator before they went off. For the next two days, he ate nothing but hot pot, sharing the meals with his two cats and seven other villagers who were sheltering in his house because their houses had been destroyed. 
His childhood friend, Li Xingyue, was not so lucky. Not only was his house destroyed, but he only had dumplings cooked in millet congee to eat for two days. The only rations that had been salvaged by other villagers staying in his temporary shelter were seven cartons of Hongmei cigarettes and three boxes of orange soda.
"They were the grossest dumplings I've had in my entire life," says Li Xingyue. "None of them were fully cooked."
The villagers were finally rescued by People's Liberation Army soldiers on Aug. 2 when the floods receded, with Li Hui carrying his two cats in a pink carrier on his back. When Li Xingyue stepped out of his temporary shelter for the first time in two days, he immediately saw two dead bodies in the kitchen of the house next door.
"It smelled like rotten fish," he recalls.
The soldiers took the villagers to a temporary shelter in a local school. With most of the other evacuees being elderly, the two Lis helped them with using the toilet and other tasks. They also stayed up late calling up humanitarian charities to ask for donations of fruit and steamed buns for the elderly villagers.
For Wang, a 60-year-old man, the last few days have been quiet. He is the only resident currently staying in his apartment building as his neighbors have either evacuated or seen their homes rendered unlivable.

When the floods receded, he began sitting outside his building, counting the number of pigeons flying by. "I just envy these flying creatures. They are so free," he says. He has been finding consolation in cigarettes he managed to save from the water.
Before the disaster, his village was being developed into an ecological park. In the center of the village, there used to be a wide ditch separating the village into two areas. It had been developed into a children's playground as it was dry most of the time, unless there was serious rain.
Village leaders had planted greenery and built walkways along the sides of the playground. Now, broken-off bricks and uprooted trees line the sides instead.
In the last few days, water supply and communications have gradually returned to normal. As more and more residents emerge from their homes to survey the scale of the destruction, the former children's playground has become something of a gathering place.
Making use of the collapsed pylons, villagers are hanging up their soaked bedsheets and clothes on the out-of-commission power lines. Some are collecting fresh water flowing down from the mountains. The only topic of discussion: how strong the floods were on July 31.
Additional reporting: Fu Beimeng, Ding Rui; editor: Vincent Chow.
(Header image: Damaged cars, collapsed power lines and trees in Xiaweidian Village, Miaofengshan Township, Mentougou District, Aug. 3, 2023. Fu Beimeng/Sixth Tone)