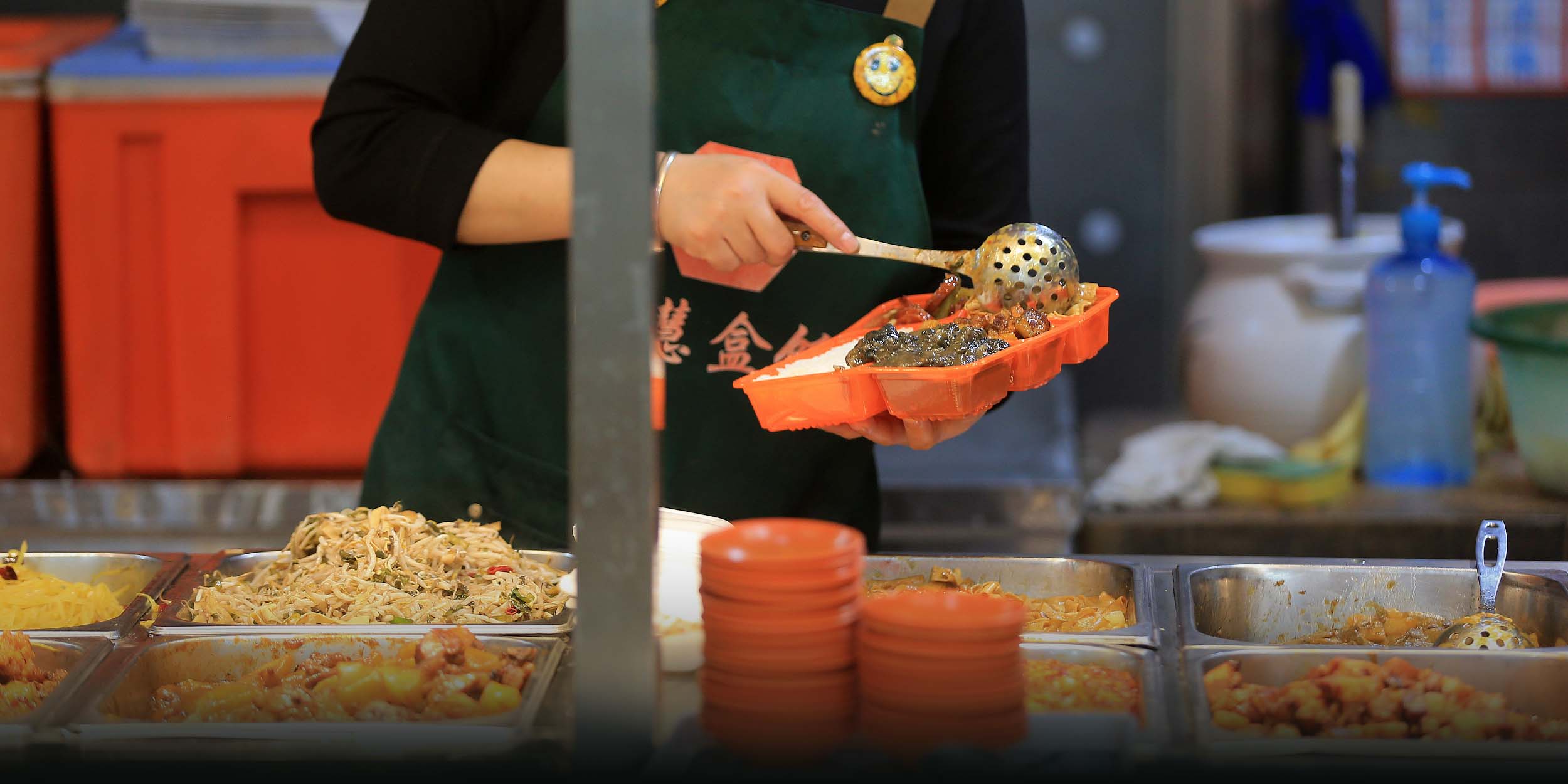 NEWS
Dip In Spending Kicks off Price War in China's Fast-Food Industry
Discounted menus targeting the price-conscious are emerging across the country, leaving small eateries at risk in an increasingly price-sensitive market.
Amid a countrywide dip in consumer demand, China's catering industry has become a battleground for an intense price war. Small restaurants, already grappling with challenging market conditions, are now competing against major fast-food giants, who have aggressively lowered prices to attract budget-conscious customers. 
Since May, discounted menus and various promotions targeting the price-conscious middle class have emerged in most cities, putting small eateries at risk of survival in an increasingly price-sensitive market. 
Hefu Noodle, a fast-food chain with over 400 restaurants in 60 cities, led the charge by introducing a set meal priced at just 9.90 yuan ($1.38), complete with a free refill option for dine-in customers. The chain also slashed prices for its popular noodle dishes by 10 yuan. 
Nanchengxiang, a Beijing-based fast-food chain with 129 restaurants, soon followed suit with a breakfast buffet priced at just 3 yuan. For this low price, customers can buy a meal that includes soya milk, milk, egg congee, and hot and sour soup.
Amidst reduced consumer spending, China's Consumer Price Index has witnessed a gradual decline since September 2022. By June 2023, the CPI's year-on-year growth rate was 0%, the lowest since March 2021. 
The data indicates that consumer demand is undergoing a period of sluggish growth, prompting businesses in the food and drink industry to adopt aggressive pricing strategies to attract customers. 
Despite the dip in spending, this year witnessed a boom in the food market. According to business database Qichacha, by the end of May, the number of new establishments had surged to 1.3 million, with an additional 450,000 new ones opening in June. 
In such a scenario, restaurants are finding that lower prices tend to attract more consumers. Netizens have even devised a "pauper's weekly menu," featuring various discounted deals at popular fast-food chains throughout the week. 
According to a report in Caijing, a Beijing-based news media outlet, this weekly menu includes offers such as "McDonald's Monday Membership Day," "30% Off at Domino's Pizza on Tuesdays," "Burger King's Wednesday 9.90 Yuan Set Menu," and "KFC's Crazy Thursday." 
However, for smaller restaurants, this intense price war serves as a stringent test of their supply chain and shop management capabilities. 
According to restaurant owners, a low-price strategy isn't sustainable in the long term since food supply chains are unstable. Small restaurants are especially vulnerable if they focus solely on competing on price. If they raise their prices to cover additional costs in the future, they may lose all competitive advantage.
He Yingbin, the founder of Li Yin Rice Noodle Roll, known for its speciality dish originating from the southern Guangdong province, highlighted the importance of cost control in weathering this fierce competition. 
In a recent interview with domestic media, he emphasized the need to anticipate and mitigate the impact of price fluctuations, especially for essential food items like eggs, which are projected to experience price increases toward the end of the year. 
Echoing a similar sentiment, Wang Guoyu, the founder of Nanchengxiang, believes the ultimate victors in this price war will be the powerful chain brands. Quoting an expert in the catering industry, online media outlet Shijie reported that in an increasingly impatient market, everyone wants to make a quick profit. 
"The top 10-20% of businesses will consolidate upon what sets them apart, while the remaining 80% of restaurants will face increasing difficulties," the expert was quoted as saying. 
Editor: Apurva. 
(Header image: VCG)