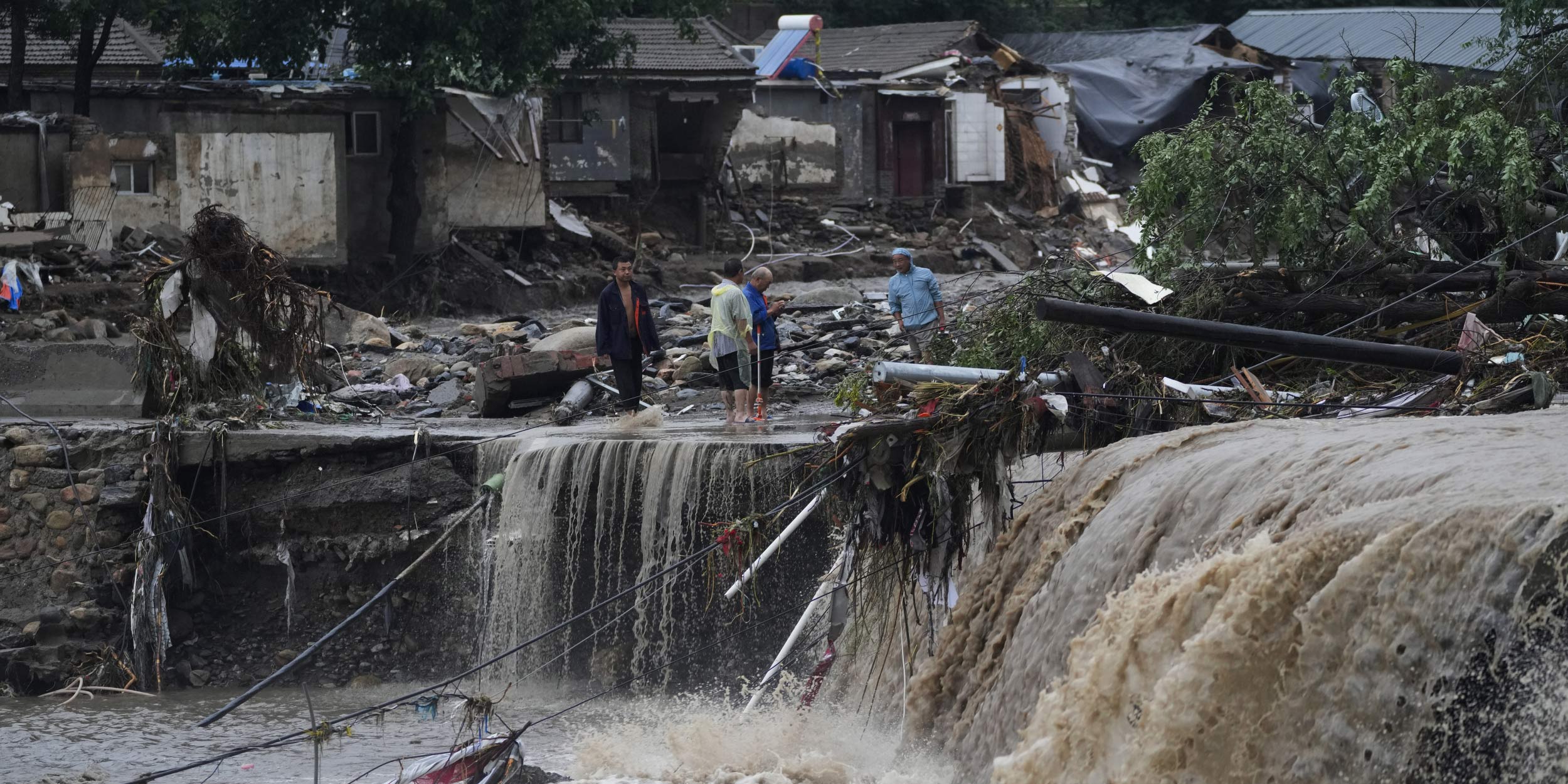 NEWS
Extreme Floods Hit Beijing, 11 Dead, Residents Cut Off
Residents in several outer districts of Beijing have been cut off from the outside world following historic rainfall and floods that surpassed the 2012 flash floods, which killed at least 79 people.
Historic rain in Beijing and surrounding areas has killed at least 11 people and left 13 missing, while tens of thousands in the outer parts of the city have been cut off.
The capital has been hit by extreme rain since Saturday, breaking historical records for rainfall in several regions on Monday. Towns and villages in the outer districts of the city are dealing with landslides and flash flooding, with more than 100,000 evacuated from their homes.
Meteorological authorities reported an average rainfall of over 250 mm as of Tuesday, reaching a maximum of 700 mm in the western district of Mentougou. The rainfall in the outer Mentougou and Fangshan districts surpassed the level recorded in Beijing in July 2012, when extreme rainfall caused at least 79 deaths and economic losses of 11.64 billion yuan ($1.63 billion).
As of 3 p.m. Tuesday, extreme rain in the capital has caused at least 11 deaths, including two rescuers, with 13 people missing. Officials say the rain has affected 44,673 residents in 13 districts in Beijing so far.
The Beijing observatory issued a red alert on Monday, while a flood control reservoir was activated for the first time since it was built in 1998.
Around 57,000 residents in both Mentougou and Fangshan districts have been left cut off from the outside world after several base stations were damaged by floods. Several telecom companies sent teams to repair the communications equipment on Monday.  
Fangshan District is facing unprecedented floods, with the flow of the Dashi River there three times as high as that seen in July 2012, according to Liu Bin, the deputy commander of Beijing Flood Control and Drought Relief Headquarters. 
People have desperately been trying to reach their relatives and friends in the affected areas online. A volunteer group has launched an online portal to gather information about missing residents.
An organizer of the portal surnamed Wu told Sixth Tone that they received hundreds of requests for help on Monday. They expect to see more requests once communications are restored in the worst-hit areas.
The historic rainfall was caused by the interaction of Typhoon Doksuri, which hit China late last week, and the incoming Typhoon Khanun, the China Meteorological Administration said. China has seen three typhoons in the past three weeks.
Editor: Vincent Chow.
(Header image: Villagers gather near a village damaged by floodwaters in the Mentougou District as continuous rainfall triggers alerts in Beijing, July 31, 2023. Andy Wong/AP via VCG)