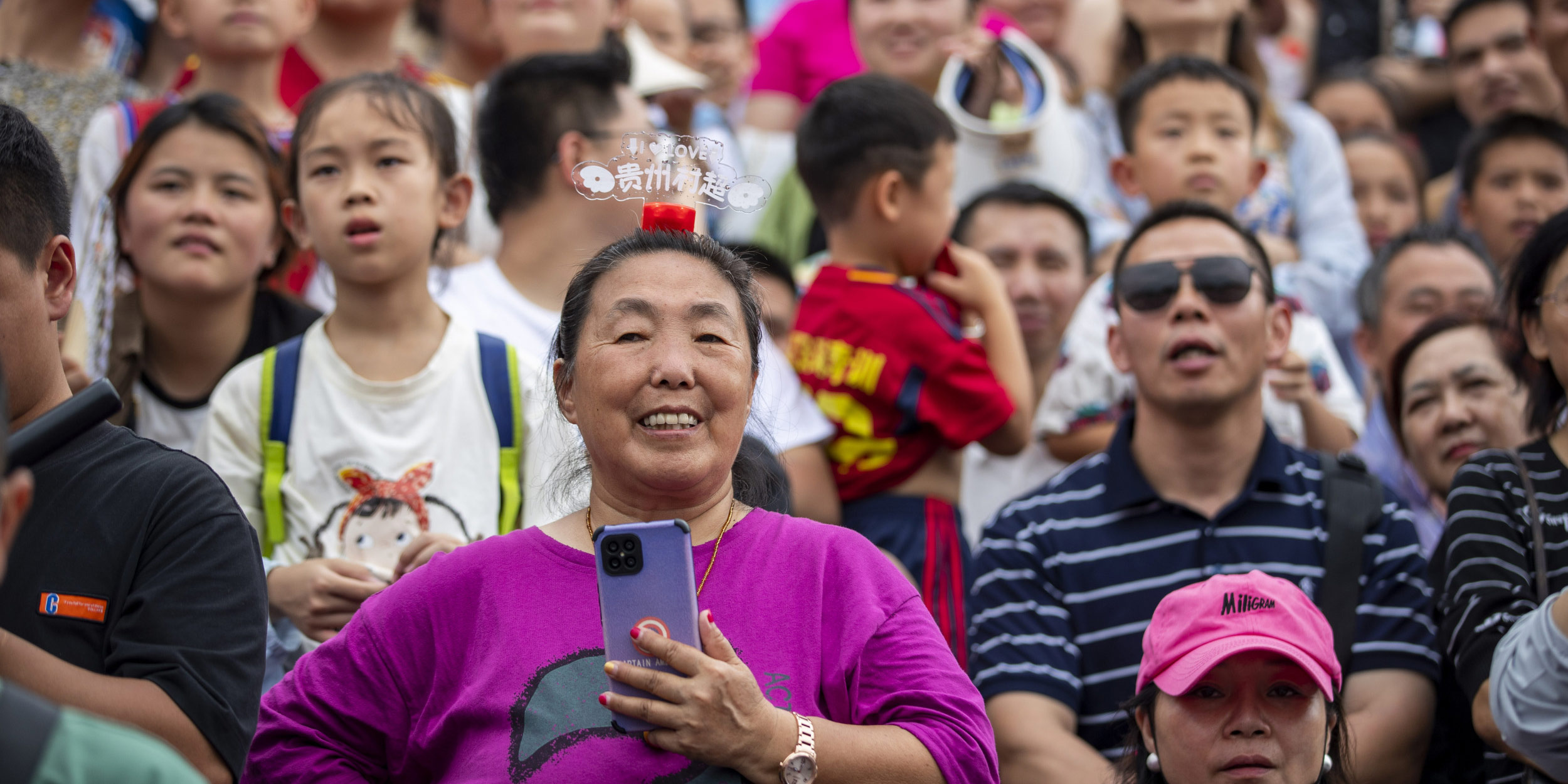 FEATURES
For This Rural County, Internet Fame Is About More Than Just Money
One of the last counties in China to be lifted from poverty, Rongjiang County in Guizhou province has been viral all summer because of its village soccer league. Though the huge tourism influx has boosted the local economy, for locals, it is not just money that drives their fervor for the sport.
GUIZHOU, Southwest China — For years, Zhang Taiwen has been playing soccer every Saturday afternoon with his local team in Rongjiang County — a remote, mountainous area in southwest China's Guizhou province and one of the country's poorest regions.
The standard is far from elite, and the soccer fields can be patchy. For Zhang, the games are just a bit of fun — a release from the stress of running his barbecue restaurant and providing for his wife and young child.
"It doesn't matter whether I score or not," Zhang, in his late 30s, tells Sixth Tone. "I just want to freely sweat and joyfully run around with my brothers on the soccer field."
But this year, Zhang and his teammates have suddenly found themselves playing in front of the kind of crowds you would normally see in the Chinese Super League — China's top professional league.
Fueled by the local government's social media promotion, grassroots soccer matches in Rongjiang have been going viral on Chinese social media all summer. The attention has been especially baffling for locals as these matches have been held for many years.
The matches have even earned the nickname of "Village Super League," or cunchao — a playful reference to the Chinese Super League. Since May 13, 20 village teams have played matches every Friday, Saturday, and Sunday, along with performances and parades celebrating local minority ethnic groups.
The final, on Saturday evening, sees two village teams competing for prizes all sponsored by local villagers: the winning village will receive an ox, the runner-up a lamb, the third-placed village a pig, and the fourth-placed village a goose.
The social media frenzy has turned the little-known county into one of China's hottest tourist destinations this summer — the "internet celebrity" status coveted by small cities and towns across the country.
But at the same time as national attention has opened up possibilities for economic growth in this historically underdeveloped county, it has also led to concerns about the future of grassroots soccer there and whether the economic benefits can be sustained. Some have even accused the grassroots matches of being an insult to the sport.
Roots and grass
Soccer has a long history in Rongjiang. According to the county chronicle, the sport took root in the mountainous county in 1944 when the wartime relocation of Guangxi University first introduced the game to the small county.
Fascinated villagers watched university students play soccer, basketball, and table tennis to pass the time as they sheltered from occupying Japanese troops in the neighboring Guangxi province. Though the university students departed a year later upon the end of the war, the sports they introduced remained in Rongjiang.
The county has boasted a strong sports culture ever since, even earning the nickname "hometown of gymnastics," having produced several world gymnastics champions over the years. But among ordinary villagers themselves, soccer has been the sport of choice. The ease of setting up games has been its main appeal: touchlines can be drawn with lime powder, while goals can be made with scrap bits of wood. 
Rongjiang's genuine grassroots soccer culture is what has attracted fans across the country, says Zhang Yi, chief analyst at market research firm iiMedia. The appeal is strengthened by the sorry state of the professional game in China, which has been plagued by match-fixing and corruption scandals, he explains.
Han Bing and her husband are two avid soccer fans drawn to the purity of what Rongjiang has to offer. From the northeastern city of Tianjin more than 2,000 kilometers away, they had to spend an entire day traveling to get to Rongjiang to attend a match.
"We have been watching cunchao games online since May and have been impressed by the sophisticated skills of the players. Compared to watching online, the in-person experience is completely different, and this trip was totally worth it," she tells Sixth Tone.
The 42-year-old was elated when she had the opportunity to meet and take photos with Dong Yongheng, a player from Zhongcheng Village. A local seller of steamed rice rolls, Dong has gained the nickname of "Steam Rice Roll Goal Machine" after topping this season's scoring chart with 15 goals.
Following the return of domestic tourism after China removed pandemic control measures at the end of last year, cities across China have tried to leverage social media to achieve "internet celebrity," or wanghong, status in a bid to boost tourism revenue.
Rongjiang is but the latest obscure region to successfully edge its way into the national spotlight. The most successful case this year has been Zibo in the eastern Shandong province, which has turned itself into a barbecue capital attracting millions of visitors.
The influx of tourists has been a boon for Rongjiang's economy, one of the most impoverished areas in the country. Guizhou's annual average disposable income was 25,508 yuan ($3,562) in 2022, ranking 30th among 31 provincial-level administrative regions in the country whose data was analyzed by consulting agency Intelligence Research Group.
Rongjiang was one of the last nine counties in China to have been lifted out of poverty in 2020, all of which were in Guizhou. Huge investments in infrastructure since 2012 followed by the financial hit of the pandemic have crippled local finances, with the province now one of the most indebted in the country.
According to the most recent available data, Guizhou's debt reached 1.25 trillion yuan at the end of 2022. This has made local governments there desperate for new avenues of economic growth.
Wu Shuangnian, a farmer from Liping County, is among thousands of small stand operators around the field where matches are held in the center of Rongjiang. He drives his small van one and a half hours on weekends to sell his toys and electric fans, earning around 700 yuan each matchday.
"I run a small store in my village. The business there hasn't been very good, so I have decided to sell my products here to the tourists instead," Wu says.
In May alone, Rongjiang received 1,073,700 visitors, a year-on-year growth of 39.73% — almost three times the population of the county. Total tourism revenue rose more than 52% to 1.24 billion yuan, state media Xinhua News reported.
Rongjiang's success has also benefited surrounding counties. Data from travel platform Trip.com shows that vacation tour bookings in Qiandongnan Prefecture, which includes Rongjiang, surged by over 150% during the Dragon Boat Festival holiday in June.
The county's economic struggles over the years mean that young people often leave for more affluent cities nearby, such as Guiyang, the provincial capital. The situation has been made worse by the pandemic, which has hit the local economy hard, says Fan Liqin, a local furniture chain store owner.
She hopes the tourism boom will improve broad social and economic conditions in the county, not just provide short-term economic benefits for restaurants and hotels.
"With the cunchao, I hope my business will do better as consumption increases," Fan says. She's opening a new furniture store in town as she expects the economy to improve further, even as the current soccer season comes to an end.
Fever pitch
But while tourism can generate income and promote economic development, it also poses challenges for local infrastructure and raises questions about sustainability — whether national wanghong status can, and should, be sustained.
Rooms in local hotels have been fully booked many days in advance of each weekend since the cunchao started, hotel operator Jiang Yongping tells Sixth Tone.
According to Yu Jiaxiang, a volunteer who helps organize accommodation for tourists, nearly 1,000 tourists ask them for help to find accommodation that evening every "Super Saturday," the main event each week when four matches are held along with the week's biggest cultural performances.
With no admission fee, each match sees an average of more than 50,000 people crammed around an open-air field built for far fewer spectators. There have been concerns raised about a potential crowd crush incident happening at the stadium.
Lai Hongjing, vice chairman of Rongjiang's soccer association, which organizes the matches, acknowledges that the venue has been hitting its absolute maximum capacity this season. An increase in attendance would significantly increase the chances of a public safety incident, he says.
In recent weeks, organizers have sought to reduce the number of tourists flocking to the matches by reducing online promotion and also barring players from giving media interviews without official approval. Locals have also been advised not to watch the matches in the stadium so that more room can be made for tourists coming from afar.
For Rongjiang native Jiang Wen, who Sixth Tone finds watching a match on a big screen set up opposite the stadium, the small personal sacrifice is worth it if his hometown can benefit. "Holding cunchao is very important. It helps promote the economy of our county," he says.
The decision speaks to the dilemma faced by local officials: keep tapping into wanghong status but risk the possibility of things spinning out of control, or "lower the temperature," as the Chinese saying goes, and risk losing out on all the gains the county has worked hard to set itself up for. 
"In the fast-paced world of online trends, it's crucial for wanghong cities to integrate this potentially fleeting fame with culturally significant and sustainable products. This is where the true value of internet fame lies," says Zhang Yi.
In Shandong's Zibo, officials are already speaking about how to move the city on to a sustainable footing following reports that tourist numbers have plummeted in recent weeks, with barbecue restaurant owners taking on financial losses and looking to find new operators for their stores.
For small places like Zibo and Rongjiang, gaining attention does not necessarily mean long-term economic benefits. "Unfortunately, nowadays, many tend to equate the two. When the tide of attention recedes, these attentions may not stand the test of time," says Zhang.
Local pride
But while some like Zhang worry about the future, many locals in Rongjiang are content enough with what is happening in the present. The explosion of attention on their hometown has been fulfilling not just because of the economic benefits it brings — it is also an opportunity to showcase the region's rich ethnic diversity to outsiders.
Since ancient times, Guizhou has been home to 18 different ethnic minority groups, including the Miao, Bouyei, Dong, and Tujia. More than 80% of Rongjiang's residents are from minority groups.
Before and after the matches, villagers dressed in traditional attire parade around the field. Some play the lusheng, a mouth organ made of bamboo and hardwood, and a traditional instrument of special significance to the Miao people.
For Long Qian, a Miao man, the cunchao is a special event beyond what happens on the field. He traveled two hours from Guiyang to witness the minority ethnic performances. "During our trip, we were greeted with the scent of rice paddies along the way — a familiar aroma from our childhood that we rarely encounter as adults," he says.
Economic deprivation has not only taken young people away from their hometowns — it has also gradually eroded minority ethnic culture in Guizhou's many villages. According to Long, many Miao children born and raised in cities are unable to speak the Miao language. The value of the cunchao for him is the showcasing of his native culture to a national audience. "It's a great way to preserve and promote our cultural heritage," he says.
Keeping the village soccer culture alive is what matters to Zhang Taiwen, the barbeque restaurant owner. He captains his team of around 30 players, which includes students, butchers, construction workers, civil servants, and other restaurant owners like him. Many of them come from the same village of Changba, and have been playing together since they were children.
One of his biggest regrets as a child was missing the opportunity to represent his high school soccer team in provincial matches because they were held a year after his graduation. Though his village team did not make it to the cunchao final, it has given him the chance to finally play in front of a large crowd.
"The children who play soccer nowadays enjoy a much better environment than we did when we were young," he says, remembering his teenage days when he had to fight to get to play on one of just a few soccer fields at the time.
There are now more than 14 full-sized soccer fields in the county, as the local government has poured money into developing the local soccer culture into a tourist attraction. 
Though this historic cunchao season is coming to an end, Zhang is hopeful about the future of soccer in his hometown. He does not plan to attend Saturday's final; he wants more young people to experience it instead.
"Our team's youngest player is only 17 years old," he says, proudly. "When they reach adulthood, they can carry our banner forward."
Additional reporting: Lü Xiao; editor: Vincent Chow.
(Header image: People watch a "cunchao" game in Rongjiang County, Guizhou province, June 23, 2023. VCG)