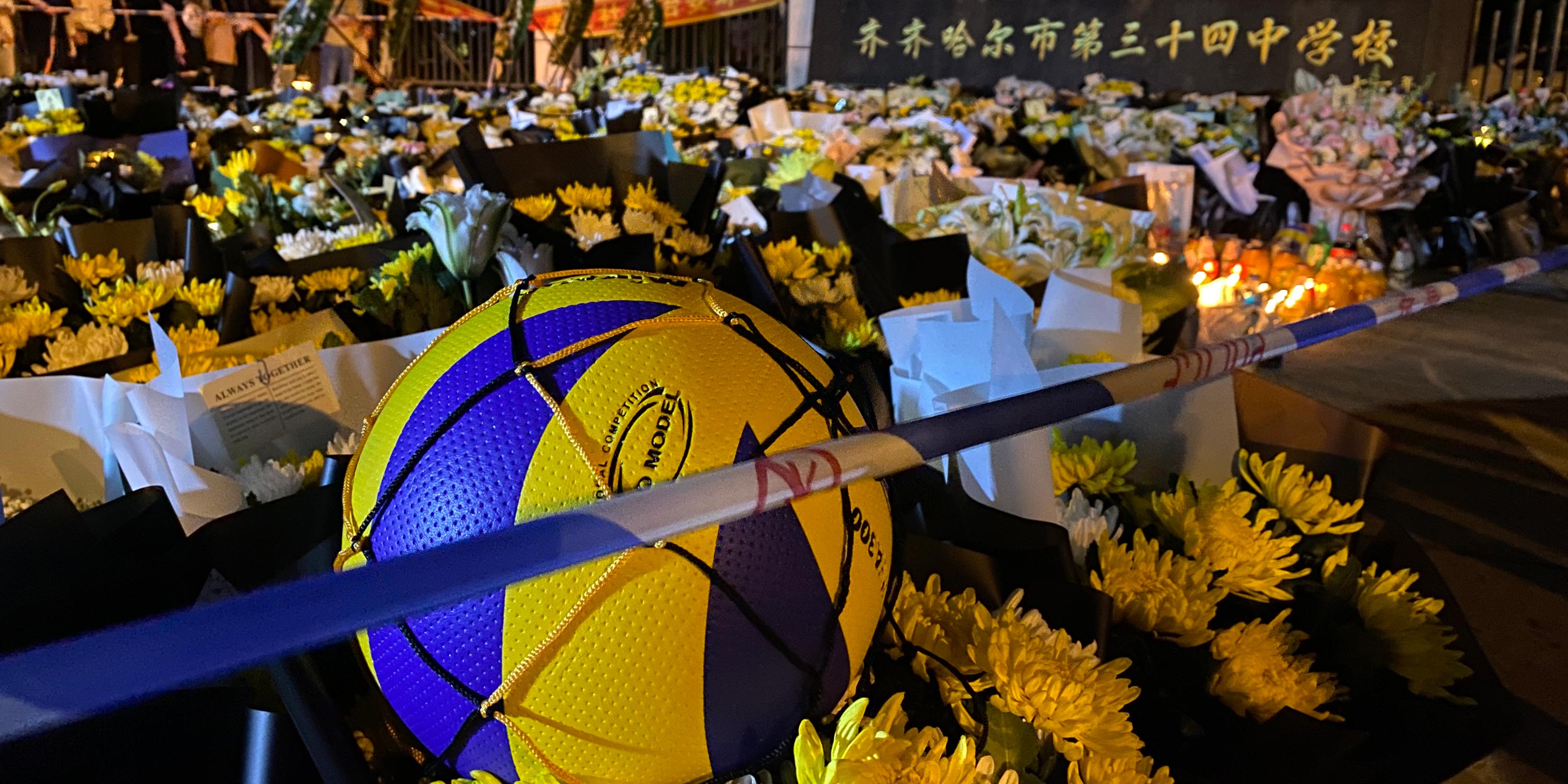 SIXTH TONE ×
Gym Roof Collapse Shakes Chinese City, Leaving Thousands in Mourning
Friends of victims, rescuers, and construction industry insiders come together to recount the worst tragedy that the northeastern Chinese city has experienced in years.
When Li Xinjie, aged 14, watched the heart-wrenching videos of rescuers pulling her classmates from the rubble, she couldn't believe these were the same fun-loving girls she went to school with.
Her mind swirling with shock and disbelief, Li frantically searched for her friend Lin Ran, a teenage volleyball enthusiast aspiring to be a world champion, among the victims. "But I never saw her," she told The Paper.
The devastating incident occurred on the afternoon of July 23, when the roof of the school's gym collapsed during a student volleyball team practice, turning it into a nightmare for the two coaches and 17 members of the girls' volleyball team at No. 34 Middle School in the northeastern city of Qiqihar.
The roof caved in at 2:52 p.m., according to a preliminary investigation by local authorities. Four members of the volleyball team managed to escape, while the rest were trapped inside, 11 of whom eventually passed away. Local authorities called it the worst accident in Qiqihar in recent memory.
Among the deceased were Lin Ran and two of Li's other friends. "I didn't get to see her one last time," Li said.
The roof cave-in was caused by the illegal piling of construction materials intended for an adjacent teaching building on the gym's roof, local authorities said in a press conference Monday evening. The construction materials became waterlogged during recent rains and exerted immense strain on the roof, causing it to collapse.
The head of the construction company responsible for the materials has been taken into custody. Provincial officials have pledged a "comprehensive" investigation into the accident.
Hidden in plain sight
A third-year student at No. 34 Middle School, Li Xinjie recalled the gym as seldom used. "It's mainly for athletes' training sessions," she said.
During her two years at the school, Li only visited it once for her physical exam. She saw online videos showing construction materials piled on the gym's roof, but she has no idea how long they had been sitting there.
The gym was built in 1997 at a cost of 2.3 million yuan ($277,000), according to public information. The gym spanned an area of 1,260 square meters with a seating capacity of up to 300 people.
Construction on a new teaching building adjacent to the gym began late last year, according to domestic media outlet CQnews, citing a source familiar with the project. A video provided by the source, believed to be filmed in late 2022, showed three workers stacking bags of construction materials on one side of the gym roof, and the bags remained untouched until the day of the accident.
Heilongjiang Jiamei Construction LLC, which won the contract in November of 2022, is responsible for building the new teaching facility. The company didn't respond to requests for comment.
Perlite, the material of concern, typically comes in two forms: expanded perlite and vitrified microbeads, according to Li Zhu, head of the Construction Energy Efficiency and New Materials Research Institute at Taiyuan University of Technology. He explained that for construction purposes, the latter is preferred due to its lower water absorption capacity.
When dry, perlite is relatively lightweight and would have posed minimal risk to the structural integrity of the roof, Li said. But exposure to rain can lead to significant water absorption, potentially causing the material's weight to double.
This year, Qiqihar has had an especially wet summer, with rain occurring on most days in July.
Li added that the transportation of dry perlite, the substance stored on the roof, to construction sites is against regulations. Chinese authorities required that perlite "must first be sent to a mortar facility and combined with concrete and 10 other materials." They added that "only after the resulting mixture has been certified can it be brought to the construction site and used."
A challenging rescue
The tragedy shook the whole city, moving hundreds of residents to join the rescue effort. When Wang Qiang, a member of Qiqihar's Blue Sky search and rescue team, arrived on the scene, he was met with an overwhelming sight of rubble everywhere.
After receiving a call about the roof collapse at 2:56 p.m. on Sunday, the first batch of emergency vehicles and rescue dogs rushed to the location 14 minutes later. Wang joined the rescue mission at 3:40 p.m. that day.
Wang and his 38 fellow rescue team members learned that several people were trapped when they arrived on the scene, but they were uncertain about their exact locations. A preliminary survey of the area suggested that the entire roof had caved in. The presence of debris, waterlogged perlite, continuous rainfall, and the unknown whereabouts of those trapped made the rescue effort incredibly challenging, Wang explained.
Gao Bin, a local resident who volunteered to assist with the rescue, also arrived on the scene at 7:40 p.m. The site was abuzz with ambulances, police cars, and dump trucks lining up outside the school gate. Searchlights were set up to aid the rescue, while search dogs sniffed through the rubble and rescuers used infrared scanners to search for signs of life.
Gao was assigned to shift bags of perlite from the site, and he lost count of how many bags he had moved. He joined efforts with three teams, each group having "70 to 80 people" by his count, to aid in the rescue. "We spent about four hours cleaning up," he told The Paper.
The first group of survivors removed from the rubble mostly escaped with minor injuries, offering some hope to the rescuers. At around 6 p.m., a coach was found trapped under a pile of debris, and guided the rescue teams toward other victims. "The first thing the coach said was 'find my kids,'" Gao recounted hearing from other rescuers.
But the scene grew "increasingly grim" as the night wore on, he said. The second coach was found around midnight, already deceased.
Gao described the collapse of the roof as a single piece, with waterproof sealing and dust leaving those trapped with "inadequate space and oxygen."
By 1 a.m., Gao was drenched and barely able to stand. Despite exhaustion, he pushed through, motivated by thoughts of his own child. "I felt helpless. I just wanted to do something," he said.
When the final victim's body was recovered from the wreckage on the morning of July 24, the pain for Wang, the rescue worker, was too much to bear. "It's too painful." he said.
Three lost friends
In the span of a few hours, Li Xinjie lost three of her classmates and friends: Cui Ningning, Wei Siqi, and Lin Ran.
Cui and Lin were in the same grade as Li, who remembers them as cheerful, energetic kids. Cui, the first to be confirmed among the dead, had become fast friends with Li in an elementary school gym class. Li fondly recalled a moment when she accidentally brushed Cui's bracelet, and Cui beamed with pride, telling her that "her dad had given it to her and she liked it so much. In that moment, she looked as proud as a peacock."
The next victim to be confirmed dead was Wei. Li and Wei had met each other through volleyball, when Wei was assigned as a tutor to Li's recreational team. Over time, they developed a close bond during practices, cherishing each other's company.
And then there was Lin, whose passing left her classmate Li heartbroken. She broke down in tears when she heard the news of the tragedy. "I didn't want to believe it. Even now, I don't dare believe it," she said.
Lin was known to be passionate about volleyball. "She used to brag that she was going to be a world champion, and we'd all be saying we went to school with a star," Li said. "She could talk about it seemingly forever, smiling as she drew diagrams to explain the sport. That was always her strength."
Once, during a test, Lin forgot the name of the foreign person they were being quizzed on, and instead wrote "Qiulin Kvass" — a playful reference to a brand of kvass popular in northeast China. When asked about it, Lin cheekily replied that she simply craved a drink. Li suggested she buy a bottle, but Lin, mindful of her weight, declined. "Though she really wanted some, like a kid craving candy," Li recalled.
Following the tragedy, Li left two drink bottles at the school gate as a tribute to Lin. "She can enjoy it now," Li said.
A promising team
The members of No. 34 Middle School's volleyball team were a special group, handpicked for their exceptional athletic abilities. In the mornings, they attended regular classes like their fellow students, but their afternoons were dedicated to rigorous practice sessions.
Li shared insights into the team's daily routine, revealing that they practiced every day, with only major holidays off. After each session, they emerged from the gym, drenched in sweat but filled with joy.
Lin, in particular, had discovered her passion for volleyball in elementary school. "As soon as recruitment for student athletics opened, she jumped right into it," Li said. "She'd say she was tired but happy."
Lin even shared her ambitious dreams with Li, saying she wanted to work hard and climb the ladder of success — to first join the municipal team, then the provincial team, and ultimately the national team and become a world champion.
The ambition was not unfounded, as a former volleyball player from No. 34 Middle School, Hu Mingyuan, has successfully made it to the Chinese national team. Hu expressed her deep sorrow on the social media platform Weibo, saying, "Seeing this happen at my alma mater makes it hurt all the more. I hope everyone is ok."
"The volleyball team was the pride of the school," Li explained, noting that they consistently excelled in major competitions. "They were working hard, too. While we were in the classroom studying, they were out there training as hard as they could."
Among the victims was Li Ziqiu, a student in her second year at Qiqihar's No. 28 Middle School. At the time of the accident, Li was attending a training session at No. 34 Middle School, according to her mother, Zhang Qing.
Fond of volleyball, 15-year-old Li showed her dedication to perfecting her "dig," a crucial play in volleyball, on her social media profiles. She was also a fan of the "Grave Robbers' Chronicles" series, proudly displaying her collection of related books, posters, and toys. Referencing one of the novels' protagonists, she commented on a friend's post, saying, "Only Zhang Qiling (the protagonist's name) can cheer me up now."
Li's mother rushed to the school after she heard about the accident, anxiously watching the rescue efforts unfold. Li's body was recovered around midnight and taken to a hospital. At 2 a.m., Zhang received the news of her daughter's passing, though she said she later learned that her daughter showed no signs of life when she was pulled from the wreckage.
Zhang, who works in the trucking industry, said her daughter worked hard on the volleyball courts, which resulted in frequent injuries. Just days before her passing, Li's team had secured the second place in a provincial competition. Zhang had always been a devoted supporter, dropping her daughter off at practice and later treating her to her favorite foods, usually sushi or dumplings, to show her love and encouragement.
A community in mourning
In the wake of the accident, residents in Qiqihar gathered in front of the gate of No. 34 Middle School. Some brought flowers and candles, while others brought new volleyballs. A few former team members left their team badges.
Among the mourners were those grappling with the unfathomable loss of loved ones. A young man, standing apart from the crowd, paid respects to a former classmate he hadn't spoken to since elementary school. He remembered her as a kind, cheerful young girl, now taken away from this world in an instant. "Six years, and all of a sudden she's gone," he said, before mounting his bicycle and silently riding away.
Elsewhere, a middle-aged man struggled to hide his grief as he left flowers for his niece, a 16-year-old promising talent with dreams of reaching the national level in volleyball. "When she left in the morning, she was fine," he recalled.
For those like Gao, who helped with the rescue effort, the heart-wrenching cries of family members as the victims were found still echoed in their minds. Each time a body was discovered, the families would rush forward, hoping that it wasn't their child. The anguish was unbearable, with some falling limply to the ground, and others desperately trying to rush onto the collapse site in a primal urge to help.
"They'd lost all capacity for reason," Gao said. "They were operating on instinct. They wanted to help."
Amidst the heartache, Gao remembers encountering a couple in their 50s, their eyes filled with tears, seeking solace in each other's embrace. The husband tried to comfort his wife. "Stay calm," Gao remembers the man saying. "Don't worry."
On the night of July 24, Li Xinjie went to the school to pay her respects. Standing in front of a sea of flowers, she repeated heartfelt words to herself, a whispered prayer to her departed friends.
"Lin Ran, may you find happiness and good health in your next life, where you can continue to excel as an athlete in a better place," she said.
"And Cui Ningning, I know you love flowers, so I snuck out to bring you some. May you be well."
Reporters: Yuan Lu, Chen Bingyao, Yu Ruoxin, Zhou Yufan, and Li Minghao.
(Due to privacy concerns, all interviewees other than Li Zhu have been given pseudonyms. The victims' names have not been publicly released.)
This article was originally published by The Paper. It has been translated and edited for brevity and clarity, and is published here with permission.
Translator: Kilian O'Donnell; editors: Elise Mak and Xue Ni.
(Header image: A volleyball and flowers left at the entrance to the No. 34 Middle School in honor of those who died when a gym roof collapsed in Qiqihar, Heilongjiang province, July 24, 2023. The Paper)