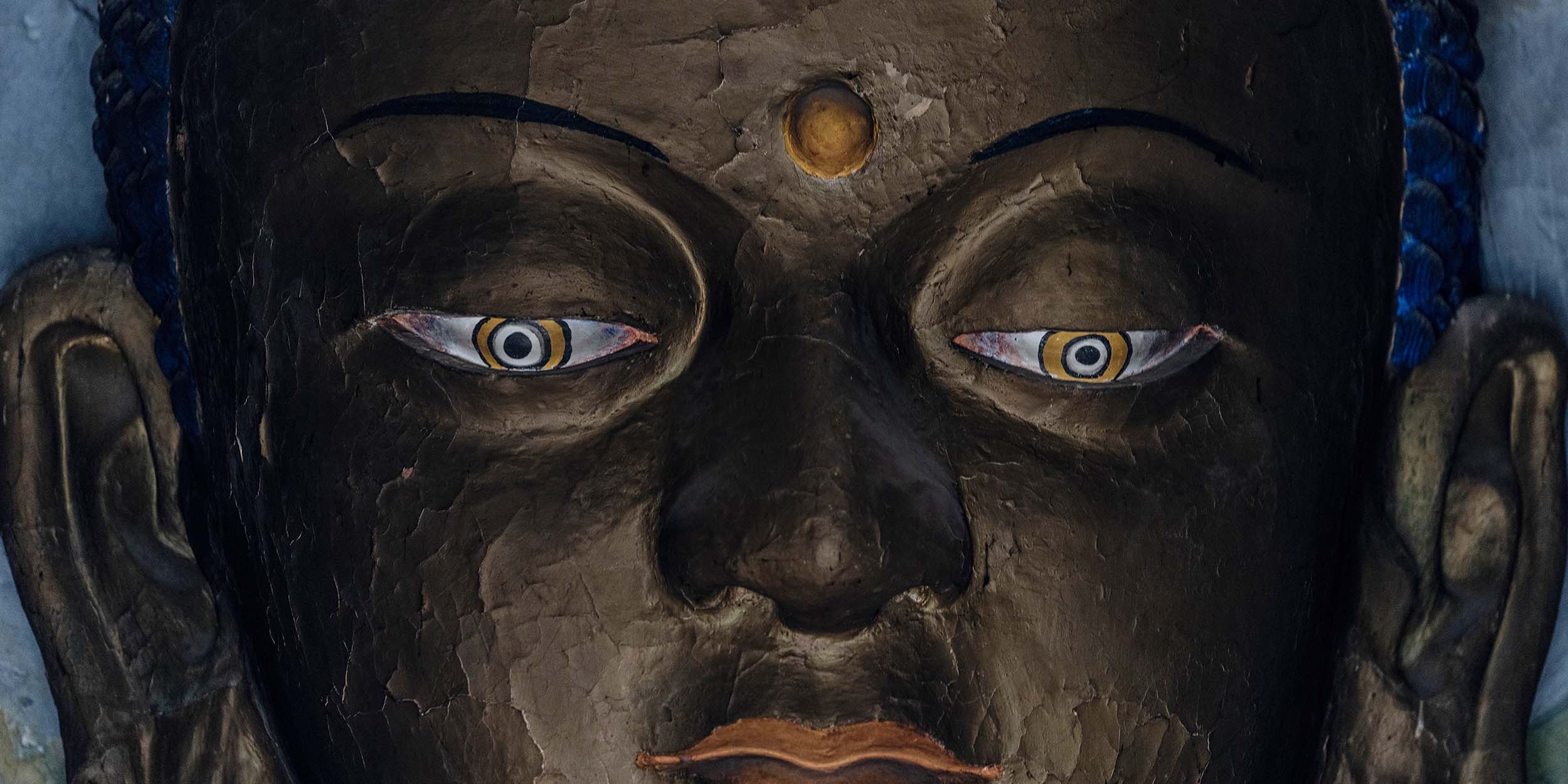 NEWS
In Gansu, Climate Change Threatens China's Ancient Silk Road Relics
As experts investigate the impact of extreme weather, new research reveals significant deterioration to cave paintings and artifacts in the UNESCO-listed Mogao Caves due to unprecedented rainfall.
Extreme weather events driven by climate change are increasingly threatening ancient cultural relics in China's northwestern Gansu province. 
New research indicates that cave paintings and artifacts in Dunhuang and Zhangye, particularly those in the Mogao Caves, a UNESCO World Heritage site, are facing significant deterioration and damage due to unprecedented rainfall.
In a study likely to be released later this week, researchers from the National Climate Center, Dunhuang Research Academy, and environmental nonprofit Greenpeace sought to assess the effects of climate change on the cave paintings. 
Combining meteorological data analysis, on-site observations, and in-depth assessments of the cave paintings and artifacts, they aimed to shed light on the deteriorating condition of these cultural relics, while emphasizing the need for conservation efforts and resource allocation.  
"This is the painful reality of the impact of climate change," said Li Zhao, a contributing author and a senior researcher at Greenpeace East Asia's Beijing office. "While we're still working to document, understand, and conserve these pieces of our history, they're dissolving before our very eyes."
Researchers observed a rise in bouts of extreme rainfall, leading to periods of high humidity, floods, and leaks, which damaged paintings in the caves and grottoes. 
According to researchers, since 2000, the total rainfall has increased in Gansu, while the number of rainy days has actually decreased. This has led to a distinct rise in episodes of extreme rainfall in the region. 
In Dunhuang, which was an important center of commerce and culture along the Silk Road, there has been a significant increase in the number of days experiencing short-term heavy rainfall since 2000, they said, citing local meteorological data. 
In the caves and grottoes of Dunhuang, the humid conditions have caused varying degrees of damage to the ancient paintings stored there for centuries. 
Researchers said that these conditions have facilitated crystallization, separation, and the accumulation of salt on the surface of the wall paintings. This process ultimately leads to flaking and detachment from the walls — dubbed a "cancer" to paintings and sculptures. 
Experts uncovered evident signs of this disruption in the Mogao Caves, particularly in cave number 85. 
Wang Tingyu, a researcher at the Dunhuang Research Academy and co-author of the upcoming report, highlighted that the risk of damage to Gansu's cultural heritage has escalated in recent years due to the increasing frequency of extreme weather events. 
Speaking to Sixth Tone, he emphasized that while major cultural heritage sites face significant risks, smaller sites that lack adequate protective measures are even more vulnerable to climate-related dangers. 
The study also revealed that episodes of flash floods or mudslides, often triggered by intense rainfall, have had a direct and destructive impact on the Mogao Caves, including a severe mudslide in 2012. 
As well as increasing the risk of flooding, heavy rainfall also leads to the accumulation of water on hillsides, increasing the potential for cave collapses. 
Researchers also underscored the concerning trend of increasing floods in the Daquan River, located near the grotto — they recorded 20 floods over the past four decades. 
The Jinta Grotto, a national-level heritage site located in Zhangye, has experienced significant damage to its cave paintings and statues due to water erosion, flaking, and detachment. Incidentally, a nearby weather station recorded an increase in precipitation in the area from 1961 to 2022. 
"The risk of this grotto being affected by precipitation and changes in temperature and humidity is more severe than is reflected in the weather station data, as the annual average relative humidity measured in the cave is higher compared to the weather station data," said researchers. 
Over the past 70 years, China has seen its temperatures rise much faster than the global average. 
In 2022, the country witnessed an unprecedented heat wave that led to power outages, wildfires, and agricultural disruptions. Top climate experts have also predicted that such events are likely to continue in 2023 as well. 
Instances of historical and cultural relics being destroyed by extreme rainfall have also risen in recent years. In 2021, at least 1,763 cultural sites in the northern Shanxi province were ravaged by unprecedented rainfall, which caused damage to walls, foundation pits, and even entire historical buildings.
To address the climate threats posed to historical artifacts, Chinese authorities have intensified their research and investment in environmental monitoring and restoration measures in recent years. 
In January, the National Cultural Heritage Administration launched a new phase of the national cultural heritage survey to obtain a comprehensive understanding of all cultural sites, including their environmental conditions, within the next three to four years.
Since 2013, the Dunhuang Research Academy has developed a digital environmental monitoring system for the Mogao Caves. This system is designed to provide real-time data on crucial parameters such as the temperature, humidity, and carbon dioxide concentration within the caves. 
"It takes consistent, long-term efforts to protect such artifacts, including understanding their status and conserving them scientifically," said Li from Greenpeace. 
Warning of more severe damage to the artifacts due to deteriorating climate conditions, Li called for more resources to be allocated to the area and the response system to climate risks to be strengthened.
"The best thing we can do is stop climate change. But it's also urgent that we fund and support conservation efforts here," Li said.
Editor: Apurva. 
(Header image: Parts of a sculpture showing signs of deterioration in the east cave of the Mati Temple in Zhangye City, Gansu province, April 27, 2023. Courtesy of Greenpeace)