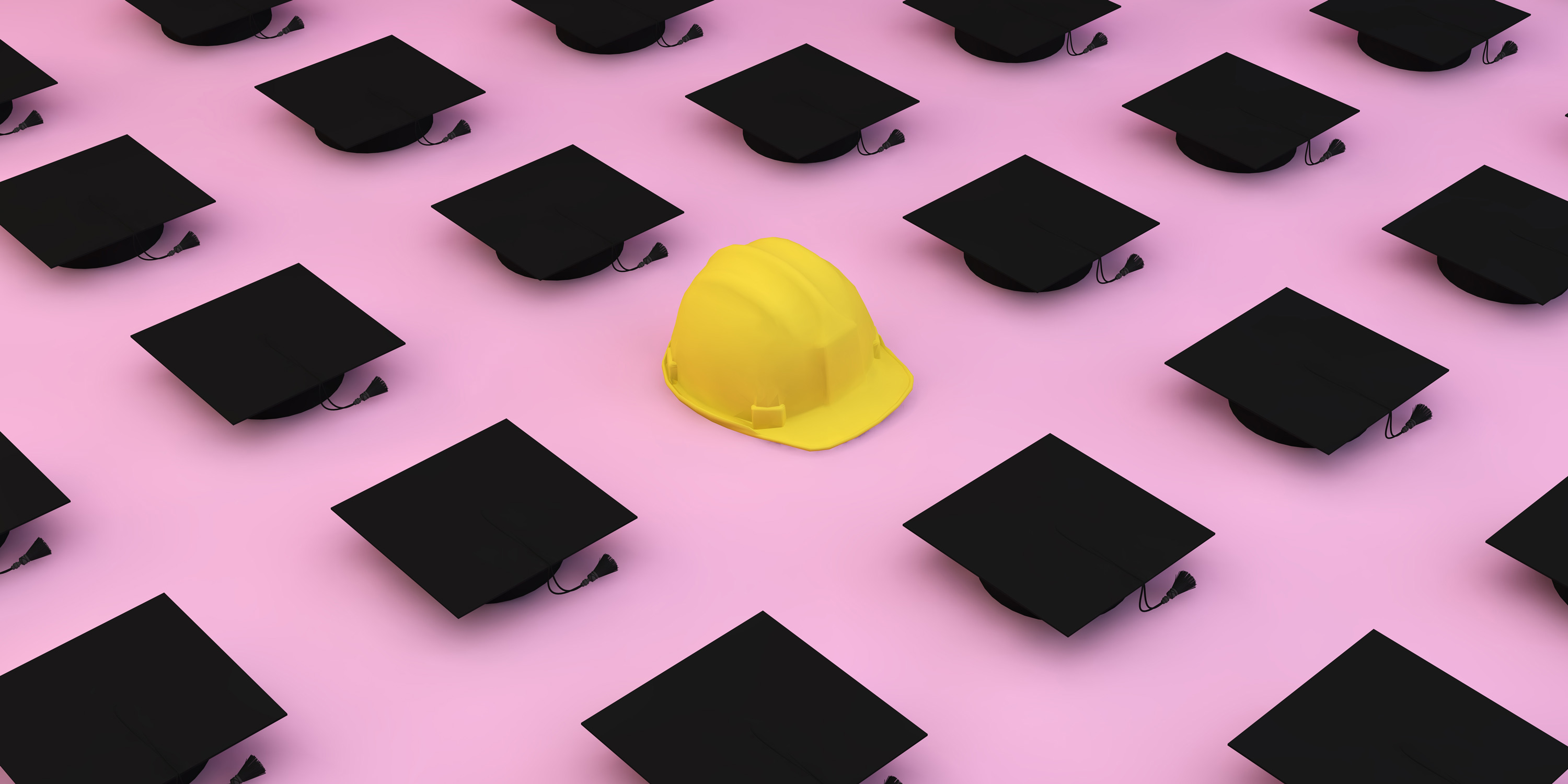 FEATURES
China Used to Be an Architect's Dream. Now, It's Becoming a Nightmare.
A few years ago, architecture was among China's most popular and glamorous careers. But as a decadeslong construction boom fizzles, the profession has been plunged into crisis.
SHANGHAI — Each June, after the results for China's college entrance exams are released, Chinese social media is dominated by posts offering students a range of tips on how to pick the right major. Lu Chunxi, however, only had one piece of advice to share.
"Think twice about architecture," the former student said in a video posted on the video platform Bilibili. "After studying for five years at a top two architecture school, I ran away."
Lu, 24, originally wanted to become an architect because it seemed like a glamorous, "high-end" career. But after years of grueling academic work, she discovered that this image was out-of-date.
Though studying architecture still required more work, talent, and financial investment than other degrees, jobs at Chinese architecture firms were now few and far between — and usually paid little more than bar or restaurant work, Lu found. She eventually decided to cut her losses and retrain as a software engineer.
As China struggles to recover from the pandemic, architecture firms are far from the only businesses feeling the pressure. But the industry's decline has attracted public attention in recent months — not only because it has fallen so far, so fast, but also because it reflects a wider shift in the country's economic trajectory.
A decade ago, the profession was a symbol of the Chinese economic miracle, as supertall skyscrapers, cutting-edge cultural venues, and luxury apartment complexes sprang up all over the country. Architecture programs at elite schools like Beijing's Tsinghua University were among the most competitive in China, accepting only students with the very best exam scores.
But that decadeslong construction boom is now fading, and so are the fortunes of the architects who rode it. Chinese real estate firms, struggling to cope with a historic debt crunch, are cutting back on new projects. That is forcing many architecture firms to shut up shop or make painful budget cuts. Entry-level salaries at some companies are now as low as 4,000 yuan ($550) per month, industry insiders told Sixth Tone.
The speed at which the industry's reputation has crumbled is striking. In 2013, architecture was named the top career choice for Chinese graduates in education consulting firm MyCOS's annual report. Architects not only enjoyed the highest employment rate and job conditions, they also reported the greatest career satisfaction scores. But by 2015 it had disappeared from the league table completely, and it has never featured in the list since.
When technology media outlet 36Kr asked over 1,200 Chinese graduates whether they regretted their choice of major this month, architecture students were among the most likely to say yes. "Architecture may have fallen from the throne faster than any other major," the newspaper Southern Weekly commented in a recent report.
The profession has even been blamed for tanking the ratings of one of China's most popular reality TV shows. "An Exciting Offer" — a show that features 10 interns competing to win a job offer from a prestigious employer — drew big audiences with its early seasons focusing on the legal and medical industries. But the 2022 season about architects was a flop, attracting less than one-quarter of the number of comments received by the earlier seasons on Douban, a Chinese review site.
The architecture industry's decline started in the mid-2010s, when rising competition led to a price war breaking out among design firms desperate to win bids. A decade ago, companies typically charged design fees of 80-100 yuan per square meter for a new public construction project; now, firms tend to charge just one-fifth or even one-tenth of that, according to domestic media reports.
But the real estate crisis has made things far worse. In 2022, a string of Chinese property developers faced liquidity difficulties, sparking a loss of confidence among homebuyers and investors. Land and property sales plunged by double-digit levels, while housing prices went into reverse.
Architects have taken a direct hit, as developers cut back on new projects and struggle to meet outstanding payments. Official data shows that the incomes of architects and construction workers rose 1% last year, but industry insiders say that many companies are cutting staff and slashing salaries. Staff wages at Tianhua, one of China's leading design firms, have dropped by 34% in 2023, according to posts on the job platform Jobui.
Architecture students are increasingly looking for a way out. Cai Yongjie, a professor at Tongji University's College of Architecture and Urban Planning, said that the number of graduates going on to find jobs at architecture firms had dropped significantly in recent years.
"Five to 10 years ago, most students chose design firms as their first employers," Cai told Sixth Tone. "But now, even while they're still studying, some students are already starting to prepare to move into other industries like IT or real estate … The younger generations are facing greater financial pressure in modern cities — it's understandable that they want to find a job providing a higher income."
Shen Chao, a representative from MyCOS, said the company had noticed the same trend. While most architecture graduates used to go on to work in architecture and construction, a growing number are now moving into unrelated industries, Shen told Sixth Tone.
"It might be due to the development of the real estate industry being hindered for unexpected reasons," said Shen.
Zhang, a recent architecture graduate, said he had decided to look for jobs in the media rather than becoming a practicing architect, despite studying the subject for nine years. He has heard from former classmates that starting salaries in the industry have fallen by half over the past few years, and labor conditions have also deteriorated, he said.
"Working overtime is a must, and your labor rights are not guaranteed," Zhang, who gave only his surname for privacy reasons, told Sixth Tone.
Liu Jiasan has witnessed this transformation first-hand. When he graduated from Columbia University in 2016, he had romantic visions of designing a landmark building like the Suzhou Museum — a pioneering project fusing modern and traditional eastern Chinese architectural styles.
"The architecture and construction industries were in their heyday, and practitioners would receive the best treatment when I was still at university," said Liu, who spoke using a pseudonym for privacy reasons.
Things went well for Liu at first. With his prestigious U.S. degree, he received a generous offer from a private design firm in Shanghai, which paid around 250,000 yuan per year. Two years later, he left the position to set up his own studio with two partners.
But the studio didn't survive the real estate crisis, and Liu was forced to take a design job at a state-owned enterprise. He hoped working in the public sector would at least provide a degree of job security and a stable 9 a.m. to 6 p.m. lifestyle. He was mistaken.
"The number of new projects has dramatically decreased," said Liu. "It's becoming harder to collect payments, and it's even impossible for some employers to afford to pay their staff."
Though there is less work available these days, architects are having to work more overtime than ever, according to Liu. 
"Many architects were too late to shift to new industries, while new graduates are continuously coming into the job market," he said. "So, to compete for an ever-shrinking amount of business, everyone has to work harder and harder. It becomes an endless rat race."
Though it receives less attention, architecture firms are increasingly enforcing the kind of grueling "996" working culture that is commonly associated with China's tech industry.
In early 2022, a scandal erupted when a 26-year-old architect was found dead at home, after working weeks of overtime shifts. Colleagues said the man had regularly been forced to work over 12 hours a day, and sometimes work overnight to finish urgent projects.
As with many similar cases in China, the man's employer denied responsibility for the death, arguing it was impossible to prove it was linked to overwork. But it still sparked anger among architects, who warn similar incidents may happen again unless firms change their working practices.
"Architects' lives matter," said George Ye, an employee at a state-owned architecture firm in Shanghai. "Getting off work at 8 p.m. is a mercy from clients and bosses." 
It's unclear where the industry will go from here. Lu's video on Bilibili clearly struck a chord, attracting hundreds of comments. Though many users criticized Lu for throwing away an elite university education, architects often congratulated her for getting out before things got worse.
Yet, some remain optimistic about the industry's future. Rossana Hu, co-founder of the Shanghai-based Neri&Hu Design and Research Office and chair of the architecture department at Tongji University, says that architecture will always attract young talent, even if local firms continue to struggle financially.
"China's architecture graduates enjoyed the industry's unprecedented boom for so many years, so when salaries fall to the 'median' level … the students aren't too happy," Hu says. "However, in the Western world, architecture has seldom really been among the top-paying careers. Most students don't do it for the money; they do it for love — the love of design, creativity, contributing to society, and being involved in creating a piece of cultural history in the environment we live in."
Editor: Dominic Morgan.
(Header image: milindri/VCG)