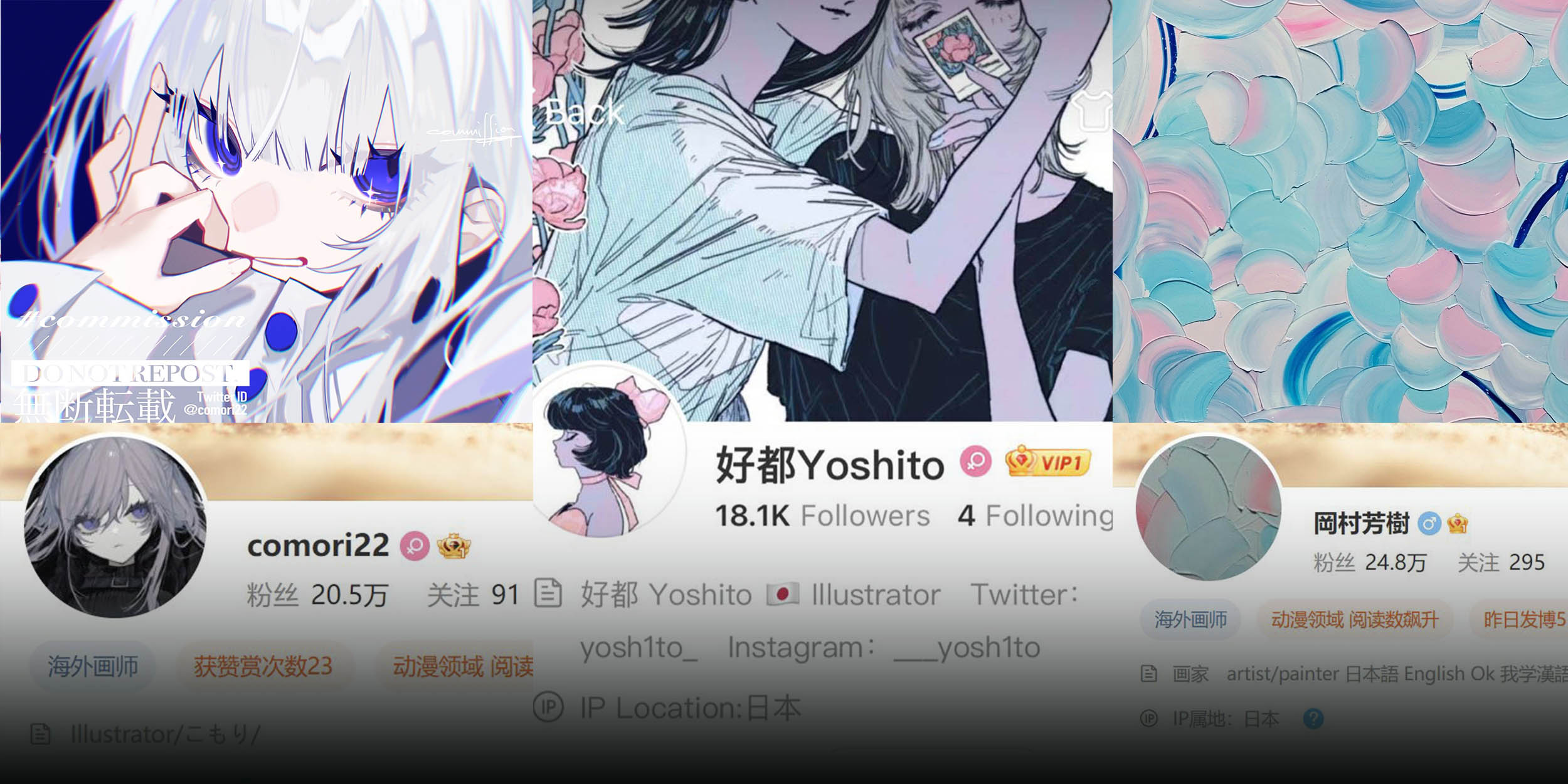 NEWS
Amid Twitter Chaos, Japanese Illustrators Flock to Weibo — and Welcomed With Open Arms
The illustrators have seen their Weibo following far exceed their Twitter following just a few days after joining the Chinese microblogging platform.
With Twitter in crisis, more than a dozen popular Japanese illustrators have opened Weibo accounts in recent days. In just a few days, many of them have already seen their number of followers exceed their Twitter following. 
The illustrators' moves to the Chinese microblogging platform are being widely welcomed by Chinese fans, who have found it difficult in the past to access their favorite artworks on Twitter and Archive of Our Own (AO3), a popular fanworks site.
At least 20 Japanese illustrators have launched profiles on Weibo since Elon Musk announced reading limits for Twitter users on Saturday. Several attributed their decisions to the new Twitter restrictions.
"I was in a bind because I couldn't use Twitter every day, so I took this opportunity to start using Weibo," the illustrator with the handle "Comori22" wrote in their first post on Weibo. Comori22 already has over 190,000 followers on Weibo, compared to 49,300 followers on Twitter despite joining the platform in June 2020.  
Another popular illustrator, Gyoukan, has gained more than 190,000 followers on Weibo since Monday, compared to around 28,000 followers on Twitter. Several other illustrators have also seen the number of their Weibo followers already reach more than double that of their Twitter followers. 
Many of these illustrators are already well-known among Chinese fans of Japanese anime, comics, and games. For instance, both Gyoukan's video game scenes and Comori22's bold character drawings are often widely shared on Chinese social media. 
The number of followers aside, Chinese fans are also welcoming the Japanese illustrators with financial support. Fans of several illustrators, including Gyoukan and Comori22, have donated Weibo memberships to the illustrators, which come with special privileges. 
"People on Weibo are giving me many compliments regarding my illustrations and messages of support," Comori22 wrote on Twitter, adding that they have also been giving advice such as putting watermarks on illustrations and configuring Weibo to prevent harassment. 
On Lofter, the Chinese equivalent of AO3, accounts introducing foreign illustrators have become increasingly popular in recent years. Legions of fans discuss the technicalities of new illustrations and often try to mimic the illustrators' styles.
Now fans are looking forward to interacting even more with their favorite illustrators on a social media platform they often use, with the Japanese illustrators reliance on translation software frequently producing amusingly written posts.  
"Many thanks to Elon Musk and Wang Gaofei for building fans this Louvre," a Weibo user wrote, referring to Weibo's CEO.   
Editor: Vincent Chow. 
(Header image: Screenshots show Japanese illustrators' Weibo accounts.)