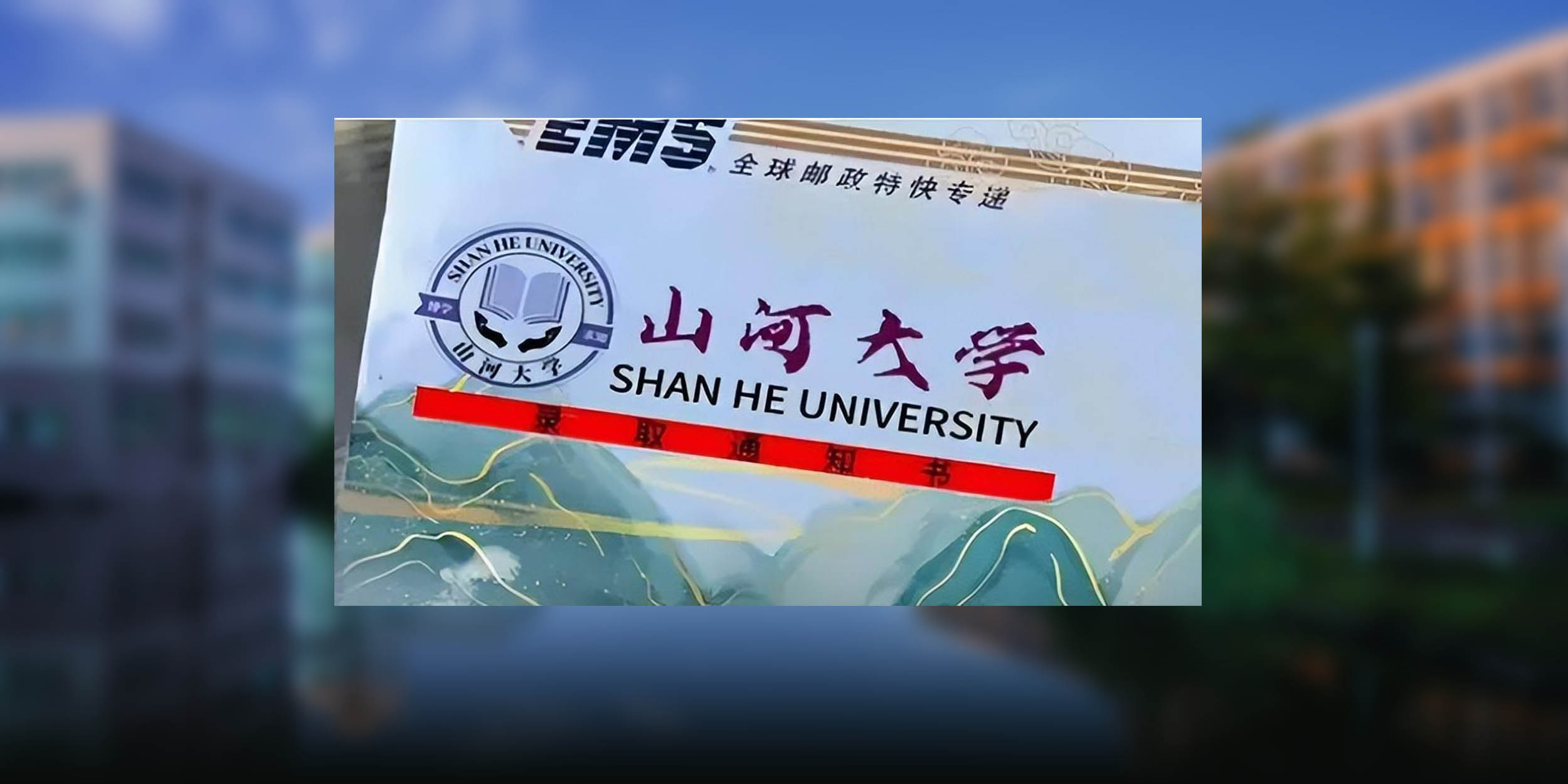 NEWS
A Fictional University Takes China by Storm — One Meme at a Time
Over the course of just one week, Shanhe University, an imaginary institution born from online wisecracks, united students from four provinces.
Complete with its own motto, website, courses, and a roster of illustrious alumni including Han dynasty generals and Tang dynasty poets, a fictional university has emerged as an unexpected online sensation amid China's competitive university recruitment season. 
It began last week when a group of students posted jokes online about the possibility of setting up a university. They hoped to dedicate it to students from the four provinces of Shandong, Shanxi, Henan, and Hebei, where competition for China's national college entrance examination, or the gaokao, is fierce. 
Using a portmanteau of the names of the provinces, they called it "Shanhe University" and imagined it to be located at the intersection of the four provinces.  
The meme quickly captured the imagination of Chinese students across social media platforms. Soon, many began enthusiastically contributing to its development. Along with the motto and emblem, a website was created with faculty lists and even an admissions brochure.
Next, famous historical figures from the four provinces were listed as alumni, from Confucius to Han dynasty general Huo Qubing. 
Du Fu, the Tang dynasty poet, was named Shanhe University's principal, as his timeless verse perfectly captured the university's ethos: "Could I have a grand mansion, spanning a thousand rooms, I would shelter all scholars in the world, making them beam with smiles."
Buoyed by the enthusiasm online, the idea of Shanhe University began to gain traction and evolve beyond mere speculation. 
According to netizens, over 3.4 million high school students from the four provinces take the gaokao annually. If each student were to contribute 1,000 yuan ($140), the total funds raised could reach billions, potentially turning the idea into a tangible reality.
Within a week, what began as a lighthearted joke grew into an online community. Social media platforms like WeChat and QQ became home to a multitude of chat groups, each tagged as a different department of Shanhe University. 
Sixth Tone saw hundreds of such groups focusing on topics from art to design, PE to Chinese literature, and even more left-field faculties such as the "gourmet department."
"After joining the group, I made some friends. We share study materials and discuss topics related to college application preferences," a student surnamed Wang told Sixth Tone. The 18-year-old took this year's gaokao in her hometown of Cangzhou City in Hebei.
On GitHub, the web-based software collaboration platform, individuals developed an admissions website and crafted a comprehensive "course schedule." 
The website presents an array of 24 faculties and over 430 majors, with nearly a hundred courses featuring links to instructional videos sourced from Bilibili, a popular video-sharing platform, local media reported.
One user suggested the website could be turned into a space to share online courses about all subjects and turn it into "a university in the real sense." "I am willing to contribute my modest efforts to the future of Shanhe University. The utopia of our youth won't be just a dream," commented another on the university's website.
The four provinces referenced in Shanhe University's name are among the most populous in China, yet have fewer prestigious universities compared with top-tier cities like Beijing and Shanghai. 
Despite having a combined population of more than 300 million, the four provinces only have only two of the 39 elite universities in China that are known as "Project 985" universities, both located in Shandong. Meanwhile, Beijing and Shanghai have a combined 12 elite universities, or nearly a third of the 39 such universities nationwide.
Editor: Apurva. 
(Header image: A fake Shanhe University admission letter. From Weibo)