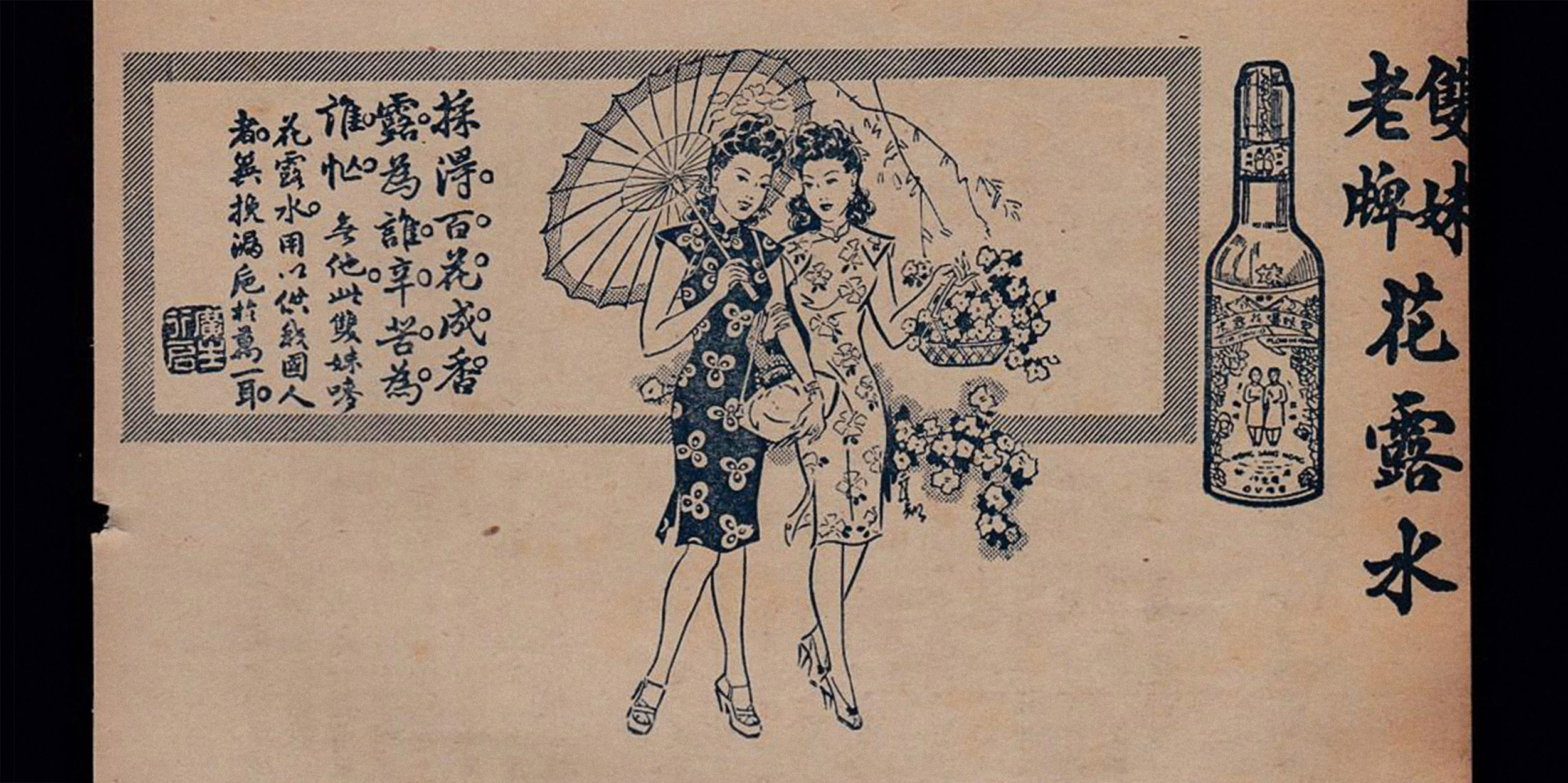 VOICES & OPINION
A Chinese Eau de Cologne, By Way of America
It may smell like TCM, but China's favorite summertime tonic has its roots in a New York pharmacy.
As China enters another hot, sticky summer, residents are once again stocking up on a seasonal staple: flower dew water. The slender, green bottles sold by the Chinese mainland's best-known brand, "Liushen," are iconic among consumers of a certain age, who revere its purported ability to "soothe mosquito bites and invigorate the mind."
Perhaps because of that traditional Chinese medicine-inflected marketing copy, however, very few Chinese know that flower dew water isn't a local invention, but an American import.
According to Lanman & Kemp, the concoction's best-known producer, it dates back to the early 19th century, when the New York-based perfumer Robert Murray invented a lightly perfumed liquid similar to Eau de Cologne. He named it "Florida Water," supposedly for Florida's association with the exotic — the region remained under Spanish rule until 1819 — and its connection to the famed "Fountain of Youth." Capitalizing on the folktale, sellers claimed bottles of Florida Water could do everything from brighten the skin to turn back the clock on wrinkles.
Florida Water was first introduced to China in the mid-19th century, one of a number of cosmetics imported into the country's treaty ports by non-Chinese traders. At the time, China didn't have industrially produced perfumes; instead, wealthy Chinese used "fragrant powders" composed of ingredients such as musk, clove, Angelica dahurica, and eaglewood. The methods used to produce these powders, including boiling and sun-drying, were often detrimental to their longevity and strength.
That helped Florida Water stand out from the competition, but the name was an obstacle: Few mid-19th century Chinese had heard of Florida, much less knew about its citrus trees and mythical fountains. At various points, Lanman & Kemp, which Murray helped found, translated their product as "Bright Face Pure Perfume," "White Rose Perfume," and "Rose Sweet Fragrant Water." It even tried to make the "Florida" branding work: In 1868, when a delegation of Qing Dynasty (1644-1912) envoys visited New York, one of them, Zhang Deyi, toured Lanman & Kemp's factory and noticed that bottles intended for the Chinese market bore a label reading "Fuliulidi," an unofficial phonetic rendering of "Florida."
But the name that stuck was "Flower Dew Water" — hua lu shui — which had a distinctly poetic charm that appealed to local consumers, calling to mind classical verses like Wei Zhuang's "Amid willow wisps and heavy flower dew / my thoughts I cannot bear," or Ouyang Xiu's "Dew hangs heavy on the flowers and the grass is dense / nearby houses have shut their curtains." The bottle's label, designed by famed Franco-British illustrator George du Maurier, reinforced this perception with its idyllic depiction of bards encircled by birds and flowers as they contemplate the Fountain of Youth.
By the 1880s and '90s, a number of large Western-style pharmacies in Shanghai had begun copying Lanman & Kemp's formula, to varying degrees of success. But true localization wouldn't occur until the Guangdong-born merchant Fung Fook-Tien founded the Kwong Sang Hong company in Hong Kong in 1898.
Earlier in his career, Fung had sold pharmaceuticals for a Hong Kong-based imported goods retailer. Working alongside British pharmacologists, he was able to master English and learn how to make prescriptions. Eventually, he developed his own spin on the classic Florida Water formula, registering it under the Two Girls trademark. Because its ingredients and packaging were heavily reliant on Japanese imports, it cost less than half the price of Lanman & Kemp's version.
Initially, Two Girls relied on street peddlers to market its goods. As it rose in popularity, however, it drew the attention of a Lanman & Kemp subsidiary, resulting in a lengthy legal battle.
That fight delayed Kwong Sang Hong's entry into the China market by several years, but in 1903, the company set up a storefront on Nanjing Road in Shanghai. In 1910, they opened a factory in the city and held a huge sales event on Nanjing Road featuring massive posters, which dramatically boosted awareness of the brand among mainland consumers.
Kwong Sang Hong faced numerous challenges as it attempted to market Two Girls' flower dew water to Chinese women. For one, contemporary moral norms prevented the company from hiring women to pitch the brand, meaning the eponymous "two girls" were in fact male models who had been picked for their delicate features. Beginning in 1910, the company hired famous "calendar-style" illustrators such as Kwan Wai-nung, Hang Zhiying and Zheng Mantuo to draw posters advertising the company's products. By the 1930s, Two Girls had squeezed in front of their international competitors to become the Bund's most successful beauty brand.
Kwong Sang Hong's success encouraged other domestic makeup companies to develop their own Florida Water formulas. In 1907, the director of the Shanghai Bureau of Western and Chinese Medicine, Zhou Bangjun, came up with a traditional Chinese medicine-inspired variant that derived its scent from a mix of roses, jasmine, and ethanol. After his elder daughter Zhou Wenji inherited the business in 1927, she opened a new factory and began mass-producing the fragrance under the Mingxing brand. In the late 1940s, Mingxing employed thousands of workers and sold more than 10 million bottles of Florida Water a year.
As TCM-flavored variants proliferated, public perceptions of Florida Water began to shift. What had initially been marketed as a kind of perfume for the wealthy and sophisticated became increasingly pragmatic, as regular consumers sought out variants that promised to use traditional Chinese knowledge to help them keep cool in the summer.
In the mid-1950s, Kwong Sang Hong's operations on the Chinese mainland were merged with a number of other cosmetics companies, including the All-China Journalists' Association Cosmetics Factory, the Mingxing Fragrant Soap Factory, and the Eastern Chemical Industry Collective, to form the Shanghai Mingxing Daily Chemicals Factory. In 1967, they changed their name to Shanghai Jahwa United. The Two Girls brand faded into obscurity, though Mingxing remained popular in Shanghai through the 1980s.
In 1990, as China sought to reform its unwieldy state-owned enterprises, Shanghai Jahwa released a new version of Florida water under the Liushen brand. At the product launch, they announced the company had "innovatively combined TCM culture and modern technology" to distill six different medicinal herbs into an elixir, which they then added to traditional Florida Water. The grandiose copy worked, and Liushen rapidly eclipsed Mingxing in popularity to the point that, nowadays, people usually say "Liushen" in lieu of "flower dew water."
Curiously, Shanghai Jahwa once attempted to revive Two Girls; it even invited Chiang Kai-shek's great-grandson, the designer Demos Chiang, to help come up with all-new product packaging. On August 24, 2010, a new Two Girls store officially opened at the city's newly redecorated Peace Hotel. But the product that started it all, Florida Water, was nowhere to be found.
Translator: Lewis Wright; editor: Wu Haiyun.
(Header image: An ad for Two Girls dating to the early 20th century. From 同观阁书斋 on Kongfz.com)