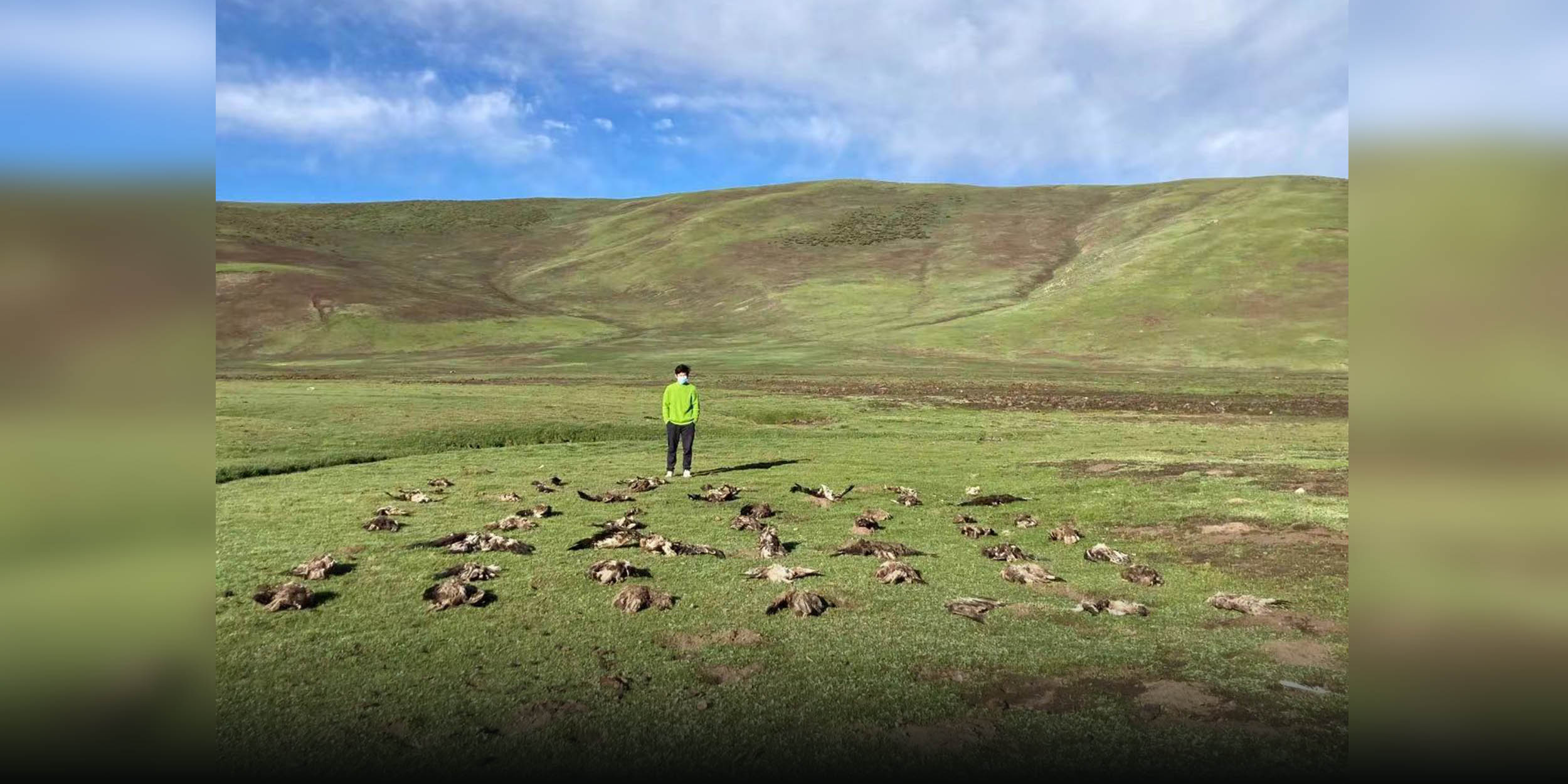 NEWS
Rare Raptors Found Dead Near Chinese National Park: Volunteers
While wildlife volunteers say the birds died due to electrocution, authorities denied the claim and said the deaths were being investigated.
A group of wildlife volunteers have alleged that more than 53 endangered raptors, including steppe eagles, saker falcons, and eagle owls, have been found dead near the Jiatang Grassland in northwestern China's Qinghai province. 
The volunteers, all recruited by the artist activist known as Nut Brother, published their findings on the bird deaths in a recent post on WeChat. They attributed the cause of the bird deaths to electrocution, which sparked widespread debate across the country's social media platforms.  
In the WeChat post published on June 24, the author, under the name "bird counter Chang Le," mentioned details of each carcass found, including GPS coordinates, the species, and cause of death.
The Jiatang Grassland is located near China's Sanjiangyuan National Natural Reserve, which contains the headwaters of three important rivers — the Yellow, the Yangtze, and the Mekong.
Responding to the allegations, the Sanjiangyuan National Natural Reserve denied that electrocution was the direct cause of death, but did not provide a specific explanation, citing an ongoing investigation. Park authorities also stated that the locations where the raptor carcasses were discovered were not under their administration. 
According to the volunteers, however, the birds died due to electrocution following a controversial approach taken by the Qinghai arm of China's State Grid. 
They alleged that instead of employing traditional methods to deter birds, the power grid had installed artificial nests on power lines with the intention of providing habitats for the birds. In the WeChat post, they claimed that these artificial nests had the unintended consequence of attracting the raptors, ultimately leading to their deaths through electrocution.
Chang told The Paper, Sixth Tone's sister publication, that 52 carcasses were found either below power poles or near electrical wires. He added that burn marks were visible on some of the birds, while others had their tails severed due to electrocution.
Chang also speculated that inadequate power grid protection facilities, worn insulation, and the frequent rain and snow in the grassland contributed to the high casualty rate.
Editor: Apurva. 
(Header image: Carcasses of deal birds found by a volunteer. From @情况有点复杂 WeChat account)