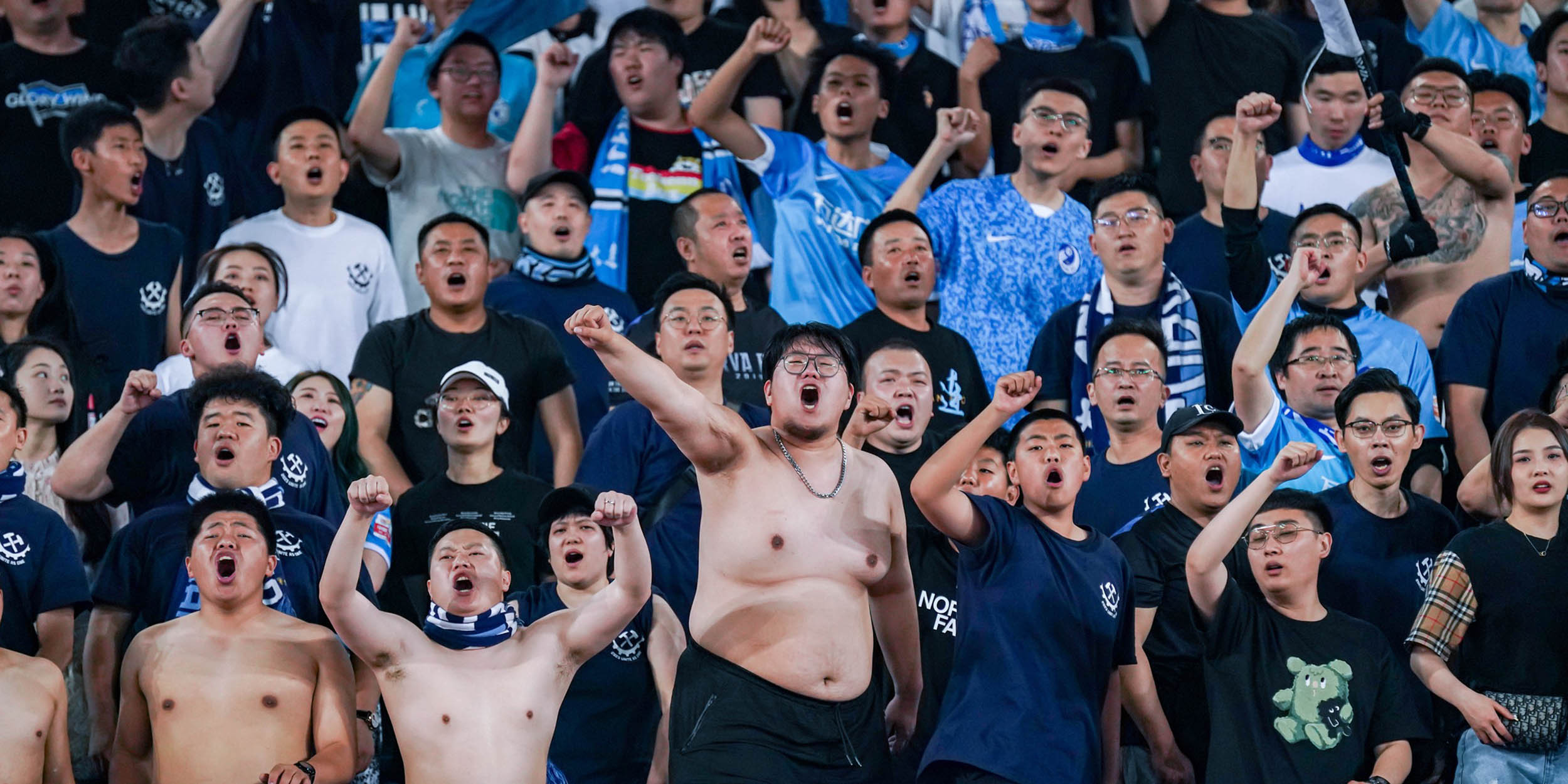 NEWS
Does Chinese Soccer Have a Hooliganism Problem?
Chinese soccer fans are flocking back to stadiums following the resumption of live matches. But an uptick in fan violence is raising concerns about whether hooliganism might also be on the rise.
The recent visit by soccer superstar Lionel Messi showed China as the soccer-loving country that it is. But there is growing concern that some fans are overstepping the line when it comes to enjoying the domestic game.
Fans are being allowed back into stadiums for the first time in three years, but a string of recent incidents have raised concerns about fan violence. Some are even calling the transgressors "liumang," or "hooligans," reminiscent of the violence that once plagued English soccer.
One report claims that "hooligans are running amok" in the Chinese Super League, China's highest tier of professional soccer. 
Several incidents have grabbed headlines since the season began in mid-April. Earlier this month, videos circulated online show a Shandong Taishan supporters' bus with a shattered window, allegedly broken by a stone thrown by fans of the home team Wuhan Three Towns.
The two sets of fans have grievances, including the recent transfer of Shandong's former star youth player Wei Shihao to Wuhan, soccer analyst Zhao Xiaoou told Sixth Tone. Last season, the two teams finished level on points, with Wuhan clinching the title on goal difference.
In late April, Shanghai Port fans surrounded and assaulted two fans of city rivals Shanghai Shenhua outside Shanghai Pudong Football Stadium. The assailants were quickly arrested. Another incident that month saw Cangzhou Mighty Lions' Sun Qinhan struck on the head by a bottle thrown by Chengdu Rongcheng fans, which broke upon hitting his head.
One of the most ill-tempered matches so far this season was the goalless draw between Dalian Pro and Chengdu Rongcheng on April 26, which saw some Dalian home fans verbally abuse the Chengdu players and throw objects at them.
Following the match, a Dalian fan shouted obscenities at passing Chengdu supporters from his car window and accelerated towards them as if trying to run them over.
Although no one was hit, shocked onlookers confronted and filmed the driver, who promptly left the scene. He was later apprehended and filmed giving a lengthy apology.
Soccer-related violence is not a common sight in China. The country has seen a handful of major incidents over the years, including a riot in 1985 after a loss to Hong Kong prevented China from qualifying for the World Cup.
However, the recent incidents have raised questions about whether hooliganism is on the rise in China. A Chinese soccer blogger recently wrote that these incidents can be associated with hooliganism because they involve attacks on visiting teams' players, racial abuse, and the attackers' deliberate tactic of outnumbering their victims. 
Growing concern over soccer violence in the country has even made its way into academic papers. "Chinese football fan violence is … gradually developing in the direction of scale and organization, which seriously affects national and social stability," wrote researchers Tian Yuge, Ma Chao, and Shi Zhenguo of Shandong University in a paper published in the journal Frontiers in Psychology last October.
But not all fans and experts agree. Cameron Wilson, a Shanghai-based soccer writer and consultant, told Sixth Tone that most soccer violence in China is "situational" and "performative," adding that anyone requiring hospital treatment would be "highly unusual." He has seen rival fans throw rental bikes at each other.
When asked about the recent incidents, Wilson said they are probably down to fans "letting off steam … and being more exuberant than they should be" after three years of not being able to attend live games due to pandemic restrictions. Other countries have also reported increases in soccer-related violence following the return of fans to stadiums, including in South America and Europe.
Wilson emphasized that the violence seen at matches in South America and Europe cannot be compared to the situation in China. The Shandong University researchers note in their paper that soccer violence in China lacks both the severity and anti-social attributes as seen in Brazil, for instance.
A Shanghai Shenhua fan, who asked to remain anonymous, agreed with Wilson's assessment. He told Sixth Tone that even though scuffles between fans do occur, Western-style hooligans "do not exist in China."
Anyone committing violence in public, he explained, would be swiftly caught because of the security cameras and facial recognition systems in place.
"There are no bases or conditions for soccer hooliganism to grow in China," he said.
Editor: Vincent Chow.
(Header image: Dalian home fans support their team during a Chinese Super League match in Dalian, Liaoning province, June 6, 2023. IC)