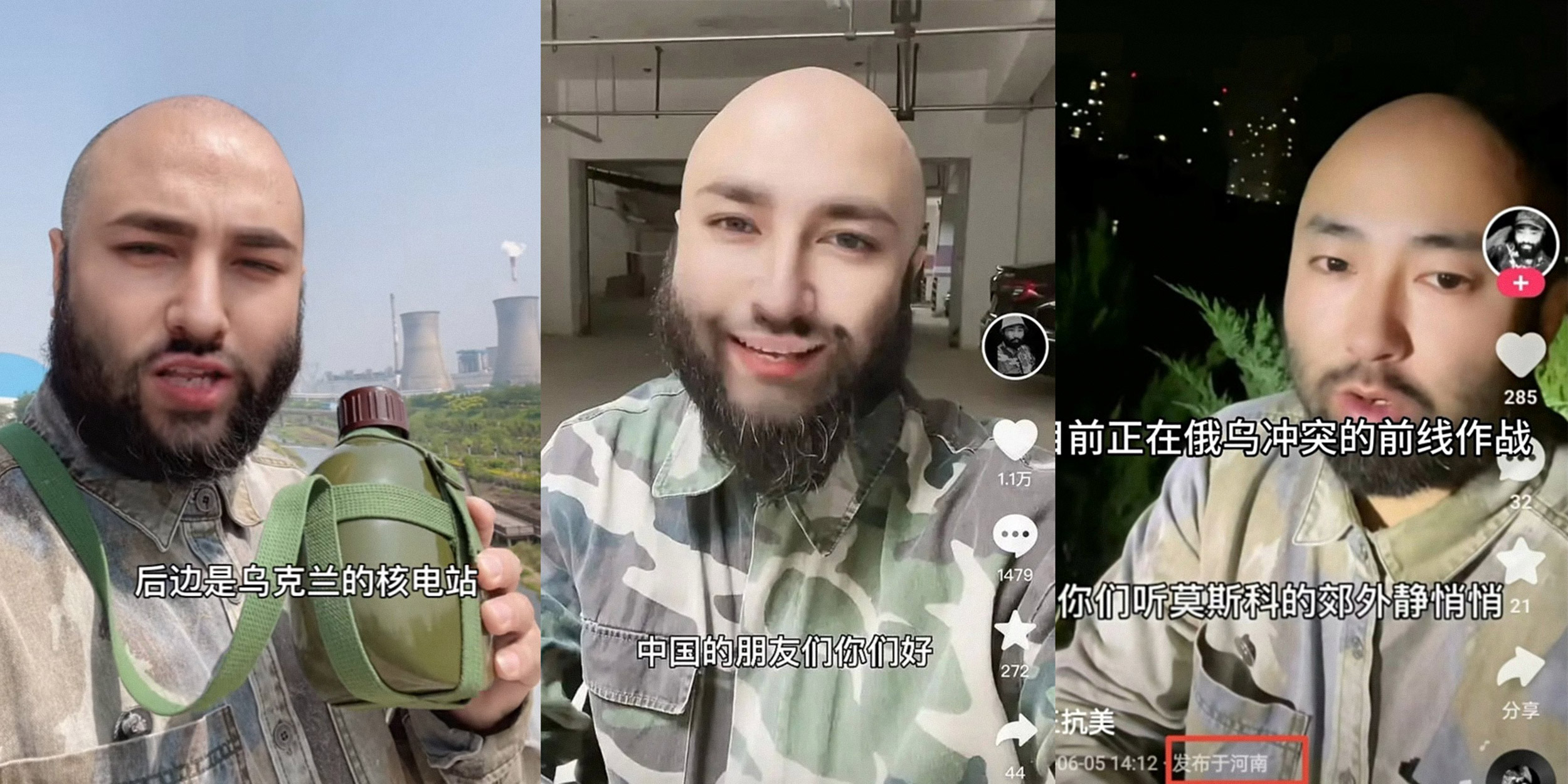 NEWS
He Claimed to Be a Soldier in Ukraine. Except, He Was in Henan.
Using deepfake tech, a Douyin content creator posted fabricated content about the Ukraine war. Doubts arose when users found his IP address was in Henan, China.
For months, a content creator captivated thousands of his followers on Douyin, the Chinese version of TikTok, with purported real-time updates in Chinese from the heart of the Russia-Ukraine conflict. 
Sporting a bald head and a thick beard, the content creator assumed the pseudonym Baoer Kechatie and claimed to be a special forces soldier from Chechnya, stationed on the Ukrainian frontlines. 
In one video, standing in front of a "nuclear power plant," the content creator proclaims the Russian army just took over the area. In another, he claims he battled U.S. marines and even shows viewers a handgun. 
Except, it was all a well-orchestrated scam. 
Using deepfake technology and artificial intelligence tools, the content creator manipulated his appearance and fabricated a false identity to deceive his followers on Douyin. Some even bought Russian-imported items ranging from vodka to honey from his e-commerce shop.
But as his account drew more followers, doubts began to surface, particularly surrounding his Chinese accent. As the scrutiny intensified, other users on Douyin found that the IP address of his account showed he was in Henan, which also matched up with his Chinese accent. 
In a statement Saturday, Douyin said it has indefinitely suspended the account for spreading misinformation and banned it from making money. At the time, the account had nearly 400,000 followers and had sold at least 210 items through its linked e-commerce store.
Prior to the ban, the account owner had taken down all the videos, and changed his account name from "Baoer Kechatie," which resembles the protagonist Pavel Korchagin from the Russian novel "How the Steel Was Tempered," to Wang Kangmei, which translates as "resistance to the United States."
And though many of the now-deleted videos were labeled as movie or drama plots, comments showed he had convinced several users, many of whom even cheered for his success.
In China, this isn't the first time content creators have adopted foreign identities to make a quick buck online. 
Last year, a Russian woman named Nana went viral for sharing her life in China but was eventually unmasked as an impostor mimicking the appearance of a woman using AI-powered filters. The account, which garnered nearly 2 million followers, was eventually blocked following complaints from users and criticism from state media. 
Such cases come amid growing public concerns over the proliferation of scams through the use of deepfake technologies, which are capable of altering facial features, voices, and other biometric data. 
In April, a tech company owner was defrauded of 4.3 million yuan ($610,000) after scammers, pretending to be his friends using face-swapping software, convinced him to transfer money to their accounts. 
To address the threat, China introduced a slew of policies targeting deepfake technologies in January, including a ban on illegal activities and a mandate to set up a real-name verification system. 
Since May, Douyin has required all users to clearly label AI-generated content in a bid to address concerns over rumors and misinformation.
Editor: Apurva.
(Header image: Screenshots from social media accounts of Baoer Kechatie and Wang Kangmei (right), which have since been suspended. From Weibo)