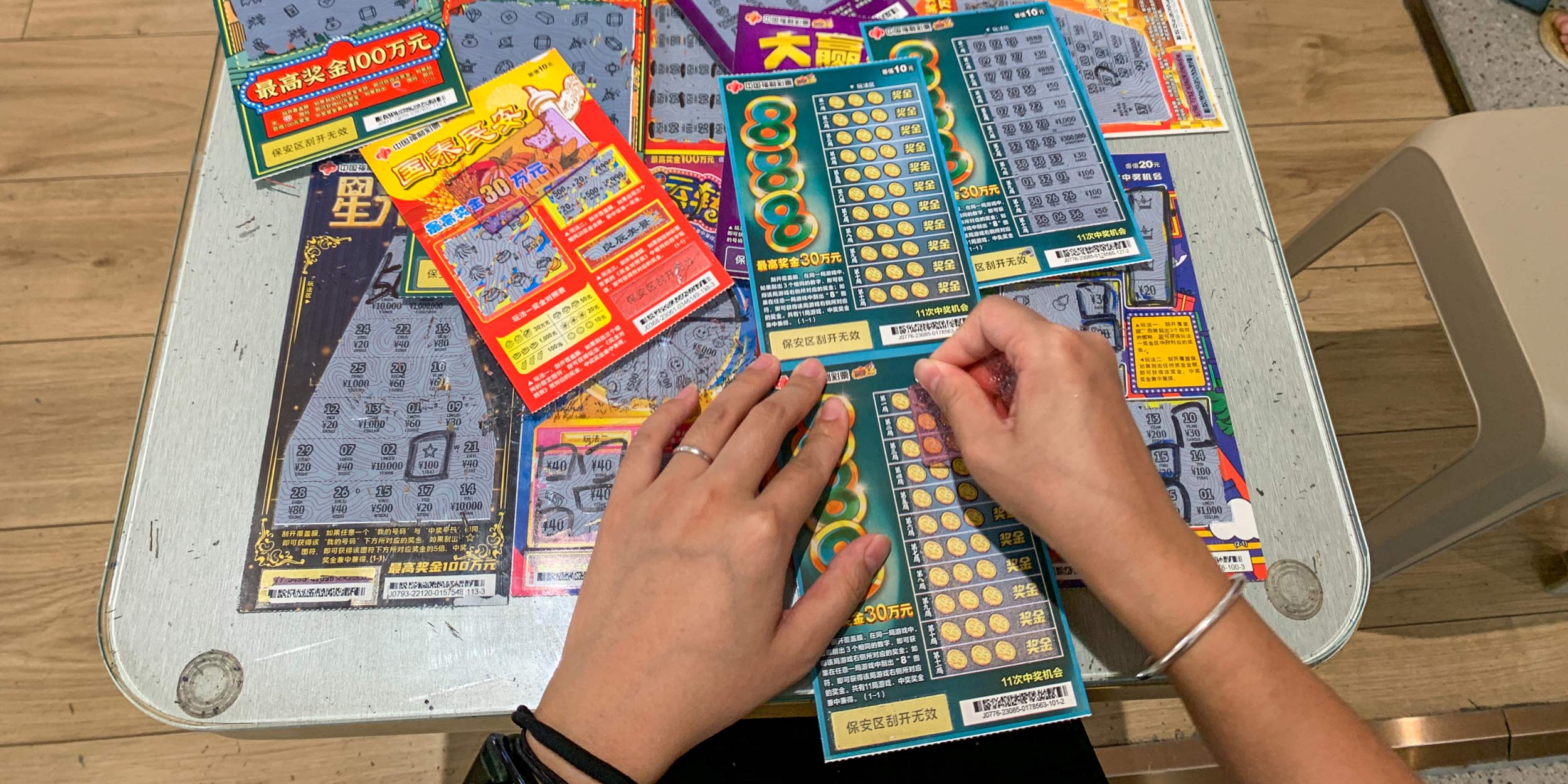 FEATURES
Young Chinese Have a New Plan to Escape Tough Times: Win the Lottery
China's millennials are seeking cheap thrills and get-rich-quick solutions amid a tough economy. That's leading many to embrace an institution long considered hopelessly uncool: the country's state-run lotteries.
SHANGHAI — At her recent housewarming party, Zheng Jiaying was expecting her colleagues to give her some flowers, perfume, or possibly a red envelope stuffed with cash. Instead, she received a more unorthodox gift: a pile of 100 lottery scratch cards.
The 33-year-old loved it. Her guests spent much of the evening frenziedly scratching away at the cards, their screams of joy and frustration filling the room. In the end, they only won 200 yuan ($28) — less than half what they had spent on the cards — but no one seemed to mind too much.
"It felt wonderful," Zheng, who works at an advertising firm in Shanghai, tells Sixth Tone. "What they gave me is the amazing memory, not the cash."
China's state-run lotteries are enjoying a renaissance in 2023. Once considered hopelessly uncool, the games are suddenly winning over legions of young Chinese who are seeking cheap thrills and get-rich-quick solutions amid a tough economy.
According to China's Ministry of Finance, lottery ticket sales reached 50 billion yuan in April — the highest April figure in a decade — thanks in part to the soaring popularity of products favored by younger players, such as instant lottery games. Total sales during the first four months of 2023 surpassed 175 billion yuan, up over 49% year-over-year.
Gambling is illegal in China, but the country's state-run Sports Lottery and Welfare Lottery have enjoyed huge success since they were set up in the 1980s. The games generate hundreds of billions of yuan in revenue annually, with part of the proceeds used to fund government and charity projects.
For a long time, China's lotteries mainly appealed to middle-aged and elderly consumers, with tickets sold at traditional newsstands and state-run stores. But vendors say that the current economic uncertainty is making young people more interested in trying their luck, too.
"In previous years, my stand was mostly frequented by men in their 40s. But now I'm seeing some young faces coming here more frequently," the operator of a lottery store in northwest China's Shaanxi province, surnamed Liang, tells Sixth Tone. "Everyone wants to get rich overnight."
China's economy is struggling to recover from three years of strict pandemic-control measures that shook consumer confidence. Growth rebounded to 4.5% in the first quarter, but data in April suggested that the recovery is now losing steam.
Chinese millennials are finding things particularly tough, with the country's youth unemployment rate hitting a record high of 20%. Many are searching for a way out from the "involution" — or endlessly intensifying competition — of life in the country's major cities.
Some have sought to change their fortunes by embracing Buddhism; others have simply given up and decided to tang ping, or "lie flat." Now, it appears that a growing number of young people believe the lottery might be their ticket out of financial insecurity — or at least offer a momentary escape from it.
Posts about the lottery have frequently gone viral on Chinese social media in recent months. In May, the topic "what you should do after winning the 170 million yuan lottery jackpot" began trending on the microblogging platform Weibo, attracting 390 million views.
Many posts focused on offering users advice on what to do if they won the jackpot, stressing that it was important to protect themselves from fraudsters. Winners were advised to hide their faces and keep a low profile when traveling to claim their money. "If anyone recommends financial products to you, please be sure to decline," one post added.
Underneath the posts, users had left thousands of comments with the same message: "Happy birthday to the god of wealth! … I love money! Money loves me! Please please please!"
This buzz is also being fueled by a shift in the lotteries' marketing strategy, with the authorities intentionally trying to attract more younger players.
Lottery sales went into a steep decline after 2018, falling from 511 billion yuan to 422 billion yuan a year later. Revenues plunged further after the pandemic hit, as long lockdowns and stalling economic growth led consumers to rein in spending.
Chinese authorities responded by launching new, trendier games and making them easier for young people to buy. Lottery tickets are now on sale in shopping malls and vending machines. Sports lottery stands have even been set up inside bubble tea stores and burger restaurants in some cities.
In April, the China Sports Daily, a publication affiliated to the General Administration of Sports, reported that opening up more sales channels for the Sports Lottery would be one of the authorities' main priorities in 2023.
"The construction of new channels will be a key national task in the near future, which is of great significance to the … expansion of the user base," said the report.
An employee at a Sports Lottery stand in a shopping mall in Shanghai, surnamed Chen, tells Sixth Tone that the drive to open new lottery outlets in popular hangout spots started in 2021. Her own stand began operating in February this year. 
The mall where Chen's stand is located is popular with students and young professionals, who often come to buy lottery tickets in the evenings. Scratch cards are particularly popular with younger players, she says.
"It's more fun, and there's a higher chance of winning money," says Chen. "Young people are facing greater pressure in today's society than ever before, and playing these scratch cards helps give them some relief."
Some economists, however, are concerned by the intentional targeting of younger consumers. Dan Wang, chief economist at Hang Seng Bank, told the South China Morning Post that the move is likely fueled by the need to boost government revenues, which have been hit by a decline in land sales and business tax revenues during the past few years.
But lotteries in practice tend to act as a form of regressive taxation, as people on lower incomes are most likely to play — and lose money — on the games, according to Wang.
But that isn't putting off younger players. Bao Jiayin, a 22-year-old college student in Shanghai, tells Sixth Tone that she first played the Sports Lottery during the 2018 World Cup. 
"The lottery is all about luck," she says. "My whole family bought Sports Lottery tickets, but only my mother — who knows nothing about soccer — won."
For years afterward, Bao didn't play the lottery again. But then, in March, she saw a few friends posting their instant lottery ticket results on their timelines on the social app WeChat. She also saw videos of influencers playing dozens of scratch cards at a time. She decided to have a try herself.
"Before you start scratching and see the result, the expectations and nerves make you feel really excited," Bao says. "Even when you lose, that feeling (of disappointment) soon fades away."
Since then, Bao has been buying a scratch card every week. "Whenever I feel like I'm having a bad time and I need some good luck, I'll buy myself a scratch card," she says.
So far, her biggest win is a 100 yuan prize from a 50-yuan ticket. Bao uses the money to purchase more scratch cards, she says.
"It's a small amount of money, but it can repeatedly bring excitement to you," she says.
Additional reporting: Li Wei; editor: Dominic Morgan.
(Header image: A consumer plays a set of lottery scratch cards in Guangzhou, Guangdong province, June 10, 2023. VCG)