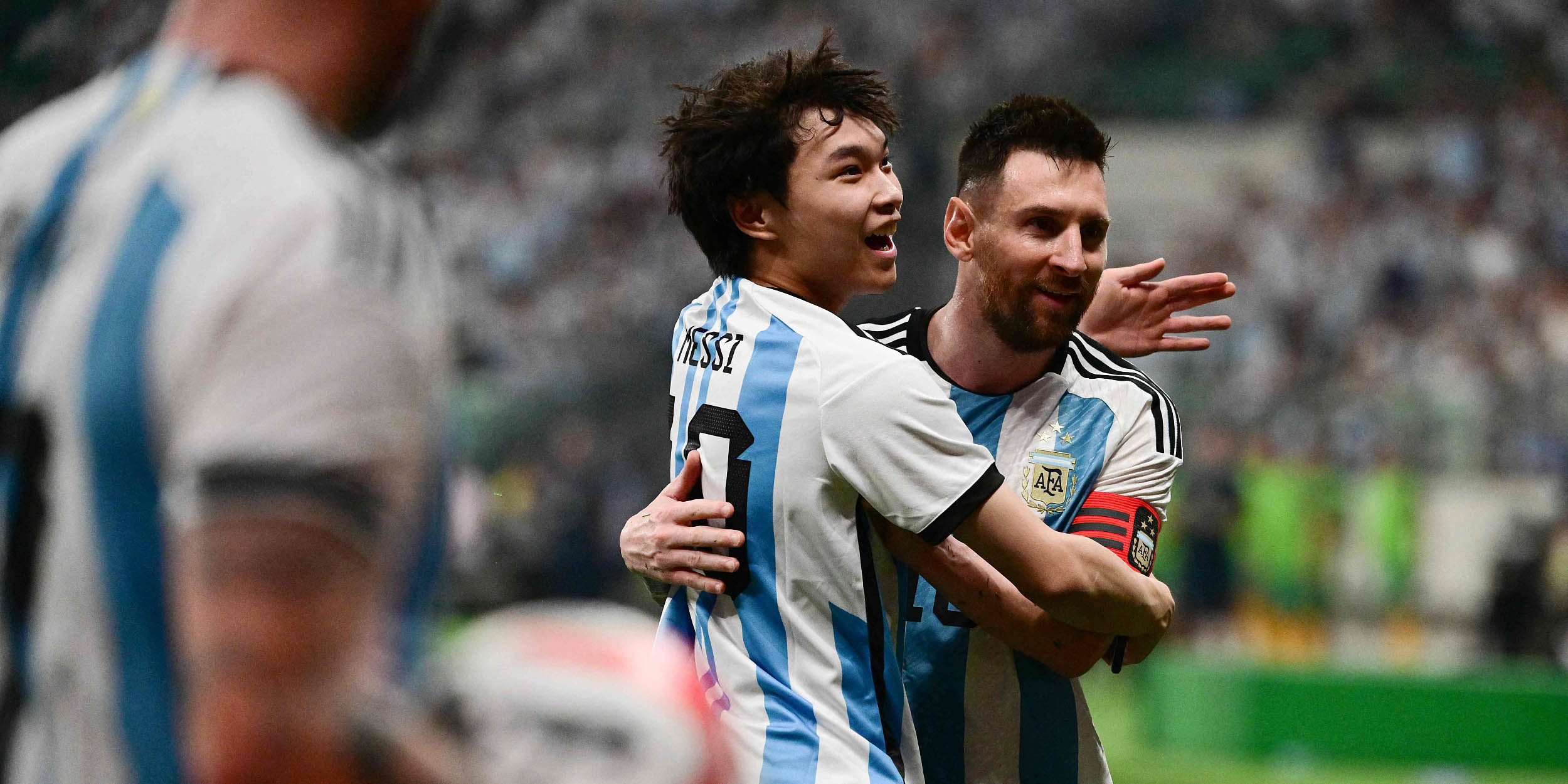 NEWS
Pitch-Invading Teen Hugs Messi, Captures Public Imagination, Now Detained
Soccer superstar Lionel Messi will leave China having come face-to-face with at least one passionate Chinese fan — a teenager surnamed Di, whose pitch invasion and embrace of his idol have made him a legend online while also landing him in legal trouble.
This story is being updated to reflect latest developments. 
A pitch-invading teenager has shot to fame after hugging Lionel Messi at the friendly match between Argentina and Australia on Thursday — the latest chapter in an eventful visit to the country for the soccer superstar. The teenager, 18, is now under administrative detention, according to local police. 
In the second half of the match, the teenager, surnamed Di, ran onto the field when the ball was out of play. Wearing a Messi jersey, he quickly embraced Messi and high-fived Argentina goalkeeper Emiliano Martínez before collapsing on the grass. Several security guards then carried him off the field. 
Videos showing the pitch invasion have been circulating widely online, with spectators at Beijing's Workers' Stadium heard cheering on the teenager as he evaded the grasp of several security guards. The match ended in a 2-0 win for the reigning world champions, with Messi scoring his fastest ever international goal within 80 seconds of kickoff.   
Other viral videos show Di being welcomed back to the stands by fans taking selfies with him, suggesting that he was quickly released by stadium security. In an interview with domestic outlet Red Star News, the teenager said he had planned the pitch invasion in advance and made his move after noticing the lax security by the field, although the security agency denied his claim.
"I just wanted to give (Messi) a hug and give him a sense of the enthusiasm from us Chinese fans," Di said, adding that he has been a Messi fan since 2014.
On Friday evening, the Chaoyang Public Security Bureau in Beijing said that Di was under administrative detention and has been handed a 12 months stadium ban. "Every game has its rules. Violation of these rules will lead to referee's punishment," the announcement said. 
Netizens have 
expressed admiration
 for the fan's youthful exuberance and joy as he is carried off the field. "He embraced his idol on the soccer field and then ran freely; it is the most beautiful moment of his youth," one Weibo user wrote. Another user quipped that he should be selected for the national soccer team due to his speed.
However, some were not impressed and raised concerns about player safety. "Such behavior will lead to increased costs for security in the future, which will eventually fall on the fans," soccer commentator Yuan Jia wrote on Weibo, adding that tightened security measures could worsen the live viewing experience.
China has been gripped by "Messi mania" since the soccer superstar arrived in the country last Saturday. Coming off leading his country to World Cup glory last year, Messi has been trailed by legions of adoring fans at every moment during his time in China. Tickets for the friendly match were priced at up to 4,800 yuan ($686), reportedly a record high for a soccer match in China, but still sold out within 30 minutes. 
There have been other controversies along the way, including a canceled meet-and-greet with fans over security concerns. The trip organizer apologized for these issues at a press conference on Thursday, before the pitch-invasion occurred. Following the match, Messi expressed his gratitude to Chinese fans on his Weibo account, which boasts over 8 million followers.
"It's been a delightful tour in China with the team, thanks to all Chinese fans for your passionate support throughout," he said.
Editor: Vincent Chow. 
(Header image: the pitch-invading fan hugs soccer superstar Lionel Messi at Argentina's friendly match against Australia at the Workers' Stadium in Beijing, June 15, 2023. VCG)