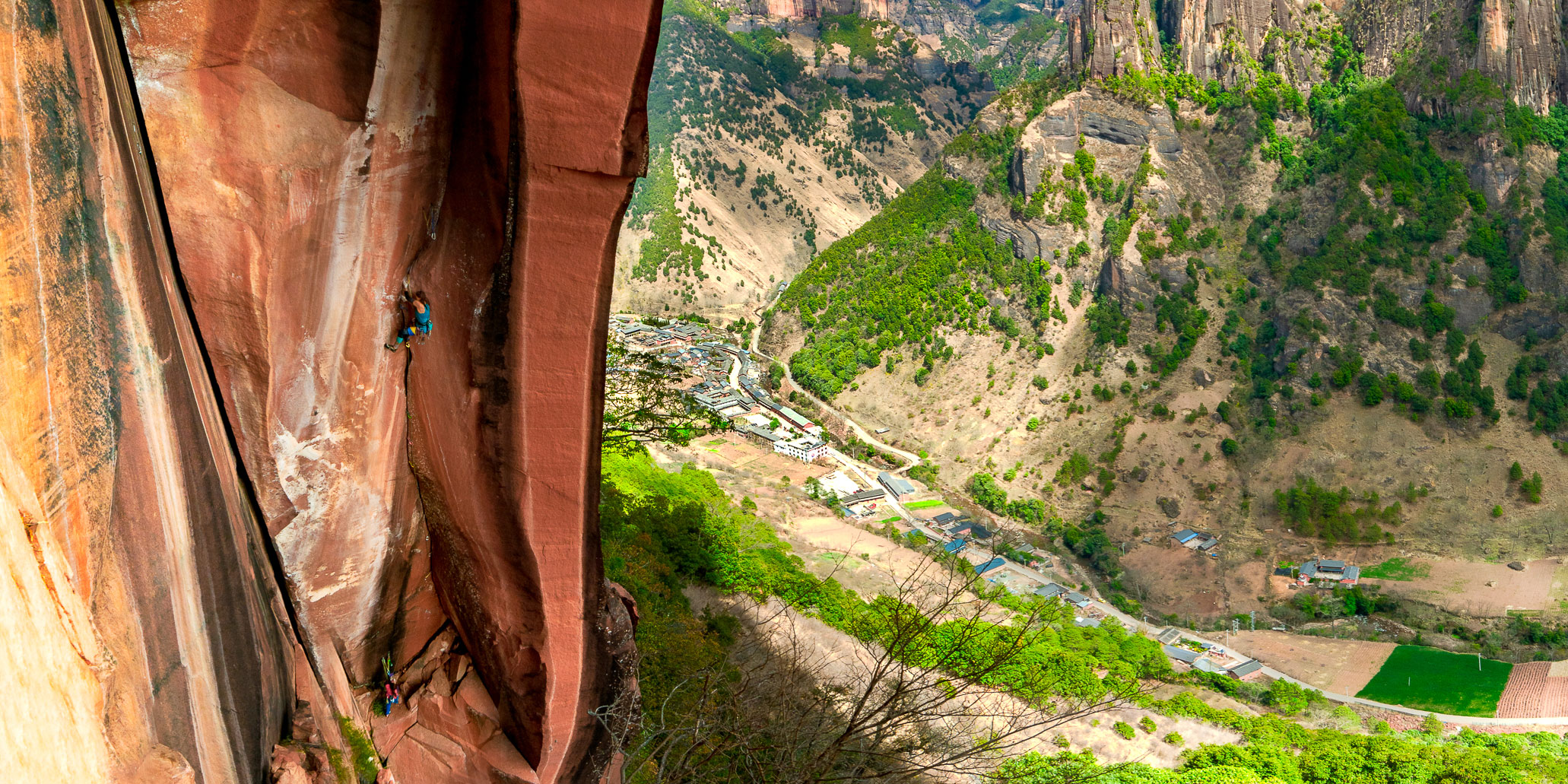 FEATURES
How a Chinese Village Defied the Odds and Became a Climbing Hub
For years, international climbers and authorities were locked in a standoff over Liming's sandstone cliffs. Now, the sport's popularity and China's success on the global stage have transformed climbing into a valuable resource.
YUNNAN, Southwest China — On an immense wall of red rock, a jagged crack resembling a bolt of lightning stretches up until disappearing from view. Ten meters above, a climber, Dahlia Wong, slowly inches her way up. 
Her hands and feet tightly jammed into the crack, which varies between about seven and 30 centimeters wide, she relies solely on the tension between them and the rock to cling to the bare rock face. Every couple of meters she stops to push a metal device into the crack, clips in the rope, and continues climbing, her face a mask of concentration and pain. 
The crack Wong is climbing is a classic climbing route named Scarface II. Unlike sport climbing, where the rock face is equipped with pre-drilled bolts for safety, Scarface belongs to traditional or "trad" climbing, where climbers place removable protection as they climb, which makes it more challenging. 
Below, another climber Zhou Lei, points to Scarface and says, "Men find climbing it easier because they have bigger hands, but women usually jam fists. Everyone climbs it differently depending on height and build." 
And alongside others like "Air China," "Ding Dong's Crack," and "Japanese Cowboy," these routes are drawing trad climbers from around the world to the remote village of Liming, located in the Laojunshan Mountains in southwestern China's Yunnan province. 
Here, most locals aren't Han Chinese, but Lisu, a Tibeto-Burman ethnic group, whose livelihood depended on hunting, subsistence agriculture, and harvesting wild honey, found high up on the same cliffs. 
It's why the climbers are more than welcome: They became part of the local identity and culture and more importantly, inject much-needed revenue into the local economy. On average, residents here earn only 4,000 yuan ($450) a year but now, climbing tourism brings well over a million yuan annually into Liming.  
Before this symbiotic relationship could fully evolve, however, the red sandstone cliffs of Liming bore witness to an unlikely standoff between climbers and local authorities, each side pushing against the other's goals. 
While climbers, both Chinese and foreign, flocked to Liming for its world-class trad climbing routes, authorities, driven by their vision of mass domestic tourism, wanted no part of a sport they deemed "unsafe."
But this year, the tide began to turn. With the rise of rock climbing as a popular sport and China's success on the global climbing stage, what was once perceived as a challenge for local authorities turned into a valuable resource. 
Now, climbers are once again allowed to climb sandstone cliffs without interference, and plans to develop Liming as a global climbing hub are finally being taken seriously. 
Cat and mouse
Nestled amid the mountains between the Yangtze and the Mekong rivers, Liming is little more than a row of houses squeezed between a small river and giant walls of red sandstone. Known as danxia, these formations are unique to China. 
It isn't an easy village to get to. It takes a three-hour bus ride from the city of Lijiang, which administers Liming, on a road that winds along the white sandbanks of the Upper Yangtze. 
In 2004, the spectacular mountain valleys and sandstone formations around Liming were declared jingqu, or a "tourism area." To this end, the local government rebuilt the village using red sandstone and ornate woodwork. 
Chinese and English signposts were put up across the village, while a cable car and stairways were constructed to give tourists access to the top of the mountains. Liming's government hoped to attract some of the millions of tourists who visit the region, particularly the old town of Lijiang, which is a UNESCO Heritage Site.
Despite spending hundreds of millions of yuan, the busloads of tourists they envisioned never showed up. 
But, in 2010, three rock climbers — one Chinese and two Americans — did arrive, and Liming changed forever. 
Zhou Lei was one of them. Tired of the rat race in Beijing, he moved to Lijiang to run a hostel. While there, a local resident told Zhou about the sandstone cliffs nearby. Intrigued by the possibilities it held for climbing, Zhou, accompanied by two American climbers residing in China, Mike Dobie and Austin Stringham, ventured to Liming. 
They were astounded at the untapped potential they discovered. At the time, trad climbing barely existed in China, according to Zhou Lei, making their exploration all the more pioneering.
"The core ideology of climbing is freedom," says Zhou. "And traditional climbing gives you the most freedom." He explains that in sport climbing, each climber performs the same sequence of moves which is determined by the position of the suitable holds on the rock. 
But in crack climbing, where there are no holds, the climbers jam hands and feet where they want, being more creative, explains Zhou. 
He warns that trad climbing isn't for big egos, because there are no fixed bolts like in sport climbing. Overconfidence, he says, may cause serious trouble, as badly placed protection may rip out of the crack under the force of a climber's fall. For this reason, he emphasizes, "Trad climbers are self-aware and humble."
Within months, the trio began establishing trad climbing routes — scouting for suitable cracks, cleaning them, and then climbing them while assigning each one a level of difficulty. 
The locals were welcoming, but baffled. 
"Many in Liming thought these climbers were looking for treasure," Yu Hualong, the owner of the Far Away Inn, the climbers' favorite guesthouse, told Sixth Tone. "Otherwise, why would they come from so far away and climb these cliffs?"
Six months later, however, tourism authorities stopped the trio, citing that climbing was dangerous and they did not want to take responsibility for any accidents.
With climbers and authorities at an impasse, a cat-and-mouse game ensued that lasted almost a decade. 
"We would sneak into the mountains very early, and by the time we descended, it would be dark. Nobody could catch us, plus we were not doing anything illegal." recalls Zhou.
In 2012, with very few tourists visiting the area, tourism authorities relented in a desperate bid to promote Liming, explains Zhou. Three international climbing festivals were then organized. 
Famous, elite climbers were invited, and they opened the new routes, and spread the word about Liming as a world-class crack climbing destination. 
With more and more climbers arriving from across the world, Mike Dobie made Liming his home. With the help of other resident and visiting climbers he started opening routes, and then published a climbing guidebook for Liming. By 2015, Liming had hundreds of climbing routes. 
That same year, the pendulum swung the other way when the Laojunshan Mountains were declared a national park — and another crackdown began, this time, enforced by park authorities. 
A Kafkaesque turn of events followed: The company that managed the tourism area wanted to develop climbing to boost tourism but park authorities were unmoved since their task was "to protect everything," explains Zhou. 
The crackdown was half-hearted, he says. Often, park authorities would post notices banning climbers from the cliffs and sometimes even turned up at guesthouses to warn climbers. The climbers would agree and then discreetly return to the rocks. 
Zhou, who runs a climbing company, and other climbers even drew up plans to develop climbing in Liming, which included rescue services and a registration system for climbers. "But our proposals fell on deaf ears," he says. 
But this year, park authorities finally shifted their stance. Their decision stems from the surge in popularity for the sport across China, particularly with Chinese climbers excelling on the global stage. 
Old ways
Unlike other climbing hubs in China, such as Yangshuo in the southwestern Guangxi Zhuang Autonomous Region or Baihe in Beijing, climbing rock faces has always been part of Liming's culture, according to Deng Zhidan, the operations manager of the Laojunshan National Park tourism area. 
To get to the hives of wild honey high on the cliffs, Deng told Sixth Tone, the Lisu built ladders by hammering holes in the rock, forcing pieces of wood into them, and tying it all together with lianas.
"This is ancient climbing," says Deng, "But this art has been lost, the old people who used this technique have all passed away."
One such ladder, decades old, runs parallel to Ding Dong's Crack, a classic climbing route. But not even the boldest modern rock climber would dare use it.
"We really support the development of climbing," says Deng. "Climbing is part of our culture, and it has become our brand. It has the power to influence. If many foreigners come here to climb, domestic tourists will also want to come and have a look."
Liming's locals concur. Li Jinge, a woman in her 50s, owns a convenience shop and moved to Liming more than two decades ago. She refers to everything beyond Liming as "outside." 
"Outside, if you wear something pretty, people gossip about you. If you have money, or if you don't have money, they gossip. Here, none of it matters," she says. 
Referring to climbers as "my brothers and sisters," Li says she's had customers from several countries. "Every little bit of money they spend matters to us. They are good people and treat us as equals. They are always welcome here."
Luo Yaoxing, a local man in his 50s who owns and drives the daily bus to Lijiang, sees climbers almost every day. He used to work at a state-owned enterprise, but invested his savings into buying a bus and setting up a convenience store. 
This lifestyle, he says, offered "freedom." "Money is not important. You just need enough." 
Asked about the climbers, he says: "Their bags weigh 80, 90 pounds, I help put them on the bus. I like climbers and welcome them here. They tell the world about Liming. They also spend money, and give the economy a push."
Li, a local tailor, agrees. "Many climbers come to me to fix their climbing trousers," he says, while stitching a jacket. "For patches on the knees, 3 yuan; on the butt, 6 to 8 yuan."
While he speaks, a climber brings in a rucksack with a torn strap. Li, operating his pedal-powered sewing machine, fixes it in seconds, and waves away the offer of payment. 
New horizons
While most people in Liming are now familiar with climbers from across the world, few know them better than Yu Hualong. A local, he opened the Far Away Inn guesthouse in 2004 when the tourism area was founded. 
The Far Away Inn is now iconic among climbers, both Chinese and foreign. Before the pandemic, it was fully booked during the spring and autumn climbing seasons. Ding Dong's Crack, one of the most iconic routes in Liming, is named after Yu's dog, who accompanied climbers to the rock. 
"I like this lifestyle," says Yu. "And, I sent my son to university with the money it earned. Climbing is like a religion — climbers do not value wealth and money. I admire them for this. Us, Lisu people, respect and worship mountains. Climbers' culture is similar."
He adds that climbers are also the best guests. "They never complain, 'oh, the bed is too hard,'" he laughs. "They are very humble, good people."
He knows well the importance of climbing in Liming. "Many tourist areas in China are all the same. One builds a glass skywalk, then everyone builds one. We must develop climbing because it makes us different from others," he says. 
"Landscapes are not enough. There are plenty of them in China. You need special local culture, and traditional climbing is part of our culture too."
Another supporter of climbing is Feng Jinlong, who for 20 years was Party Secretary of the neighboring Liguang Village, one kilometer away from Liming. 
Incidentally, a lot of the climbing routes are on lands that are administered by  Liguang. Feng, who retired last year, wants the activity to be fully regulated and recognized. He believes that, gradually, the benefits will filter down to all the locals.
Feng told Sixth Tone: "There is now a conflict between preservation and development. We live in a national park, a protected area, but we also want to get benefits from tourism and development. If you do nothing, people cannot eat. Development must be rational."
He says it's hard for locals to understand tourism development plans drawn up "on a computer." "We support people coming here to climb. We are locals and this is ours, and we must reach a compromise to protect this place, and use it rationally."
The numbers tell the story. According to Zhou Lei, he estimates that before the COVID-19 pandemic, around 1,000 climbers visited Liming every year. Each climber, on average, Zhou estimates, stays for a week, spending about 150-200 yuan per day. 
It means climbing injects up to 1.4 million yuan every year into the local economy. For Liming, that's a lot. 
Yu, the owner of the Far Away Inn, says on average each of the 2,000-odd inhabitants of Liming earns around 2,000 yuan per year selling their crops of tobacco, kidney beans, and medicinal plants. 
According to official data, the average income in villages in Lijiang Municipality is just under 4,000 yuan per year.
But in the Lijiang Municipality, tourism generated almost 27 billion yuan in 2023. Very little of it has filtered down to Liming, as it lies outside the established tourist circuit in Yunnan and requires a long detour to visit.  
In the evenings, climbers usually head to the Time Inn, where old climbing helmets hang from its pillars. Here, famished climbers gorge on dish after dish after a long day of trad climbing. 
Gu Quankun found out about Liming in an American climbing magazine while living in the U.S. After his first day in Liming, he looked exhausted. He says that he's still learning the art of climbing cracks. "We had a blast, but I am so tired. I was trying to use force instead of technique," he says. 
Hong Konger Dahlia Wong came to Liming for the second time. She's climbed all around China, Asia, and in Europe, but says that when it comes to crack climbing, she's still a beginner.
"It is not a normal human activity," says Wong. "It's so painful, you jam your body parts into the crack to move up. Whether it's the pain of joy or joy of pain, I'm addicted."
Wong says Liming is "unique" not just for trad climbing, but also because of the "trust and friendship" on offer in Liming. "Having been to Liming, you want to come back again and again."
Editor: Apurva.
(Header image: A climber on Japanese Cowboy, one of Liming's classic routes. Courtesy of Levi Harrell/Of All Nations Media)