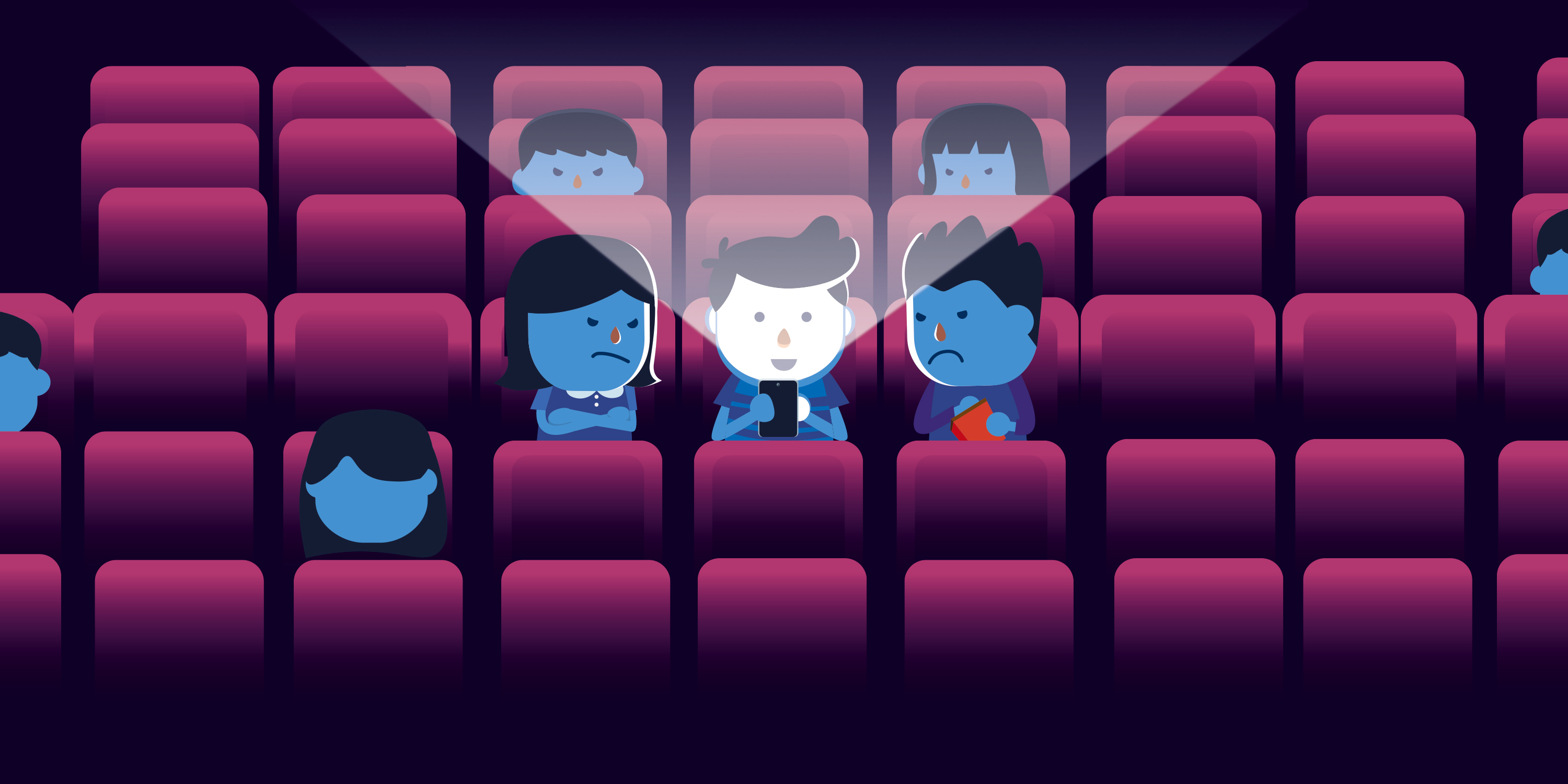 NEWS
Lights, Camera, Etiquette: China's Film Fans Want a Silent Show
To battle distractions, movie fans are now recording disruptive behavior during screenings in an online shared document. They hope it will help create a more respectful movie-watching culture.
Tired of the constant disruptions caused by phone usage, chatting, and other interruptions during screenings, passionate cinemagoers across China have taken matters into their own hands. 
Frustrated with the lack of movie theater etiquette, many have banded together to create an online document that is circulating in ticket exchange group chats on the messaging platform WeChat. The document serves as a comprehensive record of interruptions, particularly during screenings at film festivals. 
This public document captures instances of chitchatting, calls being answered, and even photos being taken covertly during screenings, shedding light on the extent of the issue. By documenting such incidents, cinema enthusiasts aim to raise awareness and hold individuals accountable for their disruptive actions.
Of the most recent experiences shared in the document, one occurred during the screening of "Spencer" — the Kristen Stewart-starrer about Princess Diana — at the ongoing Shanghai International Film Festival. According to the document, a woman was reprimanded for using her phone throughout the show. 
"Every now and then, she would look up and ask her friend what was happening in the movie. Another woman got so frustrated that she left in anger 30 minutes after the show began," stated the post. 
At a screening of the Croatian film "Safe Place," a member of the audience noted that one viewer spoke through most of the movie, explaining the plot to his friends, while another man livestreamed the whole show and sent voice messages to his friends. 
In China, enthusiasts of the silver screen have long grappled with the issue of audiences known for their tendency to use phones or engage in conversations during movie screenings. Over the years, cinemas and domestic media have tried multiple methods to remind audiences to be more considerate and polite when movies are being shown. 
While some theaters play a reminder video before the screening, requesting audiences to turn their phones off and stay silent, the media has repeatedly written on the dangers of bootlegging, warning that it amounts to copyright infringement.
A 25-year-old volunteer surnamed Sun at the Shanghai International Film Festival told Sixth Tone Wednesday that he was required to display movie theater etiquette on subtitles below the screen before each screening. Sun, however, explained that volunteers were not trained on dealing with audience members who disregard the established etiquette.
"Cinemas in charge of the screenings should take the responsibility to look out for and remind impolite members of the audience," said Sun. "But inside theaters, things are a bit different. Sometimes, staff shine a laser pen at lit-up phone screens to remind people to turn off their phones."
The struggle for proper movie theater etiquette also extends to Douban, a popular movie rating platform where discussions thrive among domestic film fans. Within Douban's community, a dedicated topic has emerged for discussing methods on how to encourage audiences to behave correctly, sharing their experiences, and proposing strategies to tackle this issue.
For Wang, a 23-year-old student from Nanjing who has been attending screenings in Shanghai despite a two-hour commute, such discussions and active efforts to address movie theater etiquette bring a sense of relief and optimism. 
This year, with the Shanghai International Film Festival back again after an absence in 2022, she bought tickets for seven consecutive shows. And at every single screening, Wang says she encountered rude members of the audience playing on their phones and speaking loudly. 
"I'm glad that there were always people standing up for movie theater etiquette," said Wang, adding that sitting next to those who take photos of the screen constantly was "a nerve-wracking experience."
Luca Hu, an 18-year-old movie enthusiast, told Sixth Tone that even the manner in which audiences try to stop disruptive behavior can also disturb other moviegoers. 
"I bought a ticket last December for Carl Theodor Dreyer's special screening of 'The Passion of Joan of Arc.' It was a quiet movie and I was really into it when a man sitting in the middle of the whole room burst out: 'Please be quiet, don't talk,'" she recalled. 
Founded in 1993, the Shanghai International Film Festival is one of the biggest film festivals in China. Held in June annually, the festival boasts leading Chinese and foreign filmmakers and actors on its judging panels. This year's edition marks the return of the festival after it was postponed last year due to the COVID-19 pandemic.    
According to Sixth Tone's sister publication The Paper, 309,000 tickets were sold in the first hour of tickets being released, with 425 screenings sold out. Notable foreign movies being shown include French new wave classic "Vivre Sa Vie," a 50th-anniversary restoration of "The Godfather," and the 2022 coming-of-age drama "Aftersun."  
Editor: Apurva. 
(Header image: Solar22/VCG, reedited by Sixth Tone)