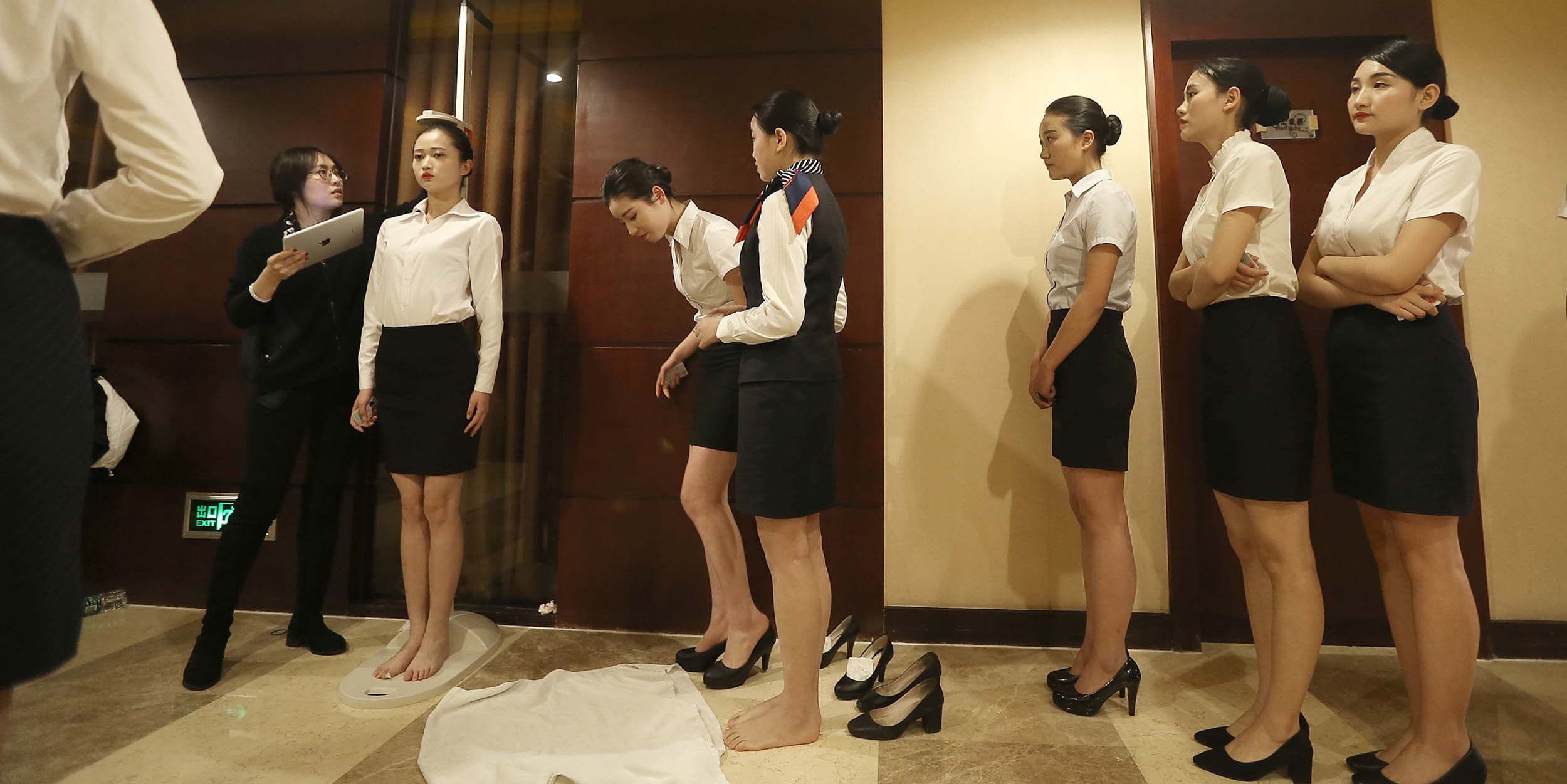 NEWS
Hainan Airlines To Ground 'Overweight' Cabin Crew, Sparks Outcry
While the airline claims it is prioritizing a "professional image," its decision has sparked concerns about discrimination and employee rights.
Hainan Airlines has found itself at the center of a storm after rolling out strict weight standards exclusively for its female flight attendants, failing which they face potential consequences. The airline's decision has sparked intense backlash, with many condemning it as a form of weight and sex discrimination. 
According to local media reports Friday, the airline recently released the new set of guidelines relating to the appearance of cabin crew on June 4. Non-compliance with these requirements may result in inspections or suspension from flight duties.
The mandated policy requires female flight attendants to manage their weight according to the following formula: "height (in cm) - 110 = standard weight (in kg)." 
The company has also implemented a monitoring system for its flight attendants. Those who are overweight by less than 5% will be monitored on a monthly basis, while those who are overweight by between 5% and 10% will undergo weekly weight checks over one month. The monitoring process involves being weighed on-site and face-to-face reviews conducted by a team of three inspectors.
Flight attendants who are overweight by more than 10% will be suspended immediately, and all flight attendants in the same team have to assist such staff members in drafting weight reduction plans and monitoring their weight loss. 
According to media reports, the airline underscored the importance of maintaining a "professional image" in its notice. "As a prominent representative of public service, we should serve as a captivating business card to the world," the firm was quoted as saying.
"China's Labor Law is against the discrimination of workers. Weight is very objective. It shouldn't be used as a standard to limit the employment rights of flight attendants," said Fan Huihui, a labor dispute lawyer at Today Law Office. 
"The compilation and implementation of a new internal management regulation that could have a significant impact on the interests of all the employees must gain the approval of all employees, employee representatives, or at least the labor union," Fan told Sixth Tone, adding that the company will face obstacles in enforcing such a rule if it hasn't gone through the process already.
China's aviation authorities don't specify weight standards for civil aviation personnel, but experts told local media that there is a standard every company references. 
The prevailing formula for female cabin crew is "height (cm) - 110 = standard weight (kg) (±10%)," a slightly lower standard compared with what Hainan Airlines has proposed.
Chinese carriers, including the once cash-strained Hainan Airlines, have been on a hiring spree as China's travel industry recovers after years of restrictions imposed amid the pandemic. Due to the relatively higher pay, the flight attendant role has become highly coveted among graduates who are grappling with a lack of jobs.
The new strict weight standards sparked widespread debate across social media. 
"Female flight attendants have to lift luggage and close the plane's heavy doors. They need weight for such labor-intensive tasks. For the sake of passengers' safety, just leave them alone," said one netizen on the microblogging platform Weibo. 
Another Weibo user called the new rule an "obvious objectification of women." "This is equivalent to saying that a significant part of the value of female flight attendants comes from their potential attractiveness. Don't talk about what passengers want to see, this notion is outdated! They are professionals who provide travel services and ensure safety, and they're not here for your entertainment."
Editor: Apurva. 
(Header image: Flight attendant candidates measured for height and weight at a recruitment drive in a hotel in Chengdu, Sichuan province, Feb. 27, 2017. VCG)