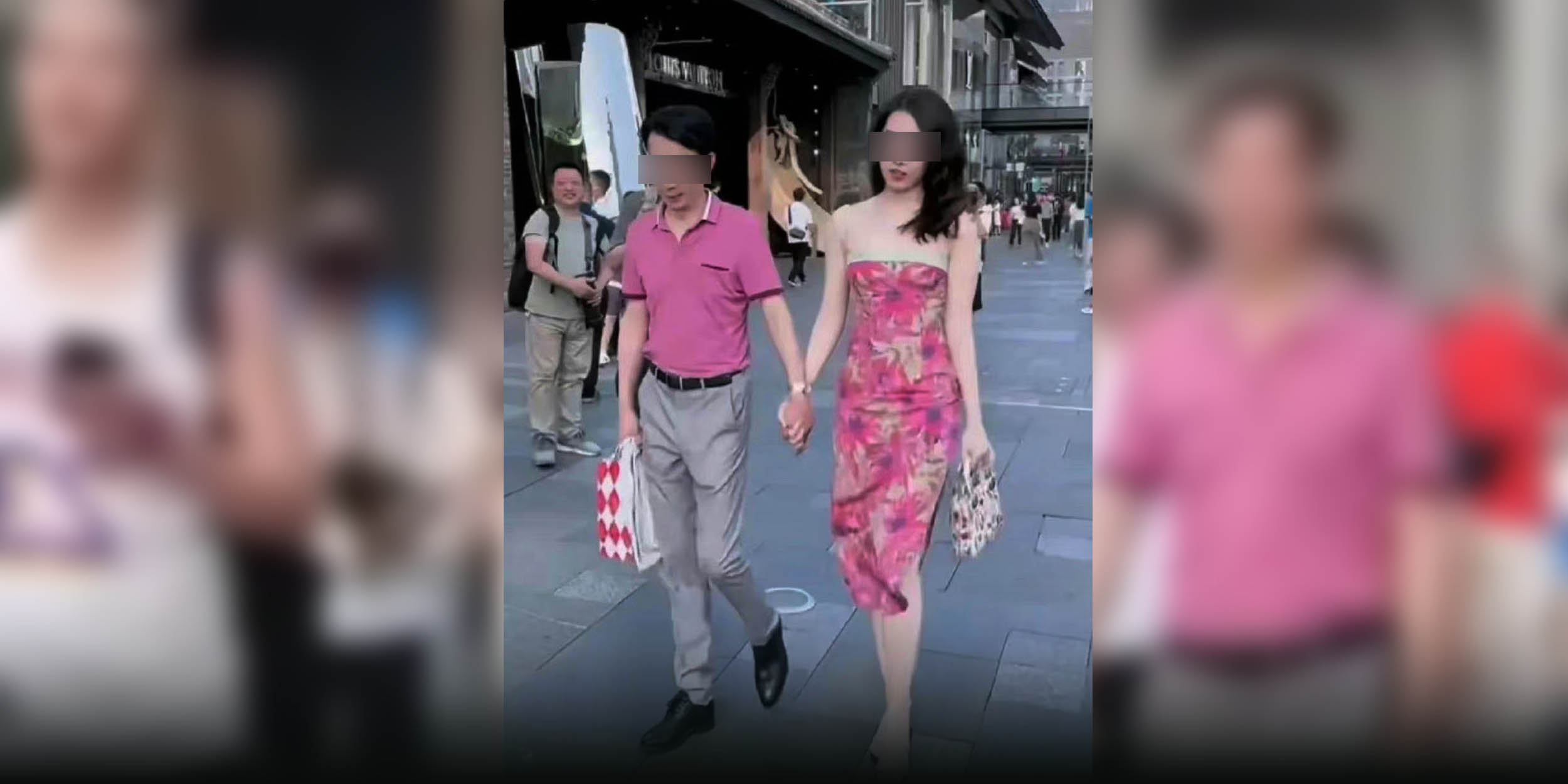 NEWS
State-Owned Company Official Dismissed After Viral Video Catches Him With Mistress
The scandal has captivated Chinese netizens, with internet sleuths digging into the lives of the two colleagues and even seeking out the woman's dress on Taobao.
A top official at a subsidiary of state-owned China National Petroleum Corporation has been removed from his positions after a video showing him having an extramarital affair with a colleague went viral on Wednesday. 
Hu Jiyong was removed from his positions as executive director, Party secretary, and general manager of Huanqiu Contracting and Engineering Company, a subsidiary of CNPC, according to a company statement on Wednesday. The company added that Hu will face further investigation from its disciplinary committee.
The dismissal came shortly after a video, now deleted, went viral on Chinese social media showing Hu, in his 50s, walking hand-in-hand with a female colleague surnamed Dong during a business trip in Chengdu, the capital of the southwestern Sichuan province.
Dong has also been dismissed, according to local media reports. Netizens have widely circulated her personal information and photos online and speculated about her background, including accusations that she secured her degree with the help of her father, a tutor at the China University of Petroleum. The university released a statement Thursday denying that Dong is related to the tutor.  
The scandal has dominated Chinese social media since Wednesday, with related hashtags viewed more than 200 million times on microblogging site Weibo. 
Some people are raising concerns about street photographers infringing people's privacy, as the viral video was first posted by a street photographer. Such street photography showing people going about their daily lives has grown increasingly popular on Douyin and Xiaohongshu — China's equivalents to TikTok and Instagram, respectively. 
Speaking to local media anonymously, the photographer in this incident said that Hu and Dong initially consented to being shot and having their video posted online, but demanded the video be deleted after the controversy arose. 
People have also been flocking to e-commerce platform Taobao to purchase the pink dress worn by Dong in the video, as well as her purse. The dress occupies top spot for most searched items on Taobao at time of publication, with over 3,000 purchases made and dozens of lookalike products also appearing on the site. 
Editor: Vincent Chow. 
(Header image: A screenshot shows the official and his mistress. From Weibo)