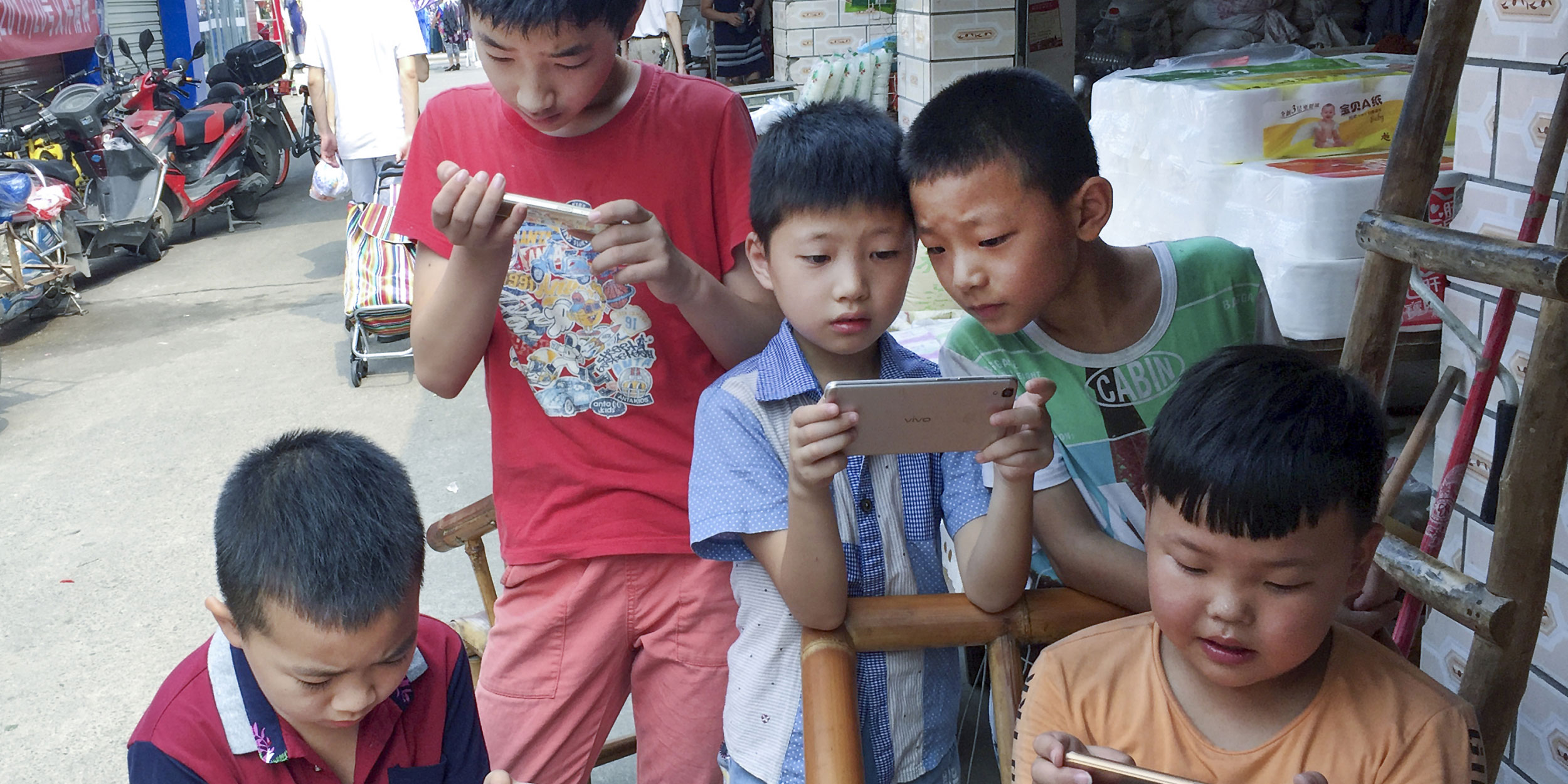 FEATURES
Tech Addiction is Leaving China's Rural Youth Wired for Distraction
Studying far from home and without parental supervision, millions of "left-behind" students in rural China are staring at an escalating tech addiction crisis that demands urgent attention.
When Li Xiaofeng was caught red-handed using his cellphone on campus in 2020, the school swiftly confiscated his only connection to the outside world. When informed of his transgression, his migrant worker parents in Beijing opted for a more lenient approach. 
"My mom mumbled and grumbled about it for a while. But that's it," says Li, who was studying at a boarding school in their hometown in the central Henan province. They bought him a smartwatch instead, so they could stay in touch with their son more than 1,000 kilometers away. But it wasn't enough for Li. 
Back then, his parents gave him 1,000 yuan (around $140) each month to cover his daily expenses. Determined to buy a phone, Li only ate steamed buns and flatbread for two months to save the money he needed to buy a smartphone.
"I can't live without a cellphone," he says. "I didn't make many video calls to my parents. But I needed it for games and videos, which helped me kill time. Studying was never a thing for me. I didn't know what I could do without a phone." 
Li is among China's six million left-behind children — kids left in rural areas while their parents work in distant cities. And his story reflects the pervasive role of technology in shaping their lives and future. 
In 2018, authorities banned primary and middle school students from using electronic devices on campus to combat cellphone addiction. And in 2021, China limited minors to only one hour of online gaming over the weekend. A year later, a report claimed that the country saw 40 million fewer minor players online. 
But a recent study conducted by Wuhan University shows the problem continues to loom large. 
Surveying more than 13,000 left-behind children — either in primary or middle school — across nine counties in central China's Hunan, Hubei, and Henan provinces, the study underscored that Li's struggle is just one of many. 
Researchers found that more than 40% of students surveyed own a cellphone, and almost half of them use their grandparents' devices. Moreover, 21.3% of parents reported that their children were addicted to cellphones, a trend they feared would negatively affect their future prospects. 
Most of the surveys were conducted in 2021, the year after the COVID-19 pandemic began. According to the study, the fact that classes were moved online exacerbated the issue. 
"A class teacher from a township middle school in Hunan showed me the academic performance rankings of her class and told me that the 40% who performed the worst were addicted to mobile games. The relationship between scores and cellphone addiction is apparent and close, she believes," said Yi Zhuo, a researcher with the China Rural Governance Research Center at Wuhan University, who participated in the survey. 
The impact of phones on students isn't limited to central China. Sociology researchers from New York University Shanghai, who conducted similar surveys in northern China, noticed a similar trend.  
The Wuhan University survey also revealed the disturbing impact cellphones were beginning to have on the physical health of students. 
In one middle school, 30% of students were found to have severely poor eyesight, while in another, approximately two-thirds of its students required spectacles. Additionally, teachers observed a lack of concentration among students during weekdays, as they eagerly awaited the weekend to indulge in prolonged cellphone usage. 
Digital abyss
Li Xiaofeng was 13 when life took an unexpected turn. He was born in Beijing, but in 2018 his parents decided to send him back to their hometown in the central Henan province. Overnight, he found himself in the family's two-story house in a rural village under Zhumadian City where he had no grandparents or friends. 
Spending weekdays at a public boarding school and weekends alone, Li found solace in short videos and mobile games, as his phone became his sole link to the world outside.
But it wasn't easy all the time. "The school cut off electricity for the dormitories at 11 p.m. and that's when I started to play games," he recalls. "I sneaked my phone into school, which was strictly forbidden. I didn't dare keep it with me. I only played on it when all the others were asleep." 
Living in a large dormitory shared by up to 80 students, Li says the happiest hours of boarding school life were spent playing games and watching short videos. Often, he stayed up until 2 or even 3 a.m., only to rise a few hours later to the school's unwavering 6 a.m. wake-up call.
It took a toll on his daytime activities since he slept through most classes. While his classmates used weekends to revise and prepare for class, Li succumbed to playing Honor of Kings. Sometimes, he switched to watching short videos — primarily to improve his gaming skills. 
Li's parents migrated to Beijing decades ago to make a better living. His father works at a hamburger shop and his mother earns money from cleaning apartments. The couple gave their son his first cellphone when he was just 10. "My father got the phone as a gift for a TV set he bought. He just gave it to me," recalls Li. 
Living together in Beijing, Li had all the time in the world to explore the digital realm. "I played games mostly with my friends. At home, even when our family was together, everyone was always quiet and busy on our own phones," he says.  
The consequences of Li's cellphone addiction became evident when the Zhumadian boarding school caught him sneaking his smartphone onto campus multiple times. Eventually, he was expelled. 
Recognizing the need for change, his family enrolled him at a private school. But he performed so poorly that they decided to pull him out. 
"I've been a poor student since I was very young. As early as fifth grade, I couldn't follow what teachers were saying," says Li. "I can't blame my cellphone for my poor academic performance." 
Li dropped out of middle school altogether in 2021. That year, he was meant to sit the zhongkao, China's pivotal examination in the ninth grade, which determines a student's future prospects. Performing poorly in the zhongkao could mean pursuing vocational training or immediately starting work. 
Li's father opted for the former and brought his son back to Beijing. There, Li was enrolled at a boarding school for vocational studies in computer skills, where most others were either high school dropouts or those who couldn't get through the zhongkao.
Now 18, Li is still at the boarding school, and says he loves dormitory life. He shares a room with seven other boys, and no longer needs to hide under the sheets to play games on his smartphone. 
The boarding school imposes closed management. Students cannot leave the school without permission even on weekends. But as long as they stay on campus, there's little management. 
"We play games until 2 or 3 a.m. Only one or two of us are asleep by then," he told Sixth Tone over the phone, amid chaotic and loud discussions among his roommates playing games. "No one comes to check on us after the school cuts off the power at 11 p.m."
Breaking the cycle
In Shanghai, 40-year-old Fan Yan works as an ayi, a term used in Chinese to describe women who work in households, taking care of children or the elderly, cooking, and cleaning. Her husband is a truck driver.
Their three sons have been "left behind" in their hometown of Lianyungang in the eastern Jiangsu province.  
At the beginning of the COVID-19 pandemic in 2020, Fan spent around 1,000 yuan to buy her eldest, who was in the eighth grade at the time, a smartphone. "For his online classes," she told Sixth Tone.
In stark contrast to what she expected, her son's performance spiraled from a ranking of between 300 and 400 to a dismal 800. 
"Their father and I are not well-educated. We are unable to tutor them so we sent them to the best private school regardless of how much it cost. But after he got a cellphone, he took it wherever he went. He was playing games whenever I checked upon him," recalls Fan. 
Eventually, her eldest son failed the zhongkao. Fan's second son, who is 13, got his cellphone last year, also for online classes. "But the other night, I got up at midnight to prepare milk for the baby. I logged onto Douyin (the Chinese version of TikTok) and found him online," says Fan. 
"It was past 1 a.m. I asked why he stayed up so late. He said he was hungry and got up to look for food. I knew he was lying. He must have been playing games." 
Fan is a lenient mother. Reflecting on her own cellphone usage, she says: "I can't stop myself from using it all the time. Even when I'm feeding the baby, I watch short videos." 
"I don't have the ability to control myself. How can I expect my sons to manage themselves properly?" 
He Ran works with an nongovernmental organization and was in charge of tracking the lives of left-behind children. She's been keeping an eye on Li Xiaofeng since he was sent back to Henan in 2018. 
She told Sixth Tone that many parents like Li's are unaware of the dangers cellphones pose to children. "Instead, they believe children can learn a lot from short videos on social platforms," she says. "In fact, Li did learn a lot from those short videos — he learned to communicate with others and how to deal with different situations." 
She added that migrant workers often don't talk or communicate with their children "because they grew up with very limited communication with their own parents." 
Based on her observations of left-behind children and their families, He Ran believes many become overly reliant on cellphones. "It is almost impossible to cut them off from using smart devices. There could be stress reactions," she warns.
In the past 20 years, thousands of Chinese teenagers have been labeled "internet addicts" and thrown into rehabilitation centers. When Sixth Tone reached out to one such facility  — the Quande Center  — in Hunan, a teacher surnamed Tang said no matter what device children are addicted to, their fundamental problem is the same. 
"It's all categorized as internet addiction no matter if you're using a smartphone or a computer. It's a kind of psychiatric disease," he says.
The center currently hosts 30 students in the rehabilitation program. "Most are middle school students. Only a few are from primary school," says Tang. "The number of students is significantly lower than what we had a few years ago."
In recent years, domestic media has accused such centers of subjecting children to forced medication, military training, or even electroshock therapies.
According to Li Angran, an assistant professor at New York University Shanghai, children will always find a way to access gadgets. It's why he underscores that it's more important to guide them on how to use them properly. 
"Digital capital is a kind of capability. We should train children to use internet devices to access more information," he told Sixth Tone. "Kids in big cities use digital devices not simply for games or watching short videos. They use them for other purposes, like learning programming." 
This digital divide is exacerbating educational inequalities. "There are several aspects of the so-called digital divide, including access and content. Some families can't even afford digital devices," Li said. "In such cases, content matters even more. Parents with a good educational background know how to leverage internet devices to help their children improve." 
The professor believes there's nothing wrong with smartphones, but says government policies should help guide left-behind children on how to use smart devices in a better way. "The state guidance should provide a clear direction. But more emphasis is required at the family, school, and social organization level. They should work together to customize guidance plans for children," he says. 
For now, schools simply implement what the state authority says — students cannot bring cellphones onto campus, according to findings from the Wuhan University study.
Back at the boarding school in Beijing, it isn't something that bothers Li Xiaofeng anymore. 
"I'm happy here. I have a smartphone and a computer. I can play games on either device. When the power is cut, I can only play on my phone," he says.  
He shares little with his classmates except video games. Asked about his plans for the future, Li was unsure. "I don't know what's waiting for me when I graduate from this school. I've spent more than a year here. I could leave in another year or half a year. I have no idea what I can do then." 
Additional reporting: Li Wei; editor: Apurva.
(Header image: Boys playing games on their mobile phones in Chengdu, Sichuan province, 2017. VCG)