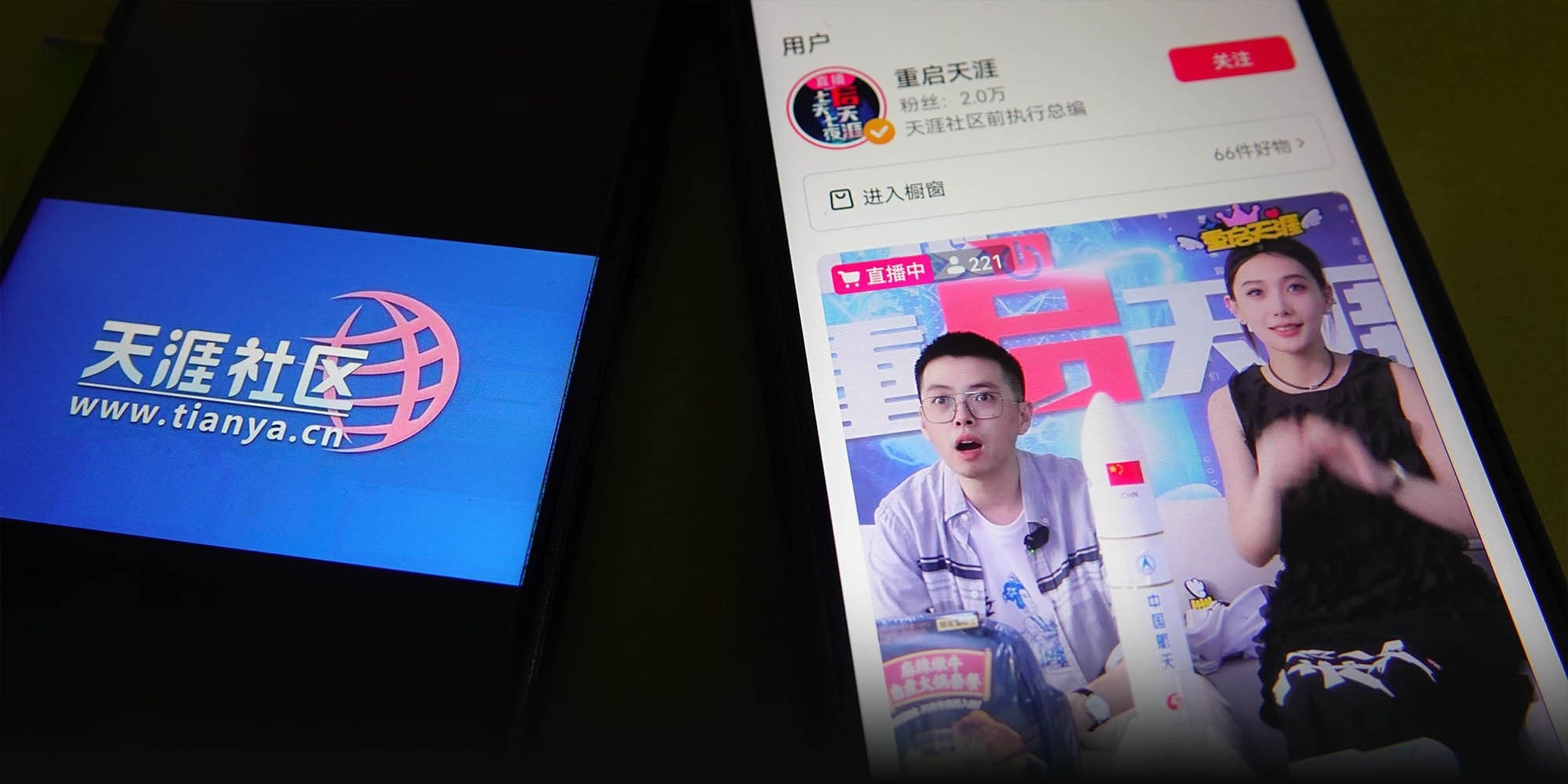 NEWS
'Tears of the Times': The Demise of China's First Major Online Community
A group of Tianya's former employees and loyal fans are trying to revive the once high-flying discussion forum, but raising funds and attention is proving difficult to do.
Back in high school, Zhu Lintao spent hours in internet cafés reading about the latest celebrity scandals and sharing parts of his life. The main website he used was Tianya, the popular online forum that used to be the "spiritual home" of millions of China's first-generation netizens.
From Heilongjiang province, Zhu hasn't logged into Tianya for almost two decades after graduating from university in 2005, as he has had to spend more time on his family and career. "For me, Tianya feels like a time capsule that I buried under a tree," the engineer, 41, told Sixth Tone.  
Unfortunately for Zhu, this time capsule is looking like it will be lost to time. After years of relative obscurity, Tianya has reentered the public spotlight in recent months after users found the site inaccessible in April. The news alarmed old-time users, who lamented the possible demise of the site: "Our youth has been sealed in Tianya," netizens commented on the microblogging platform Weibo.
The company said in a statement that it was forced to shut down the site after failing to pay server fees for several years, with local media reporting debts of more than 10 million yuan ($1.4 million). The company has reportedly sold all its assets to its server operator, except its data, and scaled back its team to only 20 staff. 
In late May, a group of former employees and avid fans launched a weeklong, 24/7 livestream fundraising campaign on short video platform Douyin in an attempt to raise funds to "restart Tianya." The goal is to bring the site back to life, even just for a short period of time, to allow users to download their own posts and files from the site, Tianya's former chief editor Song Zheng said on the livestream. But even a brief reactivation is proving a mammoth task. 
The golden days 
Founded by civil servant Xing Ming in March 1999, the same year as Alibaba and Tencent's messaging app QQ, Tianya was set up initially as an online forum to discuss investment strategies after Xing made some money from stock investments in the early 1990s. 
Among its peers, Tianya quickly became the most popular gathering place for China's first generation of internet users. In 2003, it saw 20 million daily visits, at a time when there were around 79.5 million netizens in the country. At its peak in around 2005, the site boasted 130 million registered users.
Tianya's bulletin board system, or BBS, saw moderators, or "banzhu," deciding what posts and discussions were at the top of their respective discussion boards and deleting inappropriate content. Some of the most popular boards were investment, IT, relationships, international politics, and literature.  
While the site was well-known for its celebrity gossip, including the 2008 photo scandal of Hong Kong actor Edison Chen, it is largely remembered now for its long-form posts, some of which have even become bestselling books. 
In 2006, a Chinese customs officer began posting humorous tales from the Ming dynasty with contemporary references, which received huge attention while also dividing opinion. His work, consisting of more than 20 million words in seven volumes, has since sold more than 30 million copies. 
Another series of posts that have been turned into a bestselling book was then 60-year-old Yang Benfen's biography of her mother, which she shared on one of Tianya's literary boards in 2009. The biography, titled "Autumn Garden," was picked up by publishers in 2020 and has since been referred to as a female version of "To Live," the 1993 masterpiece of award-winning novelist Yu Hua.  
These "godly posts" — the site's most influential long-form posts — differentiate Tianya from the current landscape of the Chinese internet, dominated by the microblogging features of Weibo and the "doom-scrolling" of Douyin, former users say. "Tianya predates smartphones and self-media. It was among the few online channels where we could socialize and get information," said Shanghai-based former user Ding Zhe, 40. 
Tears of time 
The tide began to turn against Tianya and other first-generation sites in the early 2010s as Chinese netizens turned to mobiles and microblogging, spearheaded by the launch of Weibo in 2009. 
As a comprehensive forum covering many topics, Tianya's most popular boards gradually lost ground to "vertical apps" that cater to specific needs: Weibo for news and entertainment, Xueqiu for stocks and investment, Alibaba's Xianyu for second-hand goods, and more. 
"We were not successful in transitioning from the PC to the mobile era," Tianya founder Xing Ming admitted to local media. 
Tianya's monthly active users have been less than 1 million since June 2020, and further slid to 595,200 in September 2022.
According to Wang Qingrui, a former Tianya employee and now an IT commentator, the problem with Tianya is that its central narrative still centers on its old users, many of whom are no longer active netizens.
"The competition among internet users is a war for user's time," Wang said in the livestream on May 30. "Without attracting new users from the younger generation, the platform cannot survive even if the site is successfully restarted."
Pan Linhe, a digital economy analyst at Zhejiang University, agrees that Tianya needs to solve some fundamental issues. "Nostalgia won't be the key to success, the ability to make changes according to users' demands is," he said. 
But for some, wanting to preserve Tianya is as much a criticism of the current Chinese internet as it is about feeling nostalgic for the past. One of the volunteers on the Tianya livestream, Yang Ming, doesn't even call himself a Tianya fan. "It doesn't matter much to me whether we successfully restart Tianya or not," he said on the livestream on Saturday. "With the livestream, I want to ask everyone a question — whether it is still meaningful to read and think deeply."
Following news of Tianya's gradual demise, people have been selling archived Tianya "godly posts" on Chinese e-commerce platforms for a few yuan at a time. A man in his 20s from Fujian province, who requested anonymity due to the sensitivity of the issue, said he started selling "godly posts" on Xianyu after Tianya became inaccessible. He asks buyers for tips rather than having a set price.
"Even though (the posts) are from more than a decade ago, I think they are still relevant to the current day," he said. 
"In the mobile internet age, everyone pursues efficiency and rushes for information, which means that people do not want to spend too much time reading long articles on personal computers," Zhang Yi, consulting CEO and chief analyst at market research firm iiMedia, told Sixth Tone. "But that doesn't mean long-form reading is less valuable."
The future does not look bright, however. Tianya's weeklong livestream, which ended on Saturday, made just 215,500 yuan — way short of its original 3 million yuan target. The livestream was marred by technical glitches, and also criticized for the range of products sold — t-shirts, fruits, and nuts — being unrelated to the site. Netizens also pointed out that the livestream was held on Douyin, an app mainly used by young people unlikely to be Tianya's target audience.    
Acknowledging the disappointing results, the "Restart Tianya" organizers have promised to not give up and "try our best to keep up with the pace of the times." Meanwhile, Chinese netizens have increasingly been using a phrase to describe Tianya's fate, which has been applied to other websites that have gradually declined in popularity: "tears of the times." 
Editor: Vincent Chow
(Header image: Livestreamers call for fundraising to restart Tianya on Tianya's Douyin account, May 29, 2023. IC)