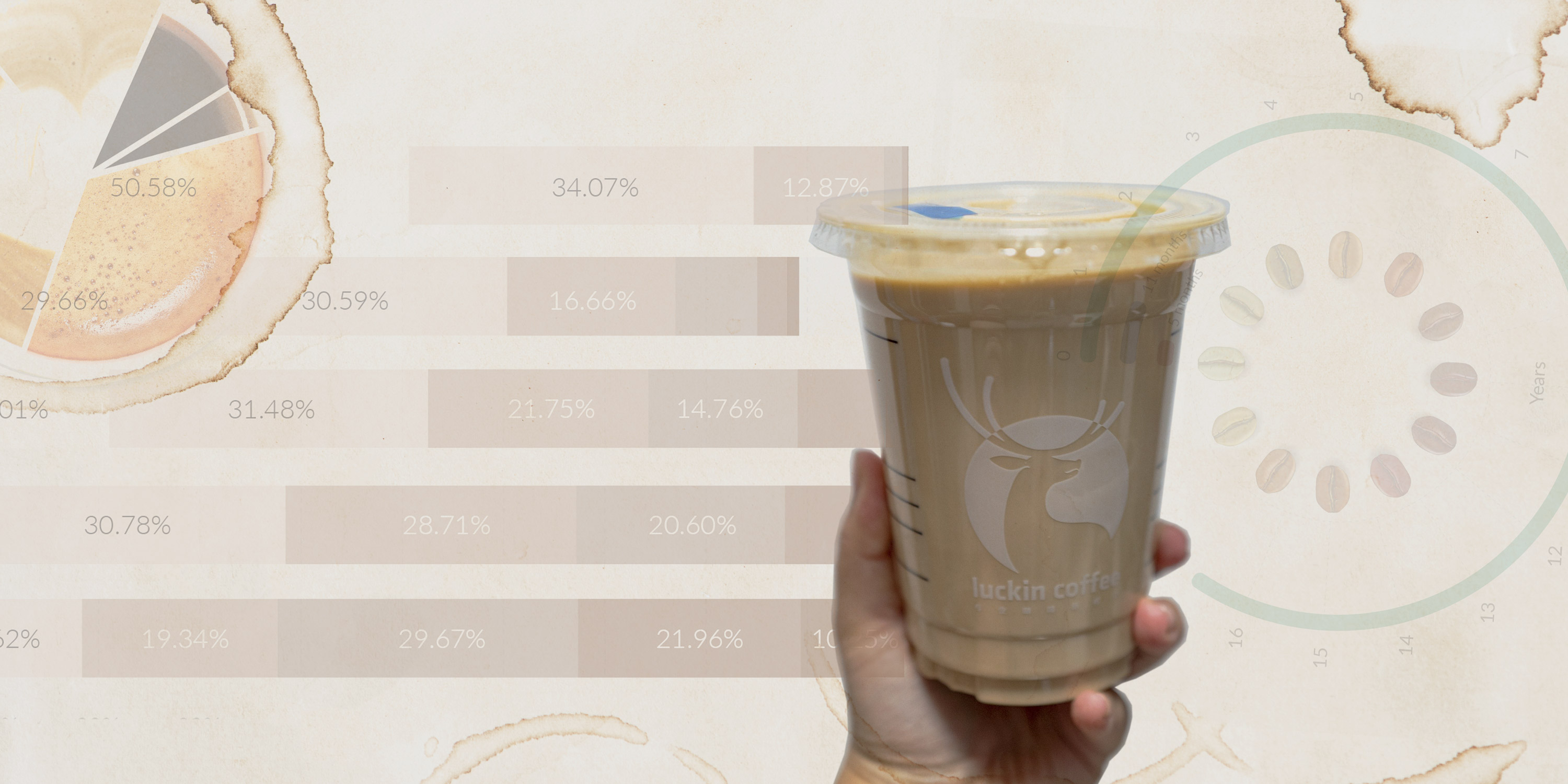 MULTIMEDIA
Luckin Coffee Sets Sights on China's Next Coffee Battleground: The 'Sinking Market'
The Chinese coffee giant has recovered spectacularly from bankruptcy with a new strategy of expanding in smaller, less affluent cities around the country. But it also faces competition from domestic rivals, including one launched by its co-founders.
Chinese coffee chain giant Luckin Coffee is set to reach 10,000 stores in the first half of this year, becoming the first coffee chain in China to do so, its CEO Guo Jinyi recently revealed.
Founded in 2017, Luckin has had a whirlwind few years. Its blockbuster IPO in the United States just 19 months after its founding made it an investor darling, but revelations of accounting fraud forced it to delist in disgrace and enter into bankruptcy just a year later.
After such huge twists and turns, many people are curious: How has Luckin brought about its latest reversal in fortune?
The answer: selling coffee in China's smaller cities.
Since its launch, Luckin has been well-known for its frantic expansion of stores. Data shows that Luckin has had two periods of major expansion. The first period was from its launch in 2017 to March 2020, catching up in just a couple of years to its main competitor Starbucks, which has been in China for more than 20 years.
Luckin's stores then saw a slight reduction in number during the accounting scandal. The company was fined hundreds of millions of dollars and underwent sweeping changes to its senior management.
Following this down period, Luckin then entered its second period of aggressive expansion. Luckin's financial results for 2022 show the full extent of its recovery: Revenue exceeded $10 billion for the first time, and the company turned a profit for the first time in its history.
According to Luckin's earnings report for the first quarter of 2023, net profits have increased 27 times year-on-year. It has opened a new store on average every two hours, including its first foray overseas in Singapore.
What's powering Luckin's recovery is its new strategy of targeting China's so-called "sinking market" — mostly third- or fourth-tier cities in China. In fact, for the coffee industry, the "sinking market" basically covers second-tier cities and below.
The conventional strategy as championed by major foreign coffee brands like Starbucks, Tim Hortons, and McCafé is to target more affluent places where coffee is more popular. The distribution of all chain coffee stores nationwide shows that nearly 70% are located in first-tier and new first-tier cities, which include China's four megacities and some capital cities of large provinces.
While reports show that coffee consumption nationally still lags far behind major markets such as the United States and Japan, consumption in first- and second-tier cities is not far behind at all.
These foreign brands operate the stores themselves instead of adopting a franchise model. Luckin, however, has been targeting smaller cities in recent years with a franchise model it calls "retail partnerships," more commonly found in fast-food industries such as milk tea and fried chicken. This typically sees Luckin stores take up small spaces with lower operating costs and rent compared to its foreign competitors.
The business model is a good fit for smaller cities, where Luckin coffee can be sold from small storefronts in busy commercial streets and office buildings, attracting younger people who form the bulk of its customers.
Illustrating Luckin's new strategy is a recent recruitment notice for retail partners, which specified 20 fifth-tier cities and four fourth-tier cities in provinces such as Gansu, Yunnan, and Heilongjiang. By the end of 2022, retail partnership stores represent more than 30% of Luckin's stores nationwide, up from just 10% in March 2020.
But Luckin isn't the only one pursuing this "sinking market" strategy. According to a Meituan report, the fastest increase in coffee stores is happening in third-tier cities.
One of the main drivers has been Cotti Coffee, founded in October 2022 by Luckin's co-founders Lu Zhengyao and Qian Zhiya, who were ousted during the accounting scandal. Half of Cotti's core team are former Luckin employees, and pricing and products are also almost identical to Luckin's.
If anything, Cotti is even more aggressive in its expansion. While Luckin took 11 months to reach 1,000 stores nationwide, Cotti did so in just five months. Starbucks took 16 years.
Another rival is Lucky Cup, the coffee brand of popular tea chain Mixue launched in 2017, known for its ultra-low pricing strategy: a latte for 10 yuan ($1.40) and an Americano for 5 yuan. Compared to Starbucks' and Luckin's average cost of 40 and 20 yuan, respectively, Lucky Cup's prices are more attractive to younger people in less affluent cities.
Like Luckin, both Cotti and Lucky Cup have aggressively expanded in recent years, while foreign brands have expanded much slower. In just eight months since its founding, Cotti is already the fifth-largest coffee chain in China. It has even set the ambitious goal of opening 10,000 stores in just three years.
The data suggests that foreign chains have largely stuck to their strategies of targeting affluent cities. Both Starbucks and McCafé have more stores per million people in provinces with higher incomes, with Beijing and Shanghai far ahead.
Meanwhile, Lucky Cup and Cotti are much more focused on smaller, less affluent cities, with Beijing and Shanghai very much an afterthought.
As for Luckin, its distribution of stores still favors the affluent cities, but it is shifting towards the strategy favored by its domestic rivals. Starbucks has also hinted at opening more stores in smaller cities, but time will tell whether it can compete with the domestic chains, which already have established presences.
Contributions: Chen Liangxian and Ding Yining. Editor: Vincent Chow.