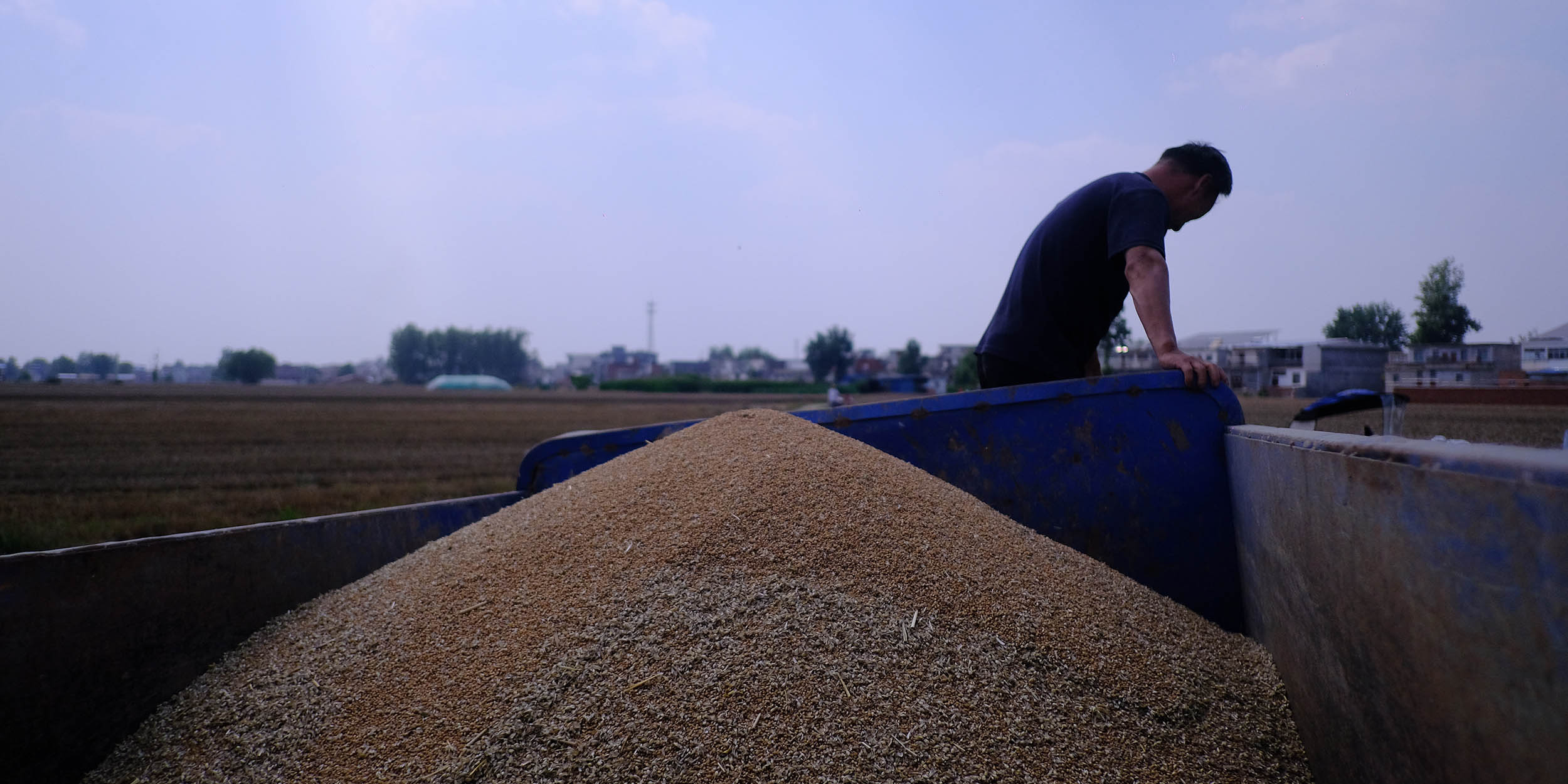 NEWS
Battling Rain and Time, Henan Farmers Race to Salvage Wheat Crop
With around 23% of the wheat crop harvested so far, authorities hope to complete the process across the province by June 15.
HENAN, Central China — Amid ongoing efforts to salvage wheat crops ravaged by unprecedented rainfall in China's central Henan province, meteorologists are forecasting another bout of heavy rain across the region over the coming weekend. This further compounds the challenges faced by rescue teams, including limited equipment for harvesting and drying wheat. 
The Henan Meteorological Service predicted Thursday that moderate or heavy rain over the next two days would affect the province's western and central-southern regions, with several cities and counties reaching a precipitation level of between 50 and 80 millimeters.
Scattered drizzle could also occur across the province early next week, the weather office added, while calling on local authorities to formulate a more detailed working plan to complete the harvest on time. 
The prediction comes days after unprecedented rainfall damaged wheat fields across Henan, in what has been dubbed "the worst pre-harvest rainfall in more than a decade." In many parts of the province, particularly the central-southern and eastern regions, farmers are struggling to cope with significant damage from both germination issues and blight.
With 85 million mu (5.6 million hectares) of wheat planted, Henan accounts for a quarter of the national wheat output. Known as "the granary of China," Henan is also the country's second-largest agricultural hub and accounts for one-tenth of national food output, with 45% of production sent to other provinces.
Gone in 24 hours
Within a mere 24 hours, joy turned to utter despair in eastern Henan's Zhoukou City as torrential rains devastated crops and disrupted the entire harvesting process. 
The disaster left farmers like Du Yingke, who tills 400 mu of wheat, in anguish. He said 70% of his crops had either sprouted prematurely or were affected by blight. "On May 25, I was certain it would be a bumper harvest this year, but the next day, my happiness evaporated," Du told Sixth Tone. 
"The previous rainfall damaged the wheat a little, but now it has rendered it inedible," said Du.  
Du emptied his granary and bought a new small harvester. But his efforts were in vain, as the soft soil only caused the tires to sink into the mud, rendering them immovable. "All we can do now is wait," he said.
Shao, another farmer, who tills 200 mu of wheat, said that instead of the profits she once dreamed of, she now would suffer losses to the tune of nearly 800 yuan per mu of land due to rain-damaged crops. 
"There's pretty much nothing we can do in the face of such a disaster," Shao said. Though Shao had sunk hundreds of thousands of yuan into the field, like most of the farmers in the village, she hadn't purchased any crop insurance. 
Swinging into action after the rain stopped on May 30, the Henan government has issued 10 measures to help mitigate the damage. A 200 million yuan ($30 million) emergency fund has been announced to help dry the harvested wheat. Officials told local media that severely hit areas would be given priority for the funds and that they would also be used to pay the operators of drying equipment.
The provincial government also underscored the role of the 30,000 existing harvesters and 4,660 dryers, adding that it is helping farmers borrow another 10,000 harvesters from other provinces. "The reaping process can't be affected by a lack of harvesting machines," the Henan government stated.  
More than 2,000 harvesters have been deployed across Tanghe County in Nanyang City, one of the most severely affected areas. Zou Weidong, head of the county's agricultural bureau, told state broadcaster CCTV that approximately 1.5 million out of 2.1 million mu of wheat crops has been harvested so far, including 0.3 million mu amid the rainfall.
The financial loss to farmers is yet to be estimated, Zou said, adding that the continuing rain and damp soil were hampering the machines. 
In Zhumadian City, 92,000 machines to pump out water and 34,000 harvesters were equipped for the rescue, local media reported. Videos circulating online showed that drones have been deployed to light up the fields at night so that reaping can continue.
Around 23% of the wheat crop had been harvested on June 1, up from just 5% three days ago, as officials aimed to complete the province's harvest by June 15.
Mounting challenges
Amid the frenetic pace of recovery efforts is a stark contrast in reaping across affected regions. While cities like Nanyang, Xinyang, and Pingdingshan have managed to harvest over half their fields, others such as Zhonkou and Kaifeng have achieved a meager reaping rate of less than 5%. 
In Zhengyang County, locals told Sixth Tone that in some areas only one harvester was available per village or even the entire town.
Farmers said that many harvesters were forced to leave for the neighboring Anhui province due to previously signed contracts, adding that many preferred working outside Henan, since they received higher wages elsewhere. 
Normally, harvesting one mu of land in Anhui could net 80 yuan, while workers would receive only 35 or 40 yuan in Henan. Now, with only two days left and another bout of rain on the horizon, harvesters are being offered 60 yuan per mu.
Demands for higher prices have often been met with resistance from farmers, who complained that it was difficult to accept the surge, according to locals. They added that at the same time, workers with more lucrative opportunities elsewhere grew increasingly impatient, unable to tolerate the prolonged discussions. 
Amid the discord, local officials have stationed themselves at highway intersections in an attempt to persuade individual harvester operators heading to Anhui to stay for a few more days. 
On Thursday night, Sixth Tone witnessed locals in Xi County repeatedly begging a harvester operator to help reap the crops. The operator explained again and again that his machine was broken, saying, "If it were still working, I would be busy right now." 
Undeterred, farmers implored him with: "Help us, we'll pay whatever you ask. You set the price."
Unable to get her hands on a harvester, and concerned about more rain, a farmer surnamed Liu began manually harvesting her wheat crops spread across 600 mu of land. In a video clip she posted on social media Thursday, a passerby asks about her daunting task. Liu replies by holding up moldy wheat crops in her hands.
"Even sprouted wheat is worth something and it may help cover the cost of fertilizers," she said. "If I don't harvest it all now, I'll end up having nothing if it rains again." 
Editors: Apurva and Qi Ya.
(Header image: A farmer waits for harvesters in Yucheng Village, Zhumadian, Henan province, June 1, 2023. Wu Huiyuan/Sixth Tone)