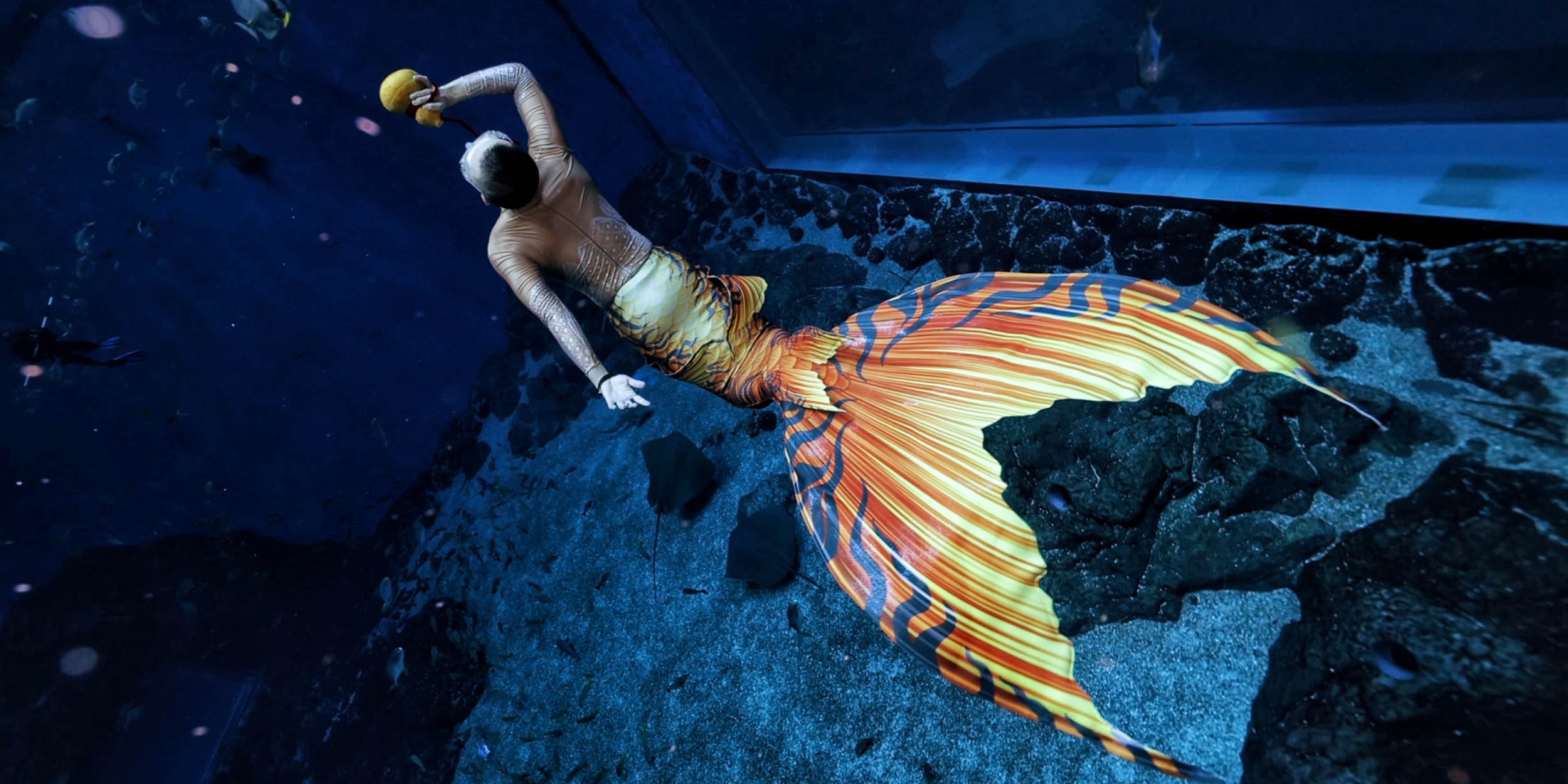 NEWS
In China, Male Mermaids Are Making Waves
Defying gender stereotypes, male mermaids are making themselves seen on Chinese social media.
Almost every day, twice a day, Zhao Xin leaves his job as a lab technician testing river water quality to go perform as a mermaid at his local aquarium.
"My colleagues think I'm just messing around, but I don't care. I know clearly what I'm doing," Zhao, 29, told Sixth Tone. 
Mermaid performances are an increasingly popular form of entertainment in China, particularly among young people. Videos of mermaid performers in aquariums around the country often go viral on social media, and there are even national mermaid competitions. 
Zhao is now one of the best male mermaids in the country. He won this year's national male mermaid competition held in Wuxi in the eastern Jiangsu province and leads a male mermaid team of his own, which competes around the country.
"Even if sometimes I lack oxygen when I hold my breath underwater for too long, I still feel calm. It's a miraculous feeling," said Zhao.
Zhao became a mermaid performer in the summer of 2017 and was one of the first men to do so. A recent chemistry graduate at the time, he had just started a new job as a lab technician in his hometown of Taiyuan, the capital city of the northern Shanxi province, when he chanced upon a WeChat post looking for mermaid performers for the newly opened aquarium. 
Zhao had always been a good swimmer, but he knew he needed additional training to become a professional mermaid performer. For one thing, he needed to learn to swim while wearing a long fishtail dress that bound his legs together. There were no courses available, so he began watching videos of mermaid shows online. 
"I was a bit afraid when I first got in the fishtail dress," said Zhao. "And seawater used in the aquarium is more buoyant than freshwater, making it more difficult to dive."
After months of training by himself, Zhao passed the aquarium's recruitment test at the end of 2017 and went on to obtain scuba diving certification. But the following year, the aquarium received complaints from some parents accusing Zhao of being a bad influence on minors because he was performing "in a dress." 
"'Boys shouldn't be wearing dresses,' they said, so I was forced to drop the dresses," said Zhao.
While female mermaid performances are widely accepted, male mermaids are few and far between. Zhao estimates that male mermaids make up less than 30% of the industry's performers. 
On Chinese social media platforms Xiaohongshu and Douyin, where mermaid diving videos have garnered hundreds of millions of views, female mermaids still receive most people's attention, while male mermaid videos often have negative comments about their gender, sexuality, and appearance.
It was difficult for Zhao to see the negative comments at first, but he persevered with his passion. He began posting videos of his performances on Xiaohongshu, and his number of followers gradually grew to over 2,000. Zhang Jiawei, a childhood friend, joined Zhao's mermaid team in 2021 after seeing Zhao perform at the aquarium. 
"He always told me that he wished to be a fish and here he is," said Zhang, 27. He also finds great joy in being a mermaid performer, especially when interacting with children through the glass. 
"I'm struggling to think of any difficult parts to it, and joy is always the overriding element," he said.
Their male mermaid team has received more and more mainstream attention in recent years. A distinctive part of their performances is the integration of Shanxi culture into the routines, including the province's local wine culture, waist drums, and lion dances. 
There are signs that their success is changing people's minds about men in this industry. After a performance in Shanghai in May of the classic text "Shan Hai Jing," a spectator told China's state broadcaster CCTV that male mermaids are "more powerful." 
"This kind of cultural inculcation is essential for children," she said. 
Editor: Vincent Chow
(Header image: A male mermaid swims. Li Mengxiang for Sixth Tone)