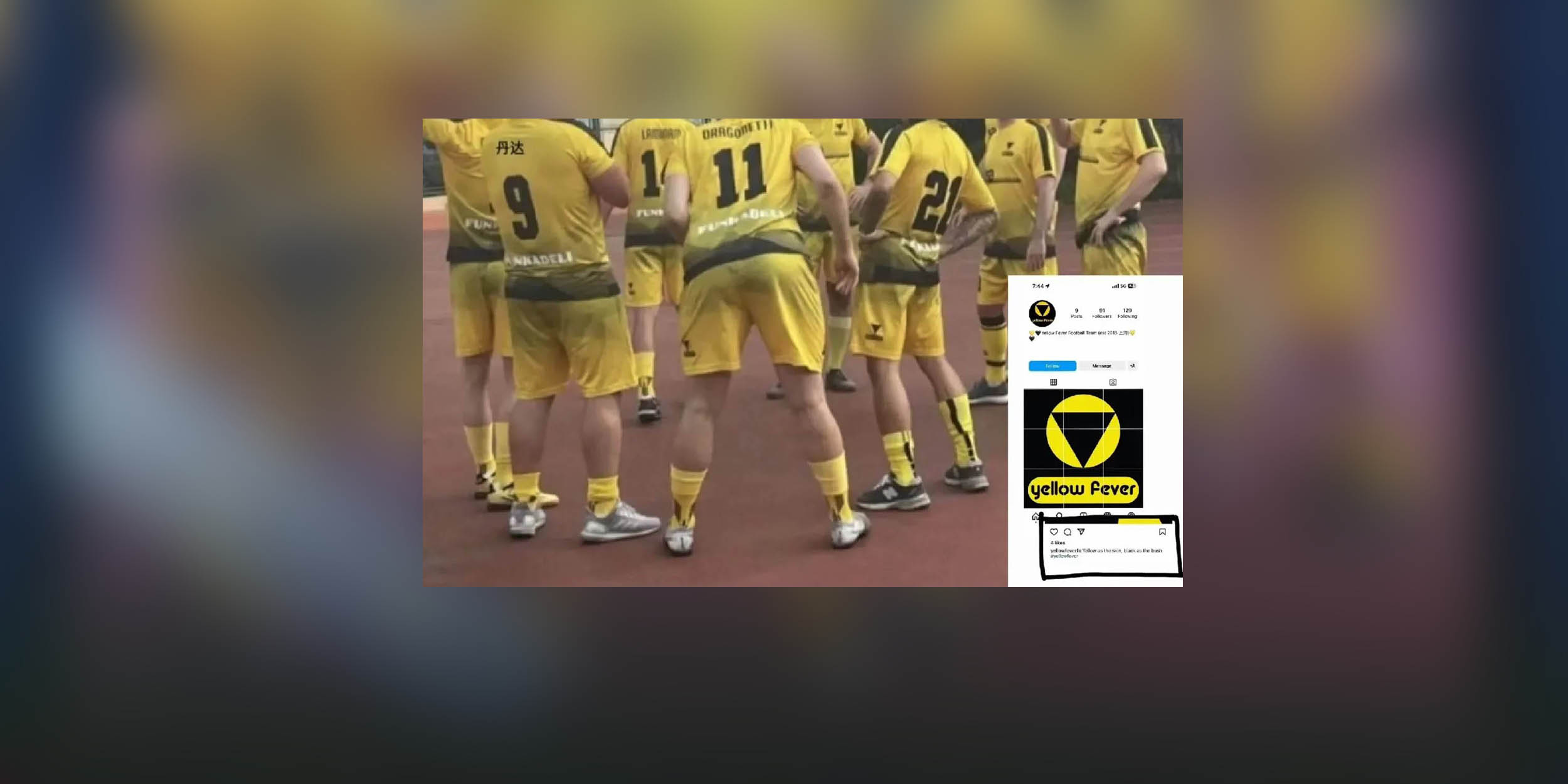 NEWS
'Yellow Fever' Expat Soccer Team Forced to Change Name
Other teams in the same soccer league have come out in support of the team, which has deleted its social media.
An expat soccer team in Shanghai called "Yellow Fever FC" was forced to change its name and saw its sponsor withdraw following a public backlash. 
The team, which competes in Shanghai's ASAS amateur soccer league, is now listed as the "No Name Team" on the league's internal platform, as seen by Sixth Tone. 
Screenshots of the team's Instagram page, now deleted, show the team's logo of an inverted black triangle inside a yellow circle, with the slogan "yellow as the skin, black as the bush."
The term "yellow fever" can refer to the fetishization of Asian women, usually by non-Asian men. 
In a now-deleted comment, the team's Instagram account defended the name by saying that it commemorates a former teammate who died of the disease yellow fever in February.
A former member of the team commented on Instagram that "nobody ever had a single issue with the name." Other teams in the league also posted messages of support for Yellow Fever FC, including Spanish Bulls and Team Bu Dong. 
The controversy began when several users wrote on Instagram and its Chinese equivalent Xiaohongshu that players in the team laughed at them when they took issue with the name. 
Sixth Tone's calls and emails to the ASAS league went unanswered as of Thursday.
The team had been sponsored by Funkadeli, an Italian restaurant located in downtown Shanghai, which has since apologized and ended its partnership with the team. 
"We acknowledge that our association with the team can inadvertently contribute to harmful stereotypes and can be hurtful to those affected. As a company committed to promoting unity and respect, we are committed to rectifying this situation promptly," its statement read. 
Responding to online accusations that restaurant staff treat foreign customers more favorably, Funkadeli's co-owner surnamed Chen told Sixth Tone that this may be a "misunderstanding and definitely not common."
Editor: Vincent Chow. 
(Header image: A screenshot shows members of the soccer team and its logo. From Xiaohongshu)