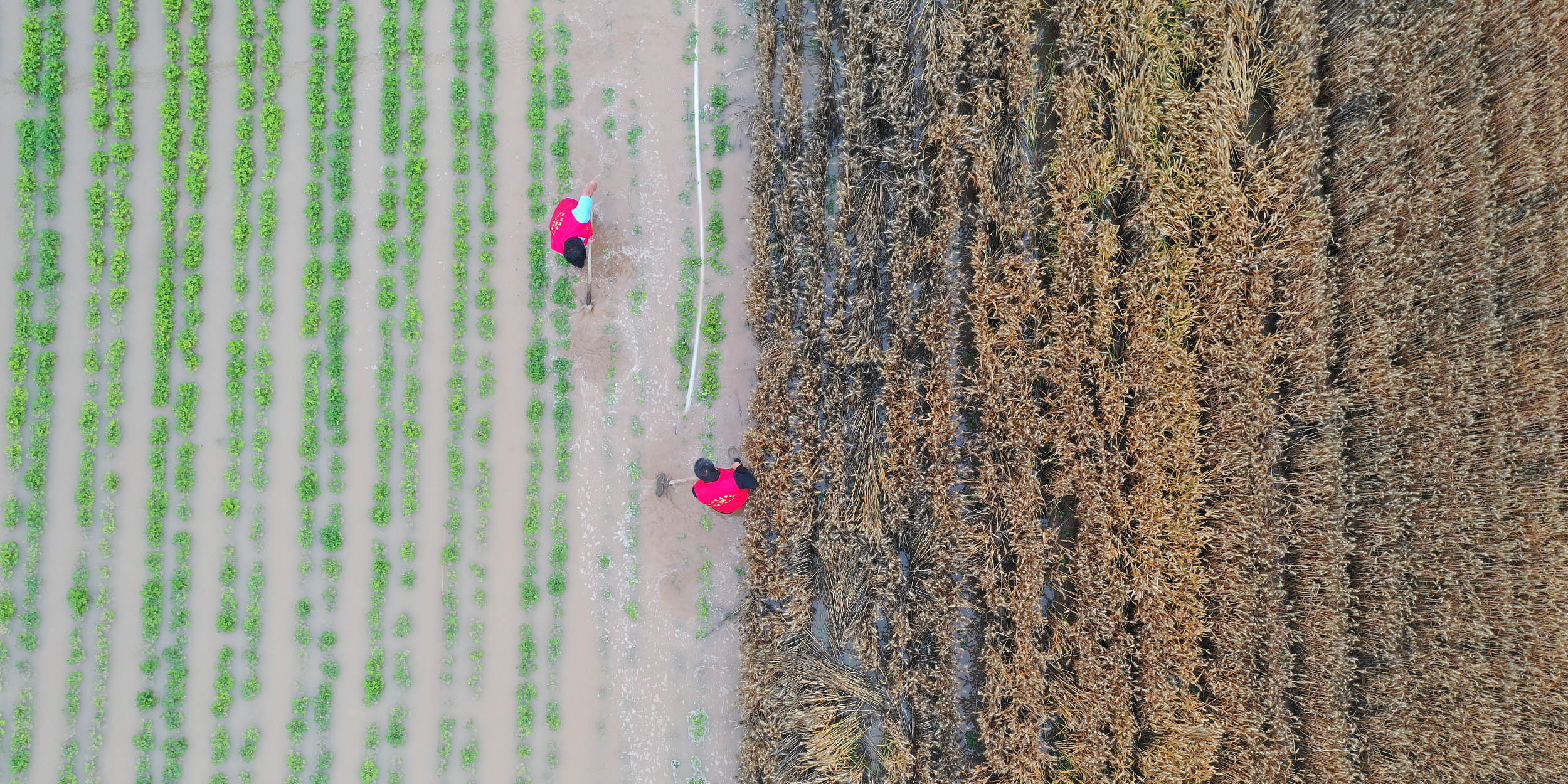 NEWS
Unprecedented Rain in Central China Wreaks Havoc on Wheat Fields
Farmers have been left grappling as crops falter, prompting an urgent government response.
China's central Henan province has been hit by what local media are calling "the worst pre-harvest rainfall in more than a decade." The torrential downpour has wreaked havoc on wheat fields, leaving farmers grappling with significant damage from both germination issues and blight. 
Local weather stations described the relentless rainfall, which occurred from May 25 to May 29, as the broadest and longest-lasting in the region since 1961. It has left the central-southern and eastern areas of Henan particularly affected. 
On Tuesday, the Henan government announced a 200 million yuan ($30 million) emergency fund to help dry the harvested wheat. Known as the "granary of China," Henan accounts for a quarter of the nation's wheat output and one-tenth of food production.
Unseasonal rainfall was also reported in the northwestern Shaanxi province, which has prompted authorities to ramp up the harvesting process and strengthen risk management. The province accounts for 3% of national wheat production. 
The plight of farmers in Henan sparked widespread debate on social media, particularly after a video of a 79-year-old farmer in Zhengzhou weeping over his damaged crops went viral. Soon after, several similar videos also circulated widely across different social media platforms.
"I've never seen such a severe situation like this during the harvest season before," a farmer surnamed Liu from Zhoukou City told Sixth Tone, adding that all 600 mu (40 hectares) of wheat crops that she and her daughter planted were damaged after six days of rain.
Liu, 50, also said that though the crops were ready for harvest, the reaping process hadn't started because of delays in southern regions of Henan, where most harvesting machines are currently deployed. 
Guo Tiancai, a professor at Henan Agricultural University, told local media that heavy rains had disrupted reaping in the southern regions and damaged the quality and production of crops in the central and northern regions of the province. He also warned of the potential risks posed to the seed production, since Henan accounts for 38% of the land used in China to produce wheat seeds. 
So far, 200,000 harvesters have been pressed into service to accelerate the harvesting process, while the government has set up more than 600 emergency teams to help farmers, according to local media. 
Authorities have also pledged to improve transport services and priority access, following reports that several harvesters in Nanyang City were stuck on the freeway since their owners hadn't applied for transportation permits in advance.
According to reports, around 5% of the wheat crop has been harvested since May 23. 
But for Liu and her daughter, moldy crops and germinated kernels have dealt a devastating financial blow. Highlighting the difficulties in selling low-quality produce, Liu said her revenue would be halved or cut even further compared with normal years.
The planting usually starts between September and October for Liu, while the harvest occurs between May and June. "Everything was normal until the rains came," she said. 
"It's already difficult to earn money from farming," said Liu. "We've spent the past nine months working and it's heartbreaking to see it all go to waste."
Editor: Apurva.  
(Header image: Local flood control emergency team volunteers take charge of pumping and drainage operations in waterlogged wheat fields, in Zhoukou, Henan, May 28, 2023. VCG)