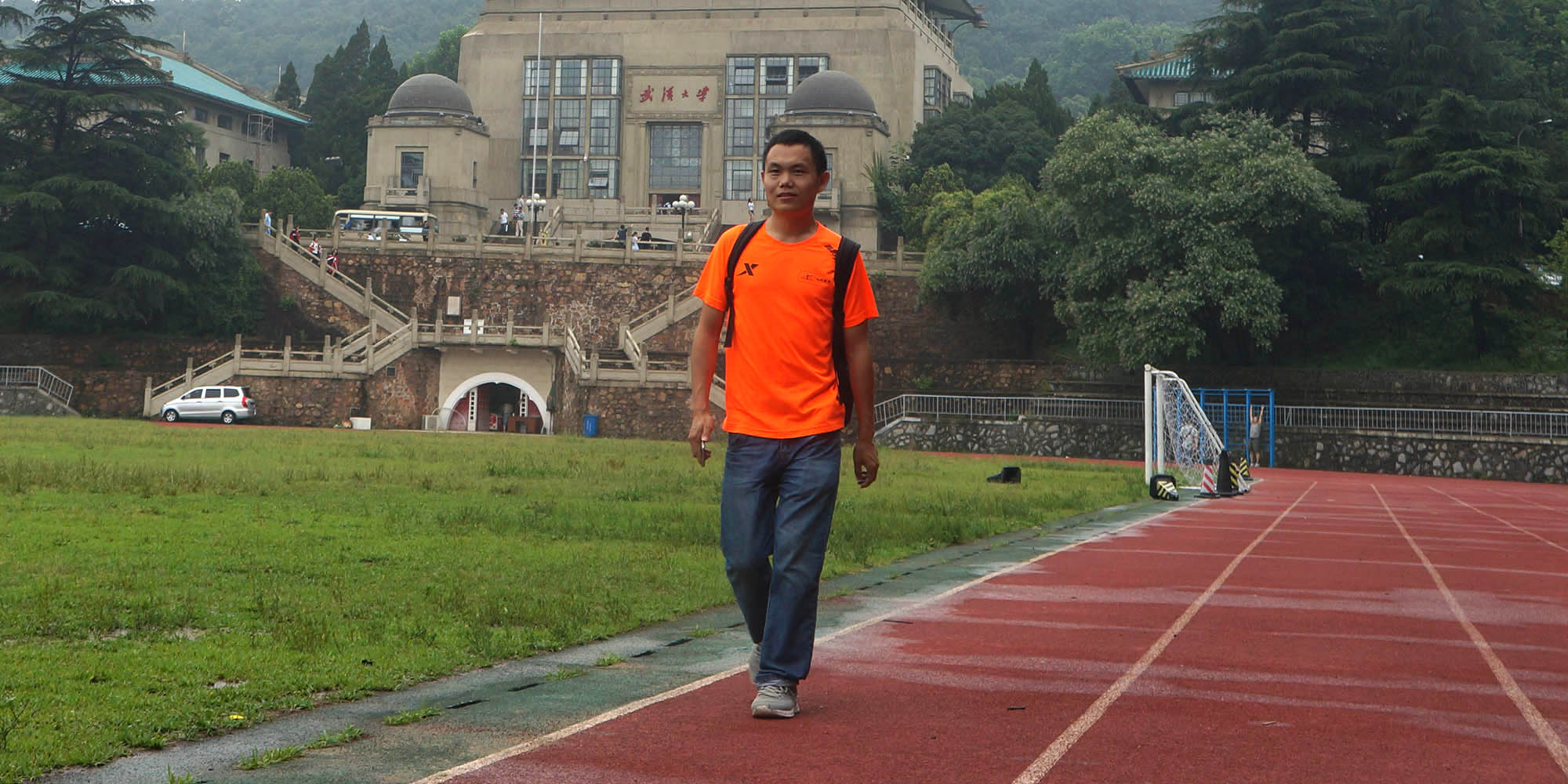 FEATURES
How to Win the Errand Race in China
Former postgraduate student owns a business of 20 employees who will run your errands for a fee.
On a stormy morning in Wuhan, in central China's Hubei province, Wang Zhi was fighting through bustling crowds to reach the city's human resources center.
Wang knew he had to be there by 9 a.m. in order to beat the lines. His mission was to collect a personal file — a Chinese document that records a citizens' birth information, past education, and work history.
In less than an hour he was back on the street, paperwork in hand. But the document wasn't for him.
Wang, 29, is a paotui, Chinese for "running-legs," or errand runner. Every day he runs errands — often ones involving bureaucracy — that others would prefer to avoid. Customers find Wang on the e-commerce website Taobao by searching the keywords "paotui" and "Wuhan." Then Wang communicates with customers on their specific requirement before the order is placed.
Errand runners began appearing in China over 10 years ago, when people began hiring others to stand in line for them to buy train tickets during the country's notoriously busy Spring Festival holiday.
In China, paotui services have pejoratively come to be known as the "lazy economy," where the wealthy elite pay poorer people to complete mundane tasks for them.
"Business is especially good when the weather is bad," says Wang.
In business terms, China's errand runners are part of the country's booming "sharing economy," in which customers access a range of services or products via the web.
The ease of using Taobao as a web platform for his business helped Wang get his startup off the ground quickly, but it has also led to fierce competition, since other enterprising individuals offer similar services.
But Wang, who has a background in information technology, says that paotui companies fluctuate as wildly as those of his previous industry, and having watched other companies crash and burn after mere months, he is determined not to give up.
Wang started his business back in 2013 after completing a master's degree in polymer chemistry at the Wuhan Institute of Technology (WIT).
While at WIT, Wang often passed a popular Japanese cheesecake shop near the campus. Students would queue for up to an hour to get their hands on the tasty baked goods, and this gave him an idea.
Wang realized he could stand in line on behalf of other students and be paid for it. Soon he was charging 20 yuan per cake and lining up several times per day.
In 2014, students began losing their taste for cheesecake, but by then Wang had moved on to other services, like bringing forgotten items to people at the airport or delivering birthday presents. However, the work was mainly dull and low-paying, and Wang was concerned he'd never make enough money to grow his business.
Then late in 2014 Wang's fortunes changed. Sun Weina, a graduate of Wuhan University who had moved away to Guangdong province, asked Wang to collect her degree certificate and mail it to her in Guangzhou. The task took two hours in total, and Wang was paid 150 yuan.
Impressed, Sun then asked Wang to process and deliver her personal file and household registration documents from Wuhan to Guangzhou. Wang finished each of the tasks within one day.
Sun chose Wang out of hundreds of paotui because of his higher education degrees. "I'm less likely to be screwed by a postgraduate student," Sun says. "It's not worth him ruining his reputation to scam 150 yuan from me."
Feng Qing, 33, graduated from Wuhan University over a decade ago. He recently enlisted Wang to help with his employment permit, which he had neglected to pick up when he left university and moved to Xiamen, in eastern China's Fuzhou province.
Feng decided to hire Wang to save on the cost of airfare to Wuhan, not to mention the general headache such a trip would entail.
Individuals like this have gradually become Wang's core customer base. Instead of going back to his old job — where he had been promised a full-time position with a higher salary — in Shenzhen after graduation, Wang decided to focus on growing his niche sharing economy business.
In the last three years, Wang has grown his business from a one-man project to a small company that employs 20 errand runners.
Wang realized that graduates need help dealing with their administrative affairs, so now he and his team collect and process key documents and certificates, such as employment permits, graduation certificates, and household registrations, among others, for Wuhan graduates who have relocated to other cities.
Wang's company is called Difeixun — a transliteration of "division." The name reflects how running errands is a social division of labor: "Those who don't have time to run their errands pass it on to us," he says. As the owner and founder, Wang earns 15,000 yuan per month — more than double the national average in China.
Wang's parents, who are pig farmers from the village of Jingmen in central China's Hubei province, initially struggled to understand why their educated son would want to run errands, but they became more supportive when Wang told them how much money he made.
Dong Tenghui is a 22-year-old postgraduate student who joined Wang's team two years ago. Dong runs three errands per week in his spare time; he uses the extra 1,000 yuan per month to cover his daily living expenses.
"Time is precious," says Dong. "We are able to run errands efficiently for those who are busy or lazy."
Wang is aiming high. He went on a reality television show in Wuhan in November last year to pitch his idea of an errand outsourcing platform, similar to the American website TaskRabbit, which matches freelance workers with local demand. The show, "Soar Up Into the Sky," helps young people realize their business dreams by funding them if their pitch is accepted.
Sadly, the show declined to fund Wang, questioning the premise of his service. One judge believed that the business would fail since Chinese errand runners could not be trusted with people's personal documents.
Undeterred, Wang and his runners have tightened their focus. Wang is now hoping to build a mobile app platform to allow university students in Wuhan to run errands for each other. Members on the platform would negotiate service fees among themselves, and the platform would charge a small commission. "My goal is to earn enough money by myself to be able to fund the platform in a year or two," says Wang.
Wang is deliberate in emphasizing that the platform will only be open to university students, whom he believes are thought of as trustworthy enough to make his dream platform a reality.
(Header image: Wang Zhi walks along the track at Wuhan University, where he has gone to collect the graduation certificate of a 'paotui' customer, Hubei province, June 20, 2016. Fan Yiying/Sixth Tone)