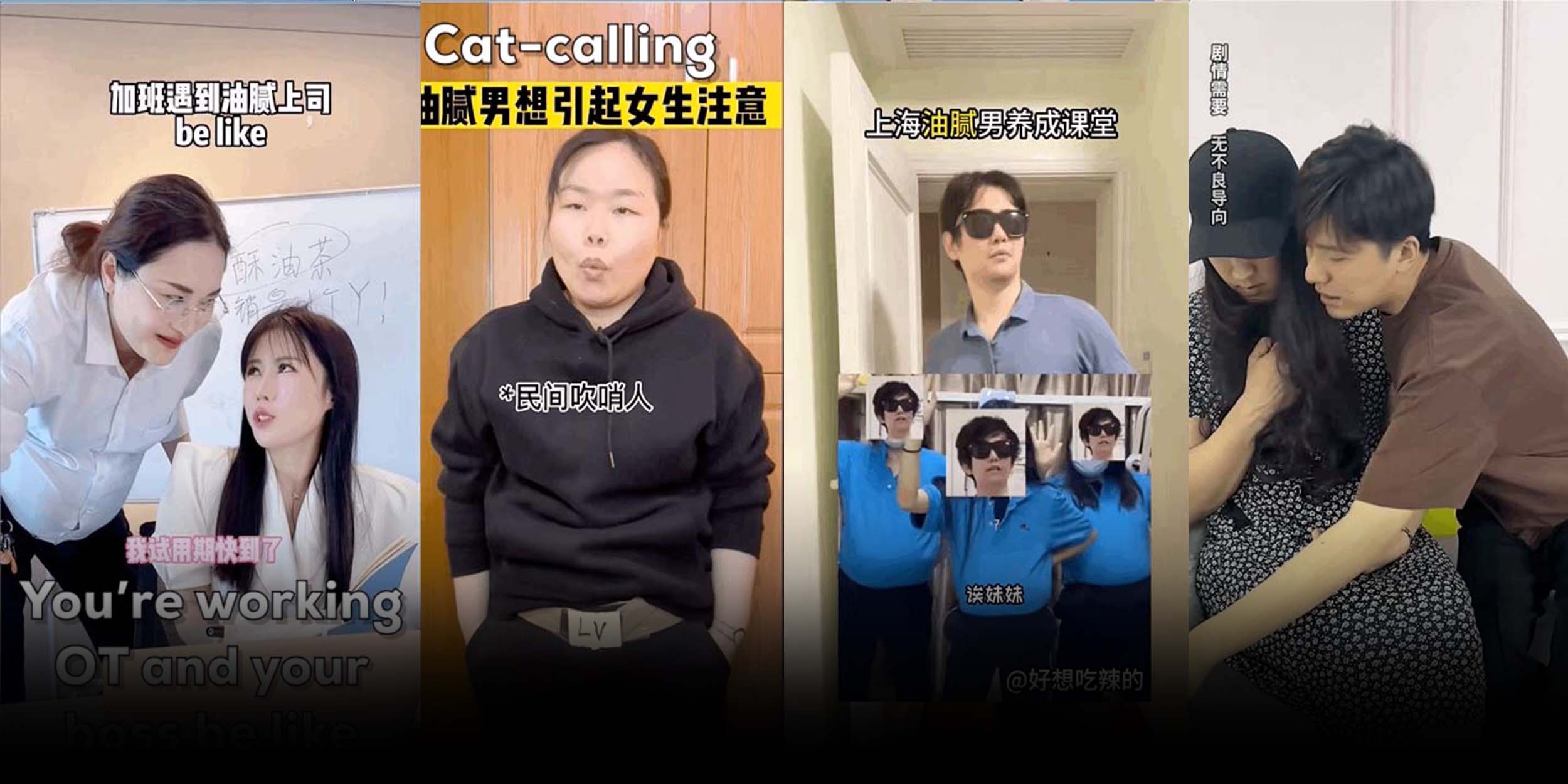 NEWS
To Flip the Script on Harassment in China, Grease is the New Word
In a new viral online challenge, women are imitating the personas of "greasy middle-aged men" to provoke introspection.
Mimicking men who surreptitiously take photos of women, flaunt their masculinity, or just stare lecherously, a new viral challenge is all the rage among young Chinese women — imitating the "greasy middle-aged man" persona. 
In recent weeks, the challenge has surged in popularity, particularly on the short video app Douyin, where thousands have posted videos, often drawing inspiration from their daily lives. On the popular streaming platform Bilibili, guidance on how to perfect the art of being a "greasy man" has garnered tens of thousands of likes.  
The trend began with the popular influencer Fangtouming, whose videos imitated self-centered high school boys and instantly gained traction online, with many other women sharing videos of similar experiences on Douyin. 
Among the most popular videos so far was one that imitated men who, without permission, take photographs of unsuspecting women on the metro. It has amassed over 500,000 likes, eliciting comments such as, "I feel like I've been sexually harassed through the screen."
One of the most-liked comments on this video read: "Stop saying 'No more videos like this.' This is far more than a simple joke. This is another level, showing men the issue that most women are forced to confront on a daily basis."
But not all share the same viewpoint. Some have expressed concerns that such videos might trivialize the seriousness of issues like sexual harassment. 
The trend gained traction across the country soon after the novelist Feng Tang published an article titled "How to avoid becoming a greasy dirty middle-aged man" in 2017. 
And more recently, in 2022, the Zhang Han-led TV drama, "Gentlemen From Eastern 8th," drew accusations of perpetuating misogynistic plots, further propelling the issue into the spotlight. 
The show depicted middle-aged men indulging in elaborate fantasies and was eventually pulled from streaming platforms after a public backlash.
"Over the past few years, we have observed a fascinating evolution: It began with the term 'greasy,' followed by discussions on it, and now the trend has reached its peak with the public enthusiastically imitating it," said Abby Lu, a gender-equality advocate in China who used a pseudonym to protect her privacy. 
Lu says she's more concerned about how many women are drawing on their own daily experiences to create so many videos, implying that sexual harassment has become "so common that it has gone to a level of being justified and part of the collective unconsciousness." 
"But we can see this imitation as a weapon attacking such instances of daily harm," said Lu. "I'm positive about this trend. Though some are worried about how these videos deflate the seriousness of incidents like clandestine filming and sexual harassment, these videos will make men think 'Is this how I look to others every day?' That's a good thing."
Zhang Nian, a philosophy professor at the school of humanities at Tongji University in Shanghai and a pioneer scholar in feminist theory in China, told Sixth Tone that the trend could be seen as "spontaneous reverse gender education." 
"These videos are based on direct daily experience, which is an essential battlefield for women," said Zhang. "This imitation is a mirror, forcing men to see who they are and reflect how they present themselves in daily life, which has been normalized in the collective unconsciousness. I'd say this trend is a social drama or a social sculpture."
Editor: Apurva. 
(Header image: Screenshots from Douyin of users imitating "greasy middle-aged men.")