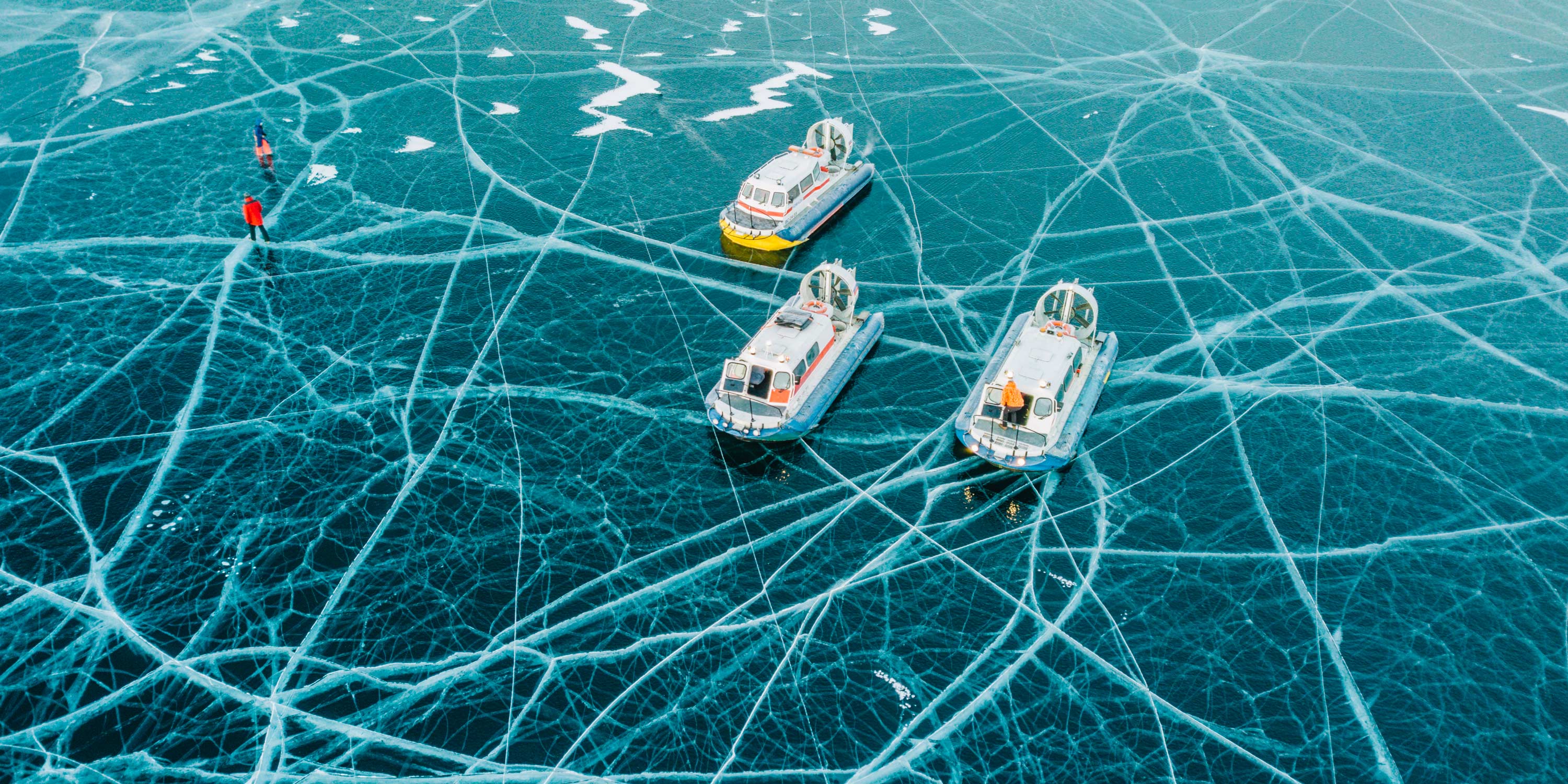 FEATURES
Russia Hoped for a Chinese Tourist Boom in 2023. It's Still Waiting.
In Russia, many believed that China's exit from "zero-COVID" restrictions would provide a shot in the arm to the country's flatlining inbound tourism sector. Those hopes are now fading.
Whenever Alyona Makogon walks through a tourist area near Lake Baikal these days, she is continually stopped by local business owners asking the same question: "When are the Chinese coming?"
Before the pandemic, this picturesque Siberian lake was a magnet for Chinese tourists. Makogon, a Chinese-speaking tour guide, estimates that around one in two visitors to the area used to be from China. Local stores, hotels, and snowmobile tour operators all heavily depended on their spending.
"I would see a group off at the airport and meet a new one at the same time," Makogon told Sixth Tone. "Every hotel room was booked out half a year in advance. Tourist flow from China was enormous."
So when China finally relaxed its "zero-COVID" border restrictions in January, there was a surge in optimism on Lake Baikal. Locals hoped the return of Chinese tourists would help to offset the impact of the war in Ukraine, which has devastated Russia's international travel industry.
The flood of Chinese visitors, however, has yet to appear. So far, only 1,000-2,000 people from China have stayed at the lake this year, local businesses estimated — a tiny fraction of the numbers typically seen pre-pandemic. People working in the tourism sphere are speculating "impatiently" about when the situation might improve, Makogon said.
The situation is similar all over Russia. In early 2023, many predicted that a rebound in Chinese tourism would give the Russian inbound travel sector a desperately needed shot in the arm. But those hopes are now fading, as China's tourists show little inclination to return.
Many believe that Russia is dangerous due to its proximity to the fighting in Ukraine. Others are put off by high prices and a lack of payment options — a result of the economic turbulence unleashed by the war and accompanying Western sanctions. Still others are finding it difficult to secure visas and flights, which were heavily restricted during the pandemic.
False dawn
Until the pandemic, China was crucial to Russia's tourism industry. In 2019, nearly 1.5 million Chinese visited Russia, accounting for one-third of the country's international visitors that year.
Outside the palaces of St. Petersburg, lines of Chinese tourists often stretched for over a kilometer during peak season. Chinese agencies snapped up all the museum tickets and hotel rooms; locals grumbled that the city's streets and stores were overwhelmed by tour groups.
But after COVID-19 struck, Chinese tourist numbers collapsed. Tight restrictions on non-essential foreign travel became a key part of China's "zero-COVID" strategy, which remained in place for nearly three years. In 2022, only 842 people from China entered Russia.
Then came the war in Ukraine, and Russia effectively lost the rest of its international tourism. With Western sanctions cutting Russia off from international air travel and banking systems, foreign visitors to the country plunged by 94%.
For Russia's inbound tourism industry, China appeared to offer the only hope for a rebound. Beijing's decision to relax travel restrictions in January 2023 sparked a wave of anticipation north of the border.
Zarina Doguzova, the former head of Russia's tourism regulator, said that Chinese tourists would be "key in the recovery of Russian inbound tourism." Russian media rushed to cover the arrival of the first Chinese tour groups in Moscow and St. Petersburg.
"The first Chinese group came at the end of February 2023," said Polina Rysakova, a researcher at St. Petersburg State University who focuses on Chinese tourism. "It was received with a lot of pomp. Papers wrote about it; there was TV."
However, these early arrivals proved to be a false dawn. Over the following months, the number of Chinese traveling to Russia barely rose above a trickle.
Zhang Hua'en, co-owner of the Beijing-based travel agency RomaRussia, said that he was sending six tour groups to Russia a day in 2019. But demand has been far lower this year.
"We sent one group in March, four in April, and there will be 10 groups in May," said Zhang, shaking his head.
If current trends continue, only around 50,000 Chinese tourists will visit Russia this year, Zhang estimated. He's struggling to keep his agency running due to the lack of business.
Perfect storm
There are several reasons for the slow recovery, Zhang said. The first is fear. Zhang often struggles to convince potential Chinese customers that Russia is a safe place to visit.
"Every day I explain that in Russia everything is calm, and that the war is in Ukraine," said Zhang. "Our government has not issued warnings about travel to Russia. But people will always be afraid of something."
Rysakova agreed that Chinese travelers' confusion about the war is a significant issue. Chinese travel agencies have asked guides living in Russia to record videos, reassuring potential visitors that everything is fine in the country, she said.
Another problem is the ongoing suspension of visa waivers for tour groups. Between 2000 and 2019, both China and Russia allowed tour groups from each other's countries to travel freely for 15 days without needing to apply for individual visas — a policy that played a major role in fueling Russia's pre-pandemic Chinese tourism boom.
Russia is particularly popular with elderly Chinese, who grew up during the Soviet period and were raised on Russian and Soviet film, literature, and music. The visa waiver allowed tour groups to offer trips to Moscow and St. Petersburg for as little as 5,000 yuan ($710), which were hugely appealing to these cash-conscious older consumers. In 2019, over 80% of Chinese tourists traveled to Russia as part of a tour group.
But the visa waiver was canceled during the pandemic, and is yet to be reinstated. It's still unclear when — or if — the policy will come back into force.
"It used to be reported in our media that it would happen very soon, but now it is not even mentioned anymore," said Rysakova.
"First we thought it would restart in March, then April," said Zhang. "Now, we don't even think about when. I call the Chinese travel ministry every day to ask."
The lack of a visa waiver is putting off many Chinese tourists from choosing Russia as a destination, Rysakova said. Anyone wanting to enter Russia now has to apply for an individual visa, which is "a lot of hassle and expensive." The visa fee is 1,200 yuan.
Visas are not the only extra cost. Since the start of the war in Ukraine, prices for a range of goods and services — from tour guides to museum and train tickets — have doubled or tripled in price in Russia, Zhang said. Travel agencies have been forced to hike prices for their Russian tour packages, which also makes it harder to attract customers.
Once in Russia, tourists have trouble paying for anything, as Visa, MasterCard, and UnionPay no longer operate in Russia. Zhang's customers now have to carry Russian rubles in cash, which they purchase in China before the trip.
Even getting into Russia can be a problem these days. "There are no flights!" Zhang laughed. Air travel between Russia and China is still a fraction of what it was in 2019, and prices have also doubled or tripled, said Rysakova. A flight from Beijing to St. Petersburg now costs 12,000-20,000 yuan — more than the cost of an entire weeklong package tour before the pandemic.
Tough times
On Lake Baikal, the absence of Chinese tourists is felt keenly. Since the pandemic, the region has pivoted toward domestic tourism, and Russians — who now struggle to travel abroad — have flocked here. But they cannot support as many businesses as the Chinese, who were lavish spenders.
Makogon, the tour guide, said her income had halved since 2019. Other guides have left the industry altogether. Some of her colleagues now work as personal trainers, she said.
Local hotels, restaurants, and transport companies have taken big losses in recent years, Makogon added. Many have closed or been sold.
"Chinese people love boat, hovercraft, and snowmobile trips, and paid a lot for them," said Makogon. "Boats and snowmobiles never stood idle when the Chinese were here."
The retail industry has taken the biggest hit, according to Makogon. "Cosmetics, souvenir, and jewelry stores don't have the turnover they once did," she said. "Many closed. The Chinese bought up branded goods, because they were much cheaper than in China. They would buy extra suitcases here to take their shopping back."
Before COVID, Russian authorities estimated that Chinese tourists contributed $500 million per year to Russia's economy. Zhang estimates the total value of the China-to-Russia tourism industry — on both the Chinese and Russian sides — to be as high as $2 billion a year.
It's unclear when things might pick up on Lake Baikal. There are currently only two weekly flights connecting Irkutsk, the nearest city to Lake Baikal, and China. More connections are due to be added soon, but the prices quoted are so high that tour groups are unlikely to use them, Makogon said.
Local businesses are trying to stay positive. Alexei Strelyuk, founder of high-end tour operator Baikalika, specialized in Russian tourists, but said he used to enjoy taking the occasional group of Chinese photographers to snap Lake Baikal's spectacular ice formations before the pandemic. Now, he wants to attract more Chinese customers.
Throughout his conversation with Sixth Tone, Strelyuk referred to China using the highly respectful Russian term "podnebesnaya" — a translation of the Chinese word tianxia, or "all under heaven," which is how China's emperors used to refer to their realm. He ended the interview with a question: "Do you have any advice on how to make my company better known in podnebesnaya?"
Editor: Dominic Morgan.
(Header image: Tourists explore Lake Baikal by hovercraft, Siberia, Russia. The area is a popular destination with Chinese travelers, who often come to photograph the spectacular ice formations. From Baikalika.ru)