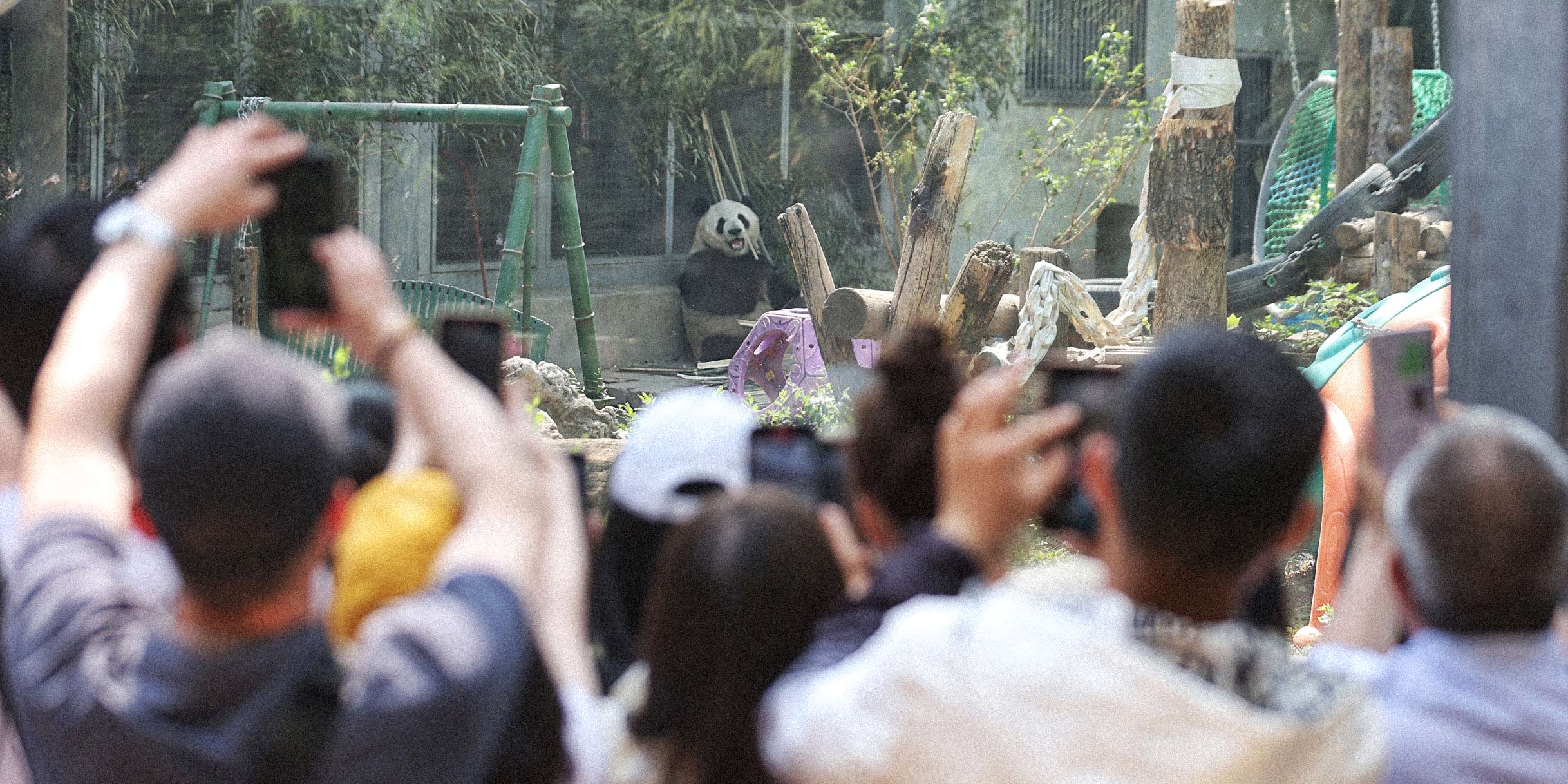 NEWS
In China, Panda Superfans Want More Than Just Bear Necessities
Panda fans have grown beyond sharing adorable videos. Their intense passion and online influence can even impact park management and policy.
Earlier this month, nobody at the Dujiangyan Panda Valley in China's southwestern Sichuan province noticed a visitor throwing a corncob at Mei Lan, the park's most famous giant panda. But somebody was watching carefully: An obsessive Mei Lan fan group caught the incident on camera. 
The video was soon made public, and the fan group, The Time Machine of Giant Panda Mei Lan Rou Rou, began a vocal online campaign seeking action against the errant visitor. Eventually, a 65-year-old woman was identified and promptly handed a lifetime ban from the park. 
Across China, this isn't the only example of the protective fervor that surrounds the growing world of online panda fan culture. For some years now, from Sichuan, Jiangsu, and Shaanxi to even pandas in the U.S., the line between casual interest and unwavering devotion has begun to blur. And fan groups, with tens of thousands of members, are a force to reckon with. 
Icey Xu, who spoke to Sixth Tone under a pseudonym to protect her privacy, leads the Mei Lan fan group on Weibo, which has 58,000 followers. Collaborating with a team of fans living in Chengdu, members of the group take turns visiting Mei Lan to broadcast her every move to the world.  
Xu and her group consider themselves the guardians of Mei Lan — known as "the most suitable panda to showcase binge-eating livestreams." She says the group believes it provides constant supervision when resources and manpower at the base are limited.
"My original intention was to ensure her peace and healthy growth, and prevent anything untoward from happening to her," says Xu. "If she really encounters unfair treatment, we have the ability to voice our concerns for her."
Such groups trace their origins back to 2013, when the iPanda channel was launched.
Then, the CCTV-owned channel employed two ingenious methods to captivate internet users with its giant panda videos: 24-hour livestreaming and "panda recognition plug-ins," which were a collection of videos that taught viewers how to identify each panda. 
Soon enough, panda fans were spending hours each day watching live broadcasts, eagerly refreshing webpages in anticipation of new releases featuring up-close-and-personal videos. 
"It was right before the era of Douyin. I found livestreaming extremely novel," says Peter Wang, a panda blogger based in Chengdu. "It's exactly like 'The Truman Show.' Watching pandas, though they are not humans, sometimes satisfies people's natural voyeuristic desires."
But a decade later, panda fan groups have gradually evolved from merely sharing and commenting on cute videos to sometimes pressurizing officials, which is now beginning to impact park management.
Sometimes their obsession is extreme.
When a giant panda in Sichuan got wet amid a sudden downpour, its fans began publicly denouncing the Chengdu Panda Base online. And in Shaanxi, fans targeted a park for closing a window between two enclosures after one panda bit another. 
More recently, a video of a panda keeper in the eastern city of Nanjing urging a panda called Nuan Nuan to go back to its den by patting her with a bamboo pole went viral on social media last month. 
Interpreting this as abuse, panda fans began cyberbullying the keeper and haranguing the Nanjing Ziqing Lake Wild Animal Park. Under the weight of their online campaign, the zoo banned the keeper from working with pandas.
On April 21, the Beijing Daily published an editorial criticizing netizens for overreacting and underscored that "sick fan culture should stay away from national treasures."
"Human comparisons, suspicion, and jealousy ignited a battle. The pressure on the zoo is also growing, making them more cautious. After this incident, the majority of keepers are likely to be more careful, as a little inattentiveness may lead them to lose their jobs and experience cyber violence," the editorial said. "This is obviously not a good thing for giant panda conservation work."
Xu, who leads the Mei Lan fan group, concurs. She says she tries hard to ensure a more nuanced understanding of the pressures panda keepers face. As a fan group manager on Weibo, she often blocks some extreme and unverified content. "We also don't want to see this kind of extreme 'fandom culture' and obsessive behavior," she says.
The rising obsession with the well-being of pandas possibly stems from recent viral topics about the giant panda Yaya that began trending in February. She returned to China in April, two decades after being sent on loan to Memphis Zoo in Tennessee, U.S.
The circumstances surrounding Yaya's return were complicated. Pointing to Yaya's deteriorating health and the sudden death of her partner, Lele, a few months ago, animal welfare advocates and fan groups criticized Memphis Zoo for allegedly mistreating pandas. 
Over the past few months, Chinese panda enthusiasts raised their concerns on billboards at Times Square in New York. Some ads displayed a montage of images featuring a slumped Yaya, accompanied by captions such as "I am so lonely, I am so hungry." 
Others showcased three pandas at the Smithsonian's National Zoo in Washington through a compilation of videos that had been selectively edited and widely shared on Chinese social media to show alleged mistreatment. 
On April 29, the China Conservation and Research Center for Giant Pandas addressed the concerns by issuing a notice assuring netizens that the three pandas were in good general health. The center also urged people not to create, believe, or disseminate rumors.
Wang, the panda blogger, says he prefers the iPanda channel for its less subjective portrayal of pandas. When creating his own panda videos, he tries to capture the animals in their "natural state" without adding unnecessary drama.
He visits various panda bases and zoos over a hundred times every year, each time spending hours livestreaming or recording footage to make short videos.
"I love pandas, deeply, but I am trying to control how much emotion I project," Wang says. "Too much concern becomes messy and just makes things unobjective."
Editor: Apurva.
(Header image: Tourists line up to see panda Menglan at Beijing Zoo, May 3, 2023. VCG)