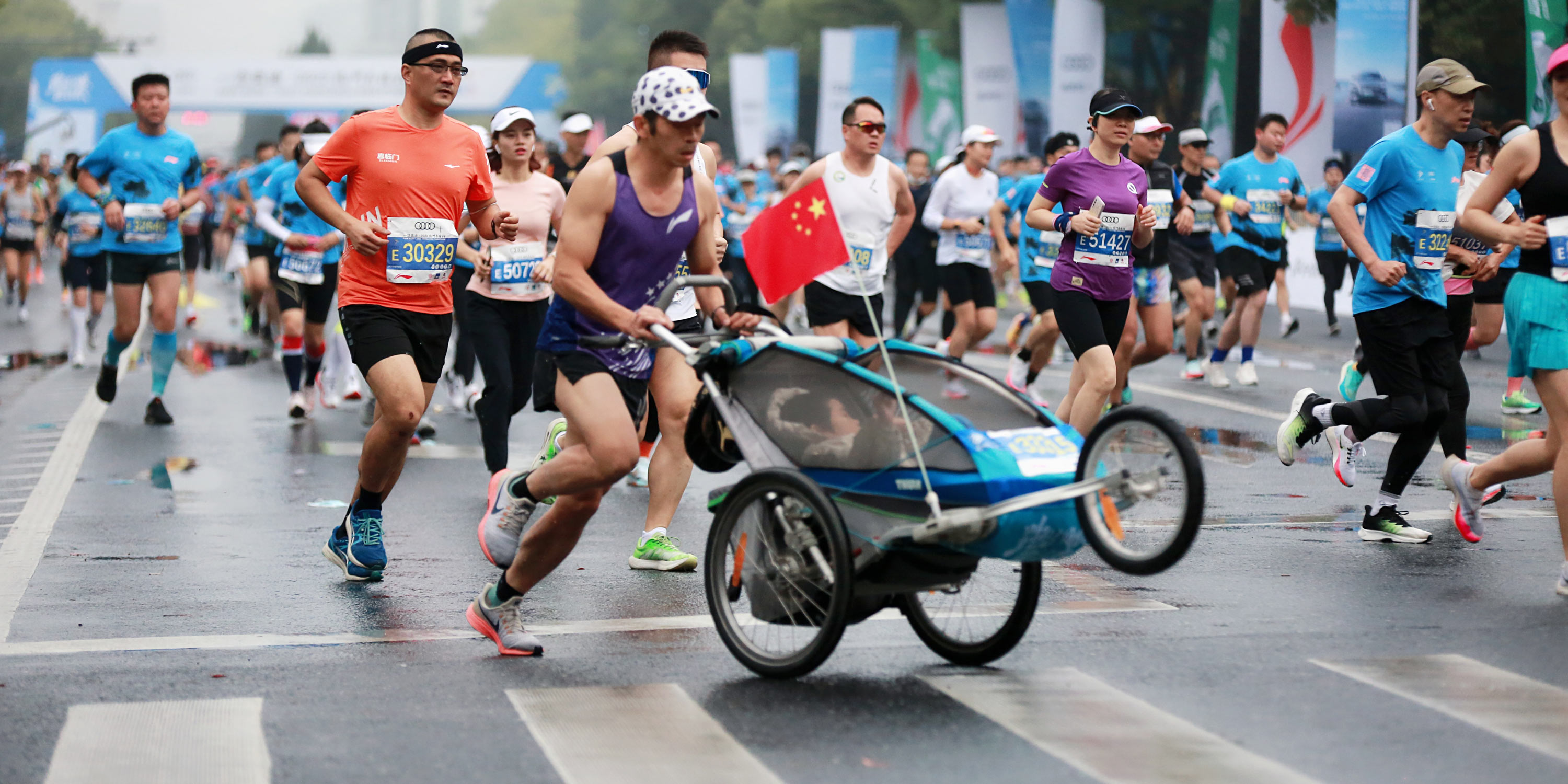 SIXTH TONE ×
The Father-Son Duo Winning Over China's Marathon Scene
Inspired by marathoner Dick Hoyt, who ran together with his disabled son, a Chinese courier and his son have taken the running world by storm.
On April 9, tens of thousands of runners swarmed the marathon track in Lanxi, Zhejiang province. Amid them was Luo Shujian, dressed in a white tank top and black shorts. As he ran, he pushed a blue chair carrying his 14-year-old son, Bo. He is a frail boy who stands at 1.3 meters tall and weighs only 15 kilograms. Due to his cerebral palsy, his intellectual development stopped in infancy.
With the crack of the starter pistol, Luo and Bo set off. Despite not having trained for three months, Luo completed the 21-kilometer-race in one hour and 43 minutes.
In the eight years since Luo and Bo did their first marathon, this was the 58th marathon in which the father-son duo had participated. His idea was simple: His son enjoyed being around crowds and he wanted to show him to the outside world.
Luo spends much of his life running. As a courier in Jinhua, Zhejiang province, the 46-year-old walks over 20,000 steps delivering more than 200 packages during each 12- to 13-hour shift.
Local media have referred to the father and son as the "Chinese Team Hoyt," in reference to Dick Hoyt, a legendary American marathon runner who competed in over 1,000 marathons while pushing his disabled son Rick in a special wheelchair.
But since 2022, Luo has rarely taken part in marathons because of his demanding job. In the past two years, his fast-paced job often required him to leave the house early and return late. He hardly had the energy to train.
"People tell me that they feel I've aged a lot in that time," says Luo. A wiry man standing at less than 1.6 meters tall, his tanned face is etched with deep lines.
The most rewarding moment of his day is when he returns home and gets to hold and play with his son. Bo doesn't speak but he rushes over the moment he sees him.
Bo spends most of the day alone in a special room set up for him and watches cartoons there. For most of the year, he wears a helmet to prevent him from biting his hands or hurting his head during a seizure.
In this small room, colorful puzzles lie on the floor, while the walls are lined with paper depicting underwater scenery. There's a small trampoline, as well as dolls and balls. In winter, the heater is on all day to keep Bo warm.
He also put a lock on the door so that Bo won't run away. One time, Bo tottered outside and wandered over a kilometer away from home when Luo did not close the door properly. Fortunately, Bo was stopped by guards nearby, but the experience scared Luo and his wife.
In 2022, Luo's wife, Zhang Yanjun, took up a job packaging goods in a factory over 20 kilometers away to make 3,000 yuan ($431) a month. Since then, Bo's 70-year-old grandparents have taken care of him, feeding him semi-liquids and fruit juice since he is unable to chew.
"He can't understand anything and doesn't know who we are," says his grandmother. It was hard to have a peaceful moment around Bo. The boy incessantly moved about in one corner, unconsciously pulling at his clothes, biting his sleeves, and yanking his shoelaces. Sometimes he'd let out a sharp cry, clap his hands, or lift the trampoline. He would even run over and push his father's head or pull on his hat.
"He's a troublemaker. He likes to snatch things and throw them away," says Luo with a hint of despair in his voice.
The hardest choice in life
But Luo says that he doesn't regret the choice he made 14 years ago.
On one winter night, his wife was due to give birth but still had not gone into labor and was considering a cesarean. Since she was in good health, the doctor suggested she wait for a natural birth. But during the delivery, Bo began to suffocate in the birth canal. Rather than the usual cries, Bo's arrival into the world was accompanied by a deathly silence. After 15 minutes of resuscitation, he was whisked off and placed into an incubator.
Three days later, a CT scan showed that he had brain damage from a lack of blood and oxygen.
Luo didn't dare break the news to his wife, who was recovering. He made the most difficult decision of his life alone.
"I played out different possibilities in my mind. Who could I give him away to? Was I supposed to let him starve to death? That'd be impossible. It would be immoral," he says. He thought about abandoning him, but "could never have brought myself to do it."
In the end, he decided to keep their son. He knew the path ahead would be tough, "but there was no turning back."
Hope and despair
After a month in an incubator, Bo was finally released from hospital. However, for the following day and night, he wouldn't stop crying and needed constant reassurance.
Luo and his wife took him to various specialists. Zhang recalls that, upon seeing the CT scan, one of them said "not even 2 million yuan is enough to treat this child." She was devastated.
But Luo and his wife refused to give up. They eventually found one specialist who reassured them that Bo's condition could be improved through rehabilitation exercises. Every day, they followed the specialist's instructions to massage Bo's limbs and return for monthly follow-ups.
At six months old, Bo was diagnosed with cerebral palsy. Luo and his wife were determined to help him become independent one day. Zhang would take Bo to the rehabilitation center for mobility lessons every day.
The couple even traveled to Beijing for physical therapies and acupuncture, spending over 10,000 yuan each month, when Luo only earned up to 6,000 yuan a month. After two months of rehabilitation, their accounts had been drained dry.
Luo and his wife's journey with Bo was filled with hope and painful setbacks.
By the time he was nine or 10 months old, Bo could crawl; by two years old, he could walk and say "Mom" for the first time. More than 10 years later, Zhang still recalls her surprise and excitement at that moment.
But at 15 months old, it was determined that Bo would have the intelligence of a one- or two-year-old for the rest of his life. At two and a half years old, he was diagnosed with Lennox-Gastaut syndrome, a severe form of chronic epilepsy. His symptoms worsened over time as his skills regressed: He could no longer walk in a straight line or produce coherent sounds. The couple fell into despair again.
But the unexpected arrival of their daughter, Lulu, lifted them up again. This time, Zhang opted for a cesarean delivery, and everything went smoothly.
Luo, with his limited knowledge, tried to search for medicine to treat Bo. He eventually found a drug that worked for Bo and had been ordering it from overseas, but the bills continued to pile up.
Never giving up
Since Bo's birth, Zhang has hardly had a full night's sleep. Bo wakes up crying at least twice each night, and she rushes to comfort him so that Luo can rest for work.
Once, Bo crawled out of bed and knocked over a pitcher of hot water. His screams woke her and Luo, who discovered that he had burned his feet badly. Since then, Zhang sleeps with one eye open.
The Luo family lives in a mountain village. In the countryside, a disabled child can become the subject of gossip. At first, Zhang struggled to cope with these comments, but ultimately chose to ignore them.
"He's not their child, he's ours. I think he's adorable," she says.
Zhang says her husband is very patient with their son and spares no expense for his well-being — several hundred yuan on Bo's helmet, 8,000 yuan on his wheelchair, and 3,000 yuan on a special seat on the back of his bicycle.
Over the years, Zhang has considered leaving town for work, but Luo wanted her to stay at home and take care of Bo. To make ends meet, Luo has sorted through trash in the morning and sometimes sold fruit. He has also considered working as a Didi driver.
Running uphill
One early morning in summer 2015, Luo got up at 4:30 a.m. and went for a run on a nearby road.
He told his family that he wanted to take Bo on a marathon. No one could make any sense of it. Zhang remembers that her husband never used to do any structured exercise, let alone running. His brother was also skeptical. Having trained for marathons for two years himself, he knew how arduous and dreary they could be, even without a child in tow.
But Luo persevered. It all started when Luo came across a documentary about Dick Hoyt on WeChat.
In 1977, 36-year-old Hoyt pushed his son Rick in a wheelchair for 5 kilometers, which Rick said was the first time he felt like a normal person. This inspired Hoyt to compete with his son in over 1,000 marathons and several Iron Man triathlons over the next three decades.
Luo was inspired by this story and thought that he would take his son on a run in the future. In 2015, when he heard that his brother was taking part in a marathon, it further intensified Luo's desire to run with Bo.
Every morning, Luo ran along a road that led up to a nearby mountain. At first, he would run three to five kilometers, but after three months, he could run three times as far before going to work.
Zhang had never seen her husband take this kind of initiative before. Luo says that he's not a strong-willed person and that running is the first thing he's ever stuck to in life.
In October that year, Luo and Bo took part in a race together for the first time. Despite the rain, Bo sat in a wheelchair donated by the Disabled Persons' Federation, wearing a raincoat and smiling.
Luo remembers the 7-kilometer run as "exhausting and cumbersome." He couldn't let go of the chair for a moment, meaning he couldn't swing his arms, and his shoulders ached terribly. Going uphill was incredibly tiring, and he had to avoid bumping into people while constantly checking on Bo.
But when he crossed the finish line, his fatigue was replaced by pride. He couldn't believe he had actually done it.
After completing his first race with Bo, Luo trained even more rigorously. Each morning, he ran for an hour and did over an hour of pushups, situps, squats, and stretches after work. On weekends, he ran 50 to 60 kilometers around the mountains or organized training sessions elsewhere with a running buddy. The most painful thing was interval running, which he did in eight sets of 800 meters each.
In March 2016, Luo and Bo completed their first full marathon together. By the 30-kilometer mark, Luo's legs felt like they were about to give way. Bo got restless after sitting for too long, and Luo had to stop to change his diaper, give him water, and settle him down.
After running for five and a half hours, Luo finally crossed the finish line. Zhang had been waiting anxiously and worried when she saw an ambulance go by. After Luo finished the marathon, he was still buzzing with adrenaline but could barely walk by the time they got back to the hotel.
On the track, Luo found a sense of control over his life. Every time he runs, Bo claps with joy and leans out of his chair to observe the crowd. This inspires Luo to work even harder.
He even emulated Team Hoyt by attempting an Iron Man triathlon with Bo. In preparation, he swam two kilometers in a lake and ran for 10 kilometers every morning while riding his stationary bike for two hours in the evening. He modified his bike to tow Bo in his wheelchair, but the plan was unsuccessful because Bo would move too much while Luo swam.
In the first few years, Luo would take part in a dozen or so marathons each year, sometimes several in one month. Many of Luo's running buddies cheer him on during the race and offer to help push Bo, but Luo doesn't let them, worried that they may accidentally bump into someone.
Some people were supportive. Once, someone stuffed 500 yuan into Bo's chair before disappearing into the crowd. Another time, an online acquaintance arranged for a friend to treat Luo to a meal.
There are also many cynics who accuse Luo of making a spectacle of his child or causing him additional suffering, but he doesn't care. "Let them talk. I choose my own path," he says.
Zhang describes her husband as a headstrong man who does what he thinks is right and says all she can do is support him from the sidelines.
Before their daughter started school, Zhang accompanied her husband and son to almost every marathon. In the past few years, they have traveled to more than 20 different cities and taken advantage of every trip to see the sights. Together, they have climbed the Great Wall, seen the Yellow River, visited the beach in Xiamen, and seen the giant pandas in Chengdu.
But Zhang still feels conflicted. On one hand, she wants to show Bo the world outside their village. "Although he doesn't understand anything, I still want him to see everything to give his life some meaning," she says. On the other hand, their financial situation makes these marathons a luxury they cannot always afford. Each trip costs at least 1,000 yuan and sometimes as much as 5,000 yuan for travel and accommodation. In addition, Luo's marathons and equipment have cost them 150,000 yuan. Sometimes, to save money, Luo only brings Bo and they stay with his running buddies.
In the last two years, as their financial burden has become too great to bear, Zhang and their parents have urged Luo to compete less often and train at home instead. But he is determined to continue.
The marathon of life
Since Luo began running marathons with his son, the two have received extensive media coverage.
"Some people envy me," Luo says. "They say, I have a job and still have the time and money to take my son across the country and make a name for myself doing all these interviews. But I envy them for having children who are developing normally and who can call them Dad."
He explains that Bo also has slight autism. There are more than 20 million autistic children across China who rarely go out and face difficulties at school and in employment. He believes that they deserve greater understanding and attention from society.
Since 2017, Luo and his friends have organized annual charity runs and nature challenges for autistic children, as well as taking them on excursions to school campuses, movies, and theme parks. Zhang recalls that one year, Luo ran 21 times around Jinhua's Jianfeng Mountain to raise funds and donate masks to disabled people.
Since being elected chairman of the Autism Society of Jinhua's Wucheng District in 2022, many parents have contacted Luo for advice on caring for their children. He patiently replies to every message he receives and has even conducted a survey of autistic children in their district to connect them with public resources.
Luo says that he used to be very introverted, but running marathons has brought him out of his shell. Zhang adds that running has improved his temper and made him more mature than before.
Losing steam
A few years ago, Luo dreamt of taking Bo to Boston to participate in the world's oldest marathon. But with all the stress in his life, this dream now seems out of reach.
In this marathon of life, Luo is running out of steam. Since last year, his work as a courier has become increasingly hectic with more orders to send and stricter performance indicators, yet his salary has only gone down.
After working as a courier for 15 years, this is the first time he has felt unable to keep up with the demands of the job. But to afford Bo's medicine, Luo has no choice but to continue working despite his age.
The couple also has their daughter Lulu to care for. When Lulu was only four or five, she began taking classes in public speaking, art, English, and logic. Luo is willing to pay for any class that interests her, no matter how much it costs.
Zhang is determined to give her daughter a good start in life in the hope that she will think of her brother when she has made a decent living for herself. "If she falls on hard times, how will she take care of him?"
She has considered sending Bo to a live-in rehabilitation center when she and Luo are too old to look after him. His younger sister could visit him often to ensure that he is treated well. "It's awful to think of him without any family around," she says. All she can do is to maintain her health "so that I can be with him for as long as possible."
For Luo, taking care of Bo is the marathon of a lifetime.
"His life won't be as long as other people's, so I hope it'll be a happy one at least," he says.
Reported by Zhu Ying, Luo Zhenghuan, Gu Xinyu, Guo Sihang, and Liu Yapeng.
A version of this article originally appeared in The Paper. It has been translated and edited for brevity and clarity, and is published here with permission.

Translator: Lewis Wright; editors: Xue Yongle and Elise Mak.
(Header image: Luo Shujian runs the 2022 Hangzhou Marathon with his son, Nov. 20, 2022. Courtesy of Luo Shujian)