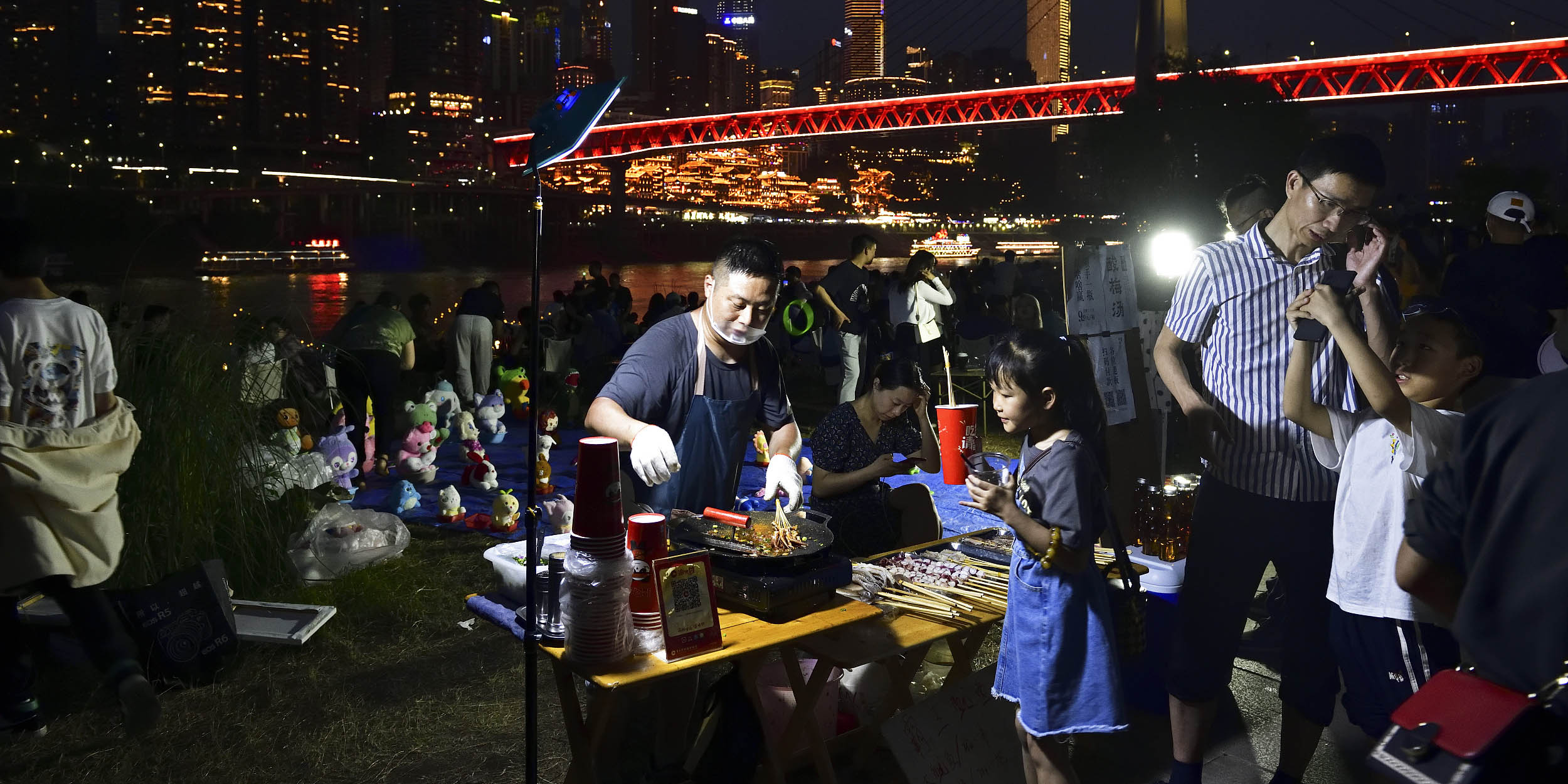 NEWS
Amid Recovery Push, Street Vendors Make a Comeback Across China
Once widely regulated, local governments are now embracing micro businesses to revitalize the economy and boost jobs.
Stuck in legal limbo for years, China's street vending economy is finally making a comeback. Amid a countrywide economic recovery push after the pandemic, major cities are lifting their strict regulations on street vending, giving vendors a chance to operate in designated areas and boosting local consumption. 
From the southern city of Shenzhen to Shanghai and Hangzhou, several major cities have relaxed restrictions on streetside businesses, domestic outlet Jiemian reported Friday. The move is seen as a bid to spur economic recovery by increasing local consumption.
According to revised guidelines issued April 28, Shenzhen scrapped its blanket ban and announced that street vendors could operate in designated areas. The new rules, effective from Sept. 1, allow brick-and-mortar store owners to run stalls outside their shops, which until now were prohibited. 
Shenzhen's move comes just two months after Shanghai — which scrapped its 20-year ban on street vendors last year — drafted a detailed plan for stall businesses. Earlier in March, similar plans were rolled out in the eastern city of Hangzhou, where officials vowed to strengthen the support to shop owners in commercial areas, making it easier to conduct business outside stores. 
Guo Xinmei, a professor of economics at Beijing Technology and Business University, told Jiemian that the changes would help drive up consumption and also give individuals with business operation licenses more employment opportunities.  
"It could form a virtuous circle as people gaining income from their business will increase consumption, which stimulates the supply side," Guo was quoted as saying. 
Though widely prevalent, street stalls have long been prohibited by local regulations as they are seen as an eyesore by authorities. As a result, regular inspections were often carried out in an effort to stamp out such stalls and improve the urban image.
But, in 2020, former Premier Li Keqiang referred to micro businesses as the "lifeblood" of the country, signaling a drastic shift in policy. Since then, the sector has seen a remarkable resurgence, particularly among China's youth who view it as a way to cope with their anxieties and escape the pressures of traditional work culture.
Editor: Apurva.  
(Header image: Street vendors at a night market in Chongqing, May 2, 2023. VCG)