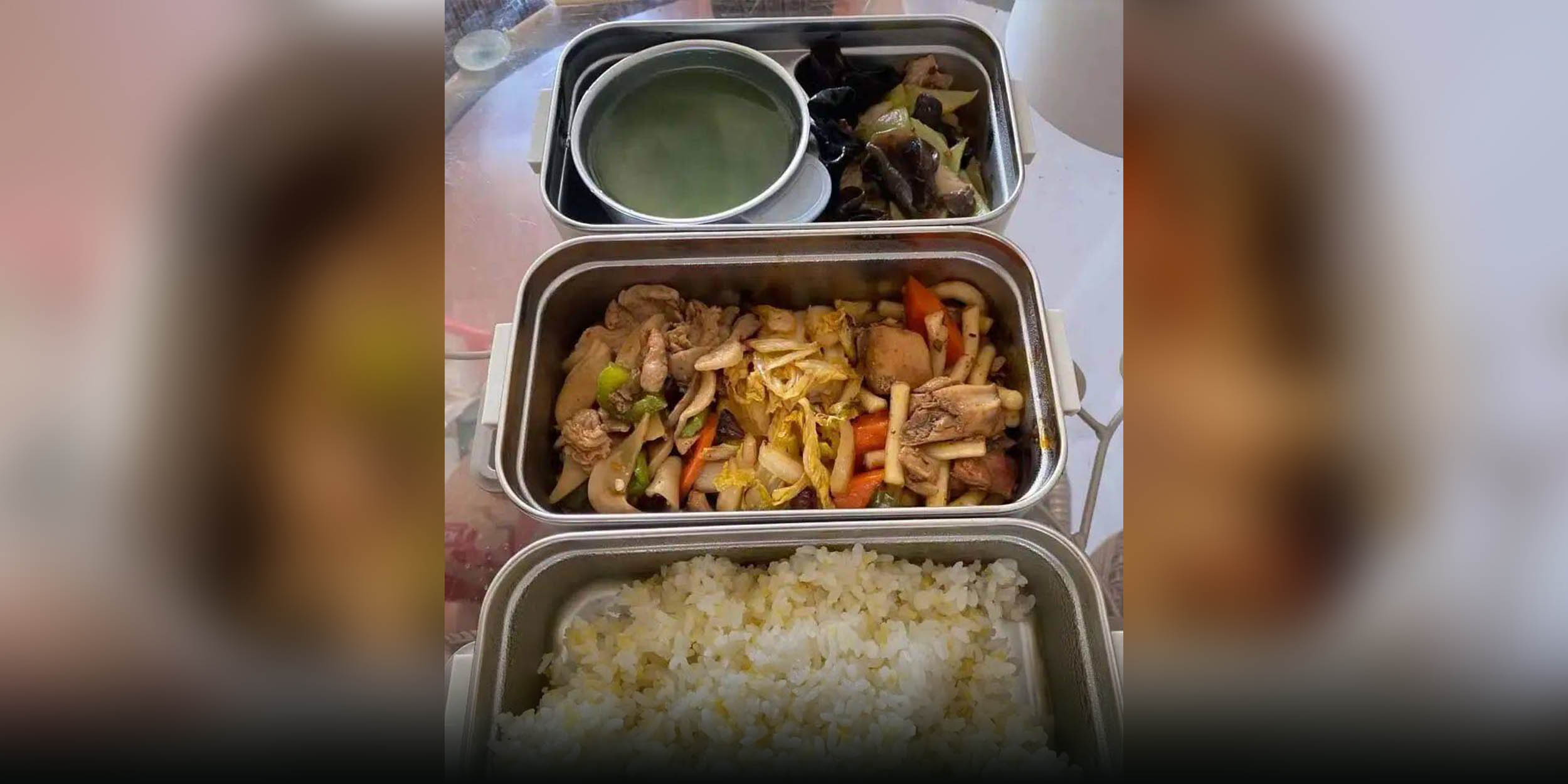 NEWS
For Cheap Meals, China's Grown-Ups Take a Seat at the Kids Table
To escape the monotony of takeaway food and eat healthily, busy adults are turning to neighborhood after-school centers.
Fed up with delivered food and too "lazy to cook" for himself, a busy office worker from central China's Henan province has come up with a novel solution for convenient, healthy meals: He has signed up to eat at a neighborhood xiaofanzhuo, a type of after-school caring center typically used by school children. 
In China, xiaofanzhuo, which literally means "small dining table," is a unique concept that involves centers where primary and middle school children can go after school. These centers, which first emerged in the 1980s when more and more families had two working parents, provide hot meals, homework assistance, and other services to accommodate the needs of busy families.
In a viral video shared on the microblogging platform Weibo on May 1, the Henan resident, going by the username "Xiaoxiongpicha," walks into a local school while panning his camera around a room filled with desks and bunk beds for students to rest during breaktime.
He eventually reaches the canteen, where he chooses from a variety of dishes. The video ends with a shot of his empty lunch tray. "My mom doesn't have to worry about my meals anymore," he jokes in the video, while admitting that dining with students whose parents are the same age as him is a little embarrassing.
The renewed attention to xiaofanzhuo also takes a nostalgic turn for many adults who went to one when they were kids. "I was seven when I went to a xiaofanzhuo last time. Now I'm 31," said the Weibo user.
The video resonated with many working adults in China attempting to balance their busy schedules with convenient, affordable, and healthy food options. More than 85% of 1,723 respondents in a Weibo poll said they are "in need" or "in urgent need" of such a service either because they are tired of takeout food or too lazy to cook.
Tapping into the demand, many have rushed to roll out xiaofanzhuo services for adults. "Most of our clients are officegoers," Gao Yue, who operates one such dining center in Tianjin, told Sixth Tone. 
Gao charges 30 yuan ($4) per person for a meal that comprises two meat dishes, two vegetable dishes, and a bowl of rice. Tianjin's average monthly disposable income for the first quarter of this year was 4,666 yuan per person, official data shows.
"For our clients, choosing xiaofanzhuo means they don't have to worry about what to eat every day. They get to eat a healthier meal instead of oily and salty takeout food," said Gao.
Editor: Apurva. 
(Header image: A Xiaohongshu post on "small dining table" food.)