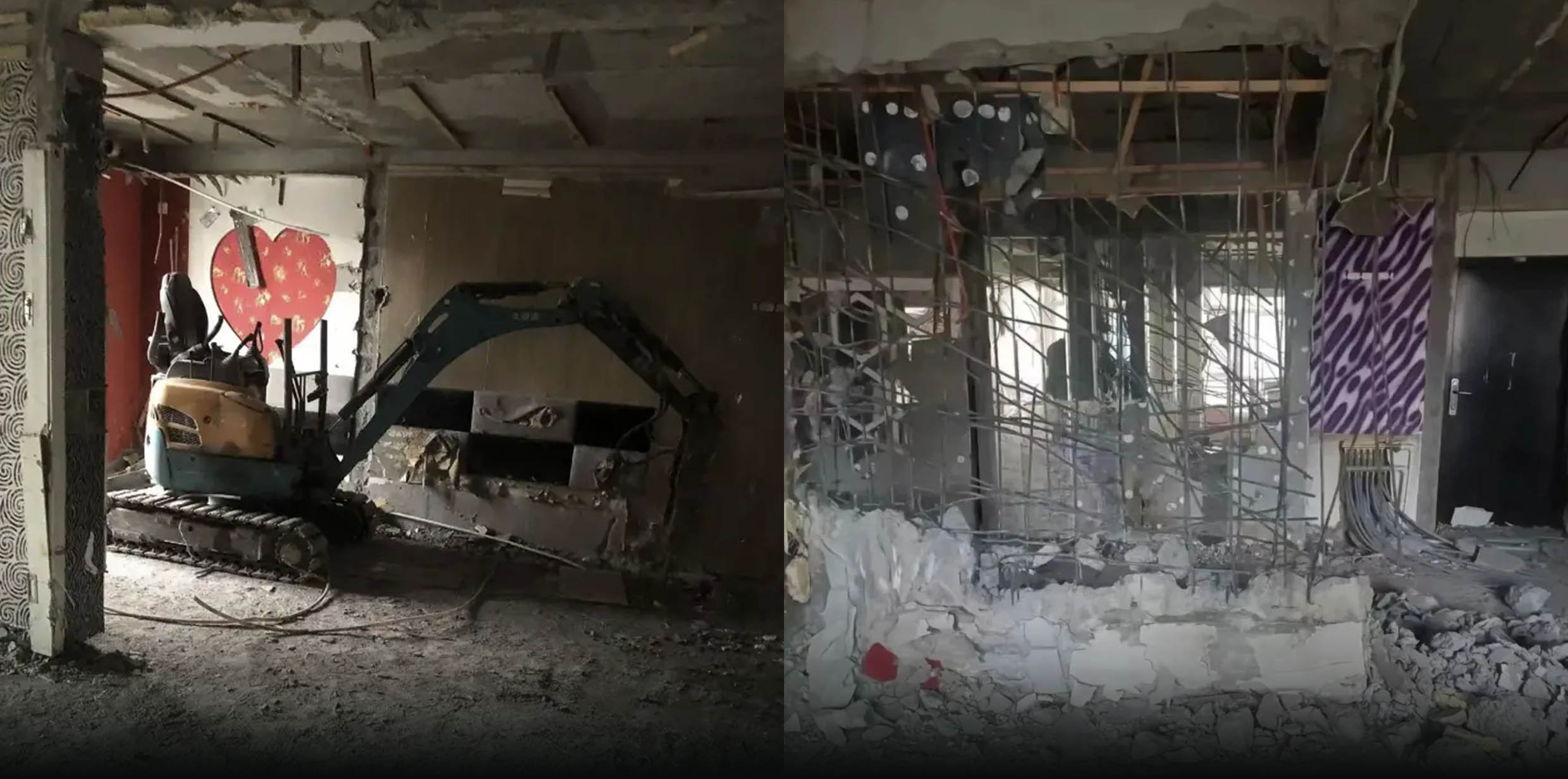 NEWS
Illegal Gym Construction Leaves 240 Families Homeless in Harbin
A 31-story building was declared unsafe after a tenant demolished load-bearing walls to build a new commercial gym. Authorities have launched a probe.
More than 240 families living in a 31-story building in China's northeastern city of Harbin were evacuated Sunday after a tenant demolished most of the load-bearing walls on the third floor. 
Chinese media outlet National Business Daily reported that the tenant in question damaged the walls while attempting to build a new gym in the building in Songbei District. Experts estimated the total losses incurred by residents to be around 168 million yuan ($24 million).
A video taken at the building shows that industrial machines were used to aggressively tear down the walls. As a result, the concrete structures on the third floor were destroyed, thus exposing rebars and significant cracks that extended up to the 21st floor.
Presently, experts are still conducting a safety evaluation of the building, which began to be occupied in 2009, while temporary support structures have been set up to prevent further damage. 
All of the building's residents have been asked to move out until further notice, according to a statement from the property's operator, Junhua Property Management Co., Ltd.
Around 90% of the residents have moved out, with the government temporarily covering accommodation costs, according to Dong Jingbo, a resident who lives on the fifth floor of the building. 
But Dong chose to stay put because moving and taking care of her paralyzed husband away from home proved too much of a challenge. 
"We don't have jobs … and only rely on rent from two bedrooms for a living," said Dong. "Now our tenants have left. I can no longer even afford the medicines my husband needs."
Local regulators and police said Monday that they have launched an investigation without disclosing any information about the tenant responsible. 
Yue Shenshan, a lawyer at Beijing Yuecheng Law firm, told local media that the tenant and the demolition company should be held responsible for the incident. 
The apartment owner and the property operator could also be held liable if they had prior knowledge of the tenant's demolition plans. 
Dong specifically singled out the property operator. "At least four residents I know informed the operator shortly after we heard the sounds of demolition on April 27. But they did nothing to stop them," she said.
Unauthorized changes to buildings in China are not new and authorities have looked to regulate such activities, particularly after tragedies that have been caused by safety problems. Regional governments have been directed to launch safety inspections to identify and eliminate potential safety risks for structures built or modified by the owners.
In 2022, some 11 people suspected of illegal construction in Changsha, the provincial capital of Hunan province, were arrested after an eight-story building collapsed, killing 54. In 2021, an apartment owner in Zhejiang was arrested for breaking a load-bearing wall.
Editor: Apurva.   
(Header image: The demolished load-bearing wall. From Weibo)