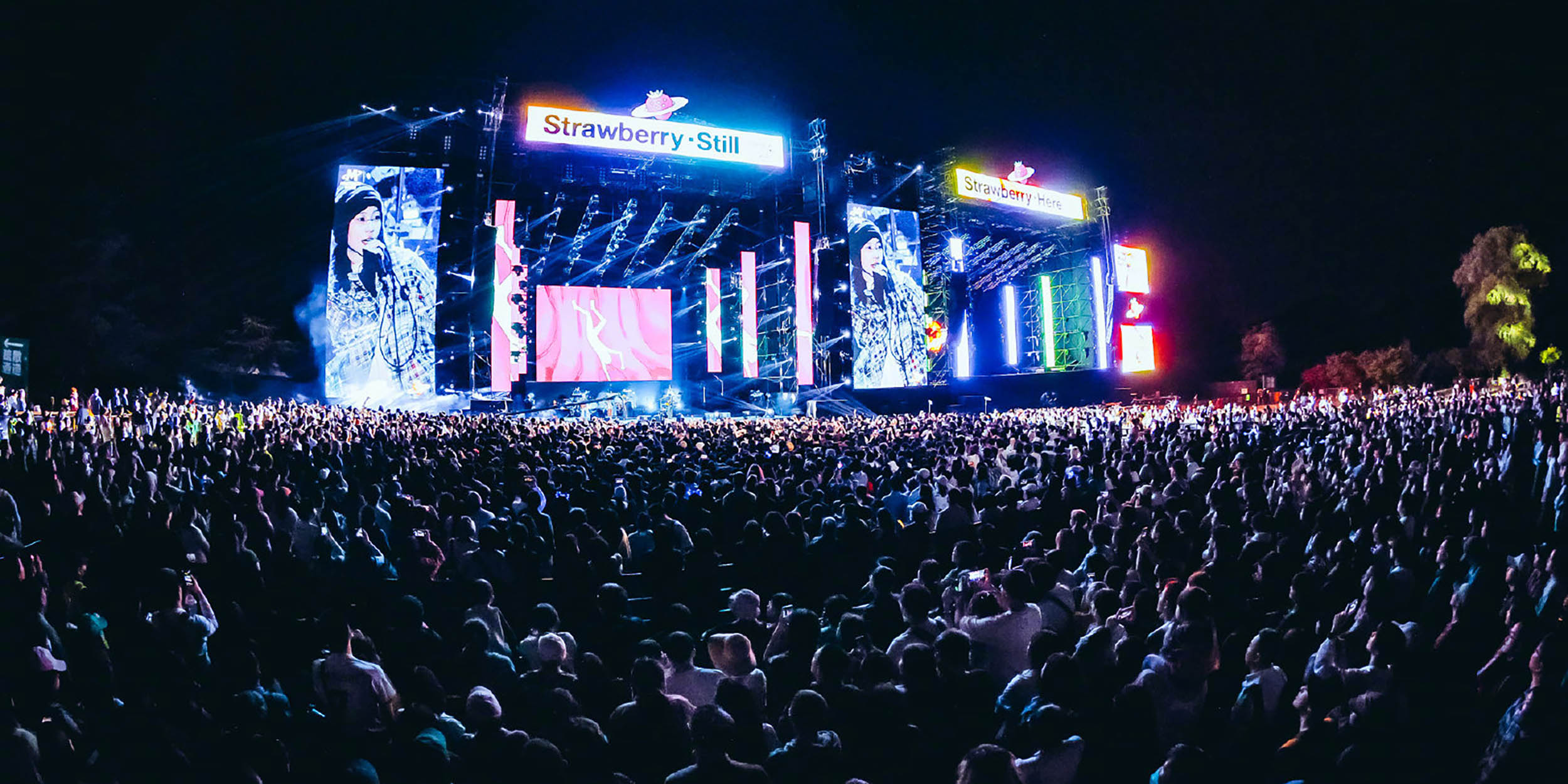 NEWS
China's Music Fests Hit All the Right Notes, But Fans Want More
The country's thriving music scene has made its way to smaller cities, but some are calling for better quality, management, and variety.
With over 40 music festival events scheduled across 19 provinces, demand for live entertainment in China has grown amid this year's five-day May Day vacation that began Saturday. According to data, hotel bookings near May Day music festivals have surged 20-fold year-on-year. 
From rock and jazz at the Midi Festival in Yantai, in the eastern Shandong province to indie pop and electronica at the Strawberry Music Fest in Beijing and Shanghai, fans across the country have a diverse range to choose from. 
But despite the rise in popularity, festival-goers have taken to social media to complain about inflated ticket prices, long lines for food and toilets, and a lack of diversity in lineups. 
The median ticket price for a single-day performance was between 300 and 400 yuan ($43-$58). Among the highest-priced music festivals on the list, the Cactus Music Festival in the southwestern city of Chengdu cost 1,380 yuan for one-day VIP tickets and 1,800 yuan for two days. On Xianyu, a second-hand platform, scalped tickets for the former sold for nearly 2,000 yuan.
It's not just tickets. Prices at several hotels near the Nanjing music festival, held Monday and Tuesday, peaked over the weekend. Hotels charged over 1,800 yuan per night on May 1 but dropped to just 414 yuan on May 4.
This season, music festivals have also expanded beyond traditional locations in Beijing, Shanghai, and Chengdu. Festivals have now spread to smaller cities across the country, from Changzhou in the eastern Jiangsu province to Guiyang in the southwestern Guizhou province.
In a report last month, the China Association of Performing Arts predicted that large-scale performance activities will show "explosive growth" in 2023, and the number of concerts and music festivals is expected to surpass those held in 2019.
In 2000, the first Midi Music Festival was held for free. Ticket prices gradually increased to over 100 yuan after 2012, when the performance market began to develop. At the time, however, music festivals were still considered niche. 
The turning point came in 2017 and 2018 with the launch of "The Rap of China" and "The Big Band," which popularized rap and rock, respectively. As the value of musicians grew, so too did tickets to live concerts.
For some time now, however, fans have complained that the number of artists has failed to keep up with the growth of festivals, management at some events is subpar, and they offer "nothing new." 
Raphael Yu, 36, a music lover from Shanghai who has attended music festivals every year for more than a decade until the pandemic, paid over 400 yuan for the Strawberry Music Festival. 
This year was the first she attended since then. "I just longed for a music festival," she told Sixth Tone. She went with two friends Sunday in Qingpu, a Shanghai suburb, which took them two hours by car. Along with the traffic and poor site management, finding a parking spot took another hour. 
Moreover, according to Yu, the cost of music festival tickets has risen rapidly over the past decade. But quality has declined since 2019, primarily due to pandemic restrictions when overseas bands couldn't fly in. 
"This has given domestic bands and singers opportunities but I think there's still room for improvement," Yu said.
At Sunday's festival, Yu underscored one particular disappointment: the venue was too small. "Previously, I had to walk ten minutes between different areas at music festivals, but this time the two main stages are right next to each other," she said. 
At dinner, Yu waited in line for an hour and a half, but the burger she wanted had sold out. She had to settle for hot dogs instead. 
As for the following festivals, Yu said she wouldn't want to attend as many before since it's very likely that the same artists will perform. "If it's someone who doesn't usually perform at music festivals, I might consider going," she said.
Editor: Apurva. 
(Header image: At Leah Dou's show in Shanghai's Strawberry Music Festival, May 1, 2023. From @摩登天空 on Weibo)