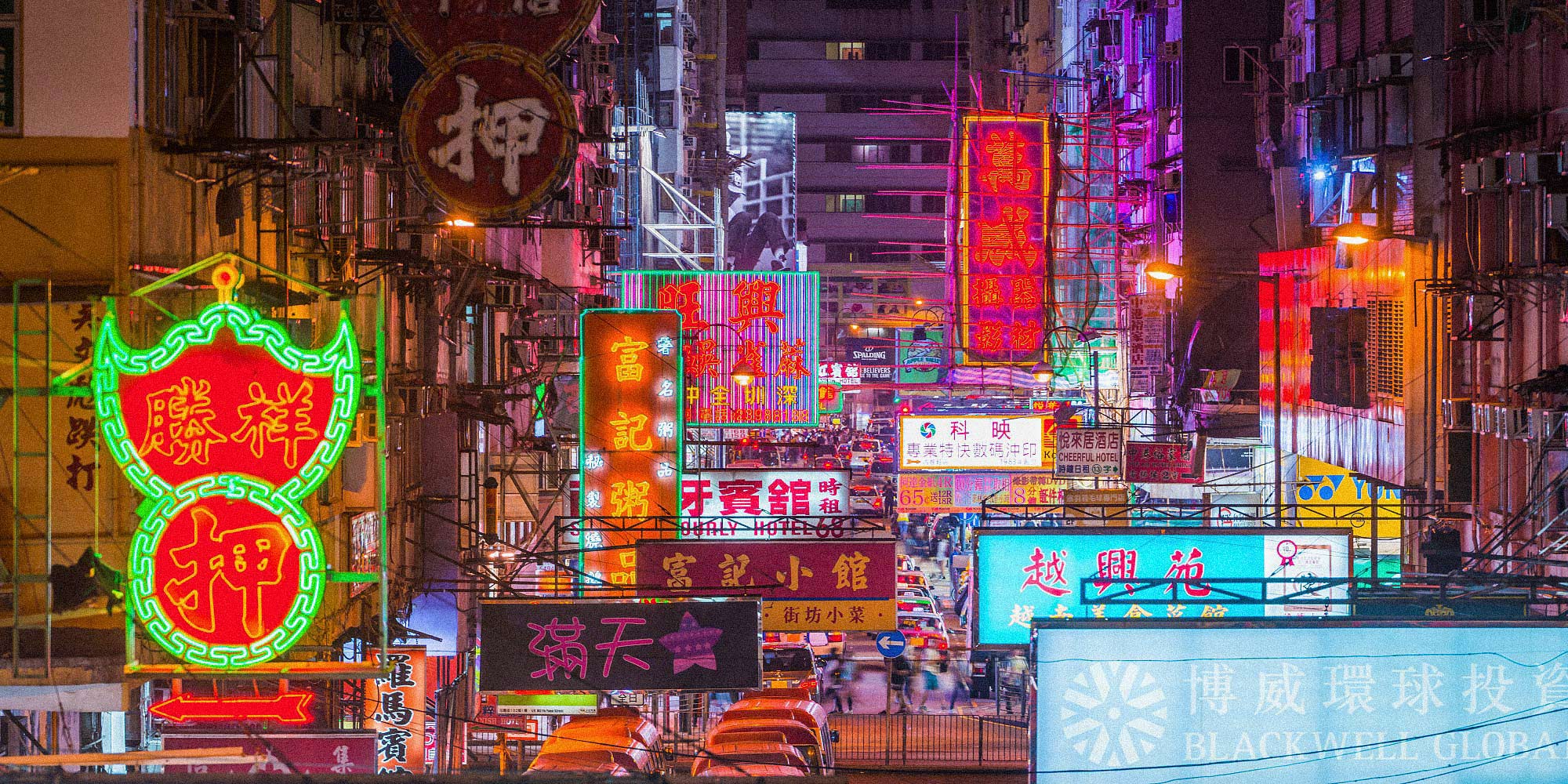 FEATURES
In Hong Kong, a New Film Mourns a Fading Icon: the City's Neon Signs
For decades, Hong Kong has been synonymous with its gleaming neon street signs. But these icons of the city's past are now rapidly disappearing — as the hit new film "A Light Never Goes Out" explores.
When Anastasia Tsang was contemplating the subject matter for her first feature film, she decided to incorporate an issue that struck close to home: Hong Kong's disappearing neon street signs.
The problem was, when it came time to shoot the movie, it soon became apparent that they were vanishing at a rate she hadn't fully comprehended.
Before the director started work on what would become "A Light Never Goes Out," she had hit the streets to make a visual record of all the signs she could find. But by the time principal shooting began, many of them had already gone.
"It really seems to be happening that fast," Tsang tells Sixth Tone. "Luckily, I had at least gathered a lot of footage of them, so they will never be completely forgotten."
The city's gleaming neon signs — for so long an icon of Hong Kong — ended up playing a central role in "A Light Never Goes Out," which made its world premiere at the Toronto International Film Festival last October and has since played to acclaim on wide release in Hong Kong and Taiwan.
Starring legendary Taiwanese actor Sylvia Chang, the film tells the story of a local widow trying to maintain her sanity after her husband's passing — while also trying to keep his neon sign-making business alive.
As a first-time director, Tsang admits to being amazed when Chang — a decorated star who had previously won awards for dramas including "Shanghai Blues" (1984) and "20 30 40" (2005) — agreed to take the role. But it turned out that Chang had her own personal connection with Hong Kong's street signs — as did the star who signed on to play Chang's husband, the veteran Hong Kong actor Simon Yam.
"Sylvia mentioned that she had acted in and directed another film, "Mary From Beijing" (1992), that has a long shot with her standing in the foreground with the neon in the background, and she really loved that shot," says Tsang. "She said she liked the way we used neon to help tell our story, and Simon just loves Hong Kong culture. When he heard we were using neon he said he would do everything he could to be available, even though he is so in demand."
The final film has gone on to become a bona fide hit in Hong Kong. Chang won the Golden Horse Award for best actress for her performance, and was nominated in the same category at this month's Hong Kong Film Awards. It has also been selected for screenings at a number of festivals overseas, including the Tokyo Film Festival and next week's Far East Film Festival in Udine, Italy. 
Along the way, "A Light Never Goes Out" has helped bring the issue of Hong Kong's fading street signs to global attention, with major media outlets in Japan and the United Kingdom choosing to focus on the topic.
On the ground in Hong Kong, it's a subject that has become a source of growing public concern. For decades, thousands of neon signs would spark the city into life each night, but a government cleanup campaign targeting unregistered or noncompliant signage has led to major streets and thoroughfares being stripped of their bright lights.
"When they hear what we do, some people say, 'What do you mean? Neon signs don't need to be conserved because they're everywhere,'" says Cardin Chan, general manager of Tetra Neon Exchange, a nonprofit working to protect the city's historic signs. "I reply, 'When was the last time you looked up?'"
A decade ago, there were more than 100,000 neon signs on Hong Kong's streets; today, there are just a few hundred left, estimates Chan. Her organization has been campaigning to preserve this rapidly disappearing piece of the city's heritage, collecting old signs before they are taken away and destroyed. 
"It's not that the government is targeting neon signs," says Chan. "The buildings department is actually regulating or monitoring all signboards, but the majority of signboards in the past were neon signs. I think they're just doing their jobs, because it's true to a certain extent that if the early signs are not looked after, eventually they could pose a danger to public safety. But we also wonder whether there will be any room for negotiation."
Until recently, Chan was struggling to rally public support behind her campaign. But this is starting to change, she says, in part thanks to the success of "A Light Never Goes Out." Her organization worked closely with Tsang during the shooting of the film — helping her identify where neon signs could still be found, and alerting her if they got word that a sign might soon be coming down.
"It seems the past few months we have finally caught people's attention," Chan says. "Now, we hope it will not be just a one-off thing."
While featuring these signs in all their glory throughout the film, Tsang also showcases the dying art that goes into making them. Neon sign-making is a craft that dates back to the 1950s in Hong Kong, but there are now only a handful of practitioners left. Tsang pays tribute to them at the end of "A Light Never Goes Out," which features clips of the stars — Chang and Yam included — being taught some basic skills to make their work on screen appear plausible.
"I think these neon artists are trying to accept that this is just the reality, but of course you can feel there is a certain kind of sadness," says Tsang. "One of the craftsmen told me that they never thought their work would be treasured by Hong Kong people. So, they are glad that finally there are people who care about what they have done. That was also one of the reasons I wanted to make the film."
Though the government has set its sights on Hong Kong's neon signs, few dispute that they are a unique part of the city's cultural heritage. Chan and her team at Tetra Neon Exchange have around 60 signs in storage in a facility in rural Yuen Long, and aim to eventually put them on display for future generations.
The city's landmark $750 million M+ visual arts museum is also playing a key role in this effort. Long before the museum opened its doors in 2021, the M+ team curated its award-winning digital exhibition NEONSIGNS.HK, which documented Hong Kong's neon signs and their cultural impact.
"Neon signs were very commonly commissioned for a wide range of businesses from the 1950s to the 1980s," says Tina Pang, curator of Hong Kong visual culture at M+. "In some parts of the city, because of Hong Kong's urban density, many different signs will compete for attention in a small space. 
"Many Hong Kong films were shot in the streets, making the city's urban fabric — including neon signs — an internationally recognized characteristic of Hong Kong," Pang continues. "Some signs were so prominent or distinctive that they became landmarks in their own right."
M+ has five neon signs in its collection, and this will eventually increase to eight, Pang says. But the museum currently has no plans to expand beyond this, as the signs are so large and costly to store.
"M+ has had two neon signs on display since the museum opened in November 2021," Pang says. "The display focuses on how the signs were collected and on the craft of neon sign-making. The longer-term strategy is to establish a globally recognized methodology for the conservation and care of these important urban artifacts."
Tsang says she's still optimistic that Hong Kong's neon can be saved, thanks to the work of people like Chan and her Tetra Neon Exchange team. She says many of the audiences she met after screenings shared this feeling, too. 
"This was also my attempt at trying to make the film without a dark tone … to end it with energy," says the director. "I was born here and I live here. So, naturally, I am sensitive to the emotions around things that happen around the city, and I think there is still hope for Hong Kong's neon signs."
Editor: Dominic Morgan.
(Header image: FotoVoyager/VCG)