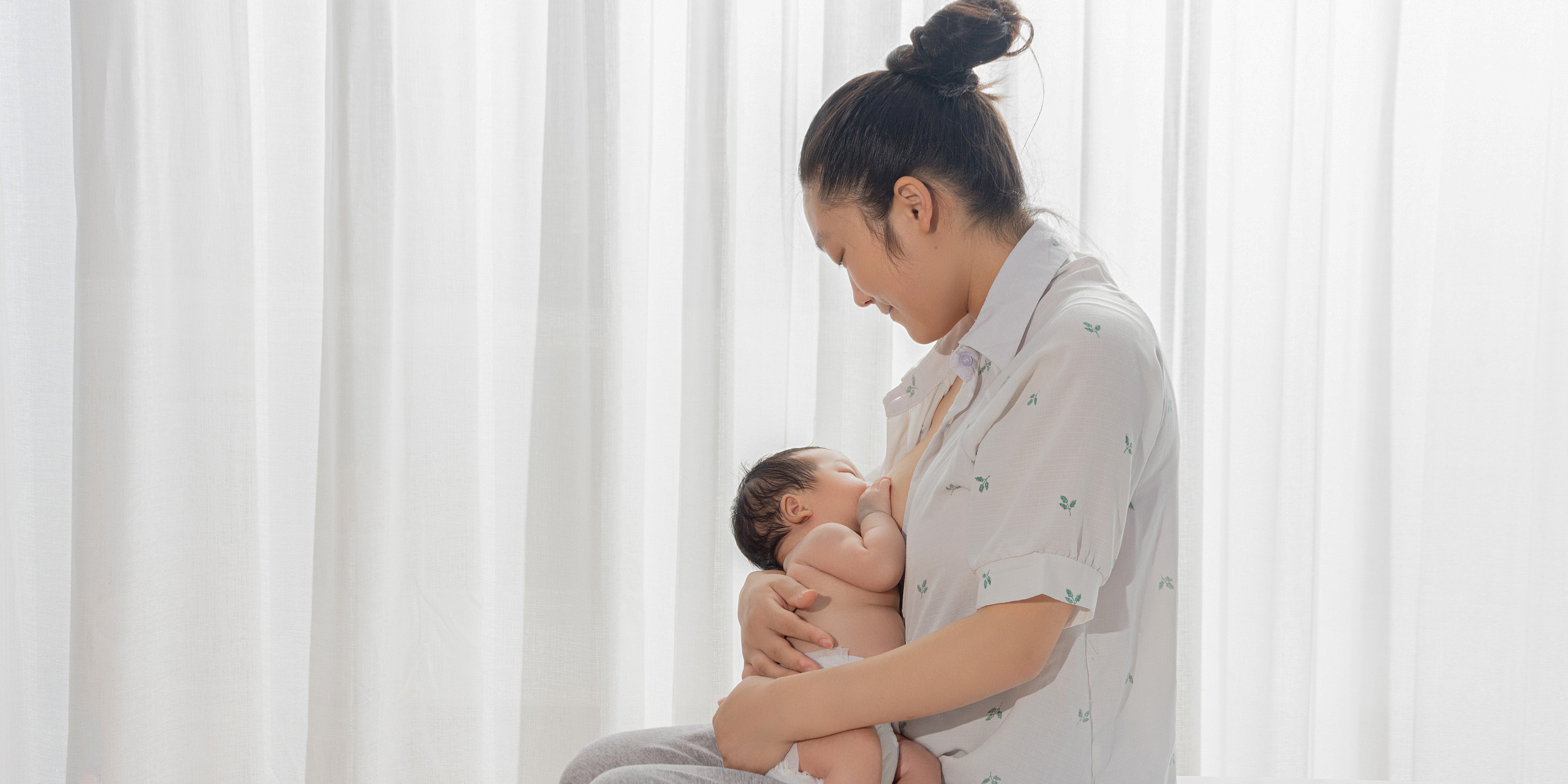 FEATURES
Breastfeeding at Work: Why China's Moms Need a Room of Their Own
By 2025, China hopes over half of all infants are exclusively breastfed in their first six months. But most workplaces lack even basic facilities.
As the meeting dragged on past noon, Huang Peiqi felt a growing sense of dread. A new mother, she knew with each passing minute that her window to pump breast milk was rapidly closing. And that the pain from engorgement was imminent. 
About 30 minutes later, the meeting finally wrapped up. Huang darted past colleagues to her desk, grabbed a breast pump, and rushed to her car — the only place she could think of that offered a modicum of privacy. 
"Some mothers express milk in the toilet, but I just can't, no matter how clean the toilet is," 33-year-old Huang tells Sixth Tone. 
Though she'd drawn curtains across the car's windows, she says the light still filters in, so she also had to keep an eye out for passersby. But it was still better than at the office. 
"In our company, we have to apply in advance to use the meeting rooms and it's almost impossible to book one if I want to use it alone every day," she says. 
Amid the car horns, squealing tires, and din of traffic nearby, Huang managed to fill a bottle of breast milk. She stored this in a sterilized container, put it in a bag with two boxes of ice, and finally sighed in relief: that was enough for her son's breakfast the next day.
It's been the same routine for months now. But Huang's predicament is not unique. 
Every day across China, millions of young women, referred to as beinai mama or "breast milk-carrying mothers," are determined to continue breastfeeding while juggling family commitments and careers. 
But with many offices lacking even basic facilities — let alone designated lactation rooms, fridges to store milk, or flexible working hours — many are struggling to cope. 
And despite central government guidelines in 2016 to improve amenities for mothers and infants in public places, transport hubs, and workplaces across China, progress has been slow. 
According to a 2019 report, there were only about 2,600 baby care rooms across the country, mostly concentrated in public venues such as malls, airports, and train stations in major cities. Just seven cities, including Beijing, Shanghai, and Guangzhou, had over 100 such rooms.
That same year, another survey by the China Development Research Foundation found that less than 30% of Chinese infants were exclusively breastfed in the first six months. Worldwide, the number was 44%.
Amenities apart, some employers may not be as accommodating or supportive of new mothers or their needs. It's one of the reasons Huang still hasn't dared to bring up the issue at her manufacturing company in Foshan in the southern Guangdong province. 
"With private companies facing increasing challenges in recent years, some new mothers find that their employers are not as welcoming as they might hope," she says. So she just ensures she always carries a nursing cover, and says she's gotten used to the lack of facilities. 
The challenges notwithstanding, China hopes to have over half of its infants exclusively breastfed in their first six months by 2025, a goal it failed to achieve by 2020 under a previous plan. 
But given the slow pace of improving access to facilities, the ambitious target only adds to the pressure on new mothers. While many like Huang say they are determined to breastfeed, others have simply given up. 
Balancing act
The day after Li Wen's daughter was born in 2020, she took a pill that immediately stopped the production of breast milk. 
Apart from the pain from engorged breasts and the sheer exhaustion of feeding her infant every few hours, Li underscores that the stress associated with nursing weighed heavy. She says, "Breastfeeding means no privacy at all."
Not even while out walking with her baby. Li, who requested to be identified as a pseudonym citing privacy concerns, says the most frequent question passersby ask is about feeding. 
"They ask about how much milk you express every day, or brag about how their daughters or daughters-in-law do better," she says. And when she replies that she doesn't breastfeed at all, their expressions barely hide the disapproval. 
"Everyone says breast milk is the most ideal food for infants, but it puts invisible stress on the mothers," says Li. "It makes it seem like only women breastfeeding their infants are good mothers. And the pressure is always on the mother to feed babies." 
Making matters worse, it spills over into the workplace too.  
Though employers are forbidden to bring up topics like marriage and pregnancy during the hiring process, Li, who used to work in HR, says taking maternity leave might even hamper promotions. She adds that while women have a legal right to a one-hour break every day to breastfeed, the demands of work often don't allow it. 
"It's very hard to be a mother who puts the hours in at work," she says. "Everything would be much easier if you don't breastfeed at all. I'm relatively carefree but that doesn't mean I'm a bad mother."
Dai Yingying, 35, still vividly recalls how she expressed breast milk two to three times a day while at work between 2018 and 2020. 
"Rarely were women willing to continue breastfeeding on returning to work, but I still choose to do so. It conveys all my love to my daughter, the only child I will ever have," she says. 
Apart from her work bag, Dai carried three bottles and a pump to work every day. In the beginning, carrying full bottles on the subway often drew awkward questions from security guards. 
"Eventually, I found a female conductor and told her that it was breast milk," says Dai. After a few weeks, she became more familiar to them and they let her through more easily. 
What proved difficult was finding a balance, particularly since Dai worked at a financial company, which required frequent business trips. 
"It's much harder to find time to express breast milk on a trip," she says. Dai had to call hotels in advance to check if they had fridges in the rooms to store the milk. Sometimes, she traveled with her infant. 
"Often, I shortened the trip as much as I could. Or, sometimes, just outright canceled it," she says.
Wang Ling, a lactation massage therapist who guides mothers on breastfeeding and helps ease the pain from engorged breasts, recalls a client who was so busy that she repeatedly missed the window to express milk. 
On a cold winter night in 2020, Wang, responding to fervent calls, immediately drove to the woman's house. She was astonished to find her still on a conference call despite running a high fever caused by mastitis, a painful condition caused by blockages in the milk ducts, which inflame the breast tissue. 
"I asked her why she still insisted on breastfeeding. She told me that she was afraid that if she didn't, she couldn't be a good mother," says Wang. After the pain subsided, she even offered to pay an extra 300 yuan ($43). 
But Wang returned it. "Only women understand each other and the many difficulties we face," she says. 
Wang used to work as a nursery nurse at hospitals. At the time, China was ramping up efforts to promote breastfeeding, and some medical institutions implemented more ambitious plans. For instance, couples were required to formally express their intention to not breastfeed before being prescribed baby formula. 
It proved profitable to Wang. She charges 400 yuan for her services for each woman she treats. As she puts it, "the more women who choose to breastfeed, the more money I make." 
Now, Wang has set up her own studio providing lactation massages and postpartum recovery services. On social media, she often shares daily tips to help mothers in distress, particularly those suffering from mastitis.
Room for improvement
Access to good facilities makes a world of difference, as Zhang Ziwen, who spoke with Sixth Tone under a pseudonym for privacy reasons, can attest.
Her state-owned company in Beijing provides a lactation room that measures around 15 square meters and can accommodate three mothers at a time. It meant Zhang never had to worry about privacy or finding a seat. It also had a fridge and a basin to store the milk and wash the bottles for the next day.
Her son was born premature, and since the doctor had strongly recommended that breast milk was better for her baby's digestive system, Zhang was determined to make it work, particularly since her preterm baby would require an extra month of nursing. 
"I was really anxious before the end of the maternity leave," says Zhang. "I had heard many mothers say that they were unable to regularly express their milk while at work, which meant their babies had to be weaned away earlier than desired." 
But on her first day back at work, she realized her concerns were unfounded. She could use the lactation room anytime, and her boss, a woman, was always understanding. "I was only ever sad when I saw the other mothers express more milk than I did," she laughs.
Xu Yanjun, director of the women's committee office at the Shanghai General Labor Union, tells Sixth Tone: "Working mothers continue breastfeeding to ensure the health of our next generation, so labor unions should help and serve such mothers through this special time." 
Starting 2013, the committee has worked with Shanghai's employers to set up private spots for breastfeeding mothers, dubbed the "Loving Mommy's Room." 
A decade on, Xu says the city has about 7,900 facilities spread across over 100,000 enterprises. Baby care rooms in public venues fall under the Shanghai Health Commission.
"In recent years, awareness has been strengthened. Foreign enterprises took the lead along with state-owned companies and government departments. Now, private companies are also doing a great job," says Xu. 
Beyond the basics
Amid the national push to promote breastfeeding, provincial and municipal governments have also accelerated their efforts to set up nursery facilities. Earlier in February, the Shanghai Municipal Health Commission released a document on providing better baby care rooms in public venues.
In 2016, Dai Weiguo, who is not related to Dai Yingying, established a baby care room design company in Suzhou, responding to Jiangsu province's appeal for public venues to have more baby care rooms in parks, malls, and hospitals. 
The criteria of a baby care room is stricter. The materials have to be more environmentally friendly and the furniture and design has to be safer: no sharp edges, non-slip surfaces, and indirect lighting
The largest one which his team designed was at a shopping mall in downtown Suzhou, where they were given 200 square meters of space. "Only some clients are willing to spend so much space and money on such facilities. The smallest one we've built measures only 4.1 square meters," he says. 
Dai also underscores the importance of maintenance. "For example, diaper trash cans smell even when half-empty, but the cleaning staff may not always change it in time," Dai says. At one baby care room, he noticed that a shelf with toys and books was empty, possibly due to people taking them away. 
Additionally, he noticed that baby care rooms in highway service areas were sometimes locked, and required users to call staff to access them. "But when the babies start crying, mothers just give up and go back to their cars to feed them," says Dai. "It's a pity that some baby care rooms have become mere displays rather than useful amenities." 
Tan Shiqi, a sophomore at Shanghai International Studies University, along with her schoolmates, has been visiting baby care rooms in China's financial hub and posting reviews of each of them on social media platforms for the last year. She started after her favorite teacher, who is a beinai mama, complained about the lack of lactation rooms. 
So far, Tan's group has visited about 60 baby care rooms. The reviews focus on four aspects: first, whether the instructions at the rooms are clear enough; second, privacy and separation from restrooms; third, whether they have basic amenities such as diaper change tables, breastfeeding chairs, and bottle warmers. 
"Additional points are given if they have products such as urine pads, wipes, or toys," says Tan. 
But the fourth parameter is still controversial: It highlights whether a baby care room is meant for women only. 
"Quite a lot of baby care rooms don't allow men. But based on our own survey, 95% of the families we spoke to said that fathers should be allowed to enter the baby care rooms as long as the facilities have separate rooms," says Tan. 
Once complete, Tan and her team summarize the review and submit it to operators of malls and parks so that they can improve the current facilities. So far, one park in Shanghai's Songjiang District has replied, and even asked if Tan would be its consultant.
Shanghai's labor unions also review the facilities according to a three-to- five-star rating. Currently, Director Xu says about 550 facilities have a five-star review, which requires at least a 10-square-meter room and two independent breastfeeding chairs. 
For companies unable to provide an independent room for breastfeeding mothers, the labor union, since 2021, has recommended they repurpose existing facilities, such as reading corners, into a multifunctional "sharing" concept. 
Says Xu: "Such a shared room offers only the most basic facility for mothers. We hope no more mothers will have to hide in the toilets or express milk under their tables." 
Additional reporting: Gao Yidan; editor: Apurva.
(Header image: 500px/VCG)