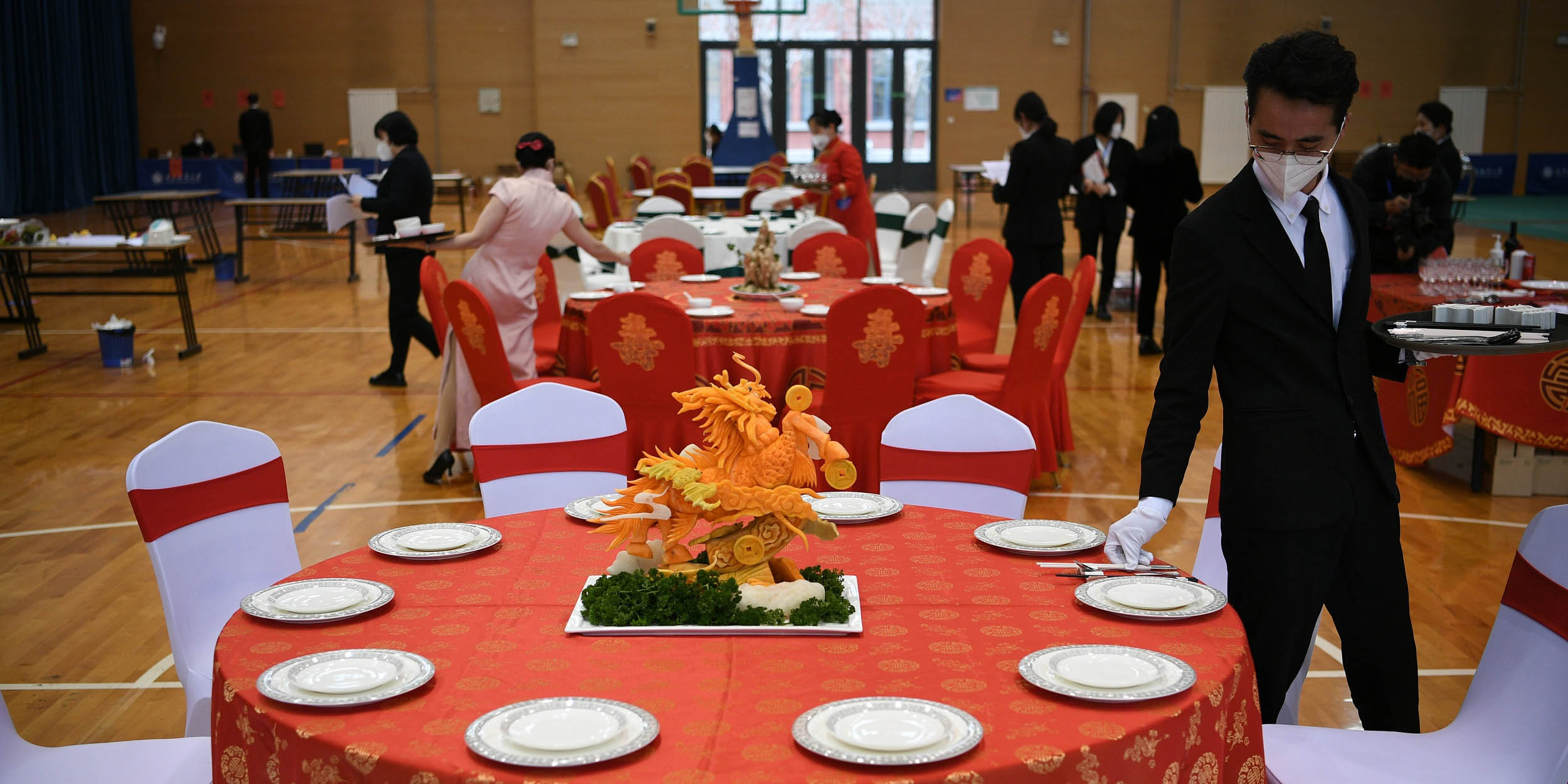 NEWS
China Puts Banquet Food Waste in the Spotlight
Clients should be able to choose the combination of dishes served at their banquets, according to a new draft notice.
China is ramping up efforts to tackle food waste. The latest target: banquets.
In a draft notice released Monday, the National Development and Reform Commission, China's state planner, said it would strengthen its supervision of banquets in hotels, especially those priced at 1,500 yuan ($218) or above per table, excluding drinks. Misbehaviors ranging from unclear price labeling of dishes to food waste will be targeted during an inspection campaign, according to the notice, which is available for public comment until April 24.
The draft notice is the latest effort in the government's campaign to curb food waste, kicked off in 2013 by President Xi Jinping with the "clean plate" initiative. In the years since, the Chinese legislature has adopted a specific anti-food waste law and cracked down on binge-eating mukbang videos. In March, local authorities and catering associations in the provinces of Fujian, Yunnan, Shandong, and Jiangsu also rolled out campaigns to reduce food waste.
According to a 2020 survey conducted by a taskforce of the Standing Committee of the National People's Congress, at least 34 million tons of food are wasted in restaurants in Chinese cities every year. At banquets and other group events, between 30% and 40% of food on the table is not eaten, according to China's state news agency Xinhua, citing a finding from the Chinese Academy of Social Sciences. 
The draft notice says that restaurants and hotels should allow clients to choose the combination of dishes to be served at their banquets, and also insert specific anti-food waste terms in their service agreements. It also includes rules to curb food waste in the catering industry more generally, including more transparent pricing and displaying of food amounts outside of banquets. 
Chen Zhihua, chairman of the China Hospitality Association, told Xinhua that the problem of food waste is reemerging as the country's economy recovers. In Chinese custom, it is commonplace for banquet hosts to order more food than their guests can eat as a form of respect.  
Based on a 2021 survey by wedding service platform Hunliji, more than 60% of newlyweds spend between 3,000 and 5,000 yuan per table at their wedding banquets.
Editor: Vincent Chow. 
(Header image: VCG)