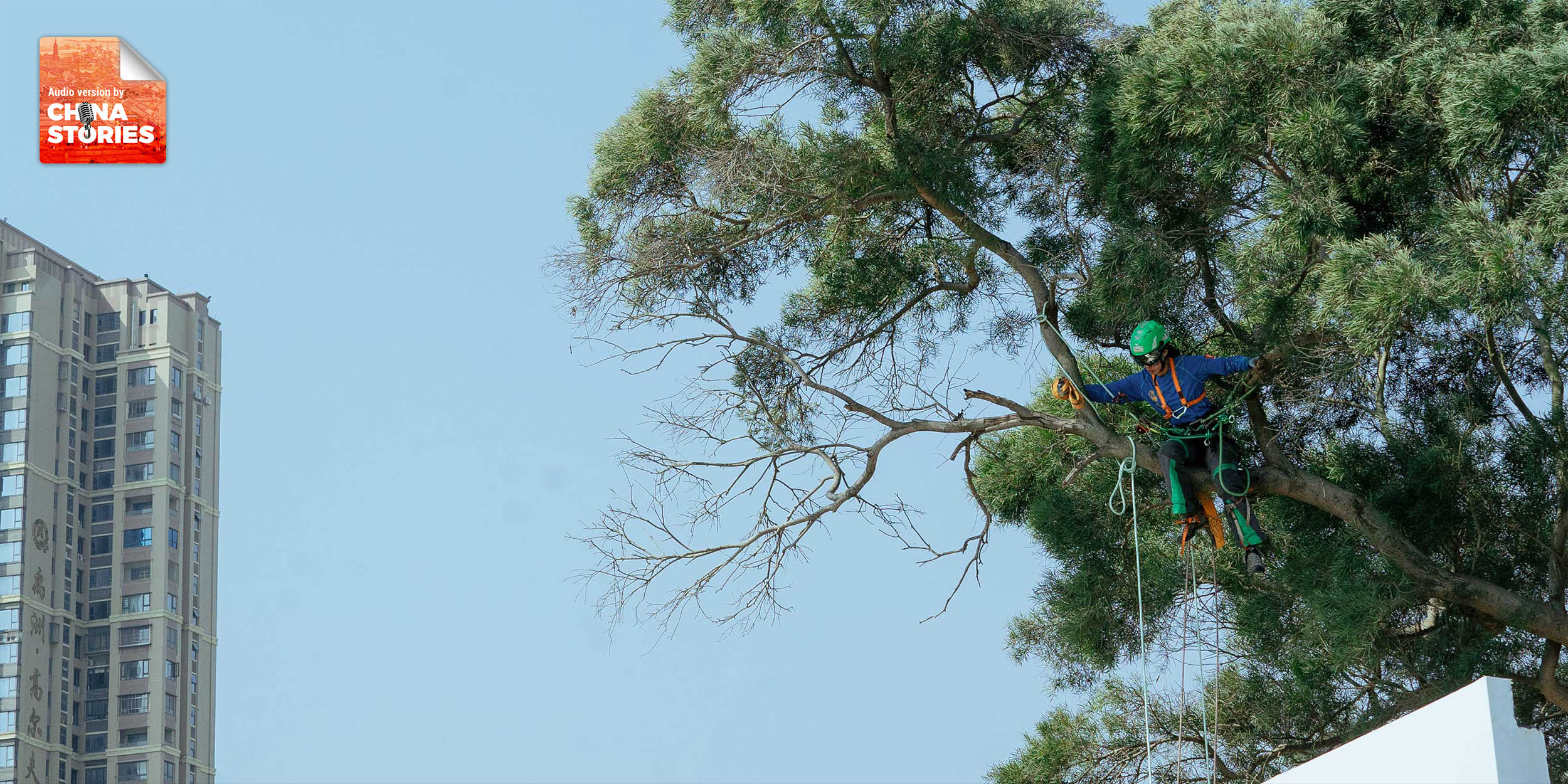 FEATURES
Standing Tall: A Runner's Unlikely Journey to the Top — of Trees
A national tree climbing champion, Yu Yanling now runs her own company, organizes climbing competitions, and teaches the art to adults and children.
On a hillock on the campus of Xiamen University, a large eucalyptus tree towers above the bamboo grove. A group of men and one woman look up at the maze of silver branches high above their heads. 
The men are all students learning the art of tree climbing. The woman, 30-year-old Yu Yanling, is their instructor. Today's lesson: Climb to the top of the tree, then descend half way, and travel horizontally along the branches to reach a set of markers, all against the clock.
"To feel the power of trees, you must climb one," says Yu.
"When you get to the top, and the wind picks up, the tree begins to sway. It feels like you're on a ship in the sea. In that moment, your heart talks to the tree, saying 'please be nice to me, look after me.'" 
Yu is helping her students prepare for an internationally recognized exam that will certify them to work professionally as tree climbers. Only four people in China already have this certification, and Yu was the third one to achieve it. She's also a national tree climbing champion. 
She started climbing trees in 2015 as a student at Xiamen University in the eastern Fujian province. In 2012, when outdoor sports such as rock climbing, skiing, and trail running were starting to boom in China, the university introduced tree climbing as an elective course on the PE curriculum.
"Every student has to do PE," she explains. Tree climbing quickly grew popular with students, and every available spot was taken, explains Yu. 
She recalls coming across it by accident. "One day, I saw a bunch of students on campus hanging on ropes from a tree," she says. "I did not understand the equipment or the techniques, but they were really happy, and their passion was contagious."
As an elite 400- and 800-meter runner, she picked up the sport easily enough. "All sports are similar, they are about body positions and movement. As athletes, we are trained to use muscles that normal people don't."
With this advantage, she soon began winning competitions in Taiwan, Malaysia, and Hong Kong. 
Such competitions, explains Yu, are two-day events where climbers compete in five individual disciplines including speed climbing and rescue. The overall winner is decided based on their combined scores in each discipline.  
In 2017, Yu became national champion in mainland China, winning the overall title at the country's first-ever national tree climbing competition.
After graduating, Yu also started her own company working with trees — cutting off dead and broken branches and freeing up electric wires. And now, apart from running the company, Yu teaches tree climbing to adults and children, and organizes tree climbing competitions.
She says tree climbing is a way of life that offers her a sense of freedom and adventure, but it also comes with risk and uncertainty, which can take their toll.
Branching out
For most, the transition from being a champion runner to becoming a pioneer in tree climbing would seem like an unexpected career change. But for Yu, it felt like a natural progression that matched her personality. 
Growing up in Fujian's countryside, she was a hyperactive tomboy. "I was always running around everywhere, and my relatives would say, 'are you really a girl?' Then I became a runner and ran on an athletics track. Now, I run on top of trees!" she laughs.
But it wasn't without challenges. Yu confesses that when she started out climbing trees, she was afraid of heights. Over time, she learned to trust the equipment and gained confidence as she spent more time in the trees.  
She eventually conquered her fear, and is now inspiring her students to do the same.  
Back at the eucalyptus tree in Xiamen University, the lesson begins with a thorough inspection of the equipment: helmets and ropes along with harnesses festooned with carabiners, loops, and slings. 
The first crucial step is to set up the rope. The climber throws a small sandbag trailing a thin cord which ultimately guides a thicker line into place. Once securely fastened over a branch, the climber shimmies up the rope using special ascending devices. 
The most proficient one is Xu Xiao, a 40-year-old from Changsha in the central Hunan province. 
"I only started at the end of last year. I love this," says Xu. He dexterously ascends up the rope, quickly setting up safety anchors, moving with confidence and athleticism. 
"He works in the evening and during the day he is always up on a tree," says Yu. "His feeling of being on a tree is good."
The following day Xu, who calls Yu's tree climbing "technical and beautiful," volunteers to accompany her on a tree pruning job. The client is a golf course in Xiamen. Together, they set off in Yu's battered van. 
"I am not working in a company, and people say, 'why don't you get a more stable job?'" she says while driving. "But I don't want my life to be predictable, and with tree climbing, I don't know what I will be doing tomorrow, what kind of tree I will meet."
But she does admit that dealing with uncertainty combined with the pressure of running a business can be overwhelming. 
"I go to a quiet place and cry. Crying is a very good way to release pent-up emotions. After that, everything is good, and I can go forward again," she says. 
The anxiety stems primarily from the inherent risks involved while working atop trees.
"You need to think about death," explains Yu. "You use a chain saw — one of the most dangerous tools. The tree has tension points; if you saw at a certain spot, a branch can rebound like a bow and hit you. Sometimes when I come down from a tree, I am shaking."
At the golf course, the job — removing dead branches from a modest-sized acacia tree — is not a challenging one. The chain saw stays on the ground. Soon, the dead branches are sawn off by hand and lowered down. Yu descends, tired but happy with the job done. 
All the while, golfers stop their carts to take photos of her. Yu says many people in China are surprised to see a female tree climber.
"I am up on the tree and people gather below asking, 'is that a girl or a guy?'" laughs Yu. "I shout, 'I am a woman!' Or, when I go down and take my helmet off they say, 'Ah, it's a girl. This work is so hard, why don't you find a man to do it?'"
And though her parents have accepted her unusual choice of career, they are aware of how physically demanding the work is, especially in the hot summer months. They often ask her: "Have you given any thought recently to changing your line of work?"
However, Yu is committed to her passion. She sees in it an opportunity to make a positive impact on the environment and how trees are treated and trimmed in China. 
She asserts that the current approach has little regard for the health of the trees. "The way trees are looked after here is very outdated. The workers just have a target — all trees on this street must be pruned within this time," she rues. 
Unqualified workers, unable to climb trees, prune them using aerial lifts, which, according to Yu, means they cannot get to the inner part of the tree. The dead and rotten branches there are left untouched, which can pose risks. 
But her work pruning and cutting trees is not regular, she says. "Xiamen is by the sea and when typhoons come in summer, there is a lot of work."
It was after a big typhoon hit Xiamen in 2016, when Yu realized that her work "could make a difference to people's lives."
"There were trees lying everywhere, you could not even walk. It also broke parts of trees that were just hanging there, swaying. It was really serious," she says. Yu and her team then worked around the clock for several days to help authorities secure the broken trees.  
Yu does not see trees as things that one climbs for their own enjoyment. "Trees are alive," she says, "A real tree climber climbs for the benefit of the trees." 
"People ask me, 'what can one get from climbing trees? Overcome the fear of heights? Is it a good form of exercise?' I say, stop there. You must climb for the tree, not for yourself."
According to Yu, that's the only way to understand and treat trees better. "We must listen to what they say. If a tree has a wound, why is that? We must listen to trees and  learn their language." 
Having completed the golf course gig, Yu has little time to rest. The following day, she has to teach children in a primary school in Xiamen about climbing trees. To begin with, Yu and her assistant quickly set up three ropes on the trees on the school grounds. 
The children love it. The girls are naturals and outperform boys, quickly picking up the technique and showing no hesitation — just like Yu once did. 
"Are you afraid?" one girl is asked. The ten-year-old just shakes her head: "No!"
Another girl demands, "I want to climb a bigger tree." 
Editor: Apurva.
(Header image: Yu Yanling atop a tree in Xiamen, Fujian province, Feb. 26, 2023. Wu Huiyuan/Sixth Tone)