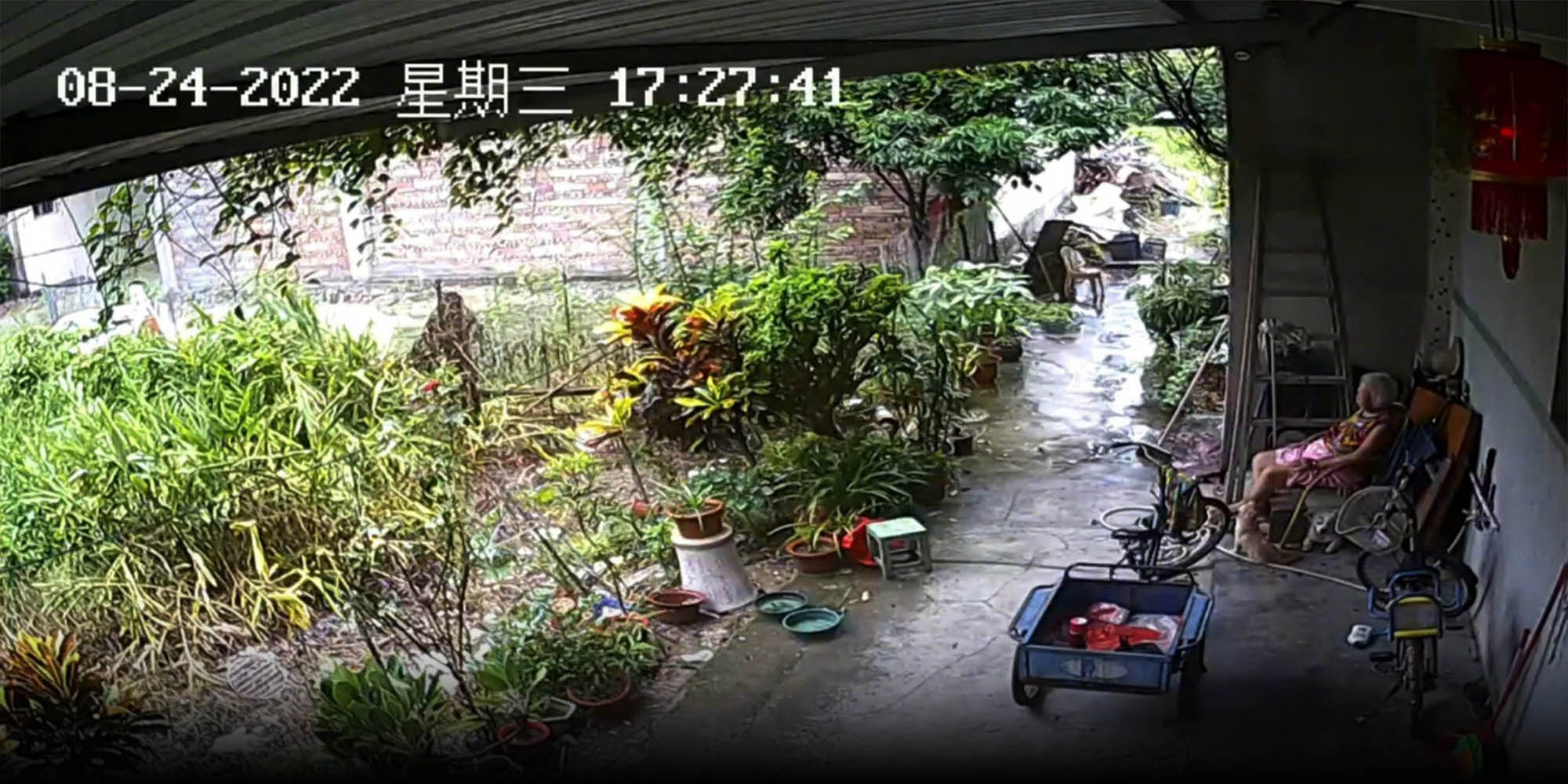 NEWS
Faraway Family Members Use Smart Cameras to Monitor the Elderly
While some users say the device helps them to keep an eye on older family members, others are doubtful about the technology and concerned about privacy issues.
At 85, Wang Tianzhen, who lives in the countryside in the southwestern city of Chongqing, has never owned a cell phone. But she is now able to frequently communicate with her granddaughter who lives 300 kilometers away using a smart device.
Wang's granddaughter, He Ranran, installed a smart camera earlier this year after her grandmother suffered from two cerebral infarctions. She said it helps to keep an eye on her ailing grandmother and provide virtual company despite being far away from each other.
"We want to stay by her side, but we have to work elsewhere for a living," He told Sixth Tone. "It's our way of balancing filial piety and our personal lives."
He's family is among the growing number of people who are using smart security cameras, which can be connected to screens and have video call features, to monitor their older family members living alone, most of whom are in the countryside. In 2022, more than 48 million home-use security cameras were sold in China, with the state-run Xinhua News Agency reporting that a large number of young people were buying them to check on older relatives.
Sun Yuda, a Shenzhen-based business owner selling security cameras and other senior care smart devices since 2019, told Sixth Tone that the pandemic has increased the demand for such cameras. Virus control measures often prevented many people from traveling for long periods of time, and the deaths during the peak of COVID-19 infections heightened people's anxieties.
"More people came to realize that they can't always be close to their parents, but they still want to provide better care," Sun said, adding that the awareness of technologies able to monitor seniors' health has reached "a really high level."
China is home to more than 280 million people aged 60 and over, accounting for 19.8% of the country's total population. In October, a top government official said that more than half of the country's older population lived alone, and the percentage of such "empty nesters" was over 70% in some big cities and rural areas.
And the health-related safety risks of elderly family members are too difficult to ignore for many living far from their hometowns. According to various media reports that cite official data, while every three to four out of 10 of those aged 65 and over have experienced a fall, the biggest cause of physical injuries and deaths for this age group, more than 30% are prone to depression from a lack of company and social engagements.
Such health concerns prompted a 22-year-old university student surnamed Chen to install a security camera in her grandmother's home. She took the decision after the 78-year-old had COVID-related health complications.
"She couldn't move or reach the phone for help after falling," Chen, who lives in Wuhan, told Sixth Tone. "She could just die without anyone knowing, if something like this were to happen again."
The topic of security cameras to monitor elderly family members attracted wide public attention in January after a video showing interactions between a migrant worker and her family member living in another city went viral on social media. On lifestyle platform Xiaohongshu, many have left glowing reviews and recommend tech gadgets for senior care, with some users even sharing footage of how the devices have helped connect with older family members.
Zhang Bing, a professor in media studies at Jingchu University of Technology in the central province of Hubei, told Sixth Tone that the installation of security cameras has helped maintain bonds between families despite the distance and even started to reshape relationships. In his survey of the countryside in Hubei last year, Zhang found nearly 40% of elderly respondents had a security camera installed in their house, with nearly 80% of them installed in the past three years.
"It's a reflection of a generation of youngsters anxious about supporting the elderly and compromising on a way of carrying it out," he said.
But not everyone is on board with the idea. Referring to anecdotes, Sun, the businessman selling security cameras, said that many older people were opposed to installing such devices due to privacy concerns and coming under the camera's gaze. Many were against having the cameras in their bedroom and bathroom or would secretly switch off the device.
Sun himself hasn't installed a camera at his parents' house, as he isn't fully convinced about the technology. He said he would prefer technology that would send accurate alerts in case of emergencies instead of just relying on cameras.
"The issue will only be solved by humans since technology can only discover the issue," Sun said, adding that an effective technological solution to address emergencies would still require participation from family members, the housing complex's management, and emergency services.
The surge in popularity of surveillance devices in homes is also raising other privacy and personal information concerns, as hackers could obtain and use them for illegal purposes, according to media reports. In 2021, a Beijing-based court jailed a Chinese man for five years for hacking into 180,000 security cameras globally and earning more than 700,000 yuan ($102,000) after granting access to other users.
In his four-month survey, Zhang said he found most rural households would only allow the camera to be placed in yards or somewhere outside the house, a major difference from those in cities. The professor, who lives five hours away from his parents, also installed a camera outside his parents' apartment in 2021, but he now notices his parents evading the camera after he intervened in their argument once.
"People would never think of it at the start when they are installing one, yet it usually occurs after those being watched realize that the camera is there, especially in an argument," Zhang said.
But some young people are less interested in surveilling their elder family members if it results in them feeling uncomfortable. They instead check up on them now and then, use the cameras for emergency purposes, and sometimes even help the older members resolve other issues.
Chen said she often checks on her grandmother having her meals in real time and other times replays some of the footage to get a glimpse of her day. Most of the time she sees her grandmother sitting on her wooden chair in the yard.
"It brings me closer to her and gives me a sense of security after having an idea of what she's doing and what happens to her on a daily basis," Chen said. "But her health is worse than I thought, and she's lonelier than I imagined. The camera helps us take care of them, but in the end it can't replace our company."
Editor: Bibek Bhandari.
(Header image: A screenshot from a surveillance camera shows an older woman sitting in a yard, Guangdong, August 2022. From @南方周末 on Weibo)