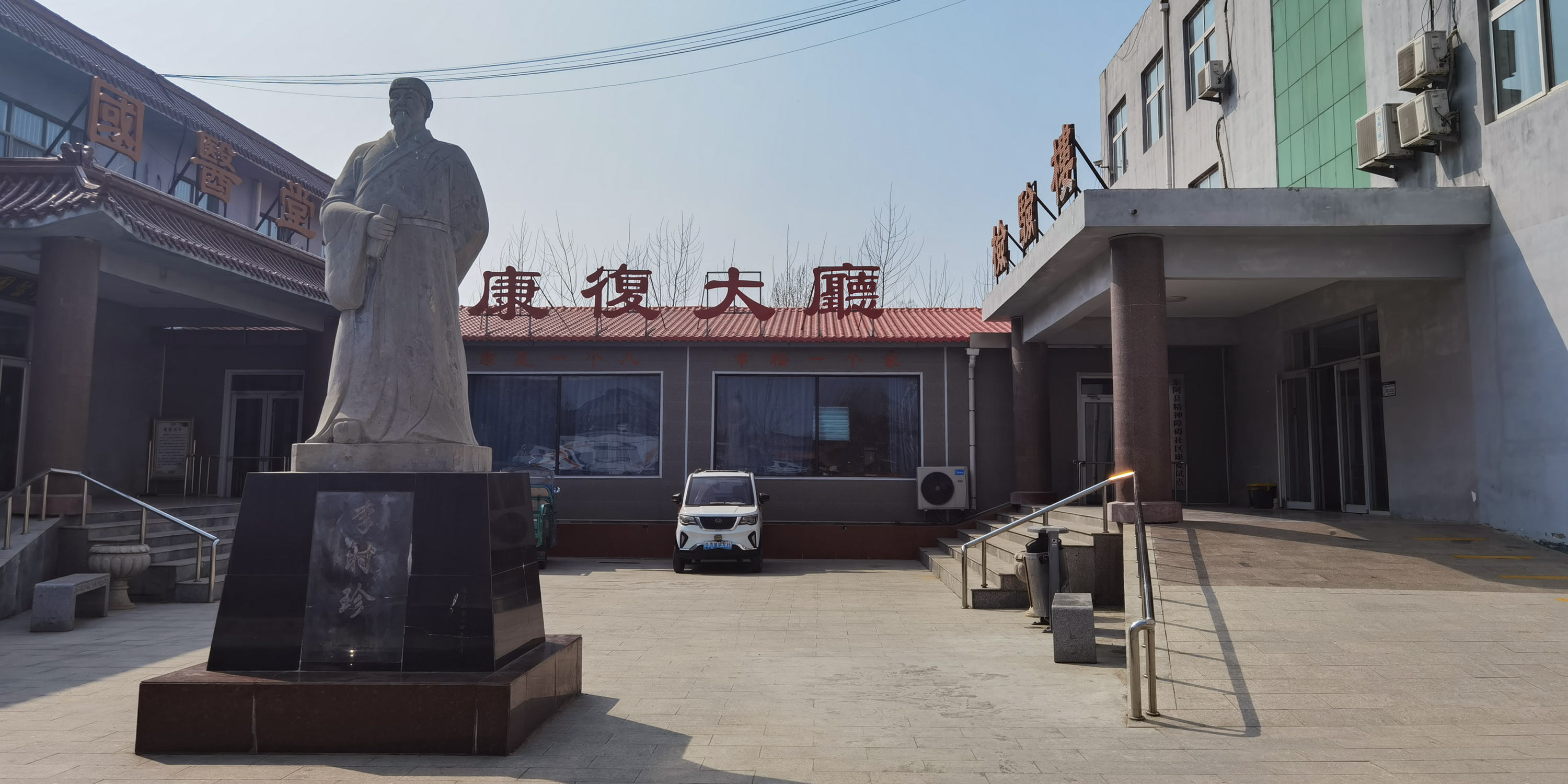 FEATURES
It Was Rural China's Top Mental Health Clinic. Then, It Disappeared.
In 2021, a Chinese hospital made national headlines after opening one of the country's first rural psychiatric facilities. Months later, the clinic shut down under mysterious circumstances.
SHANDONG, East China — In a shadowy corner of a rural Chinese hospital, a brand-new mental health clinic sits empty and abandoned.
A black laptop, lightly spotted with dust, sits on a deserted reception desk. Unused rehab machines are clustered against the wall. A wilting bamboo plant droops against an office door.
Just over a year ago, this facility in east China's Shandong province was being hailed as the future of Chinese health care. Yet, months later, it abruptly shut down — becoming a symbol of how distant that future may still be.
Located in Dong'e, a small county famous for making donkey-hide gelatin, the clinic was an incredibly rare example of a grassroots hospital trying to bring modern psychiatric treatment to the Chinese countryside.
China has over 6 million registered patients with severe mental disorders, but vast swathes of the countryside do not have access to mental health services. Rural patients either have to travel long distances to psychiatric facilities in the city, or receive no treatment at all.
For rural families, especially those living in poverty, the lack of available clinics can be a cause of intense suffering. In some cases, villagers have been known to lock their schizophrenic relatives in cages, or put them in deep holes in the ground, as they have no other way to prevent them hurting themselves or others, health workers told Sixth Tone.
China's health authorities have made fixing this problem a key policy goal. So when Niujiaodian Township Hospital — a rural hospital in Dong'e County — opened a mental health clinic, it became national news.
A reporter from state-run newspaper China Youth Daily wrote a story about the project in 2021. The piece went viral, receiving hundreds of thousands of views and a flood of positive comments.
Yet, just months later, the clinic shut its doors. Its newly built rooms now sit unused; all its staff have been reassigned. The hospital gave no reason for its decision at the time, and declined Sixth Tone's repeated requests for comment.
Why would a hospital choose to close a newly opened clinic, which was generating unprecedented levels of positive media attention? In March, Sixth Tone traveled to Dong'e to investigate, speaking with current and former hospital staff, as well as local residents.
This reporting provided a revealing glimpse into the intense local disputes sparked by the opening of the facility — and suggests that China may face daunting obstacles as it seeks to roll out psychiatric services across its rural interior.
As in many parts of rural China, mental illness still carries a deep social stigma in Dong'e. Though the hospital won national praise for opening the clinic, it also quickly faced widespread — and, at times, fierce — opposition in the local community.
Some worried about the county becoming associated with mental disorders. Others feared the clinic would create safety issues. Medical staff were concerned that non-psychiatric patients would be afraid to visit the hospital, causing a damaging loss of revenue.
All of these fears appear to have weighed on the hospital management, leading to their eventual decision to pull the plug on the project.
A personal mission
The Dong'e clinic was effectively the brainchild of one man: a visionary hospital director named Li Cunfeng.
Soon after he was appointed to lead the Niujiaodian Township Hospital in 2017, Li began pushing for the creation of a psychiatric center. After years of clinical experience in rural Shandong, he knew how desperately local families needed such a facility.
Li, now 46, recalled the first family he dealt with after starting work at a grassroots hospital in 2013. The elderly woman had an adult son with schizophrenia, but was unable to send him to the city for treatment. She was clearly incapable of caring for him properly by herself.
"His mother was very small and thin, and her leg was broken when we visited," Li told Sixth Tone. "She was unwilling to tell us how it had happened. But apparently her son's condition was out of control."
In the end, Li had to arrange for the local police to transfer the man to Liaocheng Fourth People's Hospital — the only hospital in the area that treats all forms of mental disorders. The family couldn't afford to hire a car themselves, and the officers were needed in case the man had to be restrained.
"It was such a poor family … their home only had window frames, but no glass," Li said. "If we hadn't helped, I can't imagine how they could have pulled through."
This kind of situation was common in the region. China has rapidly increased funding for mental health services since 2015, and psychiatric treatment is now heavily subsidized by public insurance schemes. But poor rural families struggle to access these resources.
In Niujiaodian Town, psychiatric patients have to travel to the hospital in Liaocheng — a city located around 50 kilometers away — to pick up prescriptions and attend consultations. The only way most families can afford to make this trip is by taking two buses — a journey that takes over two hours each way.
These journeys are a huge problem for some families. For the poorest, even the bus tickets can be a financial drain. It is also common for patients with severe mental disorders to lose control of their behavior during the bus rides, causing harm to those around them.
An Yuyong, a specialist at Liaocheng Fourth People's Hospital, said the hospital had long been keen to help rural hospitals provide psychiatric services at a local level. The rural clinics promised to be a win-win: helping urban hospitals reduce overcrowding, while also improving the lives of impoverished patients in the countryside.
"The patients can easily access specialists' services close to their homes," An said. "Also, the supply of a sufficient variety of medication can be guaranteed, and they're exempted from paying doctor appointment fees because grassroots hospitals don't charge patients for this."
So when Li arrived in Niujiaodian, he quickly found support for his vision in Liaocheng. The facility — a joint project between the Niujiaodian and Liaocheng hospitals — opened its doors in May 2020. It had space to accommodate 30 inpatients, as well as provide a range of outpatient services. An was among the health workers dispatched from Liaocheng to work at the new clinic.
Fierce backlash
At first glance, the project appeared to be a triumph for Li. It was in line with the Healthy China Initiative — a landmark plan introduced by the national government in 2019 — which set goals for improving community-based services for patients with mental disorders.
The clinic was also popular with Liaocheng Fourth People's Hospital, and attracted a large number of patients. For most of its short existence, the clinic was full, with most patients suffering from severe conditions including schizophrenia and bipolar disorder, health workers told Sixth Tone.
But behind the scenes, there was significant disquiet about the facility in Dong'e, Li recalled.
"The pressure came from within and outside the hospital," Li said. "Our own staff in Niujiaodian didn't agree with the initiative. They were unwilling to become part of this department — they worried about their personal safety. They were also concerned that the service could ruin the hospital's reputation, making other patients hesitant to visit us."
The publication of the China Youth Daily story triggered another round of pushback. Li began to receive anxious calls from a number of local groups, who were unsettled by the idea of a local hospital hosting dozens of psychiatric patients.
In rural Shandong, people tend to fear any association with mental illness. The stigma is so deep-rooted that local families often attempt to cover up their relatives' mental disorders rather than seek treatment for them, especially if the relative is of marriageable age, health workers told Sixth Tone.
"The conditions bring people deep shame. Families will do anything to protect the privacy of young people when they're at the age to get married," said Du Shengqing, director of Boping Township Hospital, another hospital in a rural part of Liaocheng. "A medical history of mental illness will make it hard for a man to find a wife."
In Boping Town, hospital staff have been paying visits to local families, trying to change their attitudes toward psychiatry. But this is easier said than done, as the families often don't want to even be seen talking to a psychiatrist.
"When we visit rural households, we have to park our cars far away from their homes. We cannot wear white gowns or volunteers' vests," said Du. "When we visit for the first time, people are willing to talk with us and chat about their situations. But the second or third time we visit them, they feel bothered and won't even open the door."
While Li was director at the Niujiaodian hospital, these local tensions did not affect the clinic. But at the start of 2022, Li was transferred to another hospital. Directors of public hospitals rotate positions on a regular basis in China — a measure designed to curb corruption within the health system.
A new hospital director took over in Niujiaodian in January 2022, and he appeared to take a dim view of the psychiatric facility. Within months, the clinic had been shut down.
Opaque decision-making
It's still unclear on what basis the hospital decided to shut down the facility. Its 30 beds were almost always fully occupied, and it served hundreds of outpatients, former staff told Sixth Tone. There were no accidents in the clinic, and it had no negative impact on the hospital's other operations, they added.
When Sixth Tone visited the hospital on a Tuesday afternoon in March, a handful of patients were sitting in a waiting room on the second floor of the outpatient building. A sign on the wall still listed the psychiatric clinic among the hospital's services, and stated that 30 beds were available.
Staff at the hospital looked embarrassed when asked about the psychiatric department. They declined to comment on why the service had been shut down. A secretary at the new director's office also declined to comment, and Sixth Tone's subsequent calls to the office went unanswered.
But outside the hospital, locals appeared convinced that the new director personally decided to shut down the clinic. "He doesn't like it," said one worker at a nearby grocery store. "Most rural hospitals don't have this department. He doesn't want to keep the unique service, either. He can make more space for other patients."
The former psychiatric clinic was deserted apart from two health workers, who sat playing on their smartphones. They appeared to be taking advantage of the peace and quiet during their breaks. Behind them, a range of brand-new rehab equipment, including cardio and weight machines, was pushed up against a wall.
"It's such a pity, the local civil affairs authority spent over 300,000 yuan ($44,000) on it," said Li.
After the clinic shut down, some of the inpatients were sent home to their families, and the other 20 were transferred to Liaocheng Fourth People's Hospital, according to An. An himself was sent back to Liaocheng, along with some other specialists. Other staff members on temporary contracts were let go.
No one is sure what happened to the clinic's outpatients. Some may have started traveling to Liaocheng to collect their medication, while others may have simply given up on getting treatment.
"At least 60% of my patients (in Liaocheng) come from rural areas," An said. "But it's hard to tell how many of them are from Niujiaodian Town. We were once so close to them."
An uncertain future
When Li set up the clinic in Dong'e, the push to expand rural psychiatric services appeared to be gaining momentum in the region. Shortly after, another rural hospital in Liaocheng launched a similar facility.
But things look very different today. The Dong'e clinic has gone, and the second facility — which is located around 50 kilometers away, in Boping — also appears to be struggling.
The Boping clinic provides 32 beds for inpatients, and is also staffed by specialists transferred from Liaocheng Fourth People's Hospital. But when Sixth Tone visited in March, only eight patients were staying in the facility.
Du, director of the Boping hospital, said that the low occupancy rate had been a problem since the clinic opened. That's despite the fact that there are over 200 registered mental disorder patients in the town, and over 2,000 in the surrounding towns in the county.
"In theory, the 32 beds here should be far from enough to accommodate these patients," said Du. "But in fact, since we started to accept inpatients, the occupancy rate has consistently been around 35%."
The clinic's lack of patients is partly an accident of geography. Boping is far closer to the city center than the Dong'e hospital, and so patients are more willing to travel to the better-equipped hospitals in Liaocheng. For important health issues, Chinese patients tend to prefer to seek treatment in the city.
"We're surrounded by two second-tier comprehensive hospitals," said Du. "We've been trying to survive in this limited space."
But local skepticism toward psychiatry is also a major factor. Du has tried to persuade families in Boping to allow their sick relatives to receive treatment, but many are convinced that the clinic is unsafe.
"Rumors have spread wide and villagers firmly believe that if they send the patients here, they'll be mistreated," said Du. "Their impression of inpatient psychiatric services is of people getting confined to their beds … and being treated violently if their emotions become unstable."
Du is doing everything he can to change people's minds. He has tried filming the inpatients' daily lives, to show villagers that the clinic is well-run. He has also started distributing calendars containing information about mental health issues.
"The villagers won't easily throw away calendars," Du said. "They're useful to them."
If these efforts fail, Du fears for the clinic's future. There are three specialists, a doctor, one head nurse, and four nurses working full time at the clinic, and Du is finding it harder and harder to justify this level of expenditure.
"This team works three shifts around the clock to take care of the patients, and they can serve up to 30 patients at a time," said Du. "We should maximize the value of their services."
Du is also under pressure to attract more patients to ease the Boping hospital's cash flow problems. The clinic's costs are supposed to be covered by local government reimbursements, but the government has fallen behind on payments.
According to Du, the arrears already total more than 120,000 yuan. A source close to Liaocheng Fourth People's Hospital said the city hospital is also facing similar budget shortfalls due to the local government's financial issues.
The only way for the Boping hospital to get cash quickly is to attract more inpatients, Du said. The public health insurance fund pays the hospital 160 yuan per night for each inpatient, and those payments are always on time.
A doctor at the clinic, surnamed Yue, said she worried about what would happen to the impoverished families who visit the outpatient department in the future.
"The medication fees … are very affordable in my eyes," said Yue. "But for these poor families, they still find it expensive. The concerns over the cost might discourage them from getting the standard treatment in the future."
But Li, the founder of the Dong'e clinic, is still determined to keep fighting. After leaving Niujiaodian, he was made director of a community health service center in another part of Dong'e. And he has quickly resumed his crusade to promote access to psychiatric treatment.
He plans to build a new five-story building at the health center later this year, which will house a mental health clinic. Once again, he has arranged for specialists from Liaocheng Fourth People's Hospital to provide mental health consultations at the new facility.
"We'll design a building that takes into full consideration patients' privacy needs," Li said. "We can't treat them right here in the facility, but we can give people clear guidance about whether they need treatment and how they can access it."
Editor: Dominic Morgan.
(Header image: A statue of the famous Chinese acupunturist Li Shizhen stands in front of the abandoned mental health clinic in Niujiaodian Town, Shandong province, March 21, 2023. Ni Dandan/Sixth Tone)